USA Gymnastics
Metroplex Gymnast Katelyn Jong Hits Her Stride
Metroplex Gymnast Katelyn Jong Hits Her Stride
When Metroplex gymnast Katelyn Jong peaked at the right time this season, it was on purpose. Get to know one of the top junior elites.
Jul 19, 2021
by Miranda Martin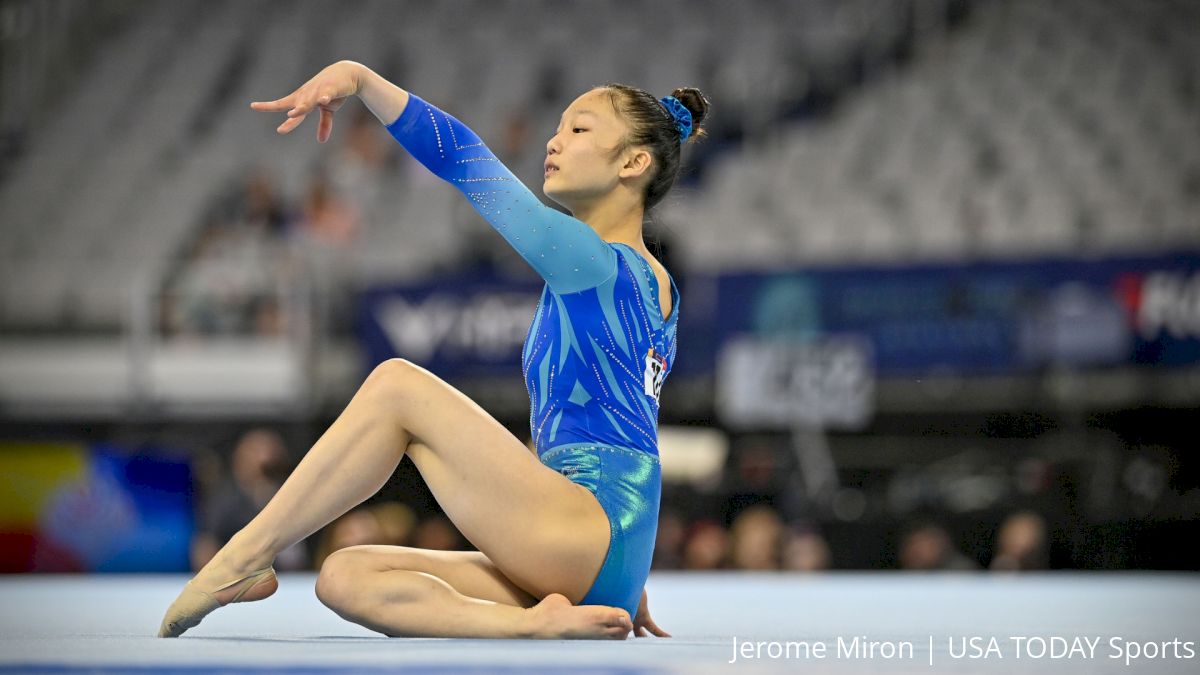 Katelyn Jong's apprehensiveness on beam in her early days would not be the best indicator of the junior elite gymnast that she would become today. Her transformation is the sum of incremental improvements and a one step at a time mentality.
When Katelyn began to think outside the box and mustered up the courage, big changes happened to her gymnastics. She's worked with her coach, Marnie Futch, to think of creative skills that she does enjoy training to get credit. Rather than the typical front aerial, side aerial, back handspring back layout layout beam routine you often see for juniors, Jong opted for a totally different construction, transforming her least enjoyable event into something unique. "I think she might have quit the sport of gymnastics if I tried to fit her into that little box," Marnie shared, laughing.
Katelyn turns 15 at the end of July and has come a long way since starting her gymnastics career at age 4.
Starting Out in the Sport
Katelyn originally got her start in gymnastics the way that many gymnasts do - as a very active child. Her parents Simon and Yoomin sought ways to expend her energy through sports and activities. Finding a free hour session at Metroplex near their home in Allen, Texas, they sent Katelyn and her older sister Ariana to try it out, and from that session on, she fell in love with the sport.
At the time her parents didn't know Metroplex was an elite gym that would train her for the highest levels in gymnastics, but they lucked out, as Katelyn quickly was placed on pre-team and rose through the levels.
One of their family's first gymnastics memories was about a giant stuffed mouse. "At the WOGA Classic, they were giving a Mickey Mouse as big as the gymnasts for the champion. That year, both my daughters won that Mickey Mouse - they both won the all-around in their age division. I can't remember, I think it was level two or three or four, somewhere young, but they did great. And it was such a happy moment to see both of them do so well," Simon shared.
Around level seven, Simon realized she could really go somewhere in the sport. "She was on a big team, and she had a lot of friends, and they did really well that year...after that, they started putting her into the HOPES group, and then they also started moving her up to work out with some of the older girls. She was like the youngest girl in the thing, she was like half their size when they were working out, so it made me proud to watch that."
When she made the HOPES group, that was around the same time Marnie Futch began coaching Katelyn. She immediately noticed Katelyn's strength, handstand lines, and even temper, but she didn't want to assume she was an elite candidate right away. "The challenge of doing elite gymnastics is so much that you really...have to wait and take one step at a time and see if they're able to really mentally deal with it until you kind of get on that path," she shared.
When Katelyn was 10 years old, she entered the younger HOPES division, competing in compulsories for two years, and did both compulsories and optional when she was 12 and 13, in 2018 and 2019.
In 2018, she qualified for the HOPES Classic, and in 2019, she competed at both HOPES Classics and HOPES Championships. She later competed at the 2020 Gymnix International competition, her first international meet, in Montreal, Canada, where the U.S. placed first as a team.
Shortly after, the pandemic hit.
A Needed Break
During the pandemic shutdown, Katelyn was "waiting for [the break] to end" so she could get back into the gym to "get back and do what I love," but Simon felt the pause was much-needed time away from a sport she's worked at her entire life.
"I think she needed the break, perhaps. She's been at gymnastics for over 10 years straight...I think her body needed that rest. I think it was good for her, and now that she came back, she had more focus, more determination, and she was ready to get back out there again," Simon shared.
Katelyn agreed that the break allowed her to come back even more determined. Her team spent about two months out of the gym. The gymnasts worked out at home over Zoom, then they returned for reduced hours before getting back into their regular schedule.
Marnie took a positive approach to the unexpected situation as well, sharing, "I'm a pretty big believer in things are going to be what you make them. We could have gone, 'Oh, this is horrible. This is terrible. We're going to lose all this time. We're going to lose all your skills. We're going to miss that, whatever.' Or we could look at it like, 'Hey, this is a break that you're never going to get again. We can work on your flexibility. We can work on your mental game. We can work on your physical abilities while you're at home,'" she shared.
When Katelyn and Marnie returned to the gym, they used the extra time away from competing to work on her difficulty. "In the long run, that's going to be a really great thing because I feel like she's in a better place even this year. Having competed the double double on floor and the standing full on beam and things like that puts her in a better place to try to make the jump to senior next year," Marnie shared.
Hitting Her Stride
When Katelyn came back for the 2021 season, she hit the ground running and quickly found her stride. Winter Cup was her first competition, where she placed first on vault. At the American Classic, she took first on beam and second on bars. From there, she fired up and took first all-around at the GK U.S. Classic, U.S. Championships (which she calls her favorite competition of her career so far), and the Junior Pan American Championships.
Katelyn felt more prepared going into the Pan American Championships because of her prior international experience at Gymnix in Canada, though a lot of it still felt new, due to the COVID protocols.
She's known to be a prepared competitor, staying calm without the highs and lows some gymnasts have. "With Katelyn, you're going to get a more even athlete...I feel like her personality and her training then sets her up to be a great competitor, her even personality is what helps her be able to compete well. And I think that she enjoys competing, which is always a good thing, and I feel like that helps the kids out a lot too," Marnie shared.
This season she's most proud of making her third national team, where she's gotten to train alongside gymnastics greats such as Simone Biles, Jordan Chiles, Laurie Hernandez, and more, sharing, "It motivates me a lot to see some of the greatest gymnasts in the world practicing so close near me." The biggest lesson she's learned from them is to have fun with the sport. "I can see the gymnasts... they're all friends with each other and they're just having fun and just enjoying their time together and training," she shared.
As an Asian gymnast with a Korean mother and a Chinese father, Katelyn is especially inspired by all the Asian representation there's been at the highest level of the sport. She admires Morgan Hurd and Sunisa Lee in particular, sharing how inspiring and impactful they've been on her journey.
Slow and Steady Wins the Meet
Though Katelyn has always been a strong competitor, she definitely stood out these past few months. When Katelyn peaked at the right time this season, it was on purpose - she's still on her way up.
"Our vision for our kids that do elite-level gymnastics has always been to try to get them in a place where they're going to do well as a senior elite," Marnie shared, a time Katelyn is getting close to. She shared they take it slower on the younger gymnasts, because "I personally feel like if you push too much too young, then you end up having kids that peak earlier and then maybe aren't able to compete at the senior level."
The jump from junior to senior is a large one, so Marnie tries to set her up on the path to success for that transition. "At this point having done as well as she has, the obvious next goal would be a Worlds team or an Olympic team. But before we can even get there, we need to try to make the jump from junior to senior successfully," Marnie shared.
"I have some athletes that come in that say, 'I want to make an Olympic team. I want to make a world team.' They know right away that that's what they want to do. Katelyn is a little bit more one step at a time," Marnie elaborated.
Katelyn will now say that her eventual goal is the 2024 Olympic Games, but she's always thought about her career one task at a time, focusing on each goal as it comes and not getting too far ahead of herself. In a sport where some children have competing elite on their mind from the moment they join pre-team, Marnie shared, "She was a little bit different than some other kids because she kind of just did one step at a time, and one thing led to the next, led to the next, led to the next."
Getting Back to Work
Following a couple of days off after the Pan American Championships in June, Katelyn got back in the gym and is immediately working on form, execution, basics, and technique. Their next step is the Pan American Games, which takes place in November in Colombia. Katelyn wants to qualify for a spot on that team and is working towards that goal this summer in the gym. They'll be adding a few new skills before the Pan American Games, such as a Van Leeuwen on bars, but most of the preparation they're doing this summer is for bigger skills for her senior debut. Next year they're working on a new floor routine, a second vault, a full in dismount on beam, and a Maloney half on bars.
Marnie feels that they're able to work on these skills well together as a coach and gymnast because of the bond they share. She focuses on building that relationship, sharing, "It's really important to me that I build trust and respect with my athletes, that they know that I care about them as people first and foremost and that I'm just helping them get to their goals in the gym."
"She's really patient with me. She's always encouraging and she's just a really good coach, I would say," Katelyn shared. Simon elaborated that a strength of Marnie's is her ability to talk to Katelyn on a bad day and encourage her, sharing, "We couldn't ask for a better coach for Katelyn."
Outside of the Gym
Music is Jong's passion. She plays the guitar at her church, and when she isn't making music herself, she's bonding over K-Pop music with her friends, especially BTS, citing Jin, the oldest of the group, as her favorite. She's played the guitar for a few years now and takes lessons every Saturday.
Katelyn's first year of high school was completed online, and she will continue the online schooling she's been doing even before the pandemic. Though there were times she got behind on schoolwork with camps and competitions, she was able to catch up and finish the year strong.
She's also gotten to know the other gymnasts on the national team a bit, sharing, "At first I'm a little shy, but then over time, we get to know each other and it's really fun to hang out and get to know each other and compete with each other...we can just stay connected through social media and over the phone."
Though she's taking her goals one step at a time, college gymnastics has always been in the back of her mind. "I definitely do want to do NCAA gymnastics, it looks so much fun," she shared, adding that she loves to watch Michigan, UCLA, and Utah.
Wherever she goes, we'll be watching her incredible journey. From not wanting to get on the beam to taking first on the event this year at the U.S. Classic, it's clear that with Katelyn's determination, she can go anywhere.
Katelyn's Fast Facts
Gymnasts she looks up to: Jordan Chiles and Sunisa Lee.
Someone that she's always texting: Rebecca, one of her church friends
Favorite event: Changes from time to time, but bars or vault
Least favorite event: Beam
Favorite skill: Double double on floor
Something she's excited about right now: A family vacation to South Padre
Favorite movie: Captain America Winter Soldier
Favorite class in school: English