USA Gymnastics
Meet The Tokyo Bound 2021 U.S. Women's Artistic Gymnastics Olympic Team
Meet The Tokyo Bound 2021 U.S. Women's Artistic Gymnastics Olympic Team
Simone Biles, Suni Lee, Jordan Chiles, Grace McCallum, Jade Carey, and MyKayla Skinner punched their ticket to Tokyo at the 2021 U.S. Olympic Trials.
Jun 28, 2021
by Kelly Feng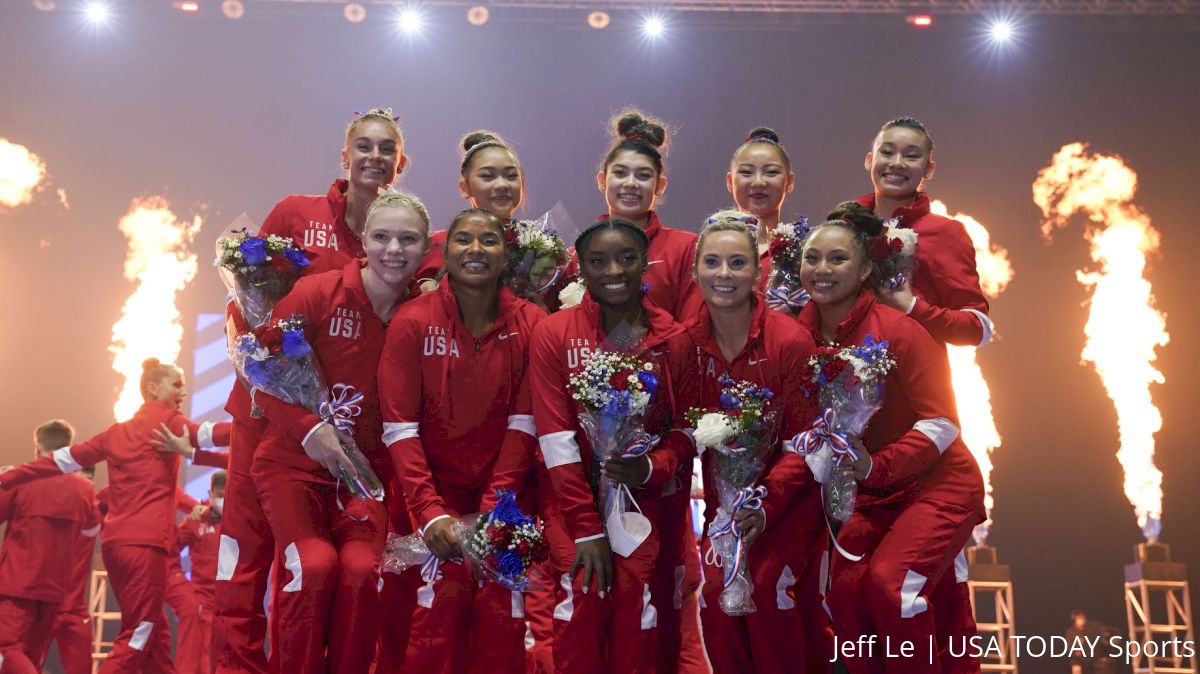 The five-time Olympic medalist finished first in the two-day competition overall, with a score of 118.098. Biles actually finished second on day two to Suni Lee with a 57.533, but again, won the overall meet with 118.098.
Biles hesitated on the uneven bars, fell off the beam, and went out of bounds on the floor. It didn't matter to the audience who gave her a standing ovation after she finished her routine.
A standing ovation for @Simone_Biles! #GymTrials21

📺 NBCpic.twitter.com/HIdrfRNFGn

— NBC Sports (@NBCSports) June 28, 2021
Sunisa Lee is the 2019 World team champion, floor exercise silver medalist, and uneven bars bronze medalist. While she finished second overall with a 115.832, she won on Day Two with a 58.166, winning over Biles, something that hasn't happened since 2013.
It certainly helped Suni that she competed in more meets than other gymnasts this year. Whether it was Winter Cup, American Classics, U.S. Classic, U.S. Championships, or Trials, Suni showed up.
Despite her injuries and not competing in all the events earlier this season, the experience certainly helped her confidence as she appeared more successful in each event. After the team announcement, Tom Forester credited her coaches Jess and Ali Graber of the Midwest Gymnastics Center for pacing and peaking her at the right time.
Lee began the night with her signature uneven bars, showing why she is considered one of the world's best bar workers. With the audience roaring behind her, she moved seamlessly from each event without missing a beat. She performed a close to perfect meet as possible, doing everything she could to solidify her spot, including surpassing Simone.
.@sunisalee_'s UNSTOPPABLE on bars! 💪

#GymTrials21 x #TokyoOlympics

📺 NBC // https://t.co/75m3rDOsnI pic.twitter.com/IS27aEOUtM

— #TokyoOlympics (@NBCOlympics) June 28, 2021
The 2021 Winter Cup all-around winner was also added to the Olympic Team. While she wasn't a lock, Chiles has competed throughout the season, showing consistency, improved technique, and refined form. After U.S. Championships, the conventional wisdom had Chiles on the Olympic team.
For most of her elite career, Chiles trained at Naydenov Gymnastics in Vancouver, Washington. When she lost motivation and wanted to train with other elites, she moved to World Champions Centre to train under Cecile and Laurent Landi in 2019. The Landi coaching duo and the extra year most certainly improved her form, confidence and mindset.
Chiles was hesitant to say she benefited from the Tokyo postponement due to Covid, expressing sadness for those who lost loved ones, but did acknowledge the extra year helped in her consistency.
.@ChilesJordan with another marvelous performance that has us feeling all the emotions 😢#GymTrials21 x #TokyoOlympics

📺 NBC // https://t.co/CeV4wPEcfr pic.twitter.com/r1WATUnRpo

— #TokyoOlympics (@NBCOlympics) June 28, 2021
McCallum was part of the 2019 World Championship gold medal team. She trains at Twin City Twisters under head coach Sarah Jantzi.
On Trials Day Two, she scored a 56.066 totaling a 112.564, putting her in fourth place, narrowly ahead of Skinner.
Never to be counted out, Grace McCallum is one to watch for her impeccable form and consistency.
McCallum is a powerful gymnast, opening her floor routine with a double-double and has continuously upgraded her skills. She's a true all-arounder and doesn't have a weak event.
The Minnesotan had a series of setbacks she endured before Trials. Earlier this year, she injured her pinky finger. McCallum had surgery where doctors put in a plate and seven screens so that the bone would stop slipping. Many counted her out when she wasn't able to compete in all of the events at full difficulty. It's doubtful anybody will underestimate going forward.
.@grace_mccallum2's going BIG tonight 💥

#GymTrials21 x #TokyoOlympics

📺 NBC // https://t.co/75m3rDOsnI pic.twitter.com/4Sxlb60LWu

— #TokyoOlympics (@NBCOlympics) June 28, 2021
MyKayla Skinner
Skinner is the 2014 World bronze medalist in vault and a 2016 Olympic team alternate. She trains at Desert Lights Gymnastics and is coached by Lisa Spini and Bruce McGehee.
Through Spartan-like work ethic, Skinner returned to elite gymnastics, determined to make the 2021 Olympic team. Finishing the trials in fifth place with a two-day score of 112.264, Skinner was added to the individual spot slot, joining Jade Carey. The gymnast who hit 161 routines in a row at Utah and then returned to the elite has a fiery determination and a huge fan following. She has powered her way through COVID, pneumonia, an extra year, acclimating to elite and three years of college, building her endurance and refining her technique.
.@mykaylaskinner with the vault of her LIFE!

#GymTrials21 x #TokyoOlympics

📺 NBC // https://t.co/CeV4wPEcfr pic.twitter.com/xq7XFzehsy

— #TokyoOlympics (@NBCOlympics) June 28, 2021
Coached by her father Brian Carey at Arizona Sunrays, Carey mathematically qualified to the Olympic Team through the nominative World Cup Series, competitions that began in 2018. It should be noted that as recent as 2017, Carey was still a Level 10 gymnast, becoming an elite after being invited to The Ranch by national team coordinator Valeri Liukin. Since that time, Carey has made huge leaps in her gymnastics, improving in bars and beam. She also continued vaulting and added new tumbling skills. She plans on competing the triple-twisting double layout in Tokyo.
.@jadeacarey bringing her A-game! 👊

#GymTrials21 x #TokyoOlympics

📺 NBC // https://t.co/75m3rDOsnI pic.twitter.com/GtwTua6mno

— #TokyoOlympics (@NBCOlympics) June 28, 2021
Reserve Athletes
Kayla DiCello, Hill's Gymnastics
Kara Eaker, GAGE
Leanne Wong, GAGE
Emma Malabuyo, Texas Dreams