USA Gymnastics
6 Takeaways From Day 1 At U.S. Women's Gymnastics Trials
6 Takeaways From Day 1 At U.S. Women's Gymnastics Trials
What you missed on day one of the 2021 U.S. Women's Gymnastics Trials.
Jun 26, 2021
by Kelly Feng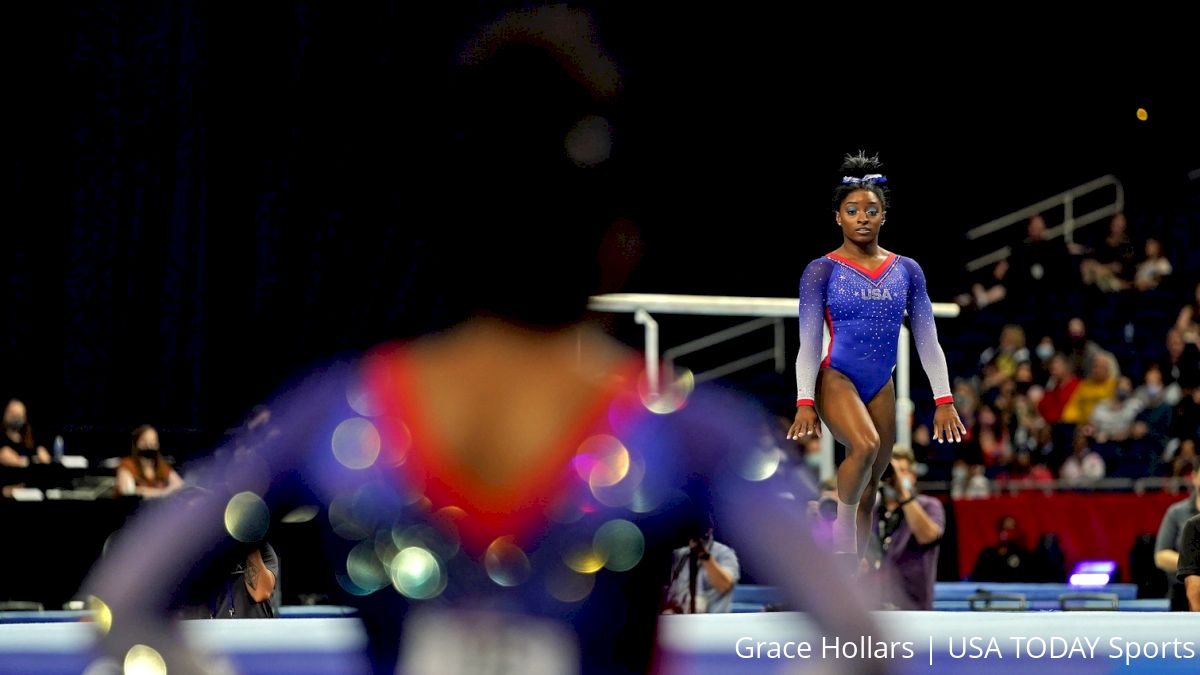 Bringing Back the Amanar
There's nothing like being in an arena when Simone Biles's name is announced. Saving her Double Pike Yurchenko for the Olympics, Biles pulled out her Cheng and Amanar for the night. The vault began with the Cheng with a ridiculously far landing and ended with a stratospheric Amanar, scoring 15.66. She finished with a 60.565, the highest score since World's qualification 2018!
.@Simone_Biles doing the Biles on beam.

The 🐐 is putting on a show. #GymTrials21 pic.twitter.com/gUsSnQwgcJ

— Team USA (@TeamUSA) June 26, 2021
Swinging into Tokyo
Suni Lee's night began on the bars, and what a performance. She connected every skill, and through every connection, the crowd let out a roar. Everybody talks about her Lee's bars, but her beam, floor, and vault are outstanding, which is why she placed second to Biles with a 57.666.
Bright lights. Big stage. SUNI LEE. 🙌 @sunisalee_ x #GymTrials21 pic.twitter.com/eA03GKJ64X

— Team USA (@TeamUSA) June 26, 2021
Halfway There
Making another statement to the selection committee, Jordan Chiles moved through every event seamlessly. Beginning on bars, where she struggled with form just a few years ago, she showed lovely execution and an unwavering stuck landing. Her vault, the Double-twisting Yurchenko, is always clean and stuck. Beam, she was a little hesitant but pulled it all together, finishing with a full-twisting double dismount. She finished the night with a 57.132
Tonight is @ChilesJordan's night! 👏 #GymTrials21 pic.twitter.com/QgpX3mz90C

— Team USA (@TeamUSA) June 26, 2021
Lights Out for Skinner
Bringing the energy and confidence she found through NCAA gymnastics at Utah, MyKayla Skinner had one of the best meets of her life. Her improved form, enhanced by her years at Utah, has also been refined on the elite level. On bars, she had a huge Tkatchev, some form issues, but dismounted with a stuck landing and received a 13.466.
Her beam is where she sent a memo to the selection committee, and when she stuck the back handspring and tuck full the audience went crazy. She ended the meet on the floor with the enthusiasm of a college gymnast but the caliber of an elite, finishing the day with a 56.598.
And the crowd goes WILD! 👏@mykaylaskinner x #GymTrials21 pic.twitter.com/8Aa4QRgEN3

— Team USA (@TeamUSA) June 26, 2021
Fourth Spot Contention
There seems to be a palace intrigue regarding the fourth sport. In other words, it's the only thing talked about on social media.
While Skinner had the meet of her life and momentum and energy seem to be going her way, let's not count out Grace McCallum, Kayla DiCello or Leanne Wong.
Conventional wisdom and high all-around scores had Wong penciled into the fourth spot, but a fall on the beam at trials and a fall on the bars at Championships hasn't helped her case. However, Leanne Wong is historically known for consistency, a calm demeanor, and beautiful form, so we would be fools to count her out. Here she is on floor, where she placed fourth with a 13.933.
Plus One
Riley McCusker suffered an injury last month doing vault, so she only competed on bars. She posted the second-highest bar score of 14.8. She didn't have quite the difficulty of Lee, but she has some of the best technique and execution in her bar routine, something international judges appreciate.
YES, @mccusker_riley! 🤩#GymTrials21 pic.twitter.com/dP1t0FPcHx

— Team USA (@TeamUSA) June 26, 2021