US Championships | June 1-6, 2021
Day One: U.S. Gymnastics Championships Men's Junior & Senior Standings
Day One: U.S. Gymnastics Championships Men's Junior & Senior Standings
Brody Malone, Vahe Petrosyan, and Fred Richard top U.S. Championships men's all-around standings after the first day of competition
Jun 4, 2021
by FloGymnastics Staff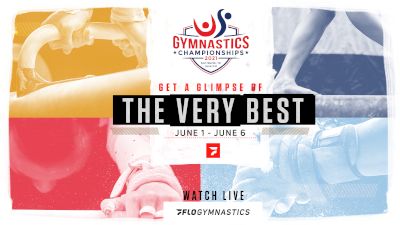 FORT WORTH, Texas, June 3, 2021 – Reigning NCAA team and all-around champion Brody Malone of Belfast, Tenn./Stanford University paced the senior all-around competition from start to finish on Day 1 of the 2021 U.S. Gymnastics Championships Thursday at Dickies Arena in Fort Worth, Texas. Malone sits atop the field with an 86.250 at the midway point of the competition. Yul Moldauer of Arvada, Colo./5280 Gymnastics (83.600) and Brandon Briones of Gilbert, Ariz./Stanford University (83.600) rounded out the top three.
Earlier in the day, Vahe Petrosyan of Van Nuys, Calif./Gymnastics Olympica USA posted the top junior score of the day, earning a 77.000 across all six apparatus. He leads the 15-16-year-old division after Day 1, while Fred Richard of Stoughton, Mass./Massachusetts Elite Gymnastics Academy posted the high score in the 17-19-year-old division with a 76.600. Petrosyan sits just ahead of Cole Partridge of Bountiful, Utah/USA Gymnastics World (76.950) and Kai Uemura of Chicago, Ill./Lakeshore Academy of Art Gymnastics (76.850) headed into Day 2 of the 15-16-year-old competition. Richard leads Toby Liang of Roswell, Ga./Roswell Gymnastics (76.250) and Vishal Mandava of Cypress, Texas/Cypress Academy of Gymnastics (75.850) in the 17-19 division.
The junior and senior U.S. Gymnastics Championships men's competitions continue Saturday. National all-around and individual event titles will be awarded. The juniors are back in action on FloGymnastics at 1:30 p.m. CT, while the conclusion of the senior competition will air live on NBCSN at 7 p.m. CT. NBC will re-air the senior men's Day 2 session Sunday at 1 p.m. CT.
Among seniors, Malone and Gage Dyer of Yukon, Okla./University of Oklahoma paced the field on vault with a 14.700. Eddie Penev of Penfield, N.Y./U.S. Olympic and Paralympic Training Center led the way on floor with a 14.750, and specialist Stephen Nedoroscik of Worcester, Mass./Penn State University notched the day's top score on pommel horse with a 15.100. Alex Diab of Glen Ellyn, Ill./University of Illinois picked up a 14.950 on still rings to lead all competitors. Shane Wiskus of Spring Park, Minn./U.S. Olympic and Paralympic Training Center and Colt Walker of Cedar Park, Texas/Stanford University shared the top spot on parallel bars with a 14.550. Six-time U.S. all-around champion and 2018 World bronze medalist Sam Mikulak of Newport Coast, Calif./U.S. Olympic and Paralympic Training Center earned the high score on horizontal bar with a 14.750.
In the junior competition, Petrosyan set the bar on still rings (13.500) and horizontal bar (13.050). Alexandru Nitache of Knoxville, Tenn./GymTek Academy posted the top score on floor exercise with a 13.400, while Arun Chhetri of Culver City, Calif./Gymnastics Olympica USA was tops on pommel horse with a 13.000. Caleb Melton of Woodbridge, Va./Apollo Gymnastics earned the day's high score on vault with a 14.400. Dallas Hale of Frisco, Texas/WOGA Gymnastics led the way on parallel bars with a 13.150.
USA Gymnastics. Based in Indianapolis, USA Gymnastics is the national governing body for gymnastics in the United States, encompassing seven disciplines: women's gymnastics, men's gymnastics, trampoline and tumbling, rhythmic gymnastics, acrobatic gymnastics, gymnastics for all (a.k.a. group gymnastics) and, most recently, parkour. USA Gymnastics sets the rules and policies that govern the sport of gymnastics, including selecting and training the U.S. Gymnastics Teams for the Olympics and World Championships; promoting and developing gymnastics on the grassroots and national levels, as well as a safe, empowered and positive training environment; and serving as a resource and educational center for the more than 200,000 members, clubs, fans and gymnasts throughout the United States. The organization is deeply committed to creating a culture that encourages and supports its athletes and focuses on its highest priority: the safety and well-being of athletes and our community.