GK US Classic & Hopes Championship | May 20-22, 2021
What To Watch For At The 2021 GK U.S. Classic
What To Watch For At The 2021 GK U.S. Classic
Simone Biles, MyKayla Skinner, Morgan Hurd, Laurie Hernandez, Chellsie Memmel, and more headline the 2021 GK U.S. Classic. Here's what you should know.
May 17, 2021
by Kelly Feng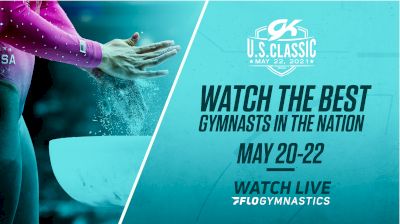 The GK U.S. Classic is the kickoff event for the 2021 summer Olympic season. The event set for Saturday, May 22, is the first in the home stretch for the top female gymnasts leading up to the trials. The meet also serves as the final opportunity for female gymnasts to qualify for the 2021 U.S. Gymnastics Championships, held June 3-6 in Fort Worth, Texas.
The national championships are scheduled for the first weekend in June in Fort Worth, Texas, with the U.S. Olympic trials set for St. Louis at the end of next month.
The high-caliber field includes four-time Olympic gold medalist, Simone Biles, making her 2021 debut. It also includes two-time Olympic medalist Laurie Hernandez, 2017 world all-around champion Morgan Hurd and world gold medalist Sunisa Lee, Jade Carey, Kara Eaker, Grace McCallum, Riley McCusker, and MyKayla Skinner.
The GK Hopes Championships features rising stars from the women's artistic discipline and marks the end of the 2021 Hopes season.
The fields for the 2021 GK U.S. Classic and GK Hopes Championships are listed below alphabetically by state. This list is as of May 13, 2021, and may be subject to change.
Seniors To Watch For
Simone Biles | World Champions Center | Senior | Session II
The five-time Olympic medalist (four gold, one bronze) needs no introduction. Biles is making her season debut at the U.S. Classic, the first competition since the October 2019 World Championships. She's expected to compete in the all-around. Did we mention the Biles II?
ITS SO EASY OMGG pic.twitter.com/QYHKU9n4Kq

— harv (@whiptriplefull) February 15, 2021
And here is the very best of Simone from the U.S. Classic.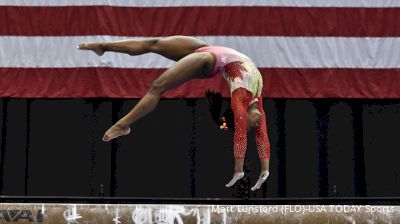 Jade Carey | Arizona Sunrays | Senior | Session II
Since 2018, Jade Carey has entered Olympic qualifying events through the World Cup series and has mathematically qualified for a Tokyo spot. However, there's speculation she will be trying for a team spot.
At the 2021 Winter Cup, Carey finished second on vault behind Jordan Chiles, sixth on uneven bars, and ninth on the balance beam. She has upgraded her beam and her bars and has noticeably improved her execution and form.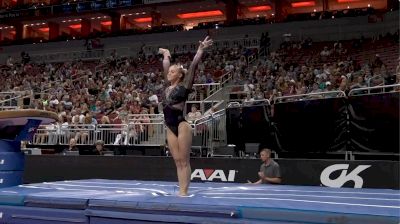 Jordan Chiles won the 2021 Winter Cup all-around title totaling 57.05 points. Chiles, who's been training with Cecile and Laurent Landi since June 2019, had the meet of a lifetime. Not only did she win the all-around, but she also took first on vault, floor, and second on beam. Here's her floor routine from Winter Cup, and you can see why she's one of the most powerful tumblers on the roster.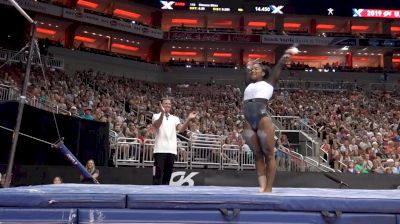 Aleah Finnegan | Great American Gymnastics Express | Senior | Session II
Aleah Finnegan, a GAGE gymnast known for its high execution, precision, toe point, and extension. One of her uneven bar skills is the Delchev, an uncommon, but difficult skill. Check out the toe-on full pirouette and the piked Delchev!
Shilese Jones | Future Gymnastics Academy | Senior | Session I
At the Winter Cup, Shilese Jones took second in the all-around and earned third on bars and floor. She was invited to compete in the 2020 Friendship and Solidarity Competition last November. Watch her vault from the international meet. Jones notched a 14.800 with a sky-high 9.400 execution score.
Laurie Hernandez | Gym-Max Gymnastics | Senior | Session I
From what we saw at the Winter Cup, Laurie Hernandez is still showcasing the flawless signature form. For that reason alone, she is always worth watching. She earns her spot for superb execution, and if she can add more difficulty, that's the icing. Check out her choreography, tumbling, and stage presence.
Morgan Hurd | First State Gymnastics | Senior | Session II
A fan favorite, Morgan Hurd is making her 2021 debut at the U.S. Classic. Many fans have followed her Olympic journey through the Olympic Channel's documentary series All Around. She recently had elbow surgery but will be competing in vault, beam, and possibly floor. If she competes on floor, we will see a new floor routine.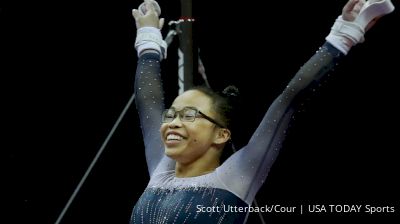 Emily Lee | West Valley Gymnastics School | Senior | Session II
This UCLA commits won third in the All-Around at the Winter cup, behind Shiles Jones and Jordan Chiles. There's been a lot of Twitter buzz about Lee receiving the second-highest score at the March U.S. Women's National Team Camp. Watch her acro series and floaty two-footed layout from her routine that earned a 15.10.
K but like EMILY LEE. pic.twitter.com/nNT3g4gF1P

— TXJ4Toyko (@RealMar5) May 10, 2021
Konnor McClain | Revolution Gymnastics | Senior | Session I
Some of us know Konnor McClain from the Amazing Four-Year-Old Gymnast series posted about 11 years ago. Here she is in a higher quality 4-Yr Old Gymnast is Just Brilliant. McClain, now 16, can certainly back up the hype.
McClain checks off every box as to what to look for in a gymnast. She's always had the big acrobatic skills, but she also has the artistry and execution. Because we're so enthralled with her floaty layout on beam, it's easy to overlook other details, like extended leaps and high relevé.
Riley McCusker | Arizona Sunrays | Senior | Session II
Riley McCusker brings lovely hyper-extension, elegant precision, and perfect toe point to every apparatus, especially the bars. An online fan favorite, McCusker has made a considerable improvement in her tumbling.
do you ever want to cry because Riley McCusker https://t.co/461x5oNqLr

— hannah ✨ go blue!! (@alysfloor) April 14, 2021
Of course, there's also her bars:
Chellsie Memmel | M and M Gymnastics | Senior | Session I
To the delight of gymnastics fans worldwide, Chellsie Memmel started her comeback journey 18 months ago. The 2008 Olympic silver medalist will enter her first meet in nine years. Have we mentioned she's 32 years old and has two children?
Memmel has shown her determination by methodically pacing herself to avoid overuse and injury. In her recent training video, her standing Arabian is enough to make you clear your calendars next Saturday.
Some things from today 🙃 #chellsiesadultgymnasticsjourney #gymnastics #adultgymnastics #triansmart #ozoneleos #bonusround pic.twitter.com/x2zK6kHmba

— Chellsie Memmel (@CMemmel) May 12, 2021
McKayla Skinner was a 2016 Olympic Alternate on the Women's Gymnastics team. Skinner has a long history of being counted on when most needed and hitting routines, whether nationally and internationally, especially on floor and vault where she's valued the most.
She had an impeccable career at Utah and has talked about returning next year. In early 2020 at Gymnix International, Montreal, Canada, Skinner placed second in all-around and first on vault, uneven bars, and floor.
She also scored the highest at the March U.S. Women's National Team Camp with a sky-high vault of 15.20.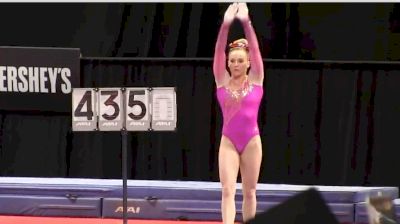 Juniors To Watch For
Kailin Chio | Gymcats Gymnastics | Junior
Kailin Chio placed first in the Junior all-around at the American classic with a 53.650! Check out her fluid bar routine with her beautiful extension.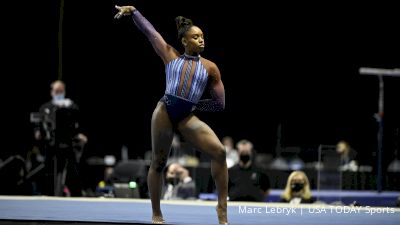 Ella Murphy | WOGA Gymnastics | Junior
Ella Murphy placed second at the Junior American Classic 51.500
Here she is gracefully competing on beam.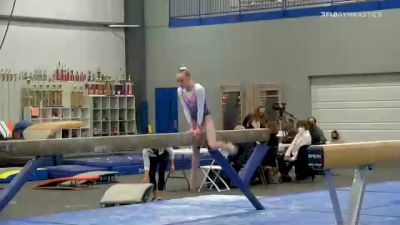 Joscelyn Roberson | North East Texas Elite Gymnastics | Junior
After tying with Madray Johnson, USAG broke the tie, and Joscelyn Roberson placed second in the Junior all-around at the Winter Cup. She placed first on beam and third on floor. A talented all-arounder, Robertson packs high-level difficulty into every routine. Check out her incredible double layout in her first pass.
Ella Kate Parker | Cincinnati Gymnastics | Junior
Ella Kate Parker won the 2021 Junior all-around with a 52.350!
Check out her supreme confidence on the beam, where she performs giant tumbling, extended leaps, and an outstanding switch leap half! Don't forget about her double back handspring to double twist dismount.
There are many more talented gymnasts we've previewed at previous events. Read more here.