2021 American Classic and Hopes Classic
What To Watch For At The 2021 American Classic & Hopes Classic
What To Watch For At The 2021 American Classic & Hopes Classic
The 2021 American Classic & Hopes Classic will feature the elite junior and senior gymnasts as well as future elites. Here's what you need to know.
Apr 21, 2021
by Kelly Feng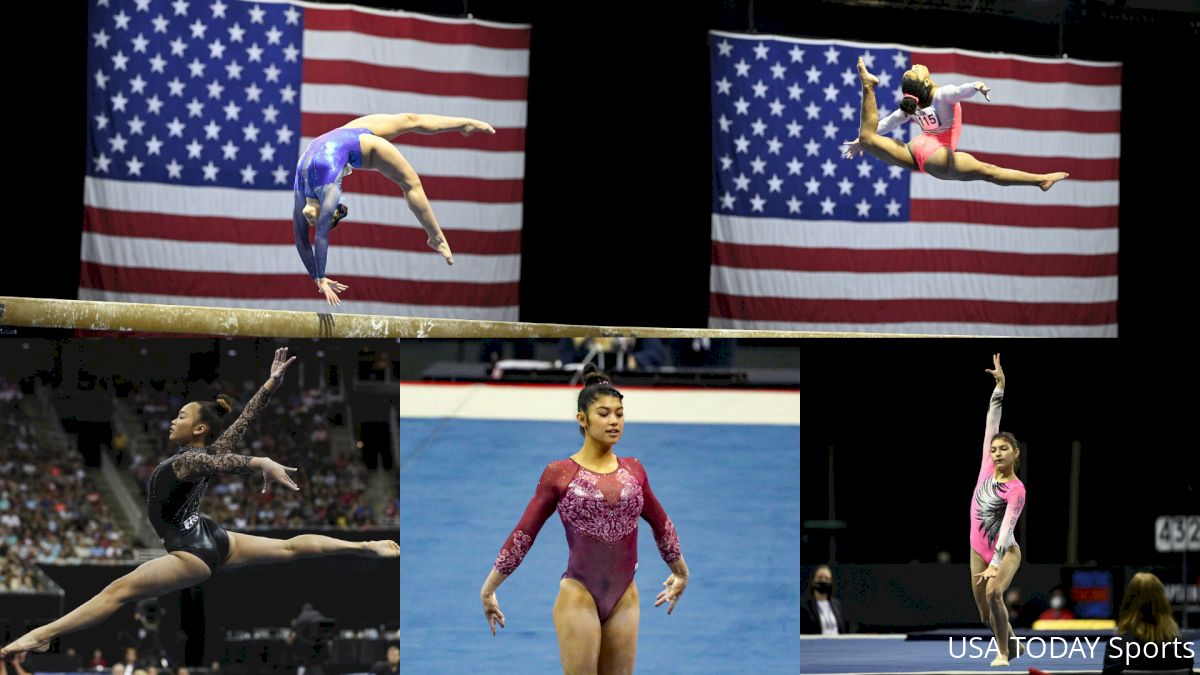 The highly anticipated American Classic will feature junior and senior gymnasts competing at the elite level, as well as the Hopes Classic with 11-14 year-old gymnasts who intend to be elite one day.
There are so many gymnasts to spotlight but we've narrowed down the field to some standouts to watch April 23-24 live on FloGymnastics.
---
American Classic Seniors To Watch For
Ciena Alipio | Midwest Gymnastics Center
The gymternet lit up last week when Ciena Alipio announced her commitment to UCLA for the class of 2022. In March, she was named to the National team after competing at the Winter Cup and placing sixth on floor of 12.70, but her execution score of 8 was the second-highest execution score on floor. Fans love Alipio's combined artistry and choreography on the floor. Here she is tumbling to music from Cirque Du Soleil.
Competing at the Winter Cup, she tied first on beam with Jordan Chiles, with the tie being broken and Blakely placing first. She competed with various high-difficulty skills, including a standing full, front handspring front tuck on beam, and dismounting with a double tuck dismount, receiving a 14.500.
First year senior Skye Blakely made beam look EASY today at #WinterCup! pic.twitter.com/2GibsEpVRH

— USA Gymnastics (@USAGym) February 27, 2021


Kayla DiCello made her senior debut competing in the American Cup last year, tallying a 55.132, second to Morgan Hurd.
At the recent Women's National Team Camp Competition Results — Kayla DiCello led the All-Around with a 55.85. Not bad for a gymnast that has not competed in more than a year.
Okay WOW. This is much improved!!!😍Kayla would be such a powerhouse on floor with a Silivas & Chuso! pic.twitter.com/JqDu6t99Dr

— Gymnastics Fandom (@GymnasticsFand1) April 14, 2021


Kara Eaker has quite the pedigree. A two-time U.S. Senior National Team member in 2018-19 and 19-20, Eaker helped the U.S. win back-to-back team gold medals at the 2018 and 2019 World Championships.
She's best known for her beam, and for a good reason—her beam choreography includes artistry, tumbling, rhythm and tempo. Eaker earned a spot in the beam finals at both World Championships, placing fourth in 2019 and sixth in 2018. Notice the speed of her acro series.
EMjae Frazier | Parkettes National Gymnastics Center
eMjae Frazier, the younger sister of UCLA junior Margzetta, is a senior international elite who competed at the U.S. Gymnastics Championships in 2019 ninth all-around in the junior division.
Last November, Frazier represented the U.S. and "Team Solidarity" at the 2020 Friendship and Solidarity Friendly Competition in Tokyo, Japan.
Sunisa Lee | Midwest Gymnastics Center
Sunisa Lee Only Competed Bars And Beam At The Winter Cup But Stole The Show With Her Bars! Not Only Did She Have A 6.5 Difficulty, But Her Execution Was Also 8.550.
Her beam, which was water-downed to protect a recovering stress fracture in her ankle, still got a 14.250, a remarkable score given that she did a layout dismount.
Never to be counted out, Grace McCallum is one to watch for her impeccable form and consistency. A Senior National Team member since 2018, helped the U.S. win back-to-back gold medals at the World Championships in 2018 and 2019. She also won the silver medal in the all-around at the American Cup in 2019.
McCallum is a powerful gymnast, opening her floor routine with a double-double and continuously upgrading her skills. She's impressive on all events. Notice her triple wolf turn and then double wolf turn. The wolf turns aren't the most aesthetic skill in the code, but McCallum manages to perform them beautifully, with control and extension right through her toes.
McCallum trains with junior Levi Jung-Ruvivar, and you'll see they're having some fun with synchronized bars.
A Level 10 for years, Faith Torrez was under the radar until she turned elite and appeared at the American Classic in 2019—and what an appearance. During her first competition as an elite, she won first in the all-around and vault, second in uneven bars and floor, and third on the balance beam.
Last year, she competed in March 2020 at Gymnix International with Lilly Lippeatt, MyKayla Skinner, and Emily Lee, where the team won gold. Individually, she captured balance beam gold with a score of 13.966 and uneven bars bronze with a score of 12.966.


We haven't seen the GAGE gymnasts in a while, although the Dragons Invitational 2021 home meet was on Instagram Live last December. Leanne Wong is the 2019 American Cup champion and was a team member who won gold at the 2019 Pan American Games. In March 2020, Wong was chosen to compete at the City of Jesolo Trophy alongside Kara Eaker. The meet was later canceled due to COVID-19 protocols.
Fans will be excited to see Wong's new floor routine, which includes a double-double, the 2.5 +, among other upgrades. Check out her double-double at 00:21 and textbook twisting at 1:15.
---


American Classic Juniors To Watch For
At the Winter Cup, Madray Johnson had a great competition and tied for second with Joscelyn Roberson with a 51.150. The tie was broken in the medal ceremony, with Roberson placing second and Johnson third.
Johnson also placed third on the beam. If her balance beam mount doesn't get your attention, check out her Onodi at 00:38.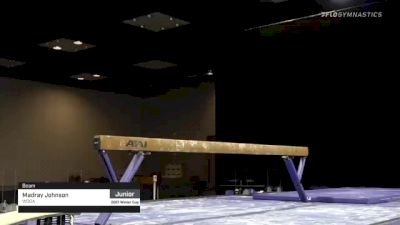 Nola Matthews | Airborne Gymnastics Training Center
Not only was there was a tie for second place in the juniors, but there was also a tie for fourth place all-around, with a 50.550. Through a tiebreaker, Charlotte Booth was awarded fourth place and Nola Matthews fifth. She places second on bars with a 13.150.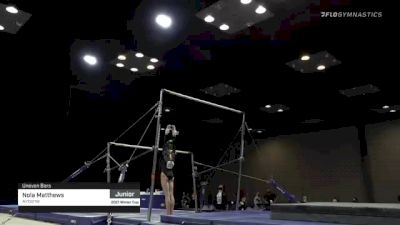 Paloma Spiridonova took first at the Winer Cup with a 13.150 on floor. Her tumbling is powerful, and her ballet, musicality, and choreography are divine.
Check out her floor, where she not only shows amplitude and shape in her leaps but consistent flexibility and tumbling. She begins with a double pike to open and ends with a stunning 2.5 twist.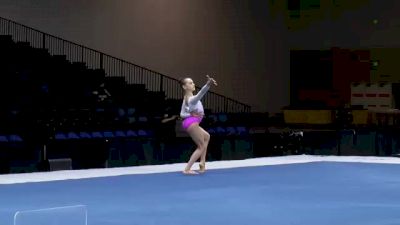 Hopes Classic
Hopes Classic is a Modified Pre-Elite Program Dedicated to Gymnasts 10-13. HOPES provides athletes with an opportunity to compete the traditional Elite compulsory and a modified FIG Optional. It is for gymnasts who intend on becoming elite one day. The following is a list of gymnasts grouped by their states:
Arkansas
Lila Richardson, Hopes and Dreams Gymnastics, Hopes11-12
Arizona
Jessica Schaffer, Desert Lights Gymnastics, Hopes 13-14
Califonia
Allyn Damelio, San Mateo Gymnastics, Hopes 11-12
Tyler Turner, Airborne Gymnastics Training Center, Hopes 11-12
Carsyn Coleman, Precision Gymnastics, Hopes 13-14
Myli Reingold, Gymnastics Olympica USA, Hopes 13-14
Jolyn Sicat Valeros, Sokol Elite Gymnastics, Hopes 13-14
Florida
Mia Puig, International Gymnastics Training Center, Hopes 11-12
Emerson Fisk, Golden City Gymnastics, Hopes 13-14
Illinois
Tori Kitzmiller, Naperville Gymnastics Club, Hopes 11-12
Emma Becker, Flips Gymnastics North Shore, Hopes 13-14
Maryland
Camie Westerman, Hill's Gymnastics, Hopes 11-12
Audrey Snyder, First State Gymnastics, Hopes 13-14
Sydney Snyder, First State Gymnastics, Hopes 13-14
Minnesota
Tatum Drusch, Flips Gymnastics LLC, Hopes 13-14
North Carolina
Addy Fulcher, First in Flight, Hopes 11-12
New Jersey
Giovannina Beltra, Rebound Gymnastics Inc., Hopes 13-14
Adele Ossi, Parkettes National Gymnastics Center, Hopes 13-14
Anna Tava, US Gymnastics Develop Center II, Hopes 13-14
Nevada
Ariel Collum, Browns Gymnastics, Hopes 13-14
New York
Kieryn Finnell, RGA, Hopes 13-14
Ohio
Sadie Goldberg, Buckeye Gymnastics, Hopes 11-12
Quinn Harris, Cincinnati Gymnastics, Hopes 11-12
Addie Oiler-Velez, Buckeye Gymnastics, Hopes 11-12
Carly Weinberg, Buckeye Gymnastics, Hopes 13-14
Oregon
Gabriella Pierson, WOGA Gymnastics, Hopes 13-14
Pennsylvania
Coco Lazaridis, Parkettes National Gymnastics Center, Hopes 11-12
Nicole Desmond, First State Gymnastics, Hopes 13-14
Tennessee
Anabelle Dewey, E.T.C Gymnastics, Hopes 13-14
Texas
Paityn Adams, Metroplex Gymnastics, Hopes 11-12
Claire Pease, WOGA Gymnastics, Hopes 11-12
Dulcy Caylor, Texas Dreams Gymnastics, Hopes 13-14
Payton Chandler, Metroplex Gymnastics, Hopes 13-14
Kaitlynd Kastl, Metroplex Gymnastics, Hopes 13-14
Julia Nehmer, WOGA Gymnastics, Hopes 13-14
Virginia
Charleigh Bullock, Capital Gymnastics National Training Center, Hopes 11-12
Brynn Torry, World Class Gymnastics, Yorktown, Hopes 13-14
Washington
Hailey Avellar, Ascend Gymnastics Center, Hopes 13-14
Isabelle Futch, Ascend Gymnastics Center, Hopes 13-14
Jayla Hang, Ascend Gymnastics Center, Hopes 13-14
Simone Rose, Ascend Gymnastics Center, Hopes 13-14
Jocelyn Sasson, Ascend Gymnastics Center, Hopes 13-14