2021 Winter Cup & Elite Team Cup
Chiles & Parker Claim 2021 Winter Cup Senior & Junior All-Around Titles
Chiles & Parker Claim 2021 Winter Cup Senior & Junior All-Around Titles
Jordan Chiles and Ella Kate Parker claim 2021 Winter Cup Senior & Junior AA titles and 4 senior and 5 junior gymnasts named to U.S. Women's National Team.
Feb 28, 2021
by FloGymnastics Staff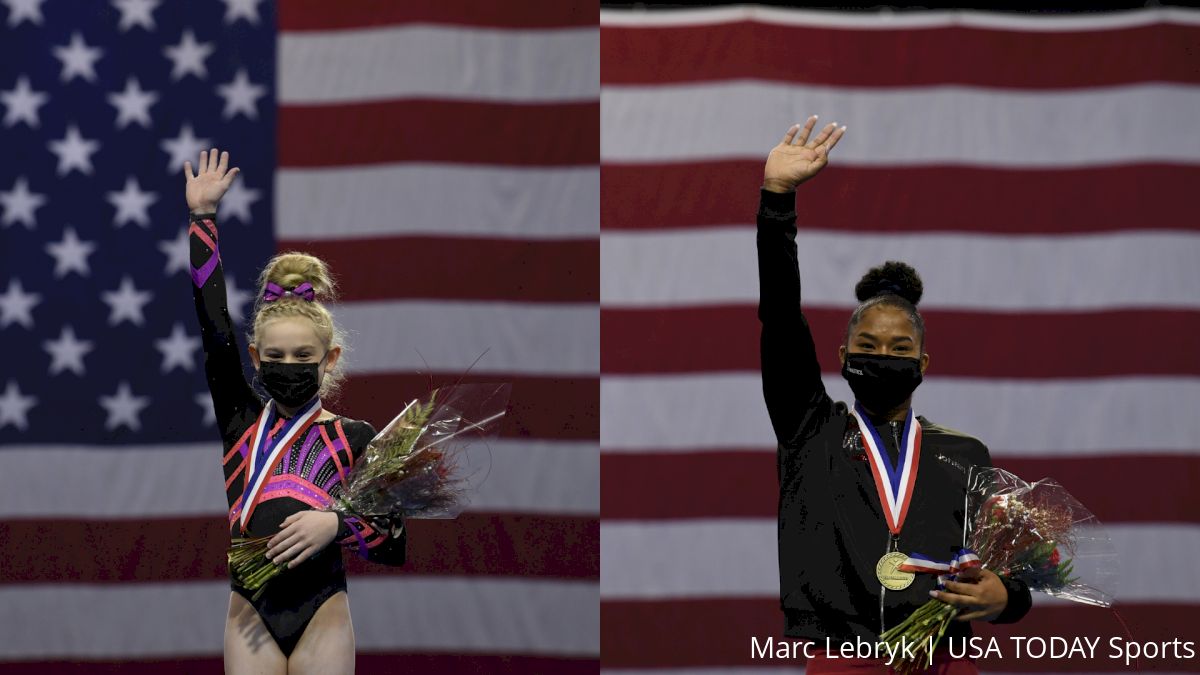 INDIANAPOLIS, February 28, 2021 – Jordan Chiles' all-around score of 57.050 topped the senior women's field at the 2021 Winter Cup held over the weekend at the Indiana Convention Center in Indianapolis. Thirteen-year-old Ella Kate Parker of West Monroe, La./Cincinnati Gymnastics secured the junior women's all-around title with a 52.350.
Chiles of Vancouver, Wash./World Champions Centre competed Saturday but had to wait until the competition concluded Sunday to officially claim victory. Shilese Jones of Westerville, Ohio/Future Gymnastics Academy (55.100), Emily Lee of Los Gatos, Calif./West Valley Gymnastics School (53.400) and Lilly Lippeatt of Mason, Ohio/Cincinnati Gymnastics (53.250) rounded out the top four finishers in the senior all-around competition. All automatically qualified to the 2021 U.S. Senior Women's National Team based on their performances at the event.
In addition to the all-around championship, Chiles notched the high score on vault (14.900), balance beam (14.500), and floor exercise (13.600). In her senior debut, Skye Blakely of Frisco, Texas/WOGA Gymnastics tied with Chiles for top honors on balance beam, while Sunisa Lee of St. Paul, Minn./Midwest Gymnastics Center took the top spot on uneven bars with a 15.050.
In the junior division, Joscelyn Roberson of Texarkana, Texas/North East Texas Elite Gymnastics and Madray Johnson of Dallas, Texas/WOGA Gymnastics both finished with 51.150 followed by Charlotte Booth of Claremont, Fla./Brandy Johnson's Global Gymnastics and Nola Matthews of Gilroy, Calif./Airborne Gymnastics Training Center who tied for fourth with 50.550. Having earned the top-four all-around placements, all five gymnasts – Parker, Roberson, Johnson, Booth, and Matthews – qualified to the 2021 U.S. Junior Women's National Team.
Roberson posted the day's high score on balance beam (13.800). Katelyn Jong of Allen, Texas/Metroplex Gymnastics topped the podium on vault with a 14.300, while Levi Jung-Ruivivar of Maple Grove, Minn./Twin City Twisters notched the high score on uneven bars with a 13.200. Paloma Spiridonova of Torrance, Calif./WOGA Gymnastics took the top spot on floor exercise with a 13.150.
In May of 2020, USA Gymnastics announced the cancellation of its remaining 2020 premier events due to the coronavirus pandemic, making the 2021 Winter Cup the first national elite women's competition held since the 2019 U.S. Gymnastics Championships. The 2021 season will continue with the GK U.S. Classic May 22.
USA Gymnastics. Based in Indianapolis, USA Gymnastics is the national governing body for gymnastics in the United States, encompassing seven disciplines: women's gymnastics, men's gymnastics, trampoline and tumbling, rhythmic gymnastics, acrobatic gymnastics, gymnastics for all (a.k.a. group gymnastics) and, most recently, parkour. USA Gymnastics sets the rules and policies that govern the sport of gymnastics, including selecting and training the U.S. Gymnastics Teams for the Olympics and World Championships; promoting and developing gymnastics on the grassroots and national levels, as well as a safe, empowered and positive training environment; and serving as a resource and educational center for the more than 200,000 members, clubs, fans and gymnasts throughout the United States. The organization is deeply committed to creating a culture that encourages and supports its athletes and focuses on its highest priority: the safety and well-being of athletes and our community.