2021 Winter Cup & Elite Team Cup
Men's Preview: What To Watch For At 2021 Winter Cup
Men's Preview: What To Watch For At 2021 Winter Cup
The Men's competition at the 2021 Winter Cup is stacked with exciting competitors. Here's who to watch for.
Feb 22, 2021
by Miranda Martin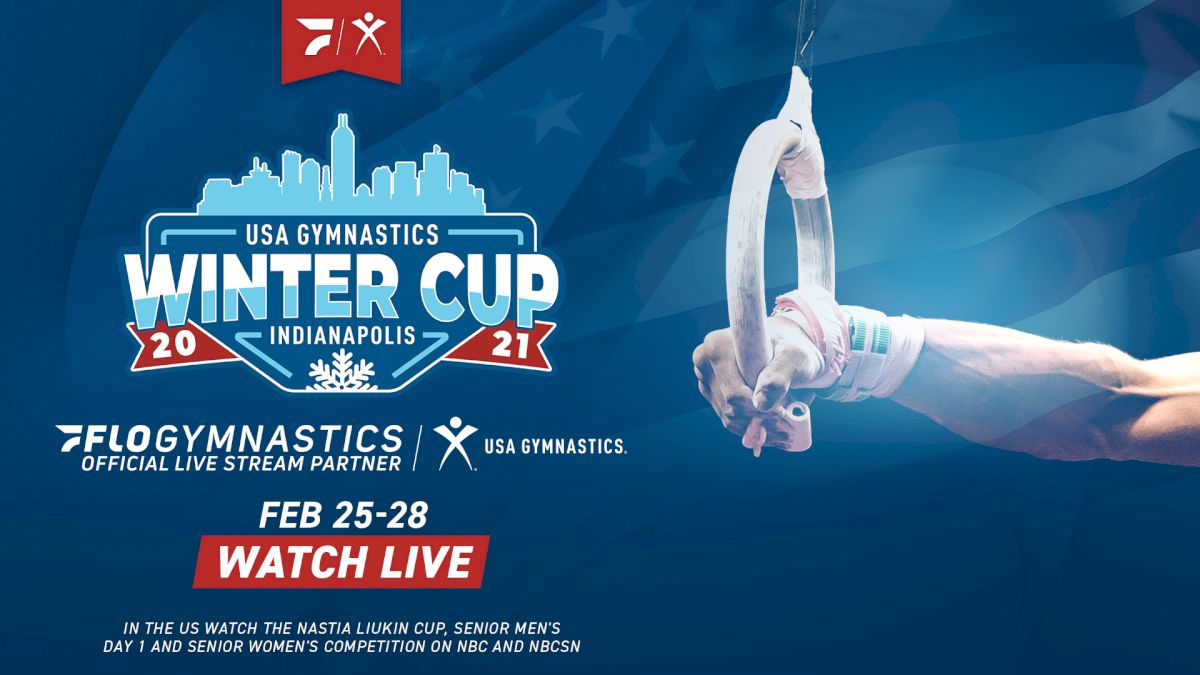 Though it is now expanding to include women's artistic gymnastics, the Winter Cup has always been a men's competition, and the 2021 field is shaping up to be a fun one! Held in Indianapolis, Indiana, the meet takes place February 26th-28th and has both a senior and junior competition.
The Winter Cup is a qualifier to the 2021 U.S. Gymnastics Championships, where gymnasts can qualify for Olympic Team trials. This stepping stone to the Olympics is an exciting must-watch and one of the first elite competitions held in the United States since the coronavirus outbreak. Many gymnasts will be coming with new skills, new routines, and ready to impress.
Winter Cup also helps the selection of the junior and senior national teams for 2021, which will be named after the competition. We'll have to tune in to hear our new Men's junior and senior national team members, and we can't wait to see what happens!
The men's lineup at the Winter Cup is stacked, with most gymnasts wanting to get out there and impress one of the first meets back. Here are just a few that we have our eyes on for podium spots, though we're excited to see everyone attending.
The Winter Beach Blast Invitational was first elite meet of the 2021 season, and if it was any indication of how the rest of the year will shape up, Moldauer is set to place high at the Winter Cup. He took first all-around at the competition at Beach Blast, as well as first on floor and parallel bars and second on rings, high bar, and vault. Yul also attended the recent Friendship and Solidarity competition, a friendly meet hosted in Japan to get back into competition season. Yul was one of three men's gymnasts who decided to travel and compete, alongside Paul Juda and Shane Wiskus. He only competed on pommel horse (14.200), parallel bars (14.000), and high bar (12.100), but it got him international experience and back into the competition field.
He recently posted this video with the caption, "Really want to get this consistent enough to compete." We'd love to see it at Winter Cup, and it would help him on that event, as it was his weakest at the Winter Beach Blast Invitational.
Juda also opted to attend the Friendship and Solidarity competition, giving us a good idea of where he is at with his training. Juda competed on five of the six events, the most out of any American male gymnast there, and received a 13.800 on floor, 13.400 on pommel horse, 13.000 on rings, 14.400 on vault, 13.200 on parallel bars, and an 11.500 on high bar. Juda is currently competing for the University of Michigan as a sophomore, so he has the advantage of regular competitions, even though some Michigan meets were recently postponed.
He also updates his social media frequently with videos of his progress. This video is especially fun as we get to see his first 6.0 difficulty floor routine one month ahead of Winter Cup, and we know it'll only get more polished from here when we get to see it competed.
Juda has a good track record at the Winter Cup. Last year Juda took third on high bar, tied for fifth on floor, and placed eighth all-around. This year, eyes will be on Juda to see if he can move up in the standings after his abundant competition experience at the collegiate level and recently, internationally.
Donnell Whittenburg is no stranger to the Winter Cup, winning all-around silver in 2014, bronze in 2015, and medaling on events in more recent years. He's most well-known for being an alternate for the 2016 Olympic Team, and competed recently on a huge stage at the 2019 World Team Selection Camp, where he placed eighth all-around following his performance at the 2019 U.S. Gymnastics Championships, where he took third on rings and seventh all-around, on floor, and vault. This season, he's competed at the Winter Beach Blast Invitational, and though he only competed in three events, he took first on rings with a 14.650. We've seen a few updates from Whittenburg on social media, most frequently on rings and parallel bar, so we can't wait to see what he shows during this competition.
Alongside Paul Juda and Yul Moldauer, Shane Wiskus attended the Friendship and Solidarity competition in Japan, meaning that he has the advantage of a recent international competition under his belt. He competed on only four events there, receiving a 14.200 on floor, a 12.700 on pommel horse, a 14.000 on parallel bars, and a 12.700 on high bar. Besides getting used to competing under pressure again after so long, he tied for the third-highest floor score on the event out of all thirty athletes there.
Wiskus is a senior at the University of Minnesota but has yet to compete this season in preparation for the Olympic Games. At the end of 2020, Wiskus moved to Colorado Springs to train at the Olympic Training Center and has been practicing there since. Before the move, he told FloGymnastics, "I'm really looking forward to moving there and having all the resources I need, all the staff and coaches, and knowledge that people have gained over the last couple of years, and really excited to see how hard I can push myself." At Winter Cup, we will be able to see those new resources in action.
There are many other exciting men's competitors in the field at Winter Cup, including Marvin Kimble, Alec Yoder, and many more.
As with everything over the past year, COVID has changed how this meet will look, starting with no spectators to ensure the safety of the competitors. Of course, fans are able to watch the action live on FloGymnastics, with men's gymnastics streaming Friday, Saturday, and Sunday.
On Friday fans will be able to see the senior all-around final and event qualifications at 7:30 pm EST. On Saturday, the junior all-around final and event qualifications are streamed at 5:00 pm EST, and on Sunday, the senior and junior event finals are at 5:30 pm EST. A full schedule of events can be found here.
The competition also includes the Elite Team Challenge, a competition with nine men's regional teams, each made up of six junior elite gymnasts selected from the regional elite team program. The Elite team challenge will be streamed live on FloGymnastics on Saturday, February 27th at 5:00 pm EST.