2021 April Men's Senior National Team Camp
How Akash Modi Draws Inspiration From Family, Engineering, & Meditation
How Akash Modi Draws Inspiration From Family, Engineering, & Meditation
Akash Modi talks about the 2021 Olympic Games, how he uses mechanical engineering in the gym, his family inspiration, and more.
Dec 23, 2020
by Miranda Martin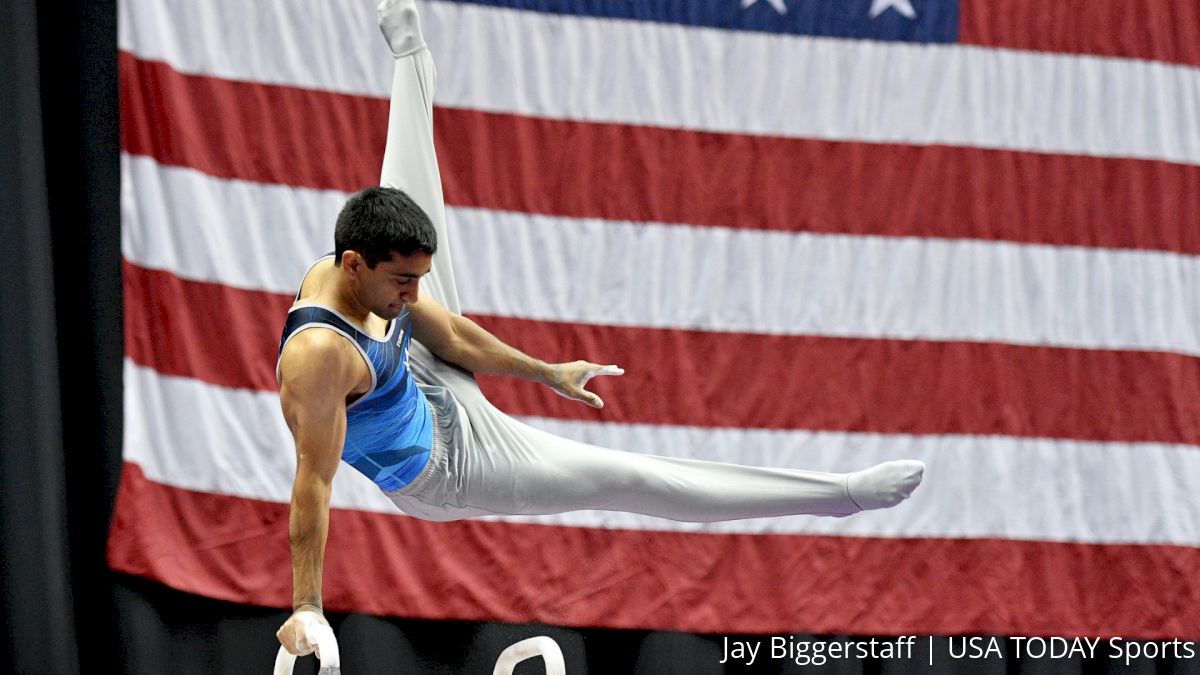 For many gymnasts, 2020 was the year that signified the end of an Olympic journey and the beginning of a life outside of gymnastics. Before the pandemic hit, Akash Modi was finally coming to terms with being done with the sport he loves for good. After hopefully competing at the 2020 Olympic Games, he planned to be done and move on. That plan obviously came crashing down with the postponement of the games, and at first, Modi wasn't even sure he would continue.
"I'm 25, and my body is starting to hurt. the pandemic hit, I thought man, do I really - I mean, I was in the mindset that I was just going to go for six months, grind it out, and be done, do I really want to keep going?" Modi shared.
Some may argue that Modi racked up enough accomplishments in his career to close the chapter on gymnastics. He was a member of the 2018 and 2019 World Championship teams, alternate for the 2016 Olympic team, five-time All-American, won multiple NCAA Champion titles, and more. Ultimately, it was his passion for the sport and his competitive, driven nature that kept him motivated to keep going.
"I started playing around and I really discovered the love I had for learning new skills again, and I got too excited about the idea of grinding in those new skills to get them into my routines and being way better than I was this past year," he shared.
After a "mindset shift," Modi decided he could either remain frustrated about an extra year of training and perfecting his old routines or he could add new skills. He chose the latter. Since the pandemic, he's added a Sohn on the pommel horse (E value), which is essentially a full spin, on one hand, German giants on high bar, which are like eagle giants in the opposite grip, and more. The plan for Modi is to give his all in his pursuit of the 2021 Olympics and retire gracefully following competition and a beautiful career in gymnastics.
Luckily, Modi is hitting his stride as a gymnast, using his degrees to help him excel in the gym. Akash graduated one year ago from Stanford with a master's and an undergrad degree in mechanical engineering, and getting his master's with a focus in dynamics made him see the sport in a whole new way.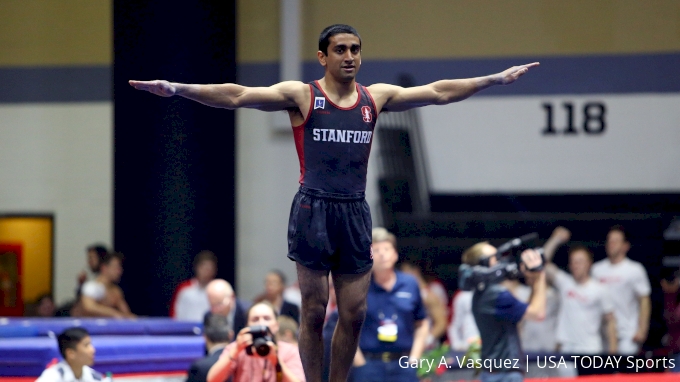 In an advanced dynamics class, he had to create a question to present to the class, and he chose to analyze the double double off of the high bar. As he was creating and solving the question, he had a realization.
"I did some simulations and figured like, what is the optimal body piking angle to be at, when should you initiate the twist to get the twist done the fastest, that kind of stuff. So I got to use on that, and it got me thinking about a bunch of other skills," Modi shared.
"Now I can just generally think back to, what are the basic foundational dynamic principles here, and how can I use them to my advantage? A lot of times when a coach gives me a correction, I'll try to think out why that correction works, and see what I can do to think about it a certain way so I can get my body to maximize that correction. If I need to elevate my body more in a circle on pommel horse, which group should I activate to get my body as elevated as possible?"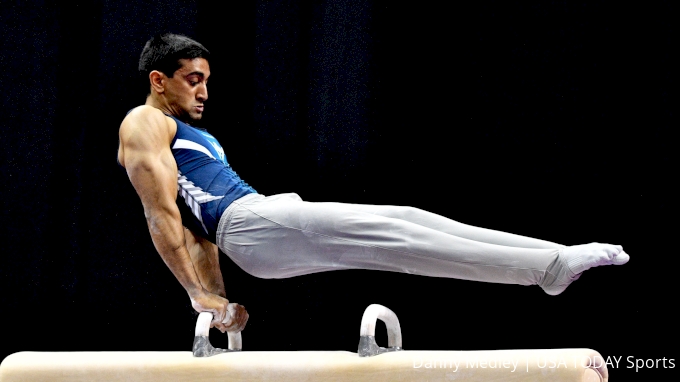 This rational way of thinking about skills comes with age as well. "With twenty years of gymnastics comes twenty years of experience, so I know I can take four turns to warm up my floor routine instead of the usual nine, and cut my workout in half, to end up saving my ankle on a day that it hurts and still get the workout done."
All things considered, it seems like 2021 will be Modi's time in the spotlight. If he makes the Olympic team, he will carry on a family legacy following his second cousin Raj Bhavsar. Bhavsar is a 2008 Olympic men's gymnastics team member of the bronze-winning team and a 2004 Olympic alternate.
"His dad is my mom's cousin. My mom and his dad grew up together in the same house in India, so they were very close then," Modi shared, going on to say that he didn't know Bhavsar was in gymnastics until after he started. When Bhavsar competed at the NCAA Championships at Temple University his senior year in 2003, Modi's family went to watch.
"We found out there that he's really good, and the next year he was at Olympic Trials and was Olympic alternate, should have maybe been on the team that year, and that's kind of when I realized wow, he's really good."
It was that moment, seeing his cousin get the bronze medal at the Olympics, that he realized he truly wanted to push himself to that level and see how far he could go with his gymnastics career. "Seeing Raj up there doing amazing and ending up with an Olympic medal, I was like, if he can do it, I can definitely do it."
Not only was Bhavsar an inspiration in Modi's younger years, but he's also a mentor today. "We've been in pretty close contact just talking about gymnastics skills in general, he helps me technically with gymnastics, if my training plan is starting to feel overwhelming for me he'll help out with some sort of mental help."
Bhavsar's mentorship often comes in the form of yoga and meditation, which Modi's mother practices as well. "It's made a big change in my mental game, not just in competition but even in practice, where I'm able to take more useful turns, and really make the most out of my turns," Modi shared.
Having Bhavsar as a guide in the gymnastics world was special for another reason. "Raj was honestly a big reason why I felt like I could do well in the sport because growing up was mostly white, and I'm vegetarian because of my Indian background, so a lot of people would say, you can't be a vegetarian and do well at gymnastics, you're going to be weak, going to be skinny, but I felt confident because I had that representation at the highest level of gymnastics in him," Modi shared.
"Now I'm seeing a lot of the younger generation of Indian gymnasts, and a lot of them come up to me and say like, wow, I can't believe I can meet you, you've inspired me, it was just awesome seeing an Indian in gymnastics. And I never really realized the impact that Raj had on me until I saw the impact I have on the younger kids, and now I realized that he really did make a big difference to me, and I'm glad I can make a big difference for these kids."

- Akash Modi
The culture in the U.S. and in the gymnastics world has shifted so much over the years, Akash says, that rather than seen as a strange thing, being a vegetarian is more accepted, and fellow gymnasts will even ask him if it's a better diet to follow than eating meat. Having South Asian representation in gymnastics has a lot to do with making differences more accepted in the gymnastics world.
While the culture of gymnastics is evolving, men's gymnastics, especially at the NCAA level, is struggling.
"Going through the NCAA system was the single best thing I could've done for my gymnastics career...I just wanted to say how lucky I am to have been able to go through that system, and how I really hope that it continues."

- Akash Modi
With NCAA men's programs being canceled, Modi predicts that if a season doesn't happen this year, these teams are in danger of being canceled across the board. "The team spirit I got being on that team for four years, the kind of group uplifting I got there, and obviously the coaching staff, the support I had from the university to help me get one of the best degrees in the country while still being able to compete at the highest level, it's really something honestly life-changing, that I really hope many many other young male gymnasts will have a change to go through," he stated.
He's working with others to try and reverse these cancellations. "We're trying to come up with ways to promote men's gymnastics, and especially men's NCAA gymnastics because it is a fun sport to watch. And clearly, there's interest in gymnastics, because people love watching women's. So if people just realize that men's is similar, but has a few more events and other things going on, then I think people would get very interested," he shared.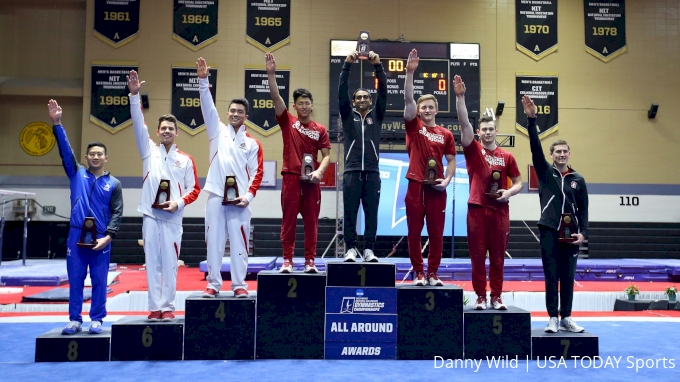 Now, going into Olympic Trials, Modi feels ready. On some events, like vault, he is still working on upgrading, but overall, he's focused on perfection. For a kid who only got started in the sport because his parents got a coupon for a free month at Monmouth Gymnastics and figured why not, he's come a long way.
Modi explained, "I've worked on so much small technique to where I feel so much more confidence in every skill, and so now I feel like I'm even more ready going into this Trials process, to where my routines are kind of just, I just salute my hand and I don't even think about it, I just go."