2021 US Championships
Aleah Finnegan Discusses Deltchevs And Diversity
Aleah Finnegan Discusses Deltchevs And Diversity
Aleah Finnegan discusses being Filipino, representation and diversity in gymnastics, returning from injury and her goals for the 2021 season.
Nov 30, 2020
by Amanda Wijangco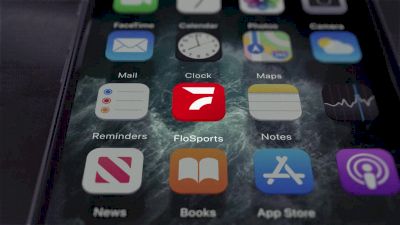 Aleah Finnegan remembers watching Carlos Yulo make history at the 2018 Artistic Gymnastics World Championships. Yulo won bronze on floor exercise in Doha, making him the first Philippine gymnast to medal at a World Championships.
"It was such a special moment, because I was just like, 'This is so awesome,'" Finnegan said. "Filipino gymnasts don't get a lot of recognition, especially competing for the Philippines, and I think that was so awesome, and I'm so proud of him."
Finnegan is a senior elite gymnast who represents the U.S., but her Filipino heritage — her mom, Linabelle, was born and raised in the Philippines — made Yulo's historic feat a moment to remember. Yulo went on to win the men's floor title at the 2019 World Championships in Stuttgart.
Finnegan and Yulo are part of a rising trend in artistic gymnastics. Since 2010, there has been an increase in Filipino representation from both Filipinos and Filipino-Americans in the sport at its highest levels.
Aleah's second-eldest sister, Sarah, is a two-time Pan American Championship medalist, a member of the 2012 U.S. Olympic women's gymnastics team, and a two-time NCAA champion for LSU. Their eldest sister, Hannah, competed for the Philippines at the Southeast Asian Games in 2011. Most notably. there's Kyla Ross: a 2012 Olympic gold medalist, five-time World medalist, 11-time Pacific Rim medalist, and five-time NCAA champion.
Other notable Filipino women's gymnasts include Canadian Olympian Victoria Moors, Canadian Pan American Champion Brooklyn Moors, Kentucky sophomore Kaitlin DeGuzman, Penn State senior Ava Verdeflor, Lizzy LeDuc, and Corinne Bunagan.
Whether they've competed for the U.S., Canada, or for the Philippines, Finnegan is honored to add her name to the growing list of gymnasts representing the southeast Asian country.
"As a community, we're building each other up for more opportunities for Filipinos to get the recognition they deserve," she said. "I'm so proud of everyone who has been able to compete, like my sister and all of these girls who are continuing to compete for the Philippines. It makes me so proud to be a part of that even though I may not be specifically there , but it's in my blood. And I'm proud."
Because she grew up with three older sisters, all of whom did competitive gymnastics, Finnegan always saw herself represented in the sport. However, she knows that not everyone is as lucky and hopes to inspire young kids who may want to follow in her footsteps.
If they look at me and are like, 'Hey she's Filipino. I'm Filipino, too. Maybe I can do that one day.' — To be able to inspire people like that because of my ethnicity, that would be amazing.
In addition to the growth of Filipino representation in the sport worldwide, Finnegan is also part of a noticeable increase in Asian-American participation in U.S. national team camps.
In November 2019, 2017 World Champion Morgan Hurd posted an Instagram photo of her and the eight other Asian-American gymnasts who attended the final national team training camp of the year. Notably missing from the photo were Kara Eaker and Sunisa Lee, who were exempt from attending the camp as the traveling World Championship team members were excused. That brings the total number of Asian-American camp attendees for 2019 to 11, an increase from just three in November 2014.
"I love how much diversity there is in gymnastics, and especially throughout the national team, there's just a wide variety of us," she said. "I think we all just connected with that thing we all had in common, a little spark or something. When I'm competing, I'm proud to represent the Philippines. Not everyone gets a chance to compete at this level, compete at this high intensity."
2020 has been a year of many things, including the coronavirus pandemic and the Black Lives Matter movement, which led to a worldwide discussion and call for representation and diversity.
Being an elite athlete in one of the most popular Olympic sports, Finnegan recognizes the value of representation and diversity in gymnastics and sports overall.
"I think it's important, especially living in America, there's people from everywhere coming in. It is the melting pot," she said. "For gymnastics, to represent the USA and the sport of gymnastics, we should have a good diversity to be able to show that 'Hey, we're not just this type of people. We're from everywhere.' Representing all cultures and ethnicities and to be able to inspire young kids, because this is America. You can do anything! I think it's a great way to show people that you can do it, too."
Another major headline of the year has been a rise in racism towards Asians and Asian-Americans because of COVID-19, which was first discovered in China.
Finnegan will be the first to acknowledge that she may not look as Asian as other Asians and Asian-Americans, but she identifies as one and isn't afraid to let others know about it.
In May, Finnegan posted a TikTok about what tends to happen when she tells people she's Asian: they don't believe her, or they deny it. Similar scenarios have happened on more than one occasion, but she isn't bothered by it.
I'm just like, 'Hey, I am .' And if they don't want to believe that or whatever, that's up to them because I know who I am.
When Finnegan isn't doing schoolwork or posting on TikTok and Instagram (where she got verified earlier this year — "It's still weird seeing it," she said of the blue checkmark next to her username), she's in the gym, training for the Olympics.
She's been waiting years for her chance to make it to Tokyo, and while waiting one more year would typically not be ideal to achieve one's dream, the postponement of the 2020 Games worked in her favor.
Elite athletes are no strangers to lingering problems with bones, joints, or muscles, and Finnegan's had ankle problems for "quite some time now." Near the start of the year, it got to the point where she couldn't push through anymore and saw a doctor. She had a fracture in her foot, specifically the navicular bone, caused by an avulsion. Doctors told her if she wanted to continue doing gymnastics, she'd have to get surgery.
Had COVID-19 not postponed the Olympics, she "would've gone and pushed through." But the postponement presented her with an opportunity. So she took it. In April, once the Olympics were officially canceled for the year, she got surgery. They removed the avulsion from her foot and put a screw in.
"Thankfully it all worked out with everything," Finnegan said. "I'm feeling much better. I'm not in any pain anymore, and I'm ready to go for the season."
Once cleared and it was safe to return to the gym, she got back to work. After her foot was out of a cast, it was in a boot, limiting her to uneven bars. Throughout the past few months, she's shared several clips of her training on the apparatus, including quite a few Deltchevs.
thank you twitter :) https://t.co/m19pLWxxKr pic.twitter.com/BjmyHT4Uuh

— aleah (@aleahfinn) August 28, 2020
"Deltchevs are such a fun skill — they're definitely my favorite skill," Finnegan said. "They just came so naturally . Obviously, every gymnast has their different strengths, and mine just happened to be Deltchevs. They're such a cool skill, and not a lot of people do them. So it's just different, and exciting, and I can't wait for you guys to see what's going on this year."
While she did post a few videos of her training a Deltchev 1/2, don't expect to see it in her routine next year. She saw the idea of the skill on Twitter and asked coach Al Fong if she could try it for fun.
"It was more so of a 'I'm not able to vault and tumble at the moment," she said. "Let's do bars for three hours and come up with a skill."
However, she is bringing back her double Arabian punch front on floor, which she did in training at the 2019 GK Classic.
"It's something that I've been working a long time, but it's not something that I felt confident enough to compete," Finnegan said. "But I'm hoping next year, I'll be able to finally showcase it."
If she isn't able to showcase the tumbling pass at the next national camp, which is tentatively scheduled for December, she hopes to do so at an international assignment next year and get more international experience under her belt. In 2019 she helped Team USA win team gold at the Gymnix International and Pan American Games, but she hasn't competed in an official meet in over a year. Receiving an international assignment would fulfill her personal goal and allow her to "get the competition feeling again — it's been a while."
Finnegan signed her National Letter of Intent for LSU in mid-November and is set to join the Tigers for the 2022 season, so 2021 is her final chance to represent Team USA on her leotard and the Philippines with her heritage (at least at the elite level).
I really just want to be able to give everything I have out there. This is my last elite season. This is my last dance. I really just want to give it my all this year, and whatever happens happens.