2021 Women's World Championships Selection Event
DiCello, Wong Headline 2021 Women's Artistic World Championships Team
DiCello, Wong Headline 2021 Women's Artistic World Championships Team
Olympic alternates Kayla DiCello and Leanne Wong headline 2021 Women's Artistic Gymnastics World Championships team.
Oct 9, 2021
by FloGymnastics Staff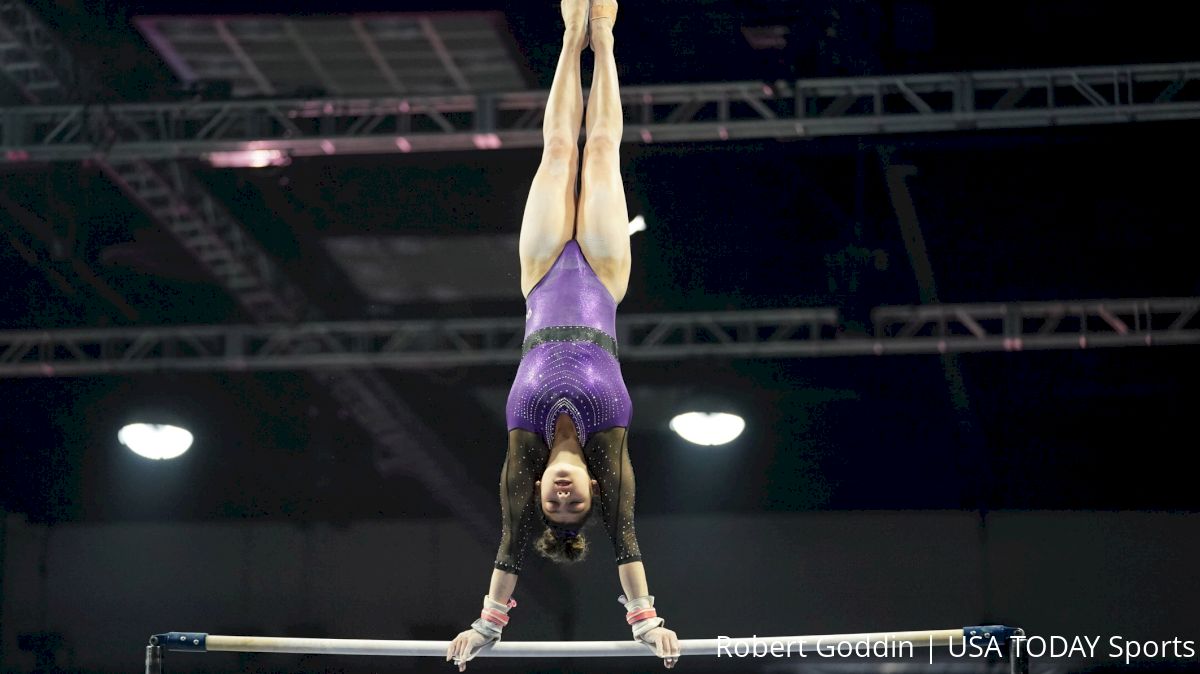 INDIANAPOLIS, October 9, 2021 – Kayla DiCello of Boyds, Md./Hill's Gymnastics and Leanne Wong of Overland Park, Kan./Great American Gymnastics Express – both alternates for the 2020 Tokyo Olympic Games – will lead a group of up-and-coming U.S. gymnasts at the 2021 Artistic Gymnastics World Championships later this month in Kitakyushu, Japan. DiCello and Wong will be joined by EMjae Frazier of Erial, N.J./Parkettes National Gymnastics Center and Konnor McClain of Cross Lanes, W.Va./WOGA Gymnastics.
"This will be the first senior World Championships competition for the members of this team, presenting a unique opportunity for each athlete," said Annie Heffernon, USA Gymnastics' Vice President of Women's Gymnastics. "We are excited that they will be able to gain invaluable experience on the world stage."
DiCello posted the top all-around score (55.350) on the first day of selection to secure an automatic World Championships berth. Frazier, McClain, and Wong were named to the team by the athlete selection committee based on criteria set forth in the event's selection procedures.
DiCello led the field on vault (14.550), uneven bars (13.950) and balance beam (13.250). Wong, who finished third in the all-around with a 53.400, notched the high score on floor exercise with a 13.800, edging Frazier who scored a 13.700. Her 13.100 on balance beam also landed her second behind DiCello in the event standings. Frazier claimed the second spot in the all-around with a 54.050, while McClain finished fourth with a 52.000. McClain's 14.500 on vault was the second-highest score of the day.
Olivia Greaves of Staten Island, N.Y./World Champions Centre was named the non-traveling replacement athlete. Frazier, Greaves and McClain have been added to the U.S. Women's Senior National Team.
The 2021 World Championships will run October 18-24 at the Kitakyushu General Gymnasium. While the event will not feature a team competition, individual titles, including the all-around and apparatus championships, will be up for grabs.
USA Gymnastics. Based in Indianapolis, USA Gymnastics is the national governing body for gymnastics in the United States, encompassing seven disciplines: women's gymnastics, men's gymnastics, trampoline and tumbling, rhythmic gymnastics, acrobatic gymnastics, gymnastics for all (a.k.a. group gymnastics) and, most recently, parkour. USA Gymnastics sets the rules and policies that govern the sport of gymnastics, including supporting the U.S. Gymnastics Teams for the Olympics and World Championships; promoting and developing gymnastics on the grassroots and national levels, as well as a safe, empowered and positive training environment; and serving as a resource and educational center for the more than 200,000 members, clubs, fans and gymnasts throughout the United States. The organization is deeply committed to creating a culture that encourages and supports its athletes and focuses on its highest priority: the safety and well-being of athletes and our community.