2021 Women's World Championships Selection Event
Who We Might See At The 2021 World Artistic Gymnastics Championships
Who We Might See At The 2021 World Artistic Gymnastics Championships
There is no team event in the 2021 World Artistic Gymnastics Championships. The only competitions are for the all-around and the individual events.
Aug 30, 2021
by Kelly Feng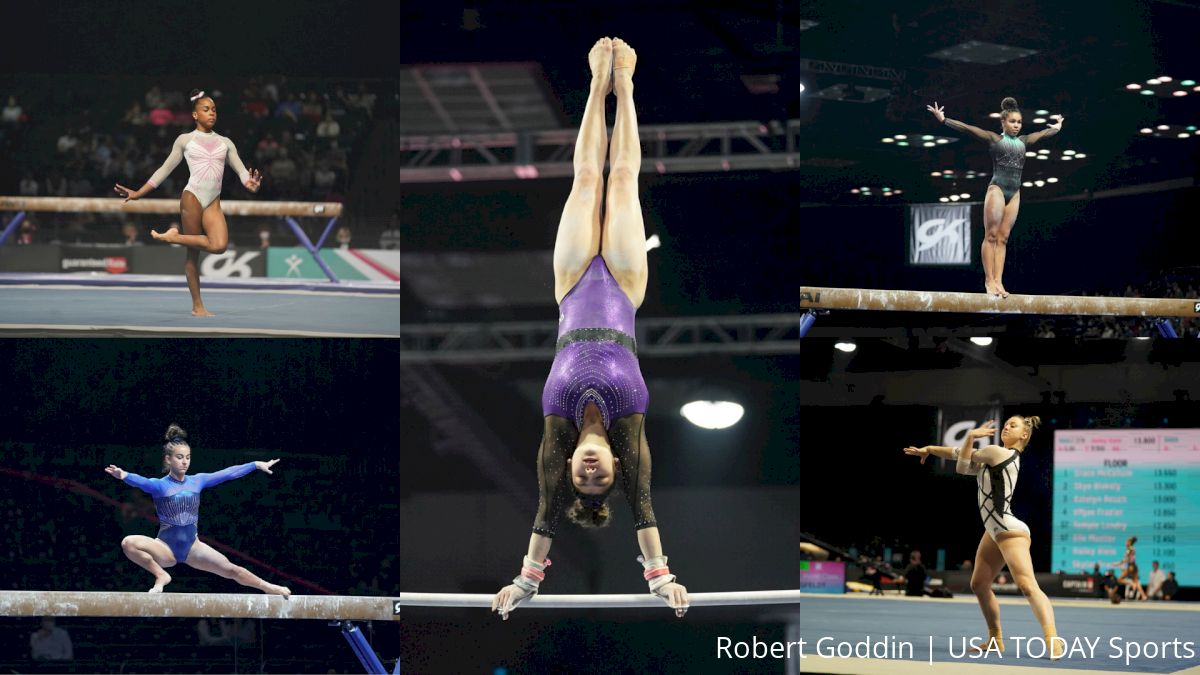 With Tokyo 2020 games behind us, many avid gymnastic fans are finding themselves in a bout of post-Olympic depression. Fans are usually left with a void of international events immediately following an Olympic year. This year is different.
This fall, we will see an event we typically don't see in an Olympic year—the Artistic Gymnastics World Championship. While Worlds is typically held in non-Olympic years, because of COVID, the Olympics and Worlds are in the same year in 2021.
How are the Artistic Gymnastics Worlds Championships different post-Olympics? There is no team event in the 2021 World Artistic Gymnastics Championships. The only competitions are for the all-around and the individual events.
Although there is no team event, the post-Olympic World Championships are still riveting to watch, filled with first-time seniors and unexpected wins. Let's look at the 2017 World Championships, which featured new faces and future stars like Morgan Hurd and Jade Carey.
The all-around competition began with Regan Smith entering the meet as a favorite for gold after finishing second in qualifications with a 55.932. However, Smith injured her ankle during vault warm-ups and had to pull out of the competition.
Hurd, who had qualified in sixth place with a 54.832, stepped in and carried the flag for the U.S. in her first year as a senior. Hurd was calm and composed, remaining steady under pressure.
Hurds wowed Montreal with what later became her signatures moves—expressive dance elements, powerful tumbling, and stuck landings.
Hurd was not the only surprise at Worlds. The 2020 Olympic champion on floor exercise, Carey, had just turned elite in 2017. Like Hurd, Montreal was her first world championship appearance. Carey won silver on the floor, establishing her explosive power and air control.
If nothing else, 2017 proved you didn't need to have a team event to hold the audience's attention— the all-around and individual events provide just the right amount of excitement.
If you're curious about who might be in the mix for this year's Worlds participants, first, let's look at who we can rule out, starting with:
The Simone Gold Over America Tour (G.O.A.T.) Team
TEAM REUNION. I'm thrilled to announce the addition of Grace and Jade! Can't wait to hang with my squad again SOON! Get info and tickets at https://t.co/QIklCiS0a2
@GoldOverAmerica pic.twitter.com/QAt4bFAcSg

— Simone Biles (@Simone_Biles) August 19, 2021
Jordan Chiles, Grace McCallum, Jade Carey, MyKayla Skinner, Shilese Jones, Morgan Hurd, Chellsie Memmel, and Biles are all touring this fall, making a try for worlds unlikely.
The College Crew
Riley McCusker and Leanne Wong (University of Florida), Emma Malabuyo and Emily Lee (UCLA), and Kara Eaker (University of Utah) are all enrolled at their respective campuses, making it unlikely they will try for worlds.
With that in mind, let's look at the possible contenders for the 2021 World Championships:
The Favorite
The 2020 American Cup runner-up and the first alternate from the 2020 Tokyo Olympic team is the front-runner for worlds. A true all-arounder, she doesn't have a weak event. While she did have some falls during US Championships and Olympic Trials, she is usually known for her calm demeanor and consistency.

World Champions Center Delegation

This year, the UCLA commit has quietly risen through the ranks by participating in the 2021 Winter Cup, U.S. Classic, and U.S. National Championships. She has been upgrading her skills all summer.

The Nabs alone have her going to worlds.
Sydney Barros's nabs is the real deal. pic.twitter.com/CfjnMSoaRR

— kaitlyn :) (@ricnapak) August 17, 2021
Drayton finished 13th in the all-around at the Olympic Trials. Like most of the gymnasts at WCC, she also has solid bars. Check out her bars from the U.S. Classic.
Olivia Greaves
The Auburn commit is a strong candidate for bars. Greaves broke her wrist close to the Olympics and could not compete in the competition leading up to the Olympic trials. However, given her form and technique on all events, especially uneven bars, she shouldn't be overlooked.
Miller finished seventh on bars at the Olympic Trials and 12th in the all-around. Miller, turning 16 in November, is among the youngest gymnasts on the senior level. In an adorable clip which went viral, Biles was seen fixing Miller's hair.
This. ❤️@Simone_Biles // #USGymChamps pic.twitter.com/MC4Wjib8C0

— #TokyoParalympics (@NBCOlympics) June 7, 2021
Don't let the video cuteness fool you. Miller will be a strong contender later this year and years to come.
WOGA
While they both work with different coaches at different locations, two WOGA gymnast's we can't miss:
Coached by Tatyana Shadenko, Blakely is the winner of the 2021 American Classic senior all-around title. Blakely was flying high going into trials until she injured herself on a vault warm-up, taking her out of the trials. She has since had surgery and is ready to compete again.
Skye Blakely had elbow surgery after her injury at Olympic Trials. pic.twitter.com/v0u7Xfvy1B

— Dr. Sam, PhD (@DrSam_PhD) August 11, 2021
The LSU commit and center of endless speculation is working hard. She is now at WOGA, coached by Valeri Liukin. Her 2021 Winter Cup balance beam remains a highlight from 2021, but she is outstanding in other events, like vault.
Don't Rule Out
Representing Prestige Gymnastics, Fatta is coached by her parents, Tony and Jen. Fatta finished 11th at the Olympic Trials, but she is only just beginning. While she has flown under the radar among some of the more prominent gymnasts, she is armed with a huge set of skills, particularly on floor.
Addison Fatta (USA) FX

2.5 stepout + RO +FF + double layout!😍

Video: @addisonfatta pic.twitter.com/nYphJSUIk7

— InternationalGymnast (@intlgymnast) August 21, 2021
Ava Siegfeldt
From World Class Gymnastics, the Oklahoma commit has been flying under the radar, although an appearance at Worlds can change that. Check out her beam routine from the 2021 US Championships with two backhand springs and a complete layout. Her across series is high, floaty, and rock solid. We are looking forward to her upgrades and what the next three years bring.