USA Gymnastics
Rising Star Charlotte Booth Prepares For Senior Debut
Rising Star Charlotte Booth Prepares For Senior Debut
Charlotte Booth shares her journey into elite gymnastics as she prepares for her senior debut.
Aug 16, 2021
by Miranda Martin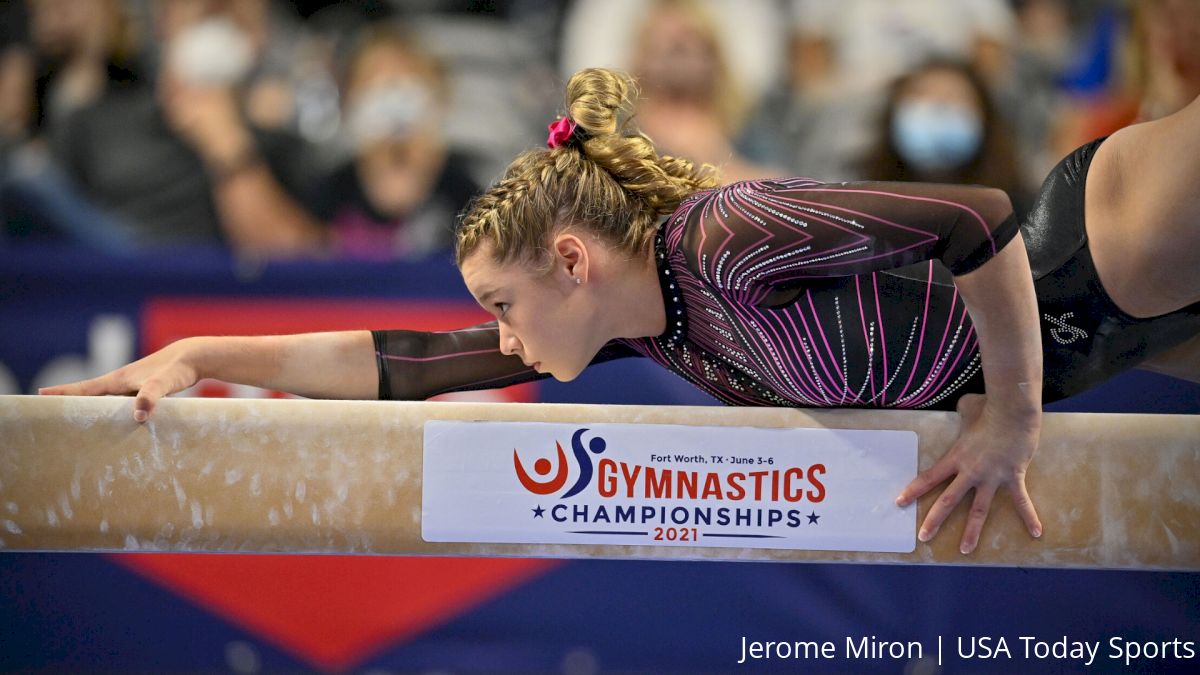 The person who's made the biggest impact on Charlotte Booth's life happens to be a stranger she met for five minutes at her local pool when she was six.
When six-year-old Charlotte and her family were at the community pool one day, dad was tossing her up and flipping her around. In between arabesques, flips, and handstands, a stranger approached and asked if Charlotte was in gymnastics. When she heard Charlotte wasn't, she began to explain all the reasons she needed to be, noting that Charlotte had a strong core, good balance, and more. She suggested going to Brandy Johnson's Gymnastics, a club down the road, and mentioned that she was an Olympian herself.
Charlotte's parents took Charlotte to one free class, and she's been at the gym ever since. When Charlotte went to her first class at six years old, the coaches couldn't believe she had never taken gymnastics or dance before. Learning to turn a cartwheel that very next week, she's risen through the levels of gymnastics at a remarkable pace since then.
She began level two in 2015, and in three years, went from level two to level 10, and in four years, from level 10 to elite gymnastics.
2015-2016 Level Two, Skipped Three
2016-2017 Level Four and Five, Skipped Six and Seven
2017-2018 Level Eight, Skip Nine
2018-2019 Level Ten, Qualified for Junior International
Rising quickly through the levels was always driven by Charlotte herself, who set big goals and attained them with hard work and determination. Many gymnasts move quickly through levels but many also end up plateauing or hitting a roadblock, but instead, she kept improving and built confidence.
Though there was natural talent involved, a large part of why she was able to move up so quickly was her determination and work ethic. "She's a kid that you don't have to tell her to get up on a piece of equipment, she is up there before you can even turn around. She moves very quickly in the gym," Kelly shared.
In third grade, Charlotte's class at school had a medal ceremony at the end of the year. To her parent's surprise, near the end Charlotte turned to her mom and said, "I'm never coming back to this school." Charlotte loved school, but explained that for fourth grade and on she was going to need to be homeschooled, because she was going to be in the developmental group, a group at her gym with a fast track to elite gymnastics.
Her parents supported this goal, but when it came to the end of the summer she didn't hear from the gym. Erin bought school supplies, laid out Charlotte's backpack, and went to "meet your teacher orientation." The day before school started, the gym finally called and asked to put her in the developmental group and from there she joined the group and enrolled in FLVS, a Florida virtual school. The developmental team was where she met her current coach on all four events Kelly Pitzen, her bars coach, Frank, and Brandy Johnson, a 1988 Olympian.
One of the first things Pitzen noticed when she began coaching Charlotte was, "How quickly she could make corrections. She is a really hard worker and she was just one of the kids that, you give her a few tries and she'd be like, 'yep, got it. Let's move on.' She really was able to listen to corrections and attain skills at a really fast rate."
Even now, Pitzen is still amazed at her talent some days. "She's just kind of got the perfect little package going on. She's got beautiful lines, beautiful flexibility, stability, very quick twitch kid. So she can do the power events, but she also can do bars and beam really well," she shared.
Around the time she joined Pitzen's team is when Charlotte's parents saw signs of her really wanting to go elite. In 2018 at eleven years old, she competed level 10 at nationals, coming in third on floor and placing 13th all-around. After nationals, Pitzen sent Tom Forster a video and she was invited to developmental camp. She achieved her compulsory score in January 2019 and her optional score at developmental camp a few months later and qualified to Classics. She then competed in the American Classic and the GK U.S. Classic in 2019. The 2019 GK U.S. Classic was where it really hit Erin that her daughter was competing at a very high level in the sport. "She hadn't done TOPS or Hopes, so this was her first big elite meet. Seeing her stand in line to register two people behind Simone and some of the other gymnasts that I recognized, I was like, 'Wow, this is a really big deal.' And it just hit me, like, 'This is amazing,'" Erin shared.
In 2020, Charlotte began her season at the Everest National Qualifier, where she took first on vault, third on floor, and first all-around. When the pandemic hit the gym was closed for a while, but the team continued doing strength, drills, endurance, and fun conditioning games on Zoom Monday through Friday for two to three hours a day.
Erin felt that the pandemic, though a horrible reason to cause a break, was a rest that Charlotte needed. "I felt like Charlotte was re-energized. It gave her body time to heal. Mentally, she felt stronger. And when she went back to gym, not just her, but I feel like so many of the girls just went back re-energized," she shared.
Especially now, for Charlotte, gymnastics is fun. "I love all the challenges and being able to compete with my teammates at practice every day, and of course I love being able to do things that no one else can," she shared. When asked what she's looking forward to most in life right now, she didn't state anything about starting high school this year, seeing friends this summer, or things beginning to reopen. "I'm looking forward to another National Team camp that I'm going to go to in September," she shared, noting that she leaves the day after her birthday.
After a short competition season in 2020, her 2021 season has been her most exciting yet. With great competitions under her belt, making the junior national team twice over that was her biggest accomplishment.
"In the beginning of the season I made the Junior National team, and I got to go to my first National Team camp. Which was super, super cool because all the legends were there, Simone and all of them. I made it to championships at that camp, and then at championships I got sixth place and I made Junior National team again," Charlotte explained, adding, "Just being able to stand next to them in a lineup and using the same equipment of them was just crazy, since I've been watching them on the big screen since I was little. It was just so cool."
Her first big meet of the 2021 season was at the Winter Cup, where despite some nerves, she was able to place fourth all-around and on bars, third on vault, and sixth on beam. She then competed at the GK U.S. Classic, tying in fourth place on vault, taking sixth all-around, seventh on beam, and eighth on bars. She finished her season at Championships, where she placed third on bars, fifth on vault, and sixth all-around. This season is her last as a junior, but she still has some time and competitions before she goes for her senior debut in January.
For now, she's working hard in the gym, focusing on getting her upgrades consistent to increase her difficulty score on all four events. On bars she is working a Nabieva, switching from a double front dismount to a double layout, and connecting her Pak to her Shaposh half. On Beam, she's been working Onodis, two and a half dismounts, and some dance connections. On floor she's focused on double doubles, and on vault, her double twisting Yurchenko, which she has onto competition surface, as well as an Amanar, which she's landed on a mat into the pit. "She just came back with a fire in her belly after Championships," Pitzen shared, "Having the full Championships experience, I really do think that it kind of pushed her to say, 'I want to do this again. I am good enough to do this. I can hang with these kids and now I want to go onto a bigger stage.'"
Besides working on upgrades, like so many others in the gymnastics world, they are thinking about mental health and mental stamina. "Char is her biggest critic...sometimes you have to just say Charlotte, it's okay to make mistakes. And she doesn't like making mistakes...she has to realize every day is not going to be great. You're going to have these ups and downs," Pitzen shared. "She definitely has gotten better with it, but you know, she's a perfectionist and she wants to do things perfect every time and we all know that's not always going to happen."
Charlotte is training these upgrades before the fall, where she'd like to be selected for the junior Pan American Games team, which will travel to Columbia to compete. Once she makes her senior debut in January 2022, her biggest goal is making Championships during her first year as a senior, though Worlds is always a goal as well. Down the line, she has bigger goals in elite gymnastics, such as going to the 2024 Olympic Games in Paris.
Whether or not Charlotte becomes an Olympian, her story has definitely been shaped by them. Besides the Olympian who recommended she get her start in the sport, she trains at Brandy Johnson's gym, who was an Olympian in the 1988 Games. "[Brandy] coaches me sometimes, and she's very good at giving advice because she knows what it takes to get there since she was an Olympian," Charlotte shared.
"I think that watching the Olympics this year has kind of driven that goal into her a little bit," Pitzen stated. "I've always said to her that this is her dream, I am just the tool to help her get there. So wherever her goals are, those are my goals."
Charlotte is also frequently under the eye of college recruiters, who come to the gym to scout new talent. A college scholarship is definitely on Charlotte's to do list, though she has a few schools that she'd enjoy attending. "I'm kind of keeping my options open, so I haven't quite decided," she shared.
Though one would never know it from her personality inside the gym, which Pitzen describes as "poker faced, focused, and serious," outside of the gym, she's a very friendly, funny, outgoing person, with Pitzen calling her "the life of the party."
She also enjoys a lot of hobbies, such as water sports. "I do mostly wakesurfing, which is basically like a mini-surfboard behind a boat. And then I do a little bit of wakeboarding, but wakesurfing is just more for fun," she explained. Water sports are one of the reasons she loves living in Florida, along with the weather, living on the water, and always having something to do.
"We try to keep her as well-rounded as possible, so she doesn't think of herself as just a gymnast, she just does gymnastics. And giving her that life outside of the gym is just as important, because one day [gymnastics] won't be there," Erin shared.
For now that day is a long way away, and we look forward to seeing what goals Charlotte can accomplish before it comes.
Charlotte's Fast Facts
Gymnast you look up to: Sunisa lee
Favorite Movie: Hunger Games
Favorite TV show: Outer Banks or Stranger Things
Favorite Book: The Bible
Favorite Class in school: Language Arts
Favorite music artist: Olivia Rodrigo
Someone you're always texting: Friends or my mom
Hobbies outside of the gym: Hanging out with friends, water sports, shopping
Favorite competition you've competed in: U.S. Championships
What is your favorite event: Bars
Least favorite event: Beam
Favorite skill: Nabieva