USA Gymnastics
Sunisa Lee Captures Fifth Straight U.S. Olympic Women's All-Around Title
Sunisa Lee Captures Fifth Straight U.S. Olympic Women's All-Around Title
Sunisa Lee claims the gold medal at the 2020 Olympics Tokyo becoming the fifth straight U.S. Olympian to win the All-Around Title.
Jul 29, 2021
by FloGymnastics Staff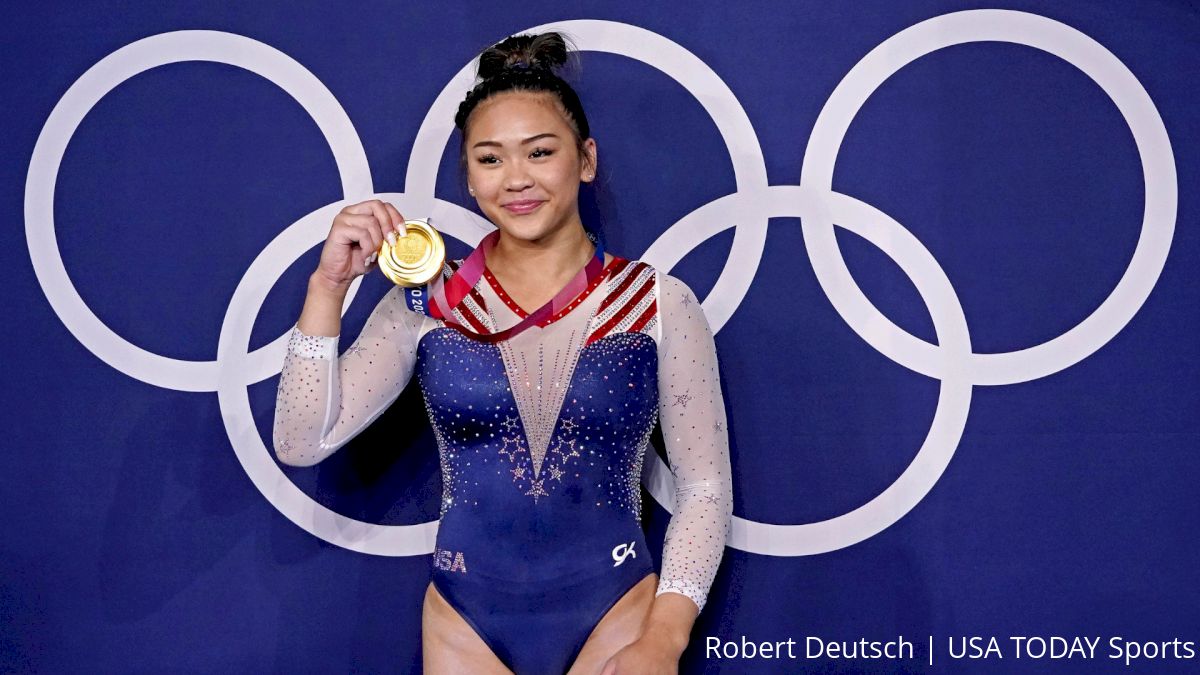 TOKYO, July 29, 2021 – In a back-and-forth match up that came down to the final rotation, Sunisa Lee of St. Paul, Minn., topped Rebeca Andrade of Brazil to claim Team USA's fifth-straight Olympic women's all-around title Thursday at the Ariake Gymnastics Centre. She joins an iconic list of U.S. Olympic all-around gold medalists that includes Mary Lou Retton (1984), Carly Patterson (2004), Nastia Liukin (2008), Gabby Douglas (2012) and Simone Biles (2016).
Lee posted a 57.433 across all four apparatus to secure the top spot. She also delivered the evening's high score of 15.300 on uneven bars. Andrade earned the silver medal with a total of 57.298, while the Russian Olympic Committee's Angelina Melnikova took the bronze with a 57.199. All three gymnasts finished on floor exercise where Lee's 13.700 gave her just enough of an edge (.135) to hold off Andrade who secured Brazil's first Olympic medal in women's gymnastics.
Following reigning Olympic all-around champion Biles' withdrawal from the competition, Jade Carey of Phoenix, Ariz., who was the third-highest-scoring American gymnast in qualifications, stepped in. Carey finished in the eighth position with a 54.199.
Both Lee and Carey are set to compete in individual event finals beginning Sunday. Lee will look to add to her medal haul in the uneven bars and balance beam finals, while Carey will eye a spot on the podium in the vault and floor exercise finals.
The trampoline gymnastics competition at the 2020 Tokyo Olympic Games kicks off Friday at the Ariake Gymnastics Centre. Women's qualifications begin at midnight ET with finals set to follow at 1:50 a.m. The men's competition will be held Saturday and will follow the same schedule.
Artistic gymnastics event finals will return Sunday, August 1 through Tuesday, August 3. The full schedule is listed below in eastern time.
Event finals
Men's floor exercise, women's vault, men's pommel horse and women's uneven bars finals: August 1, 4 a.m.
Men's still rings, women's floor exercise and men's vault finals: August 2, 4 a.m.
Men's parallel bars, women's balance beam and men's horizontal bar finals: August 3, 4 a.m.
USA Gymnastics. Based in Indianapolis, USA Gymnastics is the national governing body for gymnastics in the United States, encompassing seven disciplines: women's gymnastics, men's gymnastics, trampoline and tumbling, rhythmic gymnastics, acrobatic gymnastics, gymnastics for all (a.k.a. group gymnastics) and, most recently, parkour. USA Gymnastics sets the rules and policies that govern the sport of gymnastics, including supporting the U.S. Gymnastics Teams for the Olympics and World Championships; promoting and developing gymnastics on the grassroots and national levels, as well as a safe, empowered and positive training environment; and serving as a resource and educational center for the more than 200,000 members, clubs, fans and gymnasts throughout the United States. The organization is deeply committed to creating a culture that encourages and supports its athletes and focuses on its highest priority: the safety and well-being of athletes and our community.