2021 USA Gymnastics Championships
Victoria Kobelev Learns The Art Of Bouncing Back
Victoria Kobelev Learns The Art Of Bouncing Back
Meet Rhythmic Art gymnast Victoria Kobelev who shares a pivotal moment in her rhythmic gymnastics career.
Jun 16, 2021
by Stephen Kerr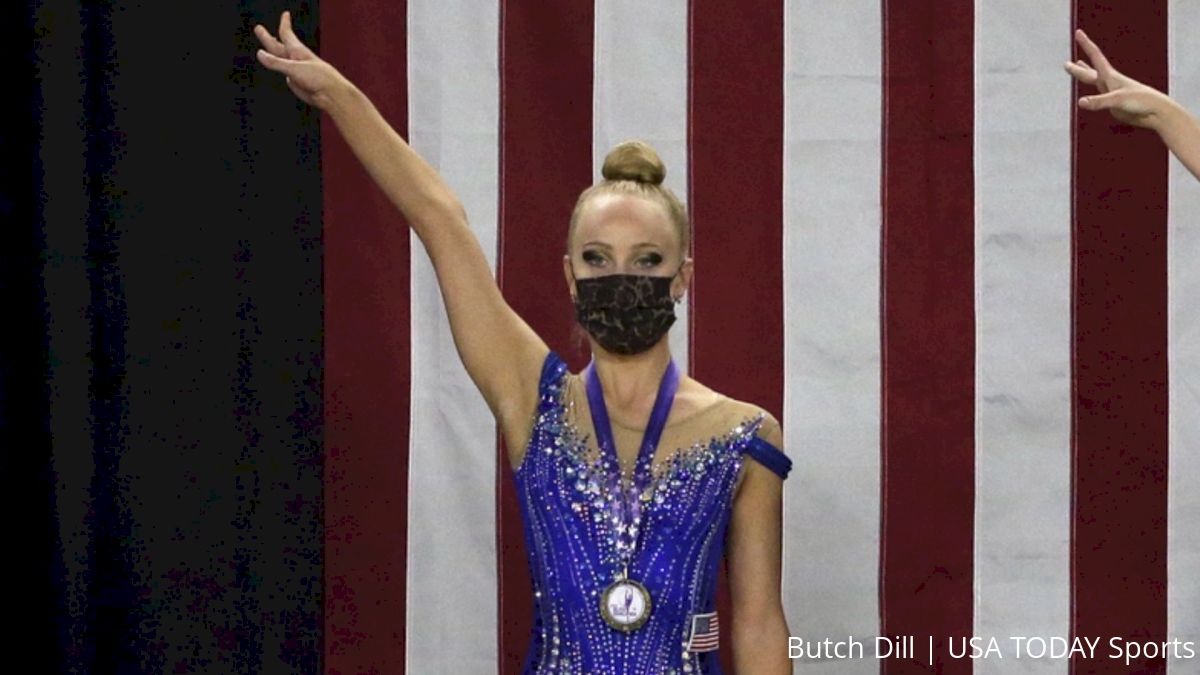 Victoria Kobelev entered the 2018 USA Gymnastics Championships in Greensboro, North Carolina with high hopes. She was competing for a spot to make the team and had spent many hours preparing for the moment. She felt physically and mentally ready.
Hoop was the first event. Victoria got off to a great start, hitting all the elements perfectly. Her adrenaline and confidence were at a fever pitch, and she was preparing to finish the final risk with a flourish.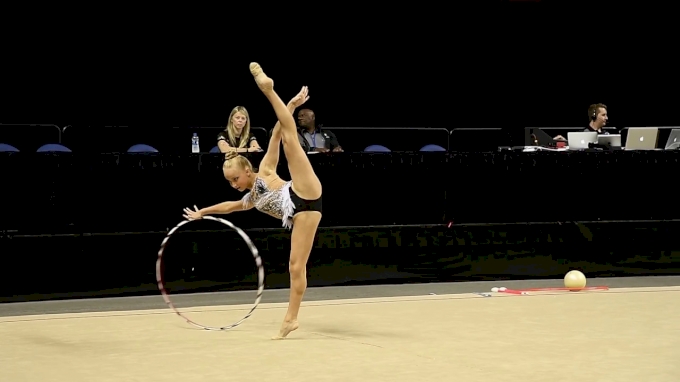 Then…
She dropped the hoop out of bounce, ending without it.
"I did it all the time in training," recalled the 16-year-old senior-level rhythmic gymnast, who was born in Connecticut but has lived in Florida practically her whole life. "Somehow, my legs did not close all the way, and it went out of bounce. After that, I couldn't recover, and obviously didn't make the team."
Victoria's performance wasn't as poor as it seemed in her mind. Her coach, Elena Nikolashkina, remembers the judges being generous in the hoop score. Victoria also did well in ribbon, placing a respectable seventh.
"When I saw the score, the first thing I told Victoria was, 'the judges didn't kill you," said Nikolashkina, a former rhythmic gymnast in Samara, Russia who moved to Florida in 2008. "The score was high, even with the drop. She recovered for ribbon, and did a very good routine."
But Victoria was devastated. In her mind, she had let everybody down: her parents, coach, and most of all herself. Is this all worth it? She wondered.
It took some time for her to come to grips with what had happened. With Nikolashkina's help, she realized the problem wasn't a lack of physical training, but her mindset.
"It was a wake-up call," Victoria said. "I always want everything to go perfectly. Because of what went wrong in the first hoop event, I couldn't get myself together for all the rest."
Victoria was no stranger to overcoming obstacles. She and her twin sister Anastasia first tried artistic gymnastics. But their parents, Eduard and Vera, thought rhythmic would be a better fit, so they enrolled both girls in classes when they were five.
Anastasia took to it almost immediately, although she gave up the sport a few years later. Initially, Victoria didn't possess the strength, flexibility, and coordination required of a rhythmic gymnast. She took extra classes and spent hours working on stretching, splits, strength, and ballet techniques.
"It was difficult," Victoria admitted. "But every day, I would improve a little bit, especially in stretching and conditioning."
While her skills steadily improved, it took a while for her confidence and passion for the sport to take hold. She remembers winning her first competition at a Level 7 Spring Fling event in Ohio, where she captured first place in all-around.
In 2015, Eduard and Vera decided Victoria needed different coaching and a new direction. They had seen other gymnasts from Rhythmic Art in competitions and believed Nikolashkina's style and discipline was just what their daughter needed.
But the gym was four hours away from the family's home. Since Eduard and Vera ran several businesses in the area, it wasn't practical to move to Dania Beach. So for three days a week, Victoria trained at home with Nikolashkina via Facetime. Each Thursday, Vera would make the four-hour drive with her daughter to the gym for in-person training, coming back home each Saturday.
"It was worth it," said Vera, who moved to the United States from Russia with Eduard in 1996. "When you see the results when you see the child is actually excelling at what she does… it all makes sense. It's almost like you don't feel the sacrifice."
After opening a gym in Aventura with a partner in 2008, Nikolashkina decided to strike out on her own a couple of years later. She set up Rhythmic Art in Dania Beach and has trained nearly a hundred regional and state champion gymnasts and around 50 national champions.
When Victoria joined, she was at Level 7. Nikolashkina decided to bump her up to Level 9, even if it meant taking more time to get to 10.
"When (her family) came to me for that first meeting, we came to the agreement right away to go to Level 9," Nikolashkina explained. "I knew what kind of gymnast she was. I knew she would be able to do harder stuff than Level 8."
At the 2017 National Qualifier in Lake Placid, Victoria took first in ball, second in all-around and third in hoop. Following her drop at Junior Nationals, she redeemed herself at the 2019 Championships in Des Moines by taking first in ribbon and second in both all-around and club. At this year's Elite Qualifier, she finished first in hoop, second in all-around and third in ball.
But the highlight of Victoria's career came when she made the U.S. Team in 2019. It was especially gratifying after all the disappointment from the previous year.
"I was so happy," Victoria recalled. "I felt accomplished. I had a goal, and I finally got to it."
In March of 2020, Victoria and Nikolashkina had just landed in Lisbon for a FIG Tournament when the coronavirus pandemic shutdown occurred.
"We got the luggage, then we got a message the competition is canceled," Nikolashkina recalled.
For the next several months, Victoria trained online. By summer, it had become obvious all events were canceled for the time being. Rhythmic Art hosted a national competition in December, an event that had been scheduled for the previous May. Some teams competed online, others at the gym. Only two routines were allowed at the time, and Victoria won ribbon and ball.
Rhythmic gymnastics offers a great deal of variety, something that has always appealed to Victoria.
"It doesn't get boring," she said. "It's interesting, the traveling, competing, it's all great."
"Some people might (think) you can catch that, go to the big competitions," she said. "But it's never as easy as it seems. There are lots of things that contribute to that."
Victoria needs to finish in the top 12 to secure a spot on the U.S. National Team for next season. She's learned that no one can achieve success alone, and is appreciative of the sacrifices her parents and Nikolashkina have made for her. While she is not yet ready for the Olympics this year, Vera believes she has the fortitude to go as far as the sport will take her.
"If Victoria sets her mind to something, she's capable of a lot of things," Vera said. "She has that mentality of a true sportsman. She will put everything aside, continue going, and knows what needs to be done."