2021 Winter Cup & Elite Team Cup
Jordan Chiles Sweeps Winter Cup; Laurie Hernandez Shines In Comeback
Jordan Chiles Sweeps Winter Cup; Laurie Hernandez Shines In Comeback
If we take anything away from the 2021 Winter Cup, let it be that Jordan Chiles is not one to be overlooked.
Mar 1, 2021
by Miranda Martin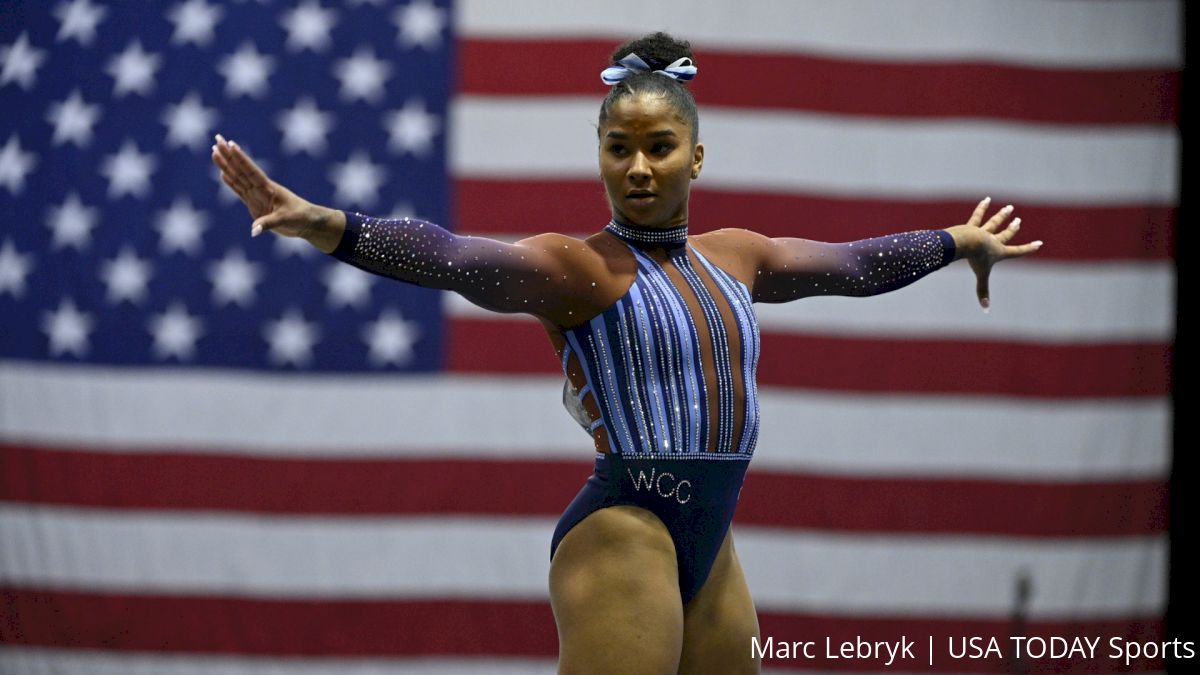 The Winter Cup is known for being somewhat of a pre-season competition, where we expect to see many falls in past years when there was only a men's competition. The women showed up to the weekend and left that reputation in the dust - though there were of course mistakes after not having any elite competitions in nearly a year, many gymnasts surprised us with new skills, huge routines, and big smiles for being back on the competition floor after so long.
Senior Women
If we take anything away from this weekend, let it be that Jordan Chiles is not one to be overlooked. Chiles, who previously was not on a lot of people's radar for Olympic contention, showed that she is not messing around this weekend. Chiles won the 2021 Winter Cup Senior Women's Title by nearly two full points, but also took first on vault, floor, and second on beam. Her vault was a super clean double-twisting Yurchenko, one of the best we've seen from her, and scored a 14.9. Her gold medal floor (13.600) was great besides her wolf turns which needed improvement, but her tumbling was all incredibly high and with great form, including her first pass which was a double layout with a full twist.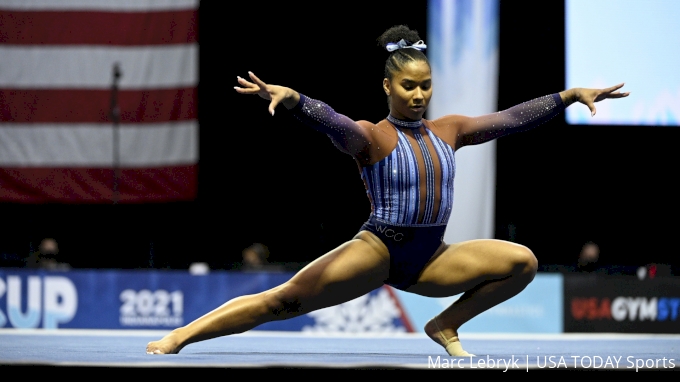 Though she did not place on bars, which is traditionally not her best event, she did hit her routine and look incredibly confident, scoring a 14.050. Her beam was hit with a series of a side aerial loso loso and a dismount of a roundoff full-twisting double. Scoring a 14.500 brought her up to a 57.050 all-around score. Her beam dismount was notable because besides being quite difficult, it was a risk after hitting four for four so far as beam was her final event. Chiles made it clear that she was all in for the risk, as this was her weekend to show what she could do.
Of course, all eyes were also on Laurie Hernandez's comeback, a much-anticipated gymnast to watch after taking four and a half years off from competition. At her first meet back since the 2016 Olympic Games in Rio, Hernandez said she accomplished what she wanted to - get out there and enjoy herself. Hernandez competed on floor and beam, and certainly accomplished her goal of showing up and having a good time!
She competed a floor routine with music she picked and cut herself, and her own mature choreography with nods to Hamilton.
Same energy. pic.twitter.com/20q0uYrxWx

— LinMiranda.com (@Linmirandacom) February 28, 2021
She appeared seemingly in character. Hernandez decided with her coach to water down the routine from the difficult skills she's been practicing to easier ones to make her first competition more relaxed and fun. Her first pass was a double Arabian, which looked great and came right after sitting one down in warmup, a double tuck for her second pass and double pike for her third, and a simple layout for her last pass in place of what will normally be a full in, scoring a 12.050.
Her beam included a front pike, back handspring loso, full turn, split jump half, front aerial - split jump - straddle jump, leap series, side aerial, and ending with a roundoff double pike that landed a little short, scoring a 13.950. In what we hope to be a new era of gymnastics where gymnasts can have fun and thrive in supportive coaching environments, Hernandez's comeback is a case study in enjoying the sport and doing it for yourself.
Shilese Jones took second in the all-around as well as third on bars and floor. Her vault was a double-twisting Yurchenko, with a large hop backward, giving her a 14.550. Her bars and beam were great, scoring a 14.400 and 13.200 respectively, and her floor was one to watch as she mounted with a tumbling pass named after her in the J.O. code, a double back with 1 ½ twists. Her second pass was a double layout, her third a double Arabian, and her fourth a double tuck, scoring a 12.95.
Though only competing beam and bars due to coming back from injuries, Sunisa Lee was on many spectator's radars coming into the meet, as she is a top competitor on the road to Tokyo. "I'm only competing bars and beam, but that's because in the summer I had an ankle injury, and that kind of set me back a little bit, and coming back my Achilles started to get really sore, so it just has been a really long process with that, to get all that stuff together so I haven't been doing floor and vault, but bars and beam are definitely coming along together and I'm really excited to compete them," she shared prior to the competition.
What she displayed this weekend reminded people of her status as a top contender for the Olympics, as her international experience shined through to give her confidence and control of her routines. Her bar routine was the standout performance of her day, earning her first place on that event, and although we didn't get to see all the upgrades we were expecting, we got to hear some insight into why we didn't - Lee confirmed after the competition that she is deciding during her routines which combinations to do, based on how it's going during the routine. Her 16.5 maximum score came out to be a 15.050 on bars after barely any deductions, and then her beam, featuring an aerial loso loso series and a watered-down dismount of a roundoff layout because of her injuries, came out to a 14.425 and third place.
Before the competition she shared that she was a bit nervous to compete after so long, saying, "I think I personally lost a lot of confidence in myself, and it took a really long time to get back because there's so much that goes into competing and there's a lot that goes on mentally that other people can't see. I'm really nervous to get back out there, but I'm also excited because I feel like my coaches and I have worked really hard to prepare for this competition, and we've kind of realized that not everything is going to happen the way we want it to this year, so I think we're all going to be pretty nervous." Had she not shared that, though we would have had no idea - she looked confident and solid.
Watching Jade Carey compete was interesting, as she is mathematically already qualified for an individual spot in Tokyo. "What I know right now is that I'm mathematically qualified, so we're just waiting for the series to be completed so that we know which spot I'll get for which event," she shared.
Although she was previously thought of as a floor and vault specialist, her bars and beam have grown exponentially in the last few months, and we saw that demonstrated this weekend. Carey shared that she's learned a lot since her new teammate, Riley McCusker, began training with her. "I really like having Riley with me, it's been fun in the gym just the two of us, we know exactly what each other is going through, so we've been able to help each other a lot...our strongest events are opposite of each other so that's pretty interesting, we help each other a lot. If I'm struggling with something on bars, if she's been there and she knows exactly what to tell me to help me get through it, she stated.
Carey competed everything except floor this weekend, showing a strong Cheng on vault (14.800, second place), a completely new bars routine that we still know she has more upgrades in store for (13.700, tied for sixth), and showed a ton of improvement on beam, with a back handspring loso loso series, scoring a 13.550 and taking eighth. Carey has noticed her improvement as well, saying, "I think I've really improved on bars and beam, just beam overall I've improved my form and execution and being more confident, and bars I've been working a lot of new skills."
Winter Cup was McCusker's first competition after moving to train at Arizona Sunrays, and as much as teammate Carey seems to be learning from McCusker about bars and beam, the same can be said for McCusker's vault and floor.
Her vault, a double-twisting Yurchenko, was hugely improved from her past competitions and scored a 14.050, though she landed leaning a bit forward. A few more months training alongside vault legend Carey and she could be even more improved!
She took second on bars after an incredible showing, scoring a 14.650, and unfortunately fell on her wolf turn on beam. She then shook it off and stayed solid for an incredible routine until the dismount, where she completed a back handspring step out - back handspring two foot-double tuck, but fell forward on the landing. She had enough height and rotation, but likely fell going for the stick, a risk that would have been worth it after her fall, had she made it. She scored a 12.600 on beam. Of course, what was most important to see was how much fun she seemed to be having, competing in a safe environment where she can love the sport again.
Konnor McClain debuted as a senior at the 2021 Winter Cup, and despite sharing that she was nervous going into the meet, she didn't show it at all. "I'm actually really nervous for this meet and just for my senior debut…because I haven't competed in a year, it's almost been a full year since I've competed." She only competed on vault and beam after fighting a recent stomach infection and foot surgery earlier to remove a bone chip, placing on vault with a solid double-twisting Yurchenko that scored a 14.700.
McClain shines on beam and this weekend was no exception, scoring fourth after showing a standing full, onodi, back handspring step out back handspring two-foot layout that truly floats in the air, and a back handspring step out back handspring two-foot double pike dismount, scoring a 14.000.
These injuries and setbacks were the reason she didn't add too many upgrades in this competition, though she shared a few will be coming later this season. When the Olympics were postponed, McClain was one of the gymnasts to learn she would be eligible for the 2021 Olympic Games, but that hasn't changed her path too much.
"My whole life pretty much changed after that news came out. Me and my coach got together and thought about what we're going to do this year...we really didn't want to change that much, just because putting that much time and effort for just one year is too much on your body and too much mentally, so we just were following the same path I was going to do before so it's not as hard on my body and we just upgraded a little bit, not too much."
Her 2021 goals are focused on making it to Olympic Trials and competing at Worlds. When asked if the Olympics were not even on her mind, she shared she's taking everything one step at a time. "I really didn't want to put too much on my plate right now, so the Olympic Trials first, and then the Olympics are definitely in the back of my mind for sure. Right now, it's just the Olympic Trials, and then see where that takes me in the year."
16-year-old Skye Blakely turned heads at podium training on all four events but ultimately decided to only compete beam and floor. Her beam tied for first, showing a standing full, front handspring front tuck with a small wobble, and a roundoff double tuck dismount, earning a 14.500. On floor, she earned a 12.650 for a double layout, a full-in, front handspring double-twisting layout, and a double pike.
Many were anticipating Emma Malabuyo's return to competition, representing Texas Dreams after being out for a while for injuries, but she looked like she has a bit of training left to do to be competition ready, scoring a 13.500 on vault for a full-twisting Yurchenko and an 11.500 on floor with two falls.
Her first pass was a double layout that was landed low, falling forward, the second pass a double Arabian landed short leaning backward. She then fell on her full-twisting double back and put her hands down on her fourth pass, a double pike. She scored 13.900 on beam, her best event of the day, showing a standing Arabian, back handspring step out back handspring two-foot double pike dismount, and more. Ultimately, the first competition back is always incredibly difficult, and Malabuyo definitely has the potential improve before upcoming competitions.
As a result of the competition, Chiles, Jones, Emily Lee, and Lilly Lippeattwere named to the 2021 Senior National Team! Other gymnasts are able to qualify for the 2021 team through other methods.
Katelyn Rosen and Faith Torrez scratched the competition due to injuries in warmups, and we wish them both a quick recovery.
Junior Women
Perhaps more exciting for the junior gymnasts than the award ceremony was being named to the national team. Ella Kate Parker, Joscelyn Roberson, Madray Johnson, Charlotte Booth, and Nola Matthews were named to the 2021 Junior National Team as a result of the Winter Cup!
Jordan Chiles, Shilese Jones, Emily Lee, and Lilly Lippeatt have been named to the 2021 senior national team! Ella Kate Parker, Joscelyn Roberson, Madray Johnson, Charlotte Booth and Nola Matthews have been named to the 2021 junior national team! pic.twitter.com/UWlqC7rMNR

— USA Gymnastics (@USAGym) February 28, 2021
Of course, the podium spots were a big deal as well, with Parker taking first with a 52.350 and Roberson and Johnson tied for second with a 51.150. USAG broke the tie in the medal ceremony, giving Roberson second and Johnson third.
Ella Kate Parker wins the 2021 junior AA at #WinterCup with a 52.350! pic.twitter.com/gNUNn2MMUs

— USA Gymnastics (@USAGym) February 28, 2021
Parker also took second on beam in event finals, scoring a 13.600 behind Roberson's first place 13.800 on the event. Johnson took third with a 13.150.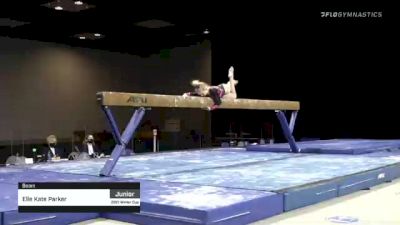 Unlock this video, live events, and more with a subscription!
Get Started
Already a subscriber? Log In
Roberson was also able to place on floor in event finals, taking third with a 12.850 for a notably solid routine. Her four passes were a double layout, Arabian double front, double tuck, and double pike.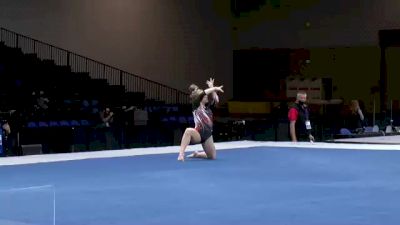 Unlock this video, live events, and more with a subscription!
Get Started
Already a subscriber? Log In
The other event final winners were Katelyn Jong with a 14.300 on vault, Levi Jung-Ruivivar with a 13.200 on bars, and Paloma Spiridonova with a 13.150 on floor.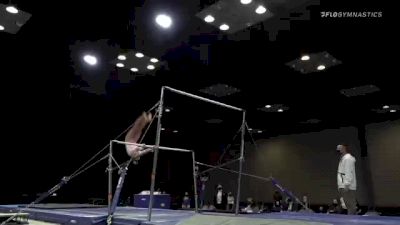 Ironically enough, the competition ended in a tie for fourth place all-around as well, with a 50.550. Charlotte Booth ended up being awarded fourth, and Nola Matthews fifth place.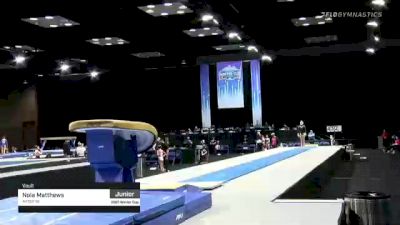 Unlock this video, live events, and more with a subscription!
Get Started
Already a subscriber? Log In
For the first competition in nearly a year, the gymnasts certainly showed up and did well on this stepping stone to the Tokyo Olympic Games!