2021 Winter Cup & Elite Team Cup
Jordan Chiles Leads 2021 Winter Cup Senior Women's All-Around After Day 1
Jordan Chiles Leads 2021 Winter Cup Senior Women's All-Around After Day 1
Jordan Chiles captured an impressive 57.050 at the 2021 Winter Cup, posting high scores on vault, balance beam, and floor exercise.
Feb 28, 2021
by FloGymnastics Staff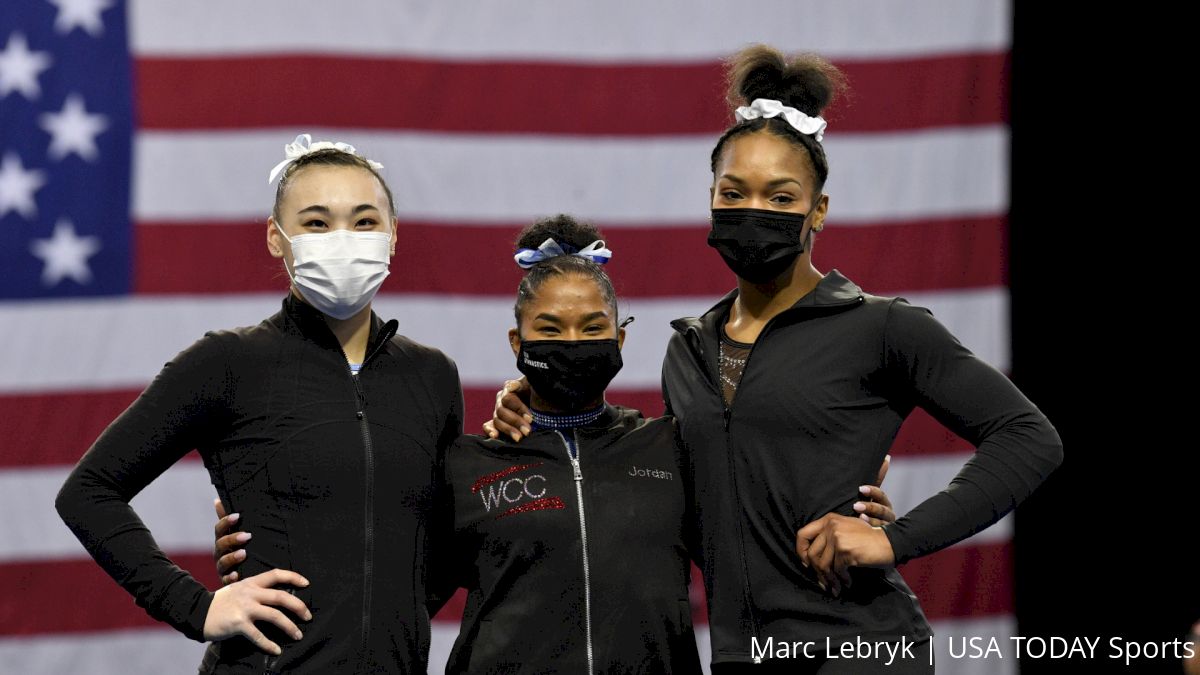 INDIANAPOLIS, February 27, 2021 – Jordan Chiles of Vancouver, Wash./World Champions Centre was dominant during day one of the 2021 Winter Cup senior women's all-around competition Saturday at the Indiana Convention Center in Indianapolis. An additional six senior gymnasts are slated to compete during tomorrow's junior session, and their scores will be combined with the results from today's competition.
The 19-year-old Chiles captured an impressive 57.050, posting high scores on vault, balance beam, and floor exercise in her first national competition since the 2019 U.S. Gymnastics Championships following the cancellation of USA Gymnastics' 2020 premier events season last May. Shilese Jones of Westerville, Ohio/Future Gymnastics Academy sits in second with 55.100 followed by Emily Lee of Los Gatos, Calif./West Valley Gymnastics School in third with 53.400.
The event also marked the long-awaited return to competition for 2016 Olympic gold medalist Laurie Hernandez of Old Bridge, N.J./Gym-Max Gymnastics, who competed on balance beam and floor exercise. World champions, Jade Carey of Phoenix, Ariz./Arizona Sunrays, Sunisa Lee of St. Paul, Minn./Midwest Gymnastics Center and Riley McCusker of Brielle, N.J./Arizona Sunrays also competed select events. Lee notched the day's high score on uneven bars with a 15.050.
The 2021 Winter Cup women's competition will wrap Sunday with a combined junior and senior session at noon on FloGymnastics. Both junior and senior all-around champions will be crowned at the event's conclusion. The top four all-around finishers in both divisions will automatically qualify to the U.S. Junior and Senior National Teams, respectively.
USA Gymnastics. Based in Indianapolis, USA Gymnastics is the national governing body for gymnastics in the United States, encompassing seven disciplines: women's gymnastics, men's gymnastics, trampoline and tumbling, rhythmic gymnastics, acrobatic gymnastics, gymnastics for all (a.k.a. group gymnastics) and, most recently, parkour. USA Gymnastics sets the rules and policies that govern the sport of gymnastics, including selecting and training the U.S. Gymnastics Teams for the Olympics and World Championships; promoting and developing gymnastics on the grassroots and national levels, as well as a safe, empowered and positive training environment; and serving as a resource and educational center for the more than 200,000 members, clubs, fans and gymnasts throughout the United States. The organization is deeply committed to creating a culture that encourages and supports its athletes and focuses on its highest priority: the safety and well-being of athletes and our community.