2019 Stuttgart World Cup
Biles Easily Wins 2019 Debut At Stuttgart World Cup
Biles Easily Wins 2019 Debut At Stuttgart World Cup
In her 2019 debut, Simone Biles won the women's all-around at the Stuttgart World Cup by more than three points.
Mar 18, 2019
by Amanda Wijangco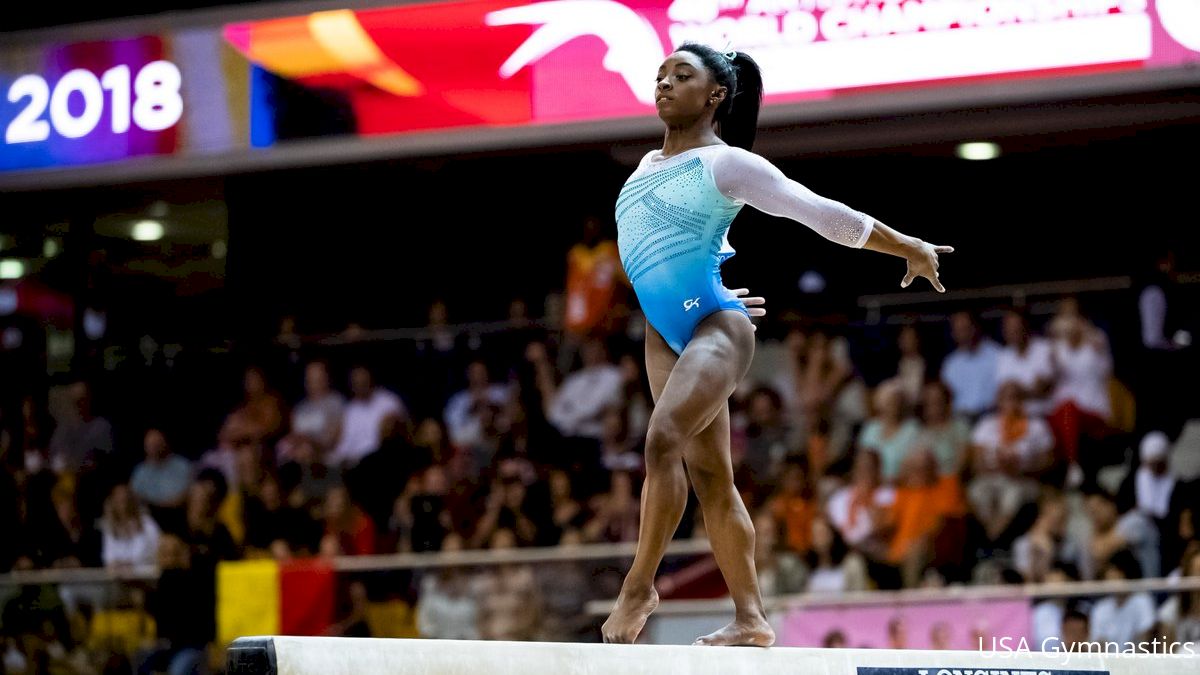 Ahead of the 2019 World Championships to be held in Stuttgart in October, Simone Biles won all-around gold at her first meet of the year at the DTB Pokal World Cup in Stuttgart by more than 3.500 points. Canada's Ana Padurariu and Germany's Elisabeth Seitz earned silver and bronze, respectively.
?Guess who's back, back again. Simone's back, tell a friend.?@Simone_Biles wins the #Stuttgart2019 World Cup! pic.twitter.com/OwJRu3tRbx

— Team USA (@TeamUSA) March 17, 2019
Biles began the meet on vault where she competed just a Cheng, instead of the more difficult Biles, for a 15.400. Although it's an easier vault for Biles, her Cheng easily put her on top after the first rotation. Biles led by almost an entire point over Seitz's 14.500 and Russian Aliya Mustafina's 14.400 DTYs.
On bars, the reigning World champ hit her routine that included a Weiler half to Maloney to Tkachev, a toe-full to Church to Pak and a van Leeuwen, finishing with a hop back on her full-in dismount for a 14.300. Biles remained in first after bars with a 29.700.
Seitz struggled a bit with handstands on bars but kept it together to stay in second with a 28.733. Mustafina performed a well-executed bar routine to stay in third with a 28.600 total. Padurariu moved up to fourth after a bit of a fight on her 14.066 bar routine for a 27.599.
A beautiful performance from @Simone_Biles on the uneven bars to keep her in first place at #Stuttgart2019! ? pic.twitter.com/FBPUU2iMwH

— #TokyoOlympics (@NBCOlympics) March 17, 2019
Balance beam began a bit shaky for Biles as she lost control on her Mitchell turn and had to come up out of it to stop her momentum (similar to Jordan Chiles at 2017 P&G Championships). However, she was able to stay on despite another balance check at the end of her switch leap to switch leap half to back pike combo. She had just a small hop on her full-in dismount to earn a 14.200, giving her a three-event total of 43.900. Despite some mistakes on the four-inch apparatus, Biles' lead actually grew to nearly two points.
Padurariu showed why she's a world silver medalist on beam and moved up to second after three events following a great beam routine that earned a 14.333 for 41.932 total. Seitz fought through some balance checks on beam and earned just a 12.466, moving her down to third with a 41.199.
Biles ended on floor, where she was rather bouncy on her landings. She controlled her full-twisting double layout well to begin, but had to work a bit to connect her Biles to the stag jump afterwards. She bounced back but stayed in bounds on her front full through to tucked full-in but went out on her double-double. Regardless, her difficulty kept her on top without fail, as her floor routine scored 14.900 to end her meet with a nice 58.800 total.
.@Simone_Biles won on her seasonal debut at the Stuttgart World Cup despite being "stressed" over her preps. And she's glad she has time to improve before October's World Championships.

Full story ➡️ https://t.co/UcCZaNPz0f@TeamUSA @USAGym @gymnastics pic.twitter.com/w8ghIPV5qt

— Olympic Channel (@olympicchannel) March 17, 2019
Padurariu and Seitz both hit solid floor routines, each earning a 13.200, keeping the Canadian in silver-medal position and the German in bronze-medal position. In her first World Cup, Padurariu finished with a 55.132, while Seitz finished with a 54.399.
Although it was only an all-around competition, Biles also finished first on vault, bars and floor. Full results for the Stuttgart DTB Pokal World Cup can be found here via Longines.
Related:
Simone Biles Ready To Dominate 2019 Debut At Stuttgart World Cup