One of the most memorable moments of the 2017 P&G Championships was when Jordan Chiles went for a wolf turn at the beginning of her beam routine and ended up basically inventing a new turn combination.
She did a full wolf turn and then began to stand up and kept spinning . . . and spinning and spinning. She actually completed a triple turn once she stood up from the wolf turn, which is named after gymnastics great, Betty Okino.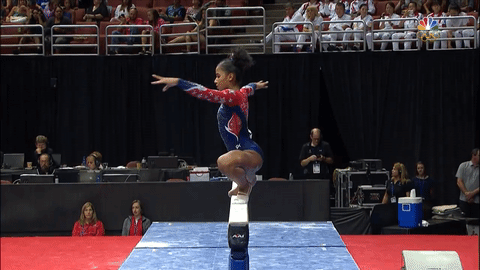 The internet had some hilarious things to say about it.
That time Jordan Chiles invented the Wolf-kino.

— BalanceBeamSituation (@TheBBSituation) August 21, 2017
Jordan "I turn my mistakes into E elements" Chiles https://t.co/nmqHxcM7Ek

— Bethany Carter (@bbeth89) August 21, 2017
I don't know what just happened with Jordan Chiles, but I don't care. ADD IT TO THE ROUTINE. #PGChamps pic.twitter.com/hprGg9lef0

— Jennifer Iacopelli (@jennifercarolyn) August 21, 2017
Foot down fcing side, full credit = wolf/turn full (B/A) + Okino (E) heel down facing forward, full credit=.1 bonus for B/A + E same foot ok pic.twitter.com/UlsayOVF8q

— Jessica O'Beirne (@OtotheBeirne) August 21, 2017
Jordan Chiles might be the first person to ever compete a skill before training it #PGChamps

— Dylan (@zhuhighness) August 21, 2017
Jana Bieger the originator of BB trickery is just like "YASSS DANCE MY QUEEN an 8.8 E score for youuuu" pic.twitter.com/RhWCBEi2BY

— Joseph Riboflavin (@josroben) August 21, 2017
Jordan Chiles ... your peaceful wolf turn protest has been noted and appreciated ...

— Will Graves (@WillGravesAP) August 21, 2017
Jordan Chiles' body just PHYSICALLY REBELLED AGAINST THE WOLF TURN. I am here for this. #PGChamps

— sarah harbulary (@slothanova) August 21, 2017
"ragan is national aa champion"
"marzgetta is getting the credit she deserves"
"jordan chiles had the greatest beam save of the year"

me: pic.twitter.com/XW6AweRw0B

— Gymnast Relate (@gymnastrelate) August 21, 2017
Chiles finished up with a solid routine after the amazing save, which helped her clinch the silver medal in the all-around as a first-year senior.
Here's Jordan reflecting on the moment after the meet:
Because that's just what gymnasts do: they turn mistakes in magic.