2019 Stuttgart World Cup
Simone Biles Ready To Dominate 2019 Debut At Stuttgart World Cup
Simone Biles Ready To Dominate 2019 Debut At Stuttgart World Cup
Simone Biles will make her 2019 competitive debut at the Stuttgart World Cup, where she's the favorite to win.
Mar 11, 2019
by Amanda Wijangco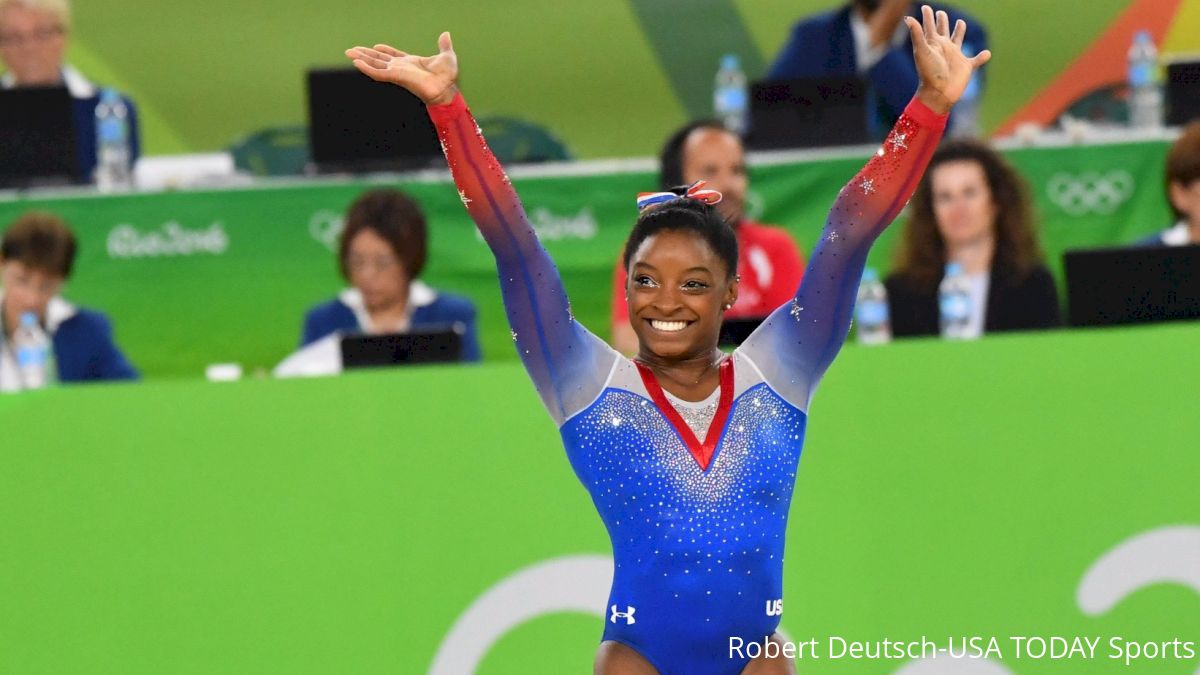 After returning to international competition for the first time since the 2016 Olympics, Simone Biles was nothing short of dominant at the 2018 World Championships in Doha, Qatar. The reigning Olympic all-around champion came home with gold for team, all-around, vault and floor. She also claimed silver on bars and bronze on beam, making her the first American gymnast to medal on every event at Worlds. So it's safe to say she had a strong comeback.
If Biles' 2018 competitive performance is any indication of how she'll do in the pre-Olympic year, Biles is going to continue to make history, break records and be better than she ever was—she did win six World medals while competing with a kidney stone, after all!
Biles is set to make her 2019 debut at the Stuttgart World Cup where she will vie for an all-around crown against some of the world's top gymnasts, including Russian superstar Aliya Mustafina. As an experienced competitor and Olympian, Biles knows how vital the year before the Olympics is.
"It's definitely important because you have to prove once again, and you have to prove to your delegation that you are worthy of them putting you on such a big stage, putting out those routines and hitting them," Biles said in a recent interview with the Olympic Channel.
The Stuttgart competition, also known as the DTB Pokal World Cup, marks Biles' first World Cup competition on foreign soil and her first World Cup competition where she is the lone American competitor. She last competed in a World Cup at the 2015 American Cup where she won the all-around title ahead of former national team member MyKayla Skinner.
This should prove to be no problem, though, as Biles has shown her ability to compete well and dominate the all-around in international meets of all levels. The reigning World all-around champion hasn't lost an all-around meet since the 2013 American Cup, her senior elite debut. Biles has definitely gotten a wealth of experience, improved and upgraded her routines since then.
Her ability to not only compete difficult skills and combos but to execute them well has given her much success that will help her begin her 2019 season on a high note. Not many gymnasts, including Biles' competitors for the Stuttgart World Cup, can even rival her total all-around D-score.
On vault, she has at least a 6.0 start value whether she does an Amanar or the Biles. On bars, she has some competition with Mustafina and Germany's Elisabeth Seitz, who is also on the roster, but the rest of her program can make up for anything that may be lost on bars. On beam, Biles has three elements above an E: a Mitchell (also known as a triple wolf turn), a Barani and a full-in dismount. She's also capable of a double-double dismount, which would increase her D-score even more, giving her a greater advantage over the other gymnasts. On floor, she's nearly unmatched in her tumbling alone with one E pass (tucked full-in), one G pass (the Biles), one H pass (a tucked double-double) and an I pass (the Moors).
Those are all based on what she last competed at the 2018 World Championships, and the Code of Points changes every year, so although Biles may not compete the exact same skills or routines as she did in Doha, the potential is there. The ability is there. The growth is there and continuing. That's what has allowed her to be so dominant and successful in the sport. So if Biles does what she's capable of and what she knows how to do, the Stuttgart World Cup should be a fantastic start and just another stepping stone to the 2020 Tokyo Olympics for her, because she knows the value this year holds.