The Simone Biles Hype Is Real, But Don't Sleep On Morgan Hurd
The Simone Biles Hype Is Real, But Don't Sleep On Morgan Hurd
Nobody would fault you for focusing on the Simone Biles hype, but don't forget that Morgan Hurd is the reigning world champion.
Aug 31, 2018
by Hunter Sharpless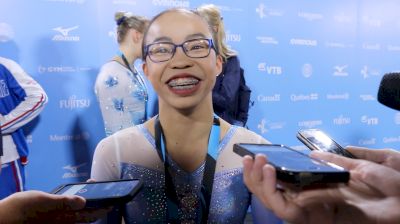 Look, nobody's going to blame you if you're completely stuck in the chaotic hurricane of Simone Biles hype — there's certainly enough to go around (and around and around). But the list of United States gymnasts is as deep as ever, and the reigning world champion goes by the name of Morgan Hurd. The First State Gymnastics product flew under the radar for the gold medal, as she was injured for most of the year and peaked right when Ragan Smith, arguably the favorite, had to drop out.
At this year's 2018 U.S. Championships in Boston, Hurd showed she isn't going away easily. She was the absolute paragon of consistency outside of Biles; Hurd was the only gymnast other than Simone, in fact, who placed in the top four in every event. She placed third on floor with a 27.700, fourth on balance beam with a 27.650, third on uneven bars with a 29.150, and fourth on vault with a 28.800.
Hear her break down her performance in the interview below: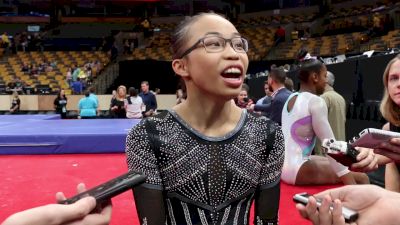 Best leo of all time?
As Hurd mentions in the interview, this fall she'll be looking to reintegrate her routines with the skills she took out for the U.S. Championships. The 2018 World Championships begin in late October in Qatar, and a team composed of Simone Biles, in-form Morgan Hurd, and a healthy Riley McCusker sounds like a pretty amazing start.
Sidebar: Can we also take a moment to appreciate Hurd's leotard in this interview? (I have a feeling you may be able to vote on it very soon . . . here's poll No. 1) But seriously, this is one of the coolest leos I've seen. The design manages to incorporate roughly one billion sparkles while at the same time retaining the simplicity of a two-tone, black-and-white color scheme.
Here's another shot:
In the interview of the top of the article you can journey back almost exactly a year to Hurd's thrilling win in Montreal. She's clearly excited, and maybe a bit surprised as well; she's breathless and happy and she deserves to be, especially considering that J.K. Rowling tweeted at her! (Incidentally, Harry Potter is about to celebrate his 20th birthday!)
Below is a training routine from the 2018 World Championships, in which Hurd shows off her always-impressive beam skills: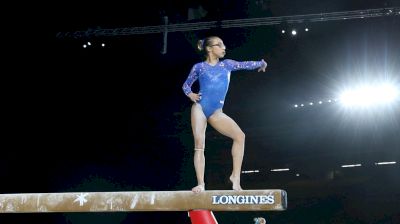 Hurd showing off her beam skills
We can't wait to watch Hurd for the rest of the season.