2018 U.S. Gymnastics Championships
Biles Wins 2018 US Gymnastics Championships By Huge Margin
Biles Wins 2018 US Gymnastics Championships By Huge Margin
Simone Biles secured her fifth National Championship title tonight, totaling a 119.850 over two days of competition.
Aug 20, 2018
by Justine Kelly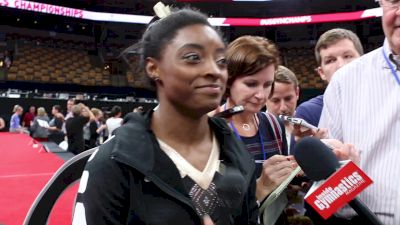 Simone Biles secured her fifth National Championship title tonight, totaling a 119.850 over two days of competition. In addition to her all-around win, she also won every individual event title. Morgan Hurd followed in second place in the all-around with a 113.300, and Riley McCusker placed third with a 112.750.
Biles showed she is tough to beat, winning by a huge margin of 6.55 points in the all-around from the combined two-day score. The national team was also named tonight, consisting of Biles, Hurd, McCusker, Grace McCallum, Shilese Jones, Jade Carey, Trinity Thomas, and Kara Eaker.
Rotation 1: Biles Hits Bars To Start Competition Strong, McCallum Advances With Big Vault
Biles started her competition on bars, hitting her major releases, including her Van Leeuwen which she caught with her fingertips. She finished with her big double double dismount with a hop forward to score a 14.550. In the same group rotating on bars was Carey, who hit her routine to score a 12.950, a big improvement over Day 1.
Hurd kept her second place spot after a strong Yurchenko double vault. She was a little crooked to the side on her landing and had a hop, but scored the same 14.400 that she scored on Day 1. McCallum was a highlight on vault during this rotation, scoring a big 14.600 on her Yurchenko double, which helped advance her to third place. Also competing a strong vault was Trinity Thomas, who showed off a lovely Yurchenko 1.5 with just a tiny hop forward. She sat in fifth place after the first rotation.
McCusker was the first competitor to go on floor and put up a beautiful routine. She opened with a solid double layout, followed by front double full to punch front to stag jump, double pike and double tuck. She improved her Day 1 score and put up a 13.450.
Jordan Chiles had an unfortunate start to her competition, falling on her first skill on beam - a wolf turn - but she finished the rest of the routine strong. Ragan Smith, who had some struggles on Day 1 and is working through an injury, also had an iffy start to her competition with her floor routine. She stuck her double layout to start, but then stumbled on her second pass, had a low landing on her double Arabian, and stumbled out of her ending double pike. She scored a 12.600, seven-tenths lower than her Day 1 score. A highlight on floor was Jones, who has huge power in her tumbling, which included a double double, double Arabian and full-in.
After one, Biles led with a 74.650, followed by Hurd with a 71.400, and McCallum with a 70.500.
Rotation 2: Halfway Through, Biles Maintains Comfortable Lead
Biles was up first on beam in the second rotation. After a slight wobble on her opening wolf turn, she nailed the rest of her routine, hitting her barani, back handspring to two layout step-out series, front pike, and dance elements. She dismounted with a full twisting double back with just a small hop on the dismount and scored a 14.900, maintaining the highest two-day total on beam for now. Also impressive on beam was Eaker, who showed fluid movements and great connections, scoring a 14.450 to put her second behind Biles in the beam rankings.
Meanwhile, Hurd hit her bar routine for a second day in a row, nailing her Ricna to Pak combination. She held her second place spot after scoring a 14.500. McCallum stayed solidly in third place after her bar routine, where she competed a great Weiler kip and Van Leeuwen, and finished with a stuck full twisting double back dismount. Thomas also did well on bars, also hitting a good Weiler and dismounting with a beautiful double layout. She sat in sixth place at the end of the rotation.
Over on vault, we saw a couple nice Yurchenko doubles from McCusker, Smith and Jones. McCusker unfortunately stepped out of bounds on her landing, but matched her Day 1 score with a 14.100. Jones' vault had incredible amplitude, and held her all-around spot in fifth after scoring a 14.350. Smith also showed off a nice Yurchenko double with just a small hop to the side, but scored slightly lower than Day 1.
Rotation 3: McCusker Advances With Stellar Bar Routine, Biles On Track To Dominance On All Four
McCusker made up some ground in the all-around rankings following the third rotation with a beautiful performance on bars. She hit all of her releases, including her Ricna to Pak to stalder shaposh half, and she performed one of her best dismounts. She scored a big 14.800, finishing just one-tenth behind Biles in the combined rankings. We saw an unfortunate fall from Smith on bars - she fell on her Jaeger, but hit everything else in the rest of her routine.
Biles, meanwhile, continued her dominance on all four events with her performance on floor. She did bounce out of bounds on her Biles, but showed off a great Moors, front tuck through to full-in and double double to finish it off. She scored a 14.700, a big improvement from Day 1 with less neutral deductions. Carey also showed off some powerful tumbling on floor, nailing her Moors (which she stuck), full twisting double layout, double double and front tuck through to full-in. She scored a 14.200 on the event and sat in second place in the floor rankings.
Hurd continued to sit in second place after a good beam routine, although she had a few errors, such as a stumble and step back on her standing full and not quite getting her split jump 1/1 all the way around, but she managed to stay on. McCallum did great on beam, competing a strong triple wolf turn, aerial cartwheel to layout step-out, and a good double tuck dismount. She sat in fourth place after the rotation.
In fifth place was Jones, who performed a great bar routine, and Eaker, who showed off a lovely floor routine.
Rotation 4: Biles Dominates - Wins AA Title & All Four Individual Events
Biles secured her all-around victory, in addition to her victory on all four individual events, with vault. She had incredible amplitude on both of her vaults - a Cheng and an Amanar - with just small hops on both. She tied her score from Day 1 on her Cheng with a 15.600, and totaled a whopping 31.125 for her combined vault score. Carey also finished up on vault, performing a Yurchenko double and a Lopez, both of which were solid. The score on her Yurchenko double raised her all-around ranking to sixth place, securing her spot on the national team.
Over on beam, Smith hit a nice set to end her day on a high note. McCusker continued to impress with her beautiful routine - nailing her triple wolf turn followed by double wolf turn, back handspring to two layout step-outs, and a small step on her double tuck dismount. Jones also secured her spot on the national team with her hit set on beam, landing a nice Arabian as well as a confident back handspring to layout step-out.
Hurd finished her competition on floor with a strong double double to start followed by a nearly stuck double layout as her second pass. She scored a strong 13.850 to finish her day.
With the competition complete, it was clear to see that Biles was the winner by a massive margin. She also won all four individual event titles, being the first to do so since Dominique Dawes at 1994 Nationals.