2018 U.S. Gymnastics Championships
Simone Biles Finishes On Top On Day 1 Of 2018 U.S. Gymnastics Championships
Simone Biles Finishes On Top On Day 1 Of 2018 U.S. Gymnastics Championships
Simone Biles took the top spot in the senior session on Day 1 of the 2018 U.S. Championships, with an all-around score of 60.100.
Aug 18, 2018
by Justine Kelly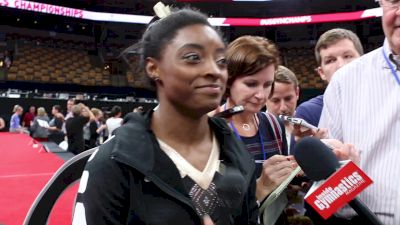 Simone Biles took the top spot in the senior session on Day 1 of the 2018 U.S. Championships, with an all-around score of 60.100. She was followed by Morgan Hurd in second place with a 57.00 and Riley McCusker in third place with a 56.050. Gymnasts will compete again on Sunday evening, when a new senior National Champion will be crowned.
Rotation 1: Jordan Chiles' Big Amanar Vaults Her Into First
Jordan Chiles led the competition early with her performance on vault, where she competed a big Amanar for her first vault to score a 15.000. Her vault had tons of amplitude and she landed well, with just a small hop on the landing. She competed a Tsuk full for her second vault, also with a great landing.
McCusker followed Chiles in second place with her performance on bars, hitting all her major skills and combinations, including her Ricna to Pak to stalder shaposh half. Her routine scored a 14.500 for the highest score on bars in her group.
Biles started on floor, competing some huge tumbling. She had a bit too much power on both her third pass (Biles to stag jump) and fourth pass (double double), and went out of bounds on both. She scored a 14.45 to put her in third place following the first rotation, though her score was still the highest on floor.
Following the top three were three gymnasts tied for fourth place who all performed well in the first rotation - WOGA's Audrey Davis, who hit a strong vault, First State's Hurd, who was super solid on beam and had the highest score on the event for the rotation, and Arizona Sunrays' Jade Carey, who also put up some big tumbling on floor. All three gymnasts scored a 14.100.
Reigning national champion Ragan Smith had some issues on bars to start off her competition, including falling out of a handstand on her pirouette and taking an extra swing after her Jaeger, but she finished her routine strong.
Rotation 2: Biles Rises To First Place After Stuck Cheng
In the second rotation, Biles competed two vaults, both of which were performed with incredible power and precision, scoring near perfect in execution. Her first vault, a Cheng, was stuck and scored a 15.6, which easily placed her into first place in the all-around rankings. She performed her signature high-ampltiude Amanar for her second vault, the first we've seen in competition since the Olympics, and she nearly stuck it.
? #USGymChamps pic.twitter.com/G72G8qMd3C

— USA Gymnastics (@USAGym) August 18, 2018
Carey also improved her all-around ranking with her performance on vault, the third gymnast of the senior competition to perform two vaults, eyeing for the vault title. She competed a well-executed Yurchenko double for her first vault, scoring a 14.550, followed by a Lopez.
Tied with Carey for second place after the second rotation was McCusker, who put up a gorgeous beam routine. She hit a 14.150, the highest score of the competition so far on beam. Hurd sat in fifth place after the second rotation, although she showed off a beautiful floor routine which scored a 13.850.
.@morgihurd with a 57.000 on day one of #USGymChamps — something only three other women in the world accomplished in 2018! pic.twitter.com/uRQOp3ADX0

— USA Gymnastics (@USAGym) August 18, 2018
Meanwhile, Chiles slipped to fourth place after scoring a 13.050 on bars, due a stumble on her dismount. Smith continued to have a rough competition on balance beam. Although she was fairly solid throughout most of her routine with just a few wobbles, she stumbled on her dismount and seemed to be limping off of the podium afterwards, although she stayed in the competition.
Halfway through, Biles was leading the field by 1.4 points.
Rotation 3: Biles Maintains Lead With Hit Bar Routine, Hurd Advances
Biles hit once again with a big bar routine, perhaps one of her best ever performed in competition. She hit all of her releases and connections and finished it off with her impressive double double dismount, with just a small hop back. She scored a 14.850 to mark the highest bars score in the competition so far (including from the junior session).
.@Simone_Biles had the top score on every event tonight en route to a 60.100! #USGymChamps pic.twitter.com/GcN0aasXn4

— USA Gymnastics (@USAGym) August 18, 2018
McCusker fell a couple places after her floor routine, where she had an out of bounds on her opening double layout and went a bit crooked on her front double full to punch front, just barely getting it to her feet. She scored a 13.300 on the routine and moved to 4th place. Carey also fell a few places following her bars routine, which is not one of her higher scoring events, although she pulled off a hit routine with a big Ray release move as the highlight.
Hurd improved her ranking significantly after hitting her Yurchenko double, which was quick twisting with only a small hop on the landing. She placed second after the end of the rotation, with a 42.350, 2.55 points behind Biles. McCallum of Twin City Twisters also improved her ranking significantly thanks to a strong vault - she tied Hurd to also score a 14.400 for her Yurchenko double.
Rotation 4: Biles Secures Top Finish With Hit Beam Routine, McCallum Races To No. 3 Spot
Biles, who was the second to last performer of the competition, hit a solid beam routine to close out her competition and keep her first place spot. She had a wobble on her wolf turn at the start of her routine, but finished it off strong and hit everything else, including her full twisting double tuck dismount, with just a small hop on the landing. She totaled a 60.100 in the all-around for her Day 1, and had the highest score on every single event.
Biles was followed by Hurd, who totaled a 57.000. Hurd's final event of the competition was uneven bars, where she hit one of her best routines to score a 14.650, the second highest score of the senior competition. She finished with a bang with a beautiful stuck dismount.
McCusker took third place, finishing with a 56.050, ending her competition on vault with a solid Yurchenko double, with only a small hop on the landing. McCallum inched her way up throughout the competition, finishing in fourth place and putting up a hit bar routine in the fourth rotation.
Kara Eaker was a highlight of the fourth rotation on beam, where she hit her aerial cartwheel to two layout step-outs and had some beautiful dance, including a ring leap and full Y spin. She had a big step out of her dismount, but that didn't prevent her from scoring a big 14.200 on the event.
Smith redeemed herself on her last two events, putting up a strong floor routine and a good Yurchenko double to close off her competition. She finished tied for ninth place and will be looking to improve on Day 2.
---
Related:
Leanne Wong Leads Juniors In Day 1 Of 2018 U.S. Championships