2018 GK U.S. Classic
Top 10 Routines From The 2018 US Classic That You Didn't See On TV
Top 10 Routines From The 2018 US Classic That You Didn't See On TV
The 2018 GK U.S. Classic took place on Saturday with both a junior and senior competition.
Aug 1, 2018
by Justine Kelly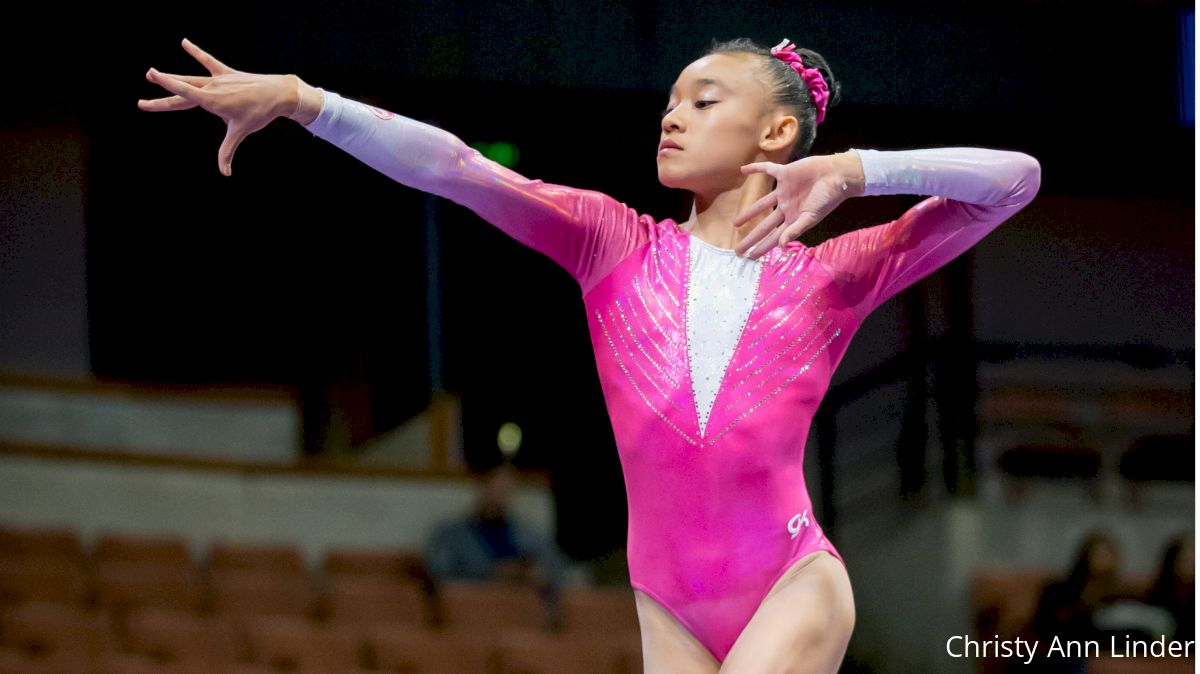 The 2018 GK U.S. Classic took place on Saturday with both a junior and senior competition. The senior competition was broadcast on the Olympic Channel with commentary, focusing on several of the top athletes — most notably Simone Biles, which is more than understandable.
As with every TV broadcast, they are unable to show every athlete, and the junior competition was not shown on TV at all. Fortunately, USA Gymnastics has uploaded every routine on to their YouTube channel, and we've got you covered on top routines to watch that weren't shown on TV.
All routines via USA Gymnastics
1. Sloane Blakely on Beam
WOGA's Sloane Blakely finished seventh in the all-around during this competition, and beam was her highest scoring event. She finished fourth on the event with a 14.4, and also had the fourth-highest E-score on the event for both juniors and seniors. Blakely shows off great amplitude in her routine, both in her leaps and jumps and in her acrobatics.
She competes a beautiful front handspring to front tuck and is facing completely upright at the end, with no deep knee bend.
Check out her routine below:
2. Leanne Wong on Floor
On the junior side, GAGE's Leanne Wong captured the all-around title with a 55.350. It's hard to pick just one event to showcase, but we loved her floor routine from this competition, which she got the highest score on in the junior competition, scoring a 13.400. Wong has the classic GAGE execution, with great form in the air on her tumbling and dance skills. We were particularly impressed with some of her landings in this routine.
Check it out below:
3. Audrey Davis on Bars
Another WOGA gymnast makes our list with Audrey Davis, who had the fourth-highest score on bars for the seniors with a 14.000. Davis is an up-and-comer, and she had a great Classics competition, placing sixth in the all-around.
Not many gymnasts in the U.S. perform high difficulty pirouetting skills, and we haven't seen many include these skills in their routines since the days of Nastia Liukin, but Davis performs her Healy (an E skill) very well and connects it into a piked Jaeger. In addition, she also has an impressive combination of Maloney connected to Ricna just beforehand. She will be one to watch on this event.
Here's her routine:
4. Jordan Bowers on Beam
Jordan Bowers is one of the top junior elites at the moment. Although floor is normally her strongest event, her beam routine is also one of the most exciting to watch. In this competition, Bowers had the second highest beam score with a 13.75 with a 5.8 D-score. Her routine includes both a back handspring to two layout step-outs and a front handspring to front tuck, so she's got some big tumbling.
5. Shilese Jones on Floor
Senior Shilese Jones was unfortunately missed on the broadcast, despite placing fourth in the all-around. Although it was not one of her higher scoring events, we loved her floor routine at Classics because of the impressive tumbling, which she seems to perform with ease. Her music goes perfectly with her big acrobatic skills, which include a double double, double Arabian, full-in, and high double tuck to finish.
6. Kayla DiCello on Bars
Kayla DiCello is another top junior competitor who took the silver medal in the all-around at Classics. DiCello is great on all four, but her bar routine at Classics was particularly impressive and she scored the highest for the juniors with a 14.3. She also had the third highest E-score out of both juniors and seniors. Our favorite combo is her opening toe-on full to Maloney to Pak.
Check it out below:
7. Sunisa Lee on Beam
Sunisa Lee from Midwest Gymnastics finished fifth in the all-around on the junior side. She also had the highest score on beam, even without competing a dismount. Her routine includes some lovely combinations, including two back handsprings to back layout to split jump, sissone jump, and another series of aerial cartwheel to two layout step-outs. In addition, she has beautiful form, especially on her leaps.
Check out her routine below:
8. Madelyn Williams on Bars
Senior Madelyn Williams from San Mateo has one of the more difficult bar routines with a 5.7 D-score. She had the fifth-highest scoring routine at Classics. Her routine includes a big opening combination — an inbar 1/1 to Maloney to Pak to stalder to Van Leeuwen. She also competes a high-flying piked Jaeger.
See her routine below:
9. Aleah Finnegan on Beam
Junior Aleah Finnegan carries the family trait of beautiful beam work. Although she does not compete one of the most difficult routines, her routine at Classics was nearly flawless. She performed a solid back handspring to two layout step-outs, in addition to a unique aerial cartwheel to back handspring.
10. Deanne Soza on Bars
Texas Dreams' Deanne Soza is a great bar swinger, and she has some exciting combinations in her routine, including her free hip half to Ezhova, and she dismounts with an impressive full twisting double layout dismount.
Check out her routine below: