2018 GK U.S. Classic
Simone Biles Returns And Wins The 2018 GK US Classic Gymnastics Competition
Simone Biles Returns And Wins The 2018 GK US Classic Gymnastics Competition
Simone Biles won the all-around, beating the field by over a point at the 2018 GK U.S. Classic gymnastics competition in Columbus, Ohio.
Jul 29, 2018
by Becca Reed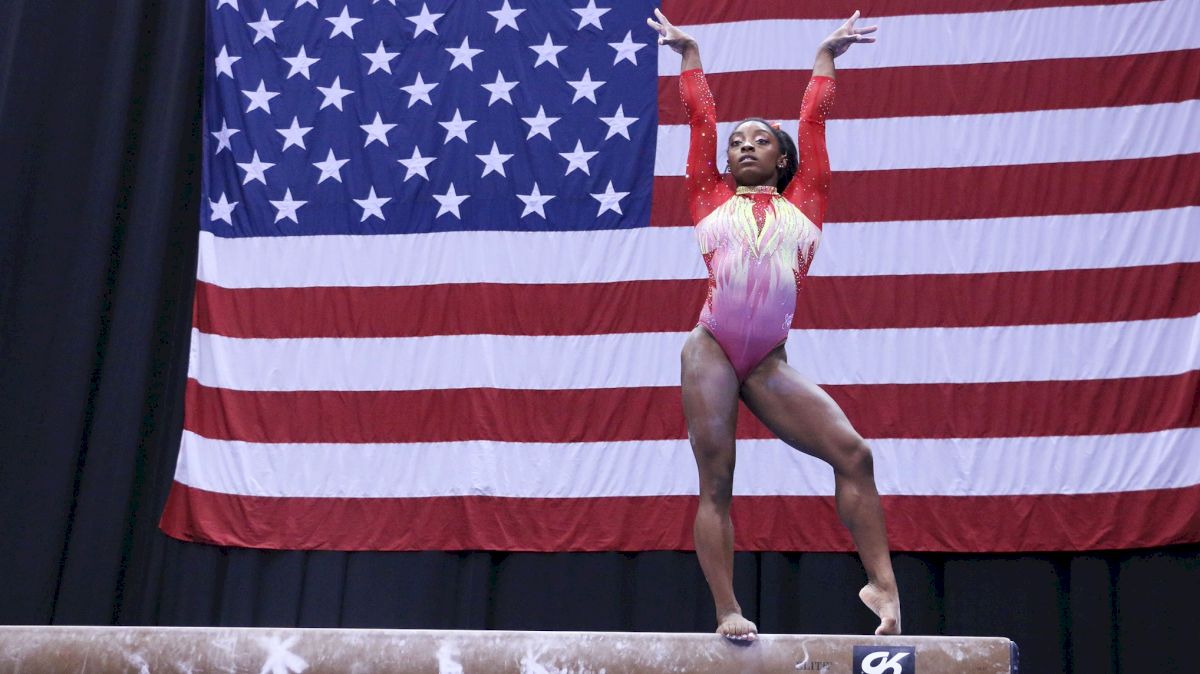 At her first competition in nearly two years, Simone Biles won the all-around, beating the field by over a point at the 2018 GK U.S. Classic in Columbus, Ohio. Biles also took gold on vault, beam, and floor. Riley McCusker from MG Elite took silver all-around and first on bars, while reigning world champion Morgan Hurd from First State earned bronze all-around.
Biles started her night on top after a floor routine that scored a huge 14.7. Her first two passes were both brand new--a layout double double (Moors) and a front full step out through to a tuck full in. Her fun choreography drew in the crown as they clapped along and Biles flashed her signature smile. The biggest error during her routine came from having too much power when she stepped out of bounds on her first pass.
McCusker started on vault where she showed off a powerful Yurchenko double full, that looked much improved from last year. Jordan Chiles also started on vault where she performed a great Yurchenko double full and a strong Tsuk full, coming in second all-around after the first rotation. Sloane Blakely from WOGA had a gorgeous beam routine to start her night including a great front handspring front tuck, and she was third after the first rotation. Hurd started on beam, one of her strongest events, but a slip and fall on her front tuck led to a 13.4.
In the second rotation, Biles moved to vault where only competed one vault, her Cheng. She had enormous power and bounced backwards, scoring a 15.4. McCusker performed a superb bar set with an impressive Ricna to Pak to stalder Shaposh half combination for a 15.0. Alyona Shchennikova also had a strong bar routine with excellent bar changes for a 14.9.
Hurd got back on track with her floor routine where she competed her Moors for the first time, with excellent height and form. Her style and artistry really shows through in her dance and she scored a 13.85.
Biles had her first and only fall of the night in the third rotation on bars. She hit her foot on the high bar in her Tkatchev, then performed her toe full but fell on the wrong side, coming off the bar. After remounting, she nailed the rest of her routine including her new tuck double double dismount which soared over the bar.
With a fall from Biles, McCusker slid into first place with a gorgeous beam routine. Executing her routine with precision, McCusker floated through her back handspring layout layout series and her front aerial to split jump to back tuck combination.
Hurd continued to rise in the standings with a strong Yurchenko double full vault. Shchennikova continued her night with a solid beam routine and was still in third heading into the final rotation.
Fueled by her mistake on bars, Biles absolutely rocked her beam routine and sealed her all-around title. She was nearly perfect on her Barani, the skill she struggled on most in yesterday's podium training, and she completed her tuck full in dismount with ease.
McCusker finished her night with a lovely and graceful floor routine, also debuting a new double layout tumbling pass. Her tumbling was solid and she was all smiles as she ran off the floor, waving to the crowd.
Hurd capped off her competition with a stellar bar routine including a Ricna to Pak and full in dismount.
Here's the routine that sealed the victory for @Simone_Biles at the #GKClassic! What a night! pic.twitter.com/nAcdJ8F03J

— USA Gymnastics (@USAGym) July 29, 2018