USA Gymnastics
Kailin Chio Ends Junior Career On A High Note At The Junior Pan Am Games
Kailin Chio Ends Junior Career On A High Note At The Junior Pan Am Games
Kailin Chio reflects on the end of her junior career and looks forward to her senior debut.
Dec 22, 2021
by Miranda Martin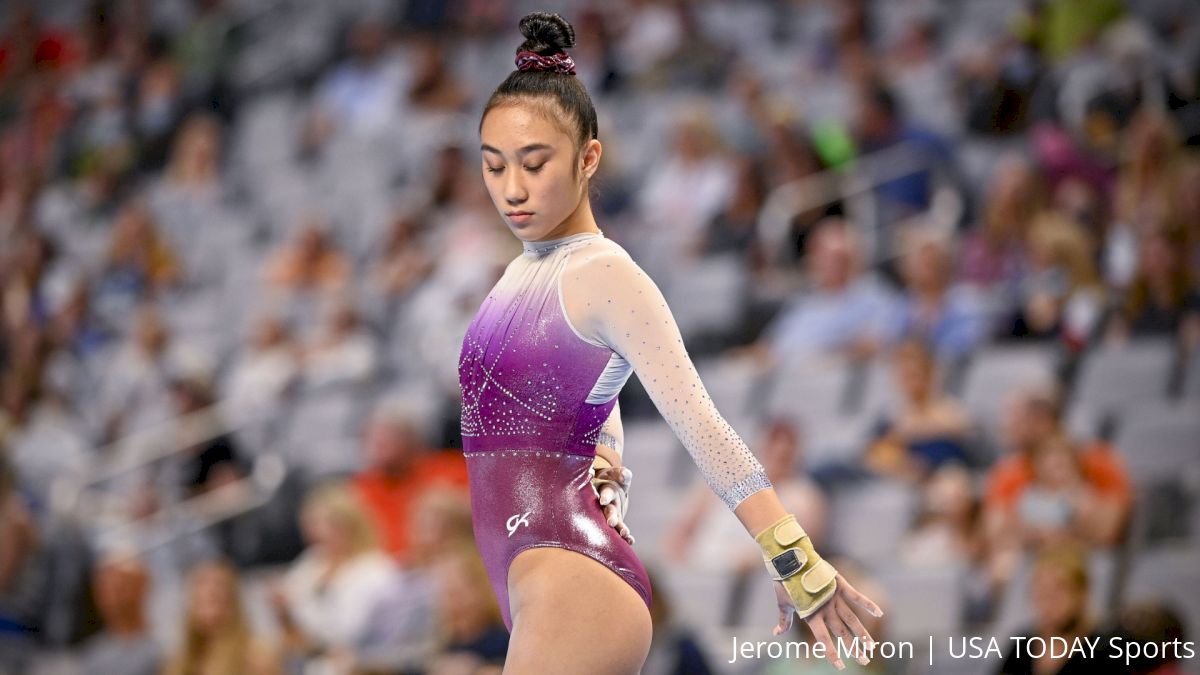 Kailin Chio stepped into the spotlight after her recent success at the Junior Pan American Games in Columbia, but this rising star isn't burning out anytime soon - she's here to stay.
Prior to the Junior Pan American Games, Kailin had a very successful final junior season, from taking first all-around at the American Classic, second all-around at the GK U.S. Classic, and competing her first international assignment at the Junior Pan American Championships in June. Hosted in Mexico, she hit four for four, and took home first as a team and second on floor. 2021 was also a memorable year for Kailin after she made the national team for the first time at the U.S. Championships, after missing it by two spots in 2019 and not being able to compete in 2020.
"Just making the national team and holding up that plaque really boosted my confidence a little bit and made me feel better that I'm on a national team now and I have these chances to get assigned to international assignments," Kailin shared.
To anyone looking in from the outside, Kailin's successful 2021 season looked as effortless as elite gymnastics can. From the inside, it was a much different story.
Challenges Coming Into the Season
Kailin faced significant challenges coming into this season, from a foot injury to personal difficulties.
In December of 2020 she discovered a cyst in her foot, which led to her going in for surgery. Post-surgery she was required to stay off of it for a full six weeks. The time off was a major setback to her skill development. Cassie Rice, Kailin's coach at GymCats where she has trained since her Mommy and Me days, suggested she might want to consider competing level ten for a while, but Kailin wasn't ready to give up on elite.
"I really wanted to do [elite], especially since 2020 got taken from us due to COVID. And it was the last junior year. So my parents and my family and my coaches really helped me get over that big hump," Kailin shared.
American Classics was in April, and Cassie was shocked by how quickly Kailin regained her skills and was ready to compete. Even with another setback she faced at the beginning of this year - the dreaded growth spurt, Kailin remained unfazed. Before COVID she didn't reach five feet, but now she stands around 5-foot-1 to 5-foot-2.
"[The growth spurt] affected it a lot. I had to change a lot of things. Vault got easier, I will say. Bars got harder, because I used to do straight body cast handstands. And now that I'm taller, I have the strength to do it, but to save energy for the rest of my bar routine, I went to straddle up kip handstands. And then my pass to the low bar, I used to do straight legs, legs together, past the low bar. But now that I've gotten taller, I had to switch to straddle tap. So everything changed a little bit, because having that huge growth spurt threw off my timing on everything," she explained.
Kailin's mother, Sara, shared that although "It was tough to watch her go through [her injury], coming back from that, I think it was actually beneficial for her. I think it just drove her even more or to push herself both mentally and physically because I know how bad she wanted it, to compete her last junior year. Because prior, last year, was taken from them because of COVID. So, it fueled the fire a little bit or a lot."
Sara also notices the pressure of personal difficulties outside of the sport on her daughter, who admires Kailin's focus and dedication despite these challenges. Describing her daughter as "fun, loving, and very carefree," Sara began to tear up as she described how proud she was of Kailin, despite Kailin making light of her mom's tears in the background.
"Just watching her, sorry, I get emotional. She's laughing at me. Just her adversity, how she overcomes the things that she does, foot surgery being one of them...she pushes through all of that personal stress and that adversity, so just watching her come out on top has been amazing," Sara shared.
All the hard work paid off at her second international assignment of the year, the Junior Pan American Games, which was also her final junior assignment before she becomes a senior in early 2022.
Junior Pan American Games
Coming into the Junior Pan Am Games, Kailin felt more poised than she had just a few months prior. "It was definitely a lot better than when I went to Mexico. I had some more fun and I just felt like I could let loose more than I did in Mexico. I felt more calm in the situation. The whole experience was honestly just so much better," she shared.
She chalks up the difference to having one international assignment already under her belt, giving her a better idea of what to expect, such as what the GymNova equipment would be like, how training days would go, where to push herself on and what to hold back on.
Kailin took silver in the all-around with a 52.500 behind teammate Katelyn Jong, gold on floor with a 13.333, bronze on bars with a 12.200, and gold as a U.S. team.
29 medals, 17 gymnasts, 1 grand time.

Congrats to all U.S. athletes who competed and pulled off some sensational performances at the 2021 Junior Pan American Games 💫 pic.twitter.com/2B9hR0QK9V

— USA Gymnastics (@USAGym) December 6, 2021
Though her bars medal may not seem like her biggest accomplishment, it's one she's extremely proud of. After falling during her routine on her Maloney, she came back strong to finish clean and win a third place medal.
"After I fell, I was just like, 'Okay, the job's not done, you got to finish it. And no matter what happens, no matter what the outcome is, you just have to know that you finished strong.' I wasn't able to medal with the routine I wanted, but I was able to medal with a comeback. And it showed me that even though you didn't make a good bar routine or make a good routine out of it, finishing strong can still get you somewhere as well," Kailin shared.
Wise beyond her years, Kailin grasps how precious these years are, and what an opportunity she's creating for herself through her hard work and embracing her talent. Where a lot of gymnasts her age would race ahead to their senior years, Kailin stopped to pause and reflect on her final year as a junior, sharing, "Me and Katelyn [Jong], roomed together and we were just talking about how it's our last junior year of our whole career. I've obviously been in the junior field for a little while, but we were just going into it with the attitude of, it's our last junior meet. We should have fun, not stress about it. Because junior meets matter, but it's the part where you're so young and you need to have fun a bit. So Junior Pan Ams was probably the most fun I've had competing in a while, because I just let loose and I wasn't really thinking about what comes next."
pan am games was a fun one! what a way to end my last junior elite meet! #teamusa pic.twitter.com/FK38GwopdQ

— kailin chio (@kailin_chio) December 4, 2021
She's also thinking carefully about her senior debut coming up, sharing, "I'm feeling excited, but I'm also feeling really nervous. Because it all starts...I mean, juniors still matter, but it's starting to get big and it's starting to get real. But I'm really excited to just be doing it with a whole bunch of my really close friends. And I'm just kind of excited to see what the year brings. It's my first year and I'm just trying to let loose and have fun."
Though she'll likely compete and test out some skills at smaller local meets early in 2022 such as the GymCats invitational at Planet Hollywood the Vegas Cup, she expects her public all-around senior debut will be at the Winter Cup, and is excited to get her name out into the world more as a senior.
Latest Upgrades and New Goals
In the months before her senior debut, Kailin is training hard in the gym on upgrading and getting new skills consistent.
She's working on her consistency on double twisting Yurchenkos on vault, and adding more connections on bars between skills she already has for more bonus, such as connecting a toe on toe off out of her pak and adding an uprise clear hip to add a major release there. She's also working on a double pike dismount off of beam, as well as a double double and a two and a half front full on floor.
happy national gymnastics day😝 pic.twitter.com/EAOgOVN4zP

— kailin chio (@kailin_chio) September 18, 2021
Cassie believes in Kailin taking the lead sometimes when it comes to new skills, knowing that she will be more motivated if she selects the skills she wants to work on when there are multiple options.
"A step out two foot double pike off beam is, to me, a very risky skill, a very dangerous skill. It needs lots of time, it needs a lot of security to make sure you're doing well at it. I always thought she's a great twister, and a two and a half will be safer and easier. And she's decided that the double pike is what she wants to do... I'm just beyond shocked because I thought this is going to be way harder and way too difficult...but it has to be in her brain. What the experts need to do in our sport is teach that side of it, the mental side of it, and how important being a partner with your athlete is," Cassie explained.
Kailin also has a new floor routine, which she was able to compete in Colombia. The music is a mashup, part of it featuring BLACKPINK, which she helped create alongside her coaches.
One of her latest upgrades, a roundoff back handspring back layout back layout mount series, got a lot of attention on Twitter not only for how impressive the skill is, but for the fact that she's wearing a mask while doing it. At GymCats, the gymnasts still wear masks daily. "It's best for not only our safety, but for the safety of others around us, especially when one of our team boy's dad died of COVID," Kailin shared. Kailin already competed this mount series at Selection Camp, but removed it from her routine at Junior Pan Am Games since her back handspring mounts were a little off.
Watch this awesome mount from @kailin_chio WOW! 😳 pic.twitter.com/JS8mQoj1LP

— Gymcats (@gymcats) September 5, 2021
Working these upgrades in time for her senior debut will be important, because Kailin has big goals in the sport, including shooting for the Paris 2024 Olympics and competing in college gymnastics someday.
Positive Mindset
When asked about Kailin's strengths, Cassie immediately shared, "the mental side" of gymnastics, stating, "she just can think positively."
Kailin is aware of the importance of developing her mindset and mental strength, sharing, "We talk about how having a narrow road in gymnastics limits you in your success sometimes. So when you widen the road, and you have a positive mindset, an open mindset, and are open to trying new things, that really helps."
Besides working on mindset, attending GymCats has made a huge impact on Kailin's gymnastics career in many ways, one being the knowledge that Cassie has coached an Olympian before.
"When your coach has coached someone to the Olympics, it's definitely really cool to see and just know that...I can put my full trust in my coaches that they know exactly what they're doing and that she's been down this road before," Kailin shared.
Cassie coaching Tasha to the Olympics during a different time in the sport has more of an effect on the GymCats gymnasts than the gymnasts even realize. "Tasha went through a lot of struggles that I wasn't aware of when she was going through it...an eating disorder almost killed her," Cassie shared. The changes in the sport from then until today have made Cassie aware of how coaches can help change the narrative in the sport, focusing on intuitive eating, listening to your body, and more.
"We're going through the process of training somebody 180 degrees different from what I did with Tasha. I always am doubting it's going to be successful because it's so much more listening to the athlete, very positive, kind, uplifting, building self-esteem, framing things positively, not focusing on the mistakes so much, praising the good. And it's such the opposite of how every coach coached when I was younger that I'm just amazed at her success this year," Cassie elaborated, sharing, "That's probably one of the reasons Kailin is successful, that she is the one guiding things. I have my ideas technically and skill wise, I give advice, and direction, and all that, but there's several skills that she's like, I want to do this. And she ends up being the one who makes the choice. And as long as I see it's safe, I go that direction because that's what she says."
"When I was coaching Tasha, I was really young and the stress was getting the assignment done, doing the numbers, doing what you were told to do, being very strict with every workout...come to find out how many years later when things I did to Tasha and my daughter in coaching them, thinking I was being a good coach, was actually harming them in self-esteem, and in confidence, and self worth, and all that stuff..So I totally redid everything I do with coaching, and the kids are the guide," Cassie shared, adding, "So, we just have a really customized plan, and that along with totally, really listening to her on everything. I've learned so much."
Hopefully, this new wave of coaching and culture change in the sport is leading to happier gymnasts with more longevity. As far as Kailin is concerned, gymnastics is "a place where I can just let go. I'm fortunate to have the gym as a safe place and just something I can do whenever I'm feeling mad, sad, angry, or even if I'm happy, just doing what I love."
Outside of the Sport
With the limited time she has outside of tenth grade and gymnastics, Kailin loves to hang out with her friends and family, as well as practice cooking. "[Cooking] just feels...it's kind of like the gym. It makes me happy and it just kind of... I don't know. Something about cooking just makes me enjoy it," Kailin shared. She also enjoys attending other sporting events, such as Dodgers baseball games and Golden Knights hockey games, a professional hockey team nearby.
festivities👻 pic.twitter.com/IcJxdyv57a

— kailin chio (@kailin_chio) October 30, 2021
Having relaxing hobbies is important, because as gymnastics is ramping up, so is school, and unlike most elite gymnasts who are fully or partially homeschooled, Kailin attends school full days, five days a week, which makes for long hours between school and gymnastics.
"Sophomore year is definitely a little stressful with all the classes and being gone is really hard and you have to make up the work and stuff...but this school year is definitely one of the better ones even though it's a little bit more stressful," Kailin shared.
Kailin has one older sister, Nyah, who is now in the University of Nevada, Reno, for college. She is looking forward to Winter Break, so she can spend time with her sister, especially after missing Nyah's visit home for Thanksgiving due to competing in Columbia.
After the holidays, Kailin shared, "I'm looking forward to the new year. 2021 has been good, but I think I'm ready for a new start and just to see where 2022 takes us."
We're excited to see where 2022 and her senior debut take this rising star as well.
Kailin's Fast Facts
Favorite Christmas Movie - The Polar Express or Home Alone
Favorite Book - Wonder
Favorite T.V. Show - All-American
Favorite Music Genre - I listen to a little bit of everything. I know a lot of people don't listen to country music, a lot of people think country music is the twangy kind, but it's definitely changed. And then listen to pop music. So like today's hits music and a little bit of throwback music from the older generations.
Favorite Subject in School - Math
Gymnasts you look up to - Tasha being at our gym has definitely put her up there for me just because she's trained at our gym and I'm coached by one of the greatest coaches and she coached her. So Tasha. And honestly, Suni. She has such a fun personality and seeing her go through what she's been through with her dad really inspires me to keep pushing, even when times get really, really hard.
Someone You're Always Texting - I'm usually always texting Kaliya [Lincoln], she's down in Texas. Her and I have been best friends since 2016, 2017. So her and I are always texting. We do miss each other a lot since we do not live close to each other at all. And also texting my sister since she's not here as well.
Favorite Event - Bars is actually my favorite event. It's kind of like a feeling of always flying. So bars has always just been up there for me no matter how hard or how tough it is.
Favorite Skill - I think Maloneys on bars are really fun. You're flying from low to high, so they're kind of fun to work and they also have really cool pictures of you doing them too.