FIG
U.S. Trampolinists & Rhythmic Gymnasts Claim Medals, Junior Pan Am Games
U.S. Trampolinists & Rhythmic Gymnasts Claim Medals, Junior Pan Am Games
U.S. athletes claimed gold in men's synchronized trampoline competition at the 2021 Junior Pan American Games in Cali, Colombia.
Dec 4, 2021
by FloGymnastics Staff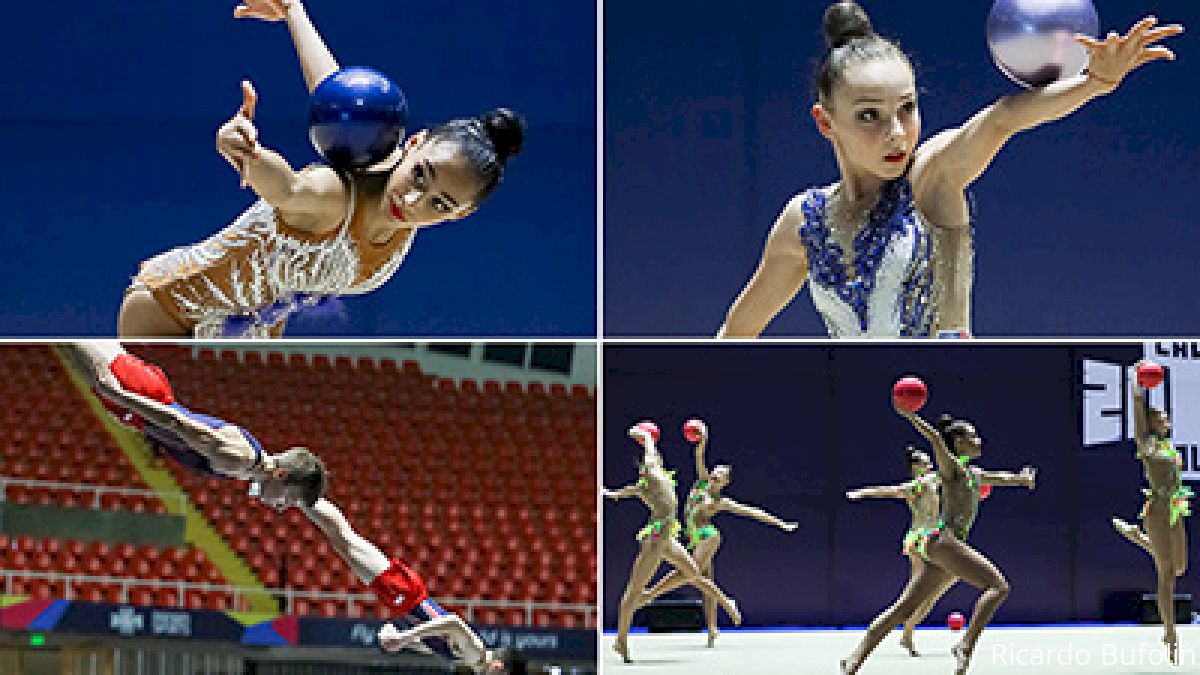 CALI, Colombia, December 4, 2021 – U.S. athletes claimed gold in men's synchronized trampoline Saturday on the final day of the trampoline gymnastics competition at the 2021 Junior Pan American Games in Cali, Colombia. Elijah Vogel of Longmont, Colo./Elevated Trampoline Sports Academy added a silver in men's individual trampoline, while Nayenne Pollini Ashenaffi of Reseda, Calif./Rhythmic Academy of Los Angeles and Sarah Mariotti of San Diego, Calif./Emerald City Academy of Rhythmic Gymnastics took silver and bronze, respectively, in the rhythmic gymnastics individual all-around. The U.S. rhythmic group also secured the bronze in the group all-around.
After qualifying in the top position, Vogel and partner Zachary Ramacci of St. John, Ind./TwistStars Tumbling and Trampoline again posted the high score in men's synchro, delivering a 47.410 in today's event final. Pairs from Brazil (45.230) and Mexico (41.210) rounded out the top three. Vogel also notched the second spot in the individual competition with a 55.580. He was outpaced only by Brazil's Rayan Dutra who finished with a 56.020. Mexico's Adrian Martinez (55.110) was third, while Ramacci's 53.215 landed him in the fifth spot. The U.S. did not qualify a women's team for this event.
In the ongoing rhythmic gymnastics competition, U.S. athletes collected three medals Saturday as the two-day individual and group all-arounds concluded. Pollini Ashenaffi (78.350) and Mariotti (76.550) finished just behind Brazil's Maria Eduarda Alexandre who took the top spot with a 79.600. Mariotti earned the day's high scores on the clubs (20.700) and ribbon (17.700) apparatus. Both U.S. gymnasts have qualified to compete in all four individual apparatus finals – hoop, ball, clubs and ribbon – tomorrow, beginning at 9 a.m. ET.
The U.S. group, consisting of Irina Fesyun of Aventura, Fla., Sophia Miller of Aventura, Fla., Angelina Mirer of Hollywood, Fla., Natalia Ortigosa of Hollywood, Fla., and Alexandra Rykova of Hollywood, Fla., all of IK School of Gymnastics, took the bronze medal in the rhythmic group all-around Saturday at the Coliseo El Pueblo. The group posted a 51.550 across the five balls and five ribbons qualifying rounds and have earned a spot in both of tomorrow's apparatus finals. The five balls final is set for 10:10 a.m. ET and will be followed by the five ribbons final at 12:40 p.m. The group from Mexico claimed all-around gold with a 56.350, while Brazil settled for silver with a 56.100.
About USA Gymnastics
Based in Indianapolis, USA Gymnastics is the national governing body for gymnastics in the United States, encompassing seven disciplines: women's gymnastics, men's gymnastics, trampoline and tumbling, rhythmic gymnastics, acrobatic gymnastics, gymnastics for all (a.k.a. group gymnastics) and, most recently, parkour. USA Gymnastics sets the rules and policies that govern the sport of gymnastics, including supporting the U.S. Gymnastics Teams for the Olympics and World Championships; promoting and developing gymnastics on the grassroots and national levels, as well as a safe, empowered and positive training environment; and serving as a resource and educational center for the more than 200,000 members, clubs, fans and gymnasts throughout the United States. The organization is deeply committed to creating a culture that encourages and supports its athletes and focuses on its highest priority: the safety and well-being of athletes and our community.