USA Gymnastics
Levi Jung-Ruivivar Combines Artistry With Power For A Whole New Look
Levi Jung-Ruivivar Combines Artistry With Power For A Whole New Look
Junior Elite Levi Jung-Ruivivar on moving to Minnesota, recovering from wrist surgery, and preparing for her senior debut.
Nov 2, 2021
by Miranda Martin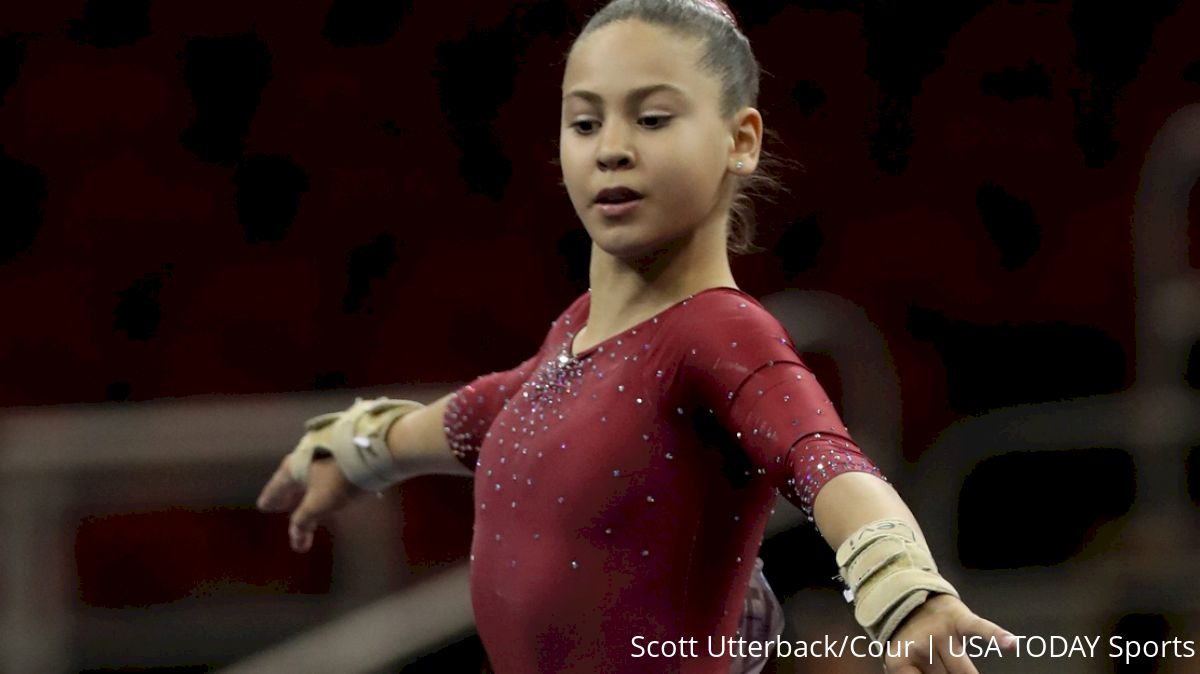 Junior Elite Levi Jung-Ruivivar dealt with adversity before in her gymnastics career, but the past few months have certainly been the most challenging. By finding strength and inspiration around her, she's motivated to become stronger and set the bar even higher.
Levi began her elite path at Paramount Elite Gymnastics in Los Angeles, qualifying to the diamond team and later on, the Hopes team. A developmental camp attendee since 2015, she has placed at the top of the podium at numerous state, regional, and national meets. She was the youngest competitor at Westerns in 2016, where she received the highest bars score in the country. She also placed second on bars at her first international meet in 2018, won the all-around at her second international competition in France, has qualified to National Championships every year, and has been a national team camp attendee since 2019.
Levi moved from Paramount Elite Gymnastics in Los Angeles to Twin City Twisters in Minnesota in 2019 after her coach, Sarah Korngold, moved to a different gym out of state, and Levi knew it was time to make a switch as well. After trying out at multiple gyms, Levi found a fit immediately at TCT.
"We looked all around the country for gyms and the first day I tried out at TCT, I knew it was the gym for me. It just was a super special environment, and the team energy was incredible, and the coaches were just really amazing," Levi shared. Levi had another reason to like TCT - Korngold suggested TCT as a good option, thinking Sarah Jantzi could help Levi with her power.
Of course, the move from Los Angeles to Minnesota was not an easy one. With two parents who are actors, Yvonne Jung (seen in Third Watch, Stuff, ER, Medical Investigation, and more) and Anthony Ruivivar (seen in Turner & Hooch, Adjustment Bureau, Third Watch, NCIS: Hawaii, Starship Troopers, and more), and three children of varying ages, the family had to go between the two states to make Levi's dream work, a plan that was further complicated when COVID hit and brought travel restrictions with it. Anthony booked a job shooting in Canada, and due to international COVID protocols, wasn't able to visit Minnesota at all during that 9 month period.
Even with the complications, Yvonne and Anthony knew they had to give Levi a chance to achieve her dreams. Yvonne cited her experience studying to be a professional ballerina during her childhood, even boarding in Europe, before deciding at 15 that she was not able to make it professionally as one reason they made this decision.
"My family provided me the opportunity to pursue my dream. That's what we wanted to do for Levi. We didn't want her to work this hard and not have the support and what she felt she needed to get there. The odds are always against you, but we wanted to be flexible and give her that opportunity," Yvonne shared.
Levi originally entered gymnastics on a random chance - Yvonne's friend often met her and Levi at the park with her child and suggested going to a gymnastics class instead one day - and Levi loved it.
Even though her parents knew nothing about the sport, it was clear that Levi was made for it. "Around the age one and a half, she would set up little blocks so that she could climb onto the arm of the sofa and then just throw herself down and she would do that over and over again. Then we had a countertop that she would grab onto the edge of it and flip herself over into a V, like a Stalder. She just found gymnastics, I think she would have found it, even if I hadn't taken her to that trial class," Yvonne shared. It wasn't until Levi went to Paramount Elite that the Jung-Ruivivar family learned how serious elite gymnastics was from a young age.
"I remember when we got to Paramount, her goal was to get to level 10, by the time she was 10. Then she was going to be done with gymnastics because she didn't know there was college, or elite, or any of that. So we just kind of learned as it was presented to us...she just didn't know that there was anything beyond level 10...so it was like, oh, there's more? I'll do more!" Yvonne shared.
When Levi first arrived at TCT, Jantzi was excited to have a gymnast join who was so naturally gifted with artistry. Jantzi credits Korngold for cultivating that artistry, sharing, "She did such a great job with Levi...artistry isn't my strong point, but I think coaching her has made me think differently as a coach. We had to kind of use the code differently and try to think outside the box to try to find things that suited her gymnastics. And I think it's been fun. It's been challenging for me to keep her artistic gymnastics while also trying to build some power into her also, which I think we've done a good job at."
With the move and two years of hard work at TCT under her belt, Levi was prepared to have the season of her life in 2021, starting with Winter Cup in February and a verification meet at camp in March where she qualified for the Junior National Team after taking first place - but her season was cut short by getting surgery on both wrists.
Shortly after the verification camp, Levi began to feel some pain in her right wrist, so Yvonne and Levi went to the doctor for an x-ray to make sure it was okay. Finding that her right wrist had a longer ulna than the radius, Levi planned to have surgery after the season. While they were there, Yvonne suggested checking out her left wrist as well in case there was the same situation on the other side.
Her intuition was right. The same problem persisted on the left side as well, but the most surprising find was that Levi had a broken scaphoid in her left wrist that she was unaware of. "She was actually training on and made the national team on a broken wrist and we didn't even know it. So everyone's a little baffled that the right wrist was bothering her and the left wrist was actually broken," Yvonne shared.
"We were all like, what are you talking about? That doesn't even hurt right now. We were just checking to see if that one has a longer bone. A scaphoid fracture takes a long time to heal. And if the blood flow stops, then basically the bone can die in that wrist, and then you can't really use that wrist," Jantzi shared.
The broken scaphoid meant she needed surgery immediately and could no longer wait until after the season. Suddenly, her season was over, and she got surgery on both wrists to close the growth plate on the ulna so it was even with the radius, as well as to add a pin in her left wrist to fix the broken scaphoid.
What was first an annoyance that cut her season short, Yvonne and Levi now consider a blessing. "We found the scaphoid...otherwise my bone could potentially die and that would be a career-ending injury. So we're super grateful that we caught that," Levi shared.
"We feel lucky that we caught the scaphoid because it was her right wrist that was bothering her. I feel lucky that we were able to see it. The timing was unfortunate, but it was also lucky," Yvonne added.
Now fully recovered, Levi is focused on coming back stronger than ever. "I keep finding out things that surprise me about Levi. Recently I found out that she figured out ways that she can sleep that relax her muscles the most, that kind of thing," Yvonne shared.
She's working around the clock, even when she's resting because there isn't a lot of time left before selection camp in November for the Junior Pan American Games team, Levi's final goal as a junior before turning senior in January. "It'd be really amazing to make my first international assignment, because that's been a goal of mine for a very long time and I feel like I have a good shot at it," Levi shared.
"She has two personalities. She has her gym personality, which is much more energetic and lively, and playful. Then her home personality, because she comes home and she uses every ounce of time to get her schoolwork done, to make sure she's conserving her energy. She's really focused. She's disciplined, she's passionate. And she's got a great sense of humor and she's kind," Yvonne shared.
Levi is learning from the best. She had a front-row seat to Grace McCallum's journey from having surgery a few months before the Olympic Games to making the four-person Tokyo Olympic team, which provided some inspiration for her comeback. "It was really, really special watching her make it to the Olympics. There's a few other elites in our group and we were just ecstatic when she made it and so happy for her because I just know how hard she worked every day in the gym and how much energy and effort and sacrifices she had to make for her journey. It was just really amazing to see it pay off and for her to accomplish her dreams. It was really inspirational to everyone," Levi shared.
The other elites at TCT are Elle Mueller, Temple Landry, Katelyn Rosen, and Lexi Zeiss, and her teammates are another source of encouragement and inspiration for Levi.
"We have a pretty big elite team now and it's such a fun group. Everyone has just such positive energy and I feel like I can feed off of their energy and I feel like I help reciprocate that energy as well by cheering on all my teammates and being super enthusiastic at the gym," Levi shared. "Elite [gymnastics] can be super intense sometimes and we're all super hard workers, so we try to lighten the mood."
Right now, Levi is doing this with a Halloween game, where someone who gets a new skill gets an orb placed in their locker, and then gets to scare another gymnast, and put the globe in the victim's locker. Once the new orb-owner gets a new skill, they get to pass it on.
"We have a really supportive group of kids who are supporting Levi right now in her push to try and make the Pan Am Games team. She is working really hard in the gym and it is fun now to see her teammates wanting this for her and supporting her in anyway they can," Jantzi shared.
Due to the international junior code, Levi will be doing watered-down routines for Junior Pan Ams Qualification, but coming up for her senior debut, she's working towards a double lay full on floor, a double-twisting Yurchenko on vault, and a gainer full dismount on beam. "I think people haven't seen her compete with full difficulty in awhile...and I think they're going to see a lot of upgrades from her," Jantzi shared.
Looking further down the line in the sport, Levi hopes to use these upgrades to make a Worlds team, Olympic team, and eventually, compete in college gymnastics.
"[College gymnastics is] a huge part of what I've been working for as well. I want to go to college for gymnastics as well as academics because that's another super important part of my life, obviously. So if gymnastics can help me get into a good college, that would be amazing," Levi shared. She has a long list of colleges she is interested in including Stanford, Berkeley, and UCLA (where teammate Katelyn Rosen is headed!).
Outside of the gym, Levi spends her time on hobbies that help her relax. One of her favorites is baking. "For a while, when I had more time, I was doing baking classes almost every weekend through a place called BLVD Kitchen. And we would make croissants from home. We would just make them from scratch and we'd make different pastries and cakes and all these types of yummy breads and we made baguettes. That's something that I find super relaxing. As I say, it's one of the things that fills my tank, helps relieve stress," Levi shared. She also enjoyed playing the drums before her wrist surgery and has fun hanging out with friends.
She's also very emboldened by gender equality and social justice, sharing, "I find it frustrating sometimes that, for example, that I think I was listening or watching a football game and they're like, 'Oh, this is the first female announcer that we've had for this, the men's football game.' I just feel like there's a lot of places where women don't have the same opportunity as men in sports and that's something that is a passion of mine."
Levi is currently in 10th grade and planning to graduate in 2024. She homeschools through Laurel Springs, a rigorous college-prep program.
"I'm taking all honors classes and AP classes this year. So it's a lot of work, but I feel like I'm starting to learn a lot of new information and am very interested in the medical field. So I'm taking honors chemistry this year and I really, really enjoy it. And I take German, actually. And that's also super fun. My mom traveled around Europe when she was young because her dad taught at different colleges and was a professor. And so she lived in Germany for a while and went to a boarding school in Stuttgart for ballet. I have two cousins who live in Germany, in Berlin. So German seemed like an interesting language to learn," Levi shared.
In the medical field, she is specifically interested in becoming a physical therapist, surgeon, or psychologist, and is keeping her mind open to other options.
With both her parents being actors, she's also been in the acting industry a bit, and not ruling that out as a future opportunity either. "I did voiceover work for Doc McStuffins, a kids' show, and I did a short called Girl Power, and I was in another short that Gary Baseman helped direct and create, Levi shared. "I'm more interested in the medical field, but if opportunities come along that are in that field, I am really happy to do that because I do find it fun and interesting."
She's aware of gymnasts like Paris Berelc, who have gone on to use their gymnastics skills within acting roles, sharing, "It's something that would be a great plus if we could use our gymnastics in other fields and use it to our advantage."
Whatever goals she sets for herself in the future, Levi's focus, for now, is on her upcoming season. Fully recovered from her surgeries, she is ready to conquer this fall and her upcoming senior debut with new upgrades and more power than ever.
"I think everyone thinks of her as an artistic type. They always think of her as this beautiful gymnast, but I think come classics and championships, they're going to see a powerful gymnast too. I think that'll be a shock for people to see the more powerful side of her," Jantzi shared.
Keep an eye out for Levi during the Junior Pan American Games this November and beyond - she's coming in ready to go.
Levi's Fast Facts:
Graduation Year: 2024
Favorite Movie: Titanic or The Notebook
Favorite Book: The Keepers of the Lost Cities, Harry Potter, It Ends With Us, All The Bright Places
Favorite Music: I listen to all kinds. Right now, I'm currently listening to Christmas music already. At the gym, I really like listening to more upbeat songs. I like to listen to Taylor Swift. I like No Doubt a lot. I really like Be My Baby.
Favorite TV Show: Stranger Things, Queen's Gambit, Bridgerton
Someone You're Always Texting: Temple, my teammate
Halloween Costume This Year: Black angel, to go along with Lexi Zeiss being a white angel, and Elle Mueller and Katelyn Rosen being devils
Favorite School Subject: Science, either Biology or Chemistry
Favorite Skill: Ricnas on bars, Onodis on beam, double layouts on floor
Favorite Event: Bars is my favorite event to train. I'd say my favorite to compete is floor, because I really love performing a floor routine, and showing off the more artistic sides of my gymnastics. At TCT, my coach is very adamant about our facial expressions during our floor routine. And so it's really fun to make eye contact with people in the crowd or the judges and just give them that little, like...my floor routine right now is almost more like a circus evil, like a circus clown doll floor routine type of thing. So, just giving them that little evil smirk during my floor routine is super fun.
Favorite Thing About Gymnastics: Flipping through the air. Just, ever since I was young, just, it feels like you're flying. Like it really does. And just, when you feel strong and you just, I don't know, nail a series or make a hard level tumbling pass, it just really does feel like you're flying and defying the odds of gravity.
Favorite Competition: I went to a competition in Paris with just some of my teammates at Paramount and that was probably one of my favorite competitions because we went to the Louvre and Versailles and the Eiffel tower. It was really fun to be in Europe and just experience the culture in Paris and then being around other international athletes, it was super incredible. And just getting to hang out with them and talk to them about their different experiences.
Gymnasts You Look Up To: Nastia Liukin, for sure. I just love the way her gymnastics looks. She just has a gorgeous line and everything she does. She has full extensions and just beautiful gymnastics. And I really like Laurie Hernandez, the way she expressed herself in all of her gymnastics and you know, Grace is someone who I really looked up to, especially since I got to train with her every day. And I really, really like Suni's bars.