2021 Women's World Championships Selection Event
U.S. Team Narrows Selection To 2021 Artistic Gymnastics World Championships
U.S. Team Narrows Selection To 2021 Artistic Gymnastics World Championships
Emerging talent vies for U.S. Team Selection to 2021 Artistic Gymnastics World Championships. See the six gymnasts competing for a spot to Worlds.
Oct 5, 2021
by FloGymnastics Staff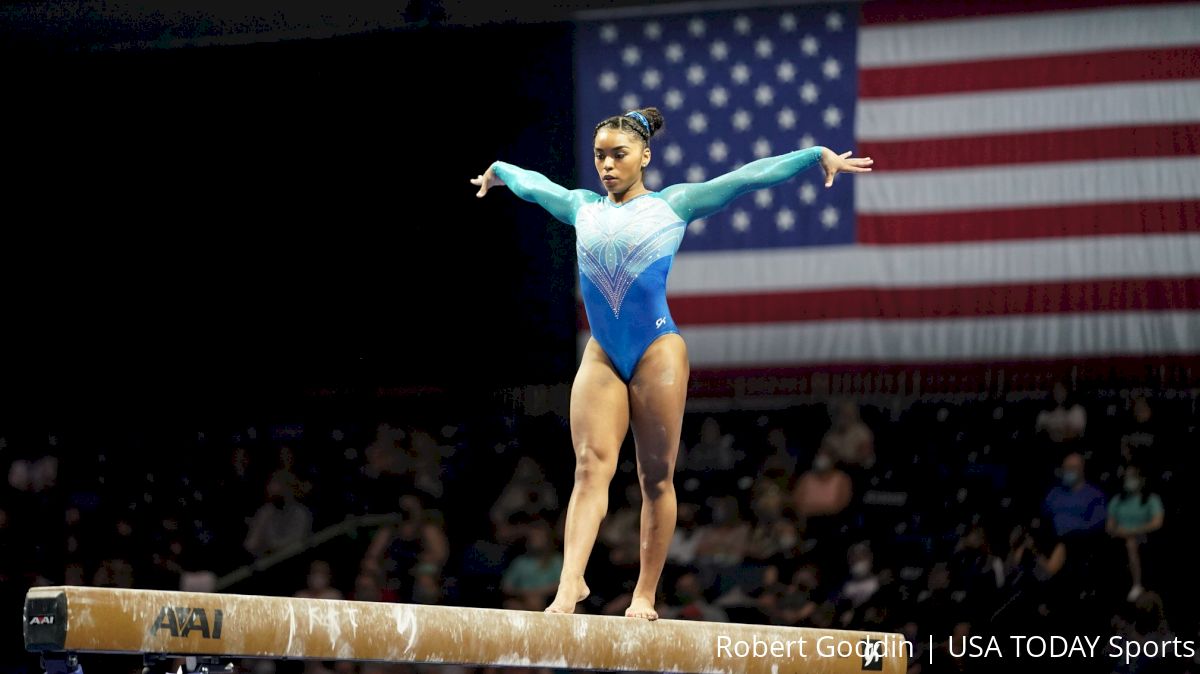 INDIANAPOLIS, October 5, 2021 – The final U.S. team members for the 2021 Artistic and Rhythmic World Championships will be decided this week in Indianapolis, when six athletes train and compete for a spot on the women's artistic team at the selection camp October 7-10. The 2021 Artistic World Championships are slated to take place October 18-24 at the Kitakyushu General Gymnasium in Japan.
Attendees will take part in a full competition on October 8, and a competition setting will also be replicated on October 9 to help determine who will represent the U.S. in Kitakyushu later this month. Friday's competition will be streamed live on FloGymnastics at 5:40 p.m. ET.
The women's roster will be announced Saturday. The rhythmic and men's artistic rosters were announced last month.
With the U.S. team coming off a six-medal performance at the Olympic Games in Tokyo, a new fleet of next-generation athletes, including Olympic Team alternates Kayla DiCello and Leanne Wong will compete for one of four roster spots for this year's World Championships. Participating athletes for this weekend's team selection camp are listed alphabetically below.
Ciena Alipio, San Jose, Calif./Midwest Gymnastics Center
Kayla DiCello, Boyds, Md./Hill's Gymnastics
EMjae Frazier, Erial, N.J./Parkettes National Gymnastics Center
Olivia Greaves, Staten Island, N.Y./World Champions Centre
Konnor McClain, Cross Lanes, W.Va./WOGA Gymnastics
Leanne Wong, Overland Park, Kan./Great American Gymnastics Express
Because this year's World Championships directly follow an Olympic Games, they will feature only individual apparatus and all-around competitions. No team competition will be contested.
USA Gymnastics. Based in Indianapolis, USA Gymnastics is the national governing body for gymnastics in the United States, encompassing seven disciplines: women's gymnastics, men's gymnastics, trampoline and tumbling, rhythmic gymnastics, acrobatic gymnastics, gymnastics for all (a.k.a. group gymnastics) and, most recently, parkour. USA Gymnastics sets the rules and policies that govern the sport of gymnastics, including supporting the U.S. Gymnastics Teams for the Olympics and World Championships; promoting and developing gymnastics on the grassroots and national levels, as well as a safe, empowered and positive training environment; and serving as a resource and educational center for the more than 200,000 members, clubs, fans and gymnasts throughout the United States. The organization is deeply committed to creating a culture that encourages and supports its athletes and focuses on its highest priority: the safety and well-being of athletes and our community.