USA Gymnastics
U.S. Women Gymnastics Capture Silver Medal At 2020 Tokyo Olympic Games
U.S. Women Gymnastics Capture Silver Medal At 2020 Tokyo Olympic Games
U.S. Women Gymnastics Capture Silver Medal At 2020 Tokyo Olympic Games
Jul 27, 2021
by FloGymnastics Staff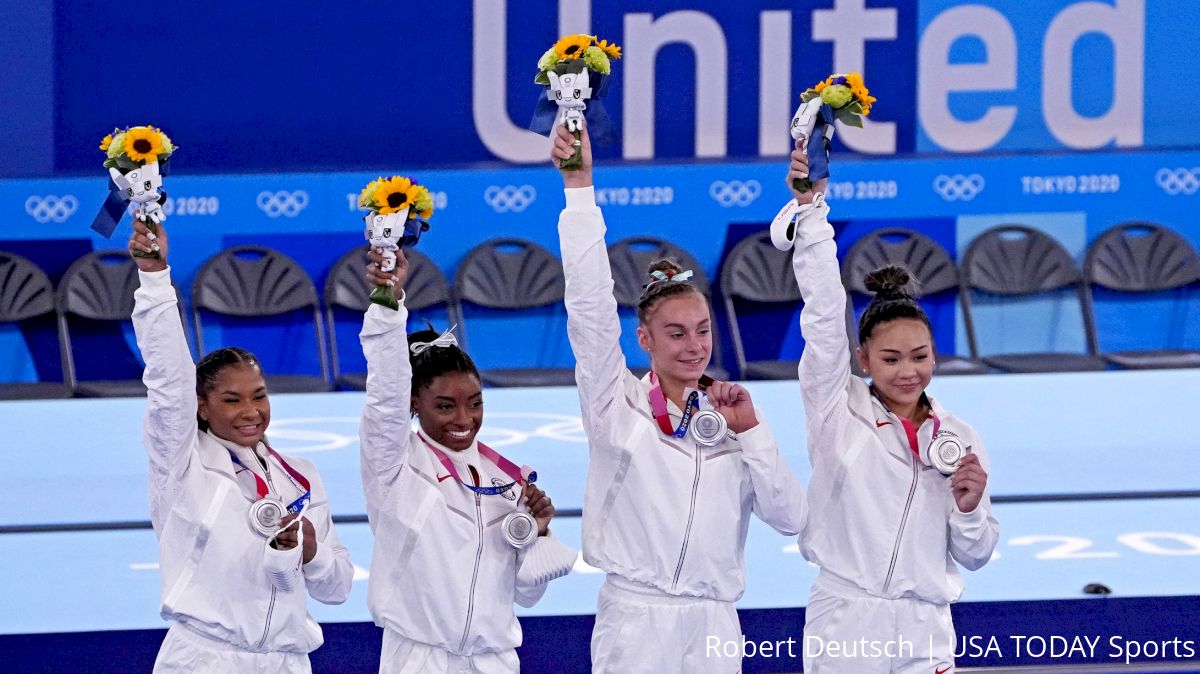 TOKYO, July 27, 2021 – Despite unprecedented adversity, a gritty team effort catapulted the U.S. women's team to a second-place finish at the 2020 Tokyo Olympic Games Tuesday at the Ariake Gymnastics Centre. After veteran Olympic champion Simone Biles of Spring, Texas, withdrew from the competition following the first rotation, the remaining team members – Jordan Chiles of Vancouver, Wash., Sunisa Lee of St. Paul, Minn., and Grace McCallum of Isanti, Minn. – banded together to secure the silver medal for the U.S.
The team posted a combined 166.096 across four rotations, outdone only by the Russian Olympic Committee who took the top spot with a 169.528. Great Britain was third with a 164.096.
Biles made the difficult decision to withdraw out of an abundance of caution for her mental and physical well-being. Her World Champions Centre teammate Chiles stepped in on uneven bars and balance beam, while Lee competed on floor exercise in Biles' stead.
"We could not be prouder of how this team handled things tonight," said USA Gymnastics CEO Li Li Leung. "From Simone's bravery and selflessness to the team's ability to adapt quickly and perform so well, these young women inspired us all."
Olympic gymnastics continues Wednesday with the men's all-around set to begin at 6:15 a.m. ET. Last week, Biles and Lee qualified to represent the U.S. in Thursday's women's all-around competition, and Biles also advanced to all four event finals. Lee qualified to the uneven bars and balance beam finals, and Jade Carey of Phoenix, Ariz., who earned an individual Olympic berth through her performances during the Apparatus World Cup Series, is set to compete in the vault and floor exercise finals.
The full artistic gymnastics competition schedule is listed below in eastern time.
All-around finals
Men's all-around final: July 28, 6:15 a.m.
Women's all-around final: July 29, 6:50 a.m.
Event finals
Men's floor exercise, women's vault, men's pommel horse and women's uneven bars finals: August 1, 4 a.m.
Men's still rings, women's floor exercise and men's vault finals: August 2, 4 a.m.
Men's parallel bars, women's balance beam and men's horizontal bar finals: August 3, 4 a.m.
USA Gymnastics. Based in Indianapolis, USA Gymnastics is the national governing body for gymnastics in the United States, encompassing seven disciplines: women's gymnastics, men's gymnastics, trampoline and tumbling, rhythmic gymnastics, acrobatic gymnastics, gymnastics for all (a.k.a. group gymnastics) and, most recently, parkour. USA Gymnastics sets the rules and policies that govern the sport of gymnastics, including supporting the U.S. Gymnastics Teams for the Olympics and World Championships; promoting and developing gymnastics on the grassroots and national levels, as well as a safe, empowered and positive training environment; and serving as a resource and educational center for the more than 200,000 members, clubs, fans and gymnasts throughout the United States. The organization is deeply committed to creating a culture that encourages and supports its athletes and focuses on its highest priority: the safety and well-being of athletes and our community.