USA Gymnastics
Jade Carey Earns Gold On Floor Exercise At 2020 Tokyo Olympic Games
Jade Carey Earns Gold On Floor Exercise At 2020 Tokyo Olympic Games
Jade Carey took the top spot on floor exercise during Monday's event finals at the 2020 Tokyo Olympic Games.
Aug 2, 2021
by FloGymnastics Staff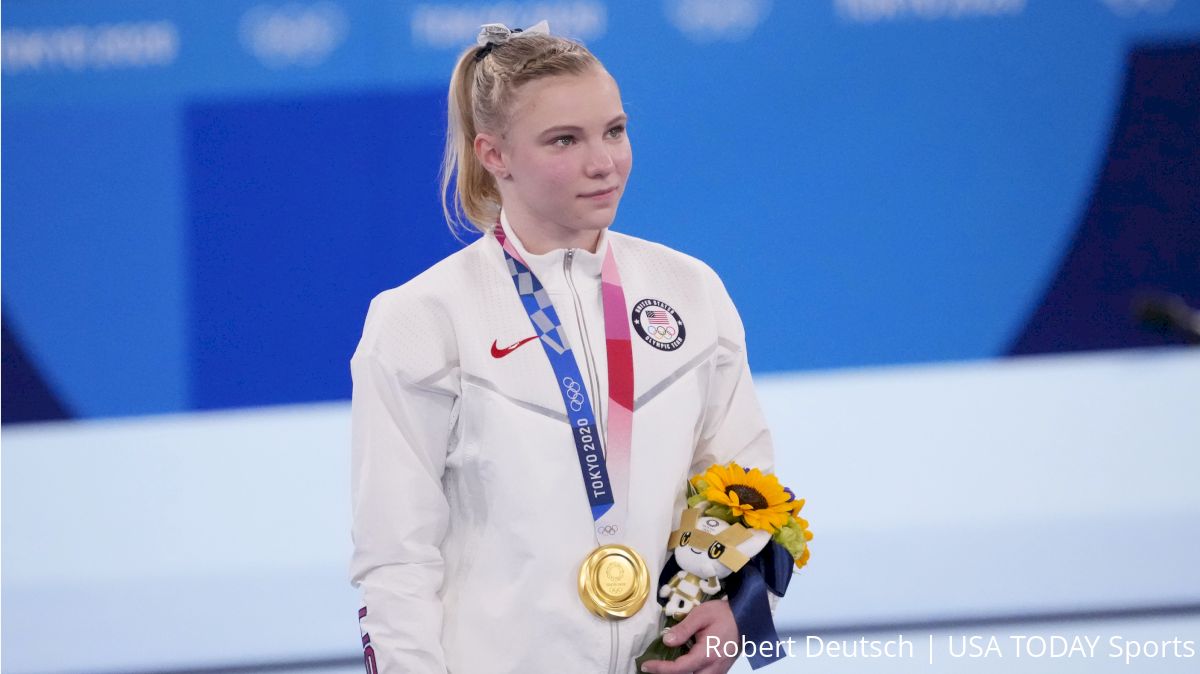 TOKYO, August 2, 2021 – Jade Carey of Phoenix, Ariz., took the top spot on floor exercise during Monday's event finals at the 2020 Tokyo Olympic Games. Carey, the second competitor to perform, delivered a 14.366, setting a bar that would not be eclipsed. Vanessa Ferrari of Italy claimed the silver medal with a 14.200, and Mai Murakami of Japan and Angelina Melnikova of the Russian Olympic Committee shared the bronze medal with a 14.166.
Carey was the only U.S. gymnast in action Monday. China's Liu Yang earned gold on the men's still rings with a score of 15.500, while Korea's Shin Jea-hwan posted the high score in the men's vault final with a 14.783.
The Olympic artistic gymnastics competition will wrap Tuesday with the final day of event finals. Sam Mikulak will represent the U.S. on parallel bars. Brody Malone will compete on horizontal bar, and Olympic women's all-around champions Simone Biles (2016) and Sunisa Lee (2020) will each make one final appearance in Tokyo, as they are both set to compete on beam.
USA Gymnastics. Based in Indianapolis, USA Gymnastics is the national governing body for gymnastics in the United States, encompassing seven disciplines: women's gymnastics, men's gymnastics, trampoline and tumbling, rhythmic gymnastics, acrobatic gymnastics, gymnastics for all (a.k.a. group gymnastics) and, most recently, parkour. USA Gymnastics sets the rules and policies that govern the sport of gymnastics, including supporting the U.S. Gymnastics Teams for the Olympics and World Championships; promoting and developing gymnastics on the grassroots and national levels, as well as a safe, empowered and positive training environment; and serving as a resource and educational center for the more than 200,000 members, clubs, fans and gymnasts throughout the United States. The organization is deeply committed to creating a culture that encourages and supports its athletes and focuses on its highest priority: the safety and well-being of athletes and our community.