USA Gymnastics
Laura Zeng Bounds Into Tokyo, One Step At A Time
Laura Zeng Bounds Into Tokyo, One Step At A Time
On her way to her second Olympics, rhythmic gymnast Laura Zeng weighs in on her gymnastics journey, Yale, and what it means to be an athlete.
Jul 13, 2021
by Kelly Feng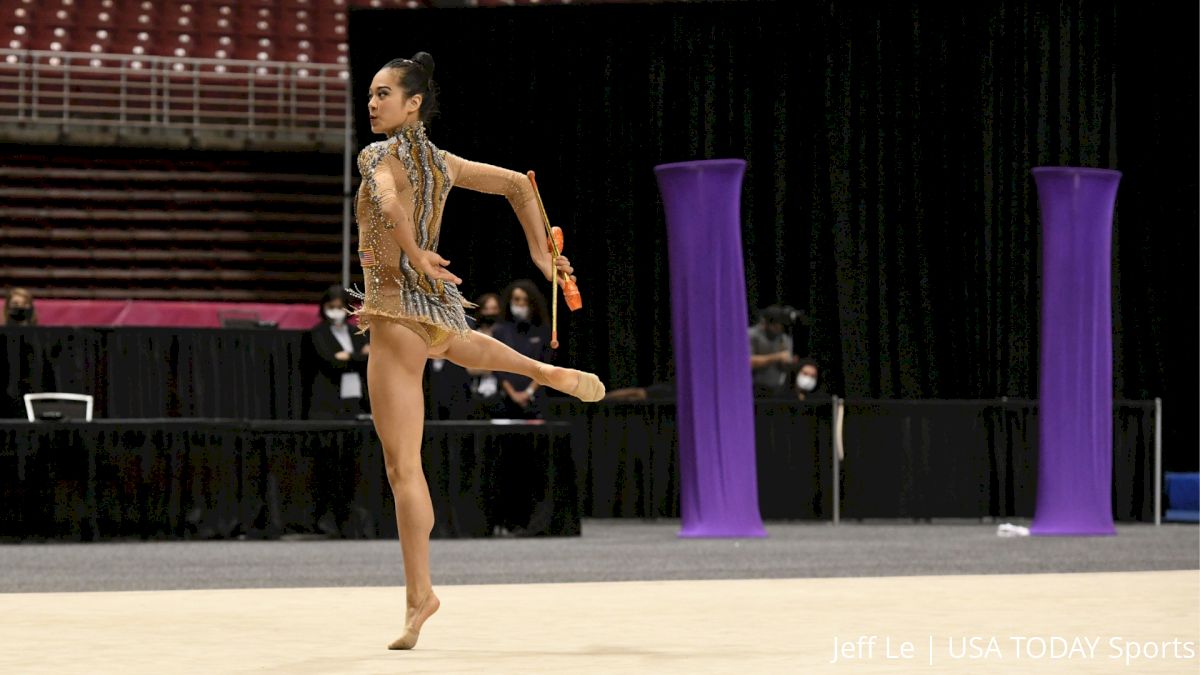 It wasn't always rhythmic gymnastics for two-time Olympian Laura Zeng. When she was 7 years old, she had a big decision to make: swimming or rhythmic gymnastics.
"That was a big turning point in my life," Zeng said. "It was one of the two pathways. It's a good thing that I chose gymnastics because I don't think I have the height to be a swimmer."
While the decision was difficult at the time, Zeng, now 21, is confident she made the right one.
"Rhythmic is so individualized; you can make whatever you want of it. That was definitely the two paths in the yellow wood. I had to choose, and I chose gymnastics," Zeng said, referring to the famous Robert Frost poem "The Road Not Taken."
Zeng has certainly seen success in the sport since that pivotal point in her life. She placed 11th in the all-around at the 2016 Olympic Games in Rio de Janeiro, tying her for the highest ranking ever for an American rhythmic gymnast with Valerie Zimring, who also finished 11th at the 1984 Olympics in Los Angeles.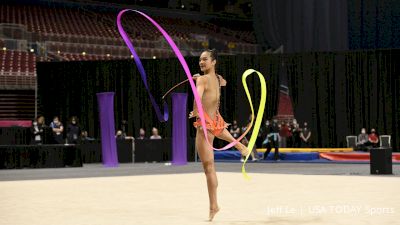 Despite being considered one of the greatest U.S. rhythmic gymnasts, Zeng doesn't take anything for granted and doesn't like to think too far ahead.
In early 2020, having taken her second gap year from Yale University, she trained six days a week for her second Olympics at North Shore Rhythmic Gymnastics Center in Deerfield, Illinois.
Then the world shut down, and the Tokyo Olympics were postponed.
The postponement filled her with doubts about training and delaying her life yet another year for the chance at a dream that might not end up being fulfilled.
"It wouldn't be human if you didn't have doubts," she said. "When the pandemic first started and the Olympics were postponed, I doubted as much as anyone else because I had already [delayed college] for two years, and it was a big commitment."
Zeng believes that you're a true athlete when you can see past hardships and roadblocks, like the pandemic. Most athletes know they got this far, and it's worth it to keep going because of how much time, effort and hard work they already put into achieving their goals.
"As athletes, when you train, your entire schedule is based on a four-year cycle," Zeng said. "[When] that gets thrown off, how are you not mentally thrown off?"
She's made it through stress fractures and overuse injuries training 30 to 36 hours a week for 14 years, and NSRG assistant coach Angelina Yovcheva says it's Zeng's discipline in the gym that's gotten her this far.
"She's always been flexible and strong since an early age, but her discipline makes her very successful," Yovcheva said. "At the same time, she was really honest in her work and her training. She would work on some skills until the skill becomes perfect."
While Zeng's capacity to listen to her coaches and ask for feedback has contributed to her success, Yovcheva makes a point to say the two-time Olympian's most outstanding quality is her uncanny ability to make split-second decisions on the competition floor.
"When some elements are not working, she is very good at mastering how to cover the situation without making a mistake," Yovcheva said.
The United States isn't necessarily known for its rhythmic gymnasts, with Americans taking a back seat to the likes of Russia, Ukraine and other Eastern European countries. But Zeng has found success despite that, thanks in part to her years spent training and competing overseas in Russia, giving her an additional perspective on technique and form.
Having a former Bulgarian national team member as a coach in Yovcheva certainly doesn't hurt either.
"I've been with my coaches since I was 13 or younger. They've seen me grow up," Zeng said. "They've been spending as much time with me second only to my parents. I think that is a huge factor."
The focus now is on Tokyo, and while she will most likely start her post-rhythmic life at Yale once the Games conclude and she comes down from any success she may have there, one thing she has learned from the pandemic is to never say never.
"You can't predict what things are going to be going on," Zeng said. "It's just day-by-day, step-by-step. That practicality is a lesson that everyone has gotten from this pandemic—just not to think too far ahead—just to focus on the task at hand."
After Tokyo, she can take any path she chooses.