USA Gymnastics
Simone vs Herself Episode 4 Highlights Mental Health
Simone vs Herself Episode 4 Highlights Mental Health
Simone Biles opens up in episode four of Simone vs Herself as she discusses mental health and her experience with and recovery from sexual abuse.
Jul 7, 2021
by Amanda Wijangco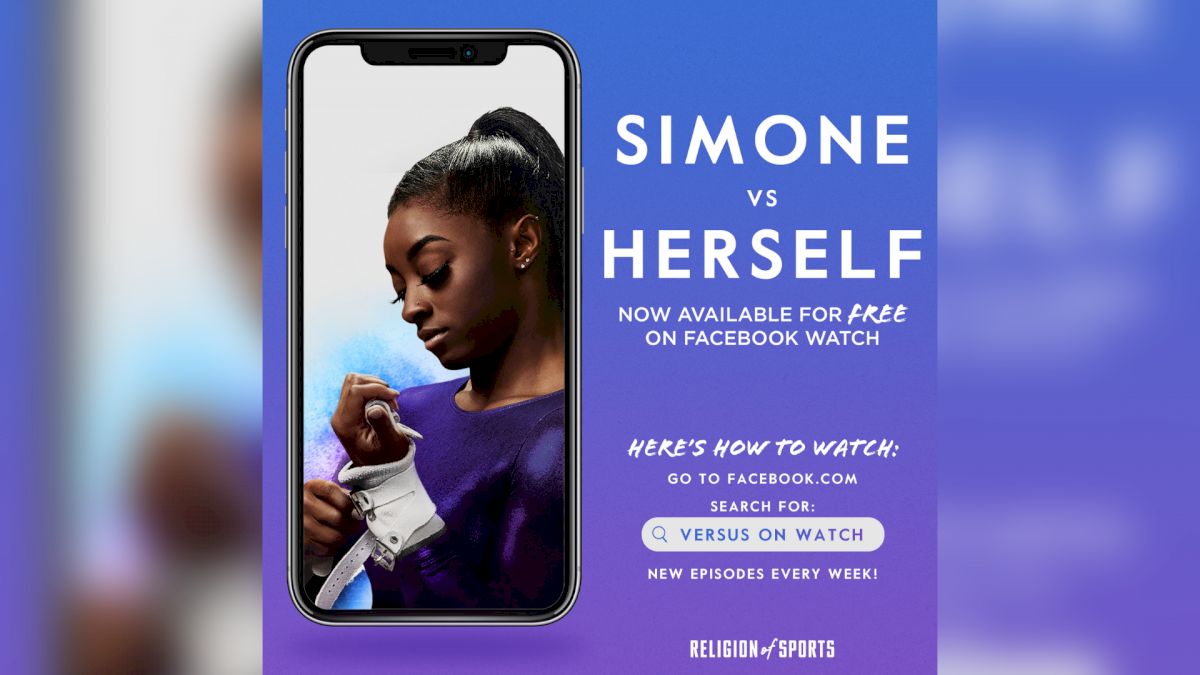 In the most serious episode yet, Simone Biles opens up about sexual assault and mental health in Simone vs Herself episode four. Titled "What more can I say?", the episode also demonstrates the power Simone has as a prominent figure and survivor in the sport.
Viewers learn not only about Simone's thoughts during difficult times but also the lessons she learned herself, some of which will be featured below.
Warning: Because of the content the episode covers, this article contains mention of sexual assault and suicide.
Simone thought national team camp would be like summer camp.
At first, Biles had no idea how demanding and rigorous national team camp at the Karolyi Ranch would be. She quickly learned it was not what she expected and remembered telling her parents it wasn't fun.
While driving one day, Simone realized she was assaulted and had a breakdown in the car.
When news broke about Nassar assaulting numerous gymnasts over his tenure at USA Gymnastics, Simone was initially in denial and wouldn't talk about any of it with her family. That changed one day while driving on Texas 99 in Houston. Simone immediately called her mom.
"She was just hysterical. She didn't say anything," Nellie Biles said. "She just cried, and we just cried together, because I knew what it was. She wanted to talk about it. She didn't say anything."
Once she was no longer in denial, Simone slept all the time as a coping mechanism.
Biles' mental health deteriorated, and she admits she was "super depressed." She wouldn't leave her room or go anywhere and "just shut everybody out."
"I slept all the time, because basically sleeping was better than offing myself," Biles said. "It was my way to escape reality, and sleeping was like the closest thing to death for me at that point. So I just slept all the time."
Doing gymnastics used to remind her of the abuse.
When Simone returned to the gym following Rio and the news of Nassar's abuse, gymnastics reminded her of the horrible experiences she had with the doctor at the Ranch. Eventually, that changed because of her mindset.
"I couldn't punish myself or blame it on gymnastics, because it wasn't gymnastics' fault. And I wasn't going to let it take away my happiness or my comeback or what I was doing and what my goals were for when I came back to the sport."
Simone continued to discuss how she overcame the struggle and said you can't change what happened to you or what has shaped you into who you are today.
"You can't erase them, so you have to embrace them," she said.
It took a couple of days to write her #MeToo tweet about Nassar.
When she finally figured out what she wanted to say, she added the photo of the note to a tweet, published it, put her phone down and then ran to practice. After her tweet, she realized the power she had as USA Gymnastics announced it would end its partnership with the Karolyi Ranch a few days later. (Simone's note mentions how returning to the Ranch, the place where she and so many fellow athletes were assaulted would be very painful and difficult.)
Feelings... 💭 #MeToo pic.twitter.com/ICiu0FCa0n

— Simone Biles (@Simone_Biles) January 15, 2018
Simone admits she does find the power she has scary, though. Her fellow gymnasts would tell her, "Simone, tweet about it! Tweet about it!" when something would happen that they wanted to change. She understands the impact her words have but won't always speak up.
Biles doesn't want to abuse the power her words have, and she's also weary as she does still compete under USA Gymnastics. Therefore she thinks she'll have more of an impact when she's no longer competing. In the episode, we see Biles video chatting with Aly Raisman, who tries to help erase her self-doubt and says, "You have a lot more power than you think you do."
At the end of the episode, re-acknowledges what she can do and says, "I didn't realize how many people would listen."
Simone Leaves Nike and joins Athleta.
When Biles left Nike earlier this year, it was big news in the sports and sports business world as Nike is arguably the top sportswear brand in the world while Simone is without a doubt the top gymnast in the world. At the end of the episode, Simone mentions their shared interest and passion for women's empowerment was a big factor in joining them, but signing with them came down to much more than that.
"They believe in my dreams inside of the gym and also out of the gym and some of the things I want to accomplish. They care about me as a person, not just an athlete."
Facebook Watch will release new episodes of Simone vs Herself weekly with a total of seven episodes ahead of the Olympic Games.
Follow @religionofsports @facebookwatch @simonebiles