USA Gymnastics
7 Takeaways From Day 1 At U.S. Men's Gymnastics Olympic Trials
7 Takeaways From Day 1 At U.S. Men's Gymnastics Olympic Trials
What happened on day one of the 2021 U.S. Men's Gymnastics Olympic Trials? Find out here.
Jun 25, 2021
by Kelly Feng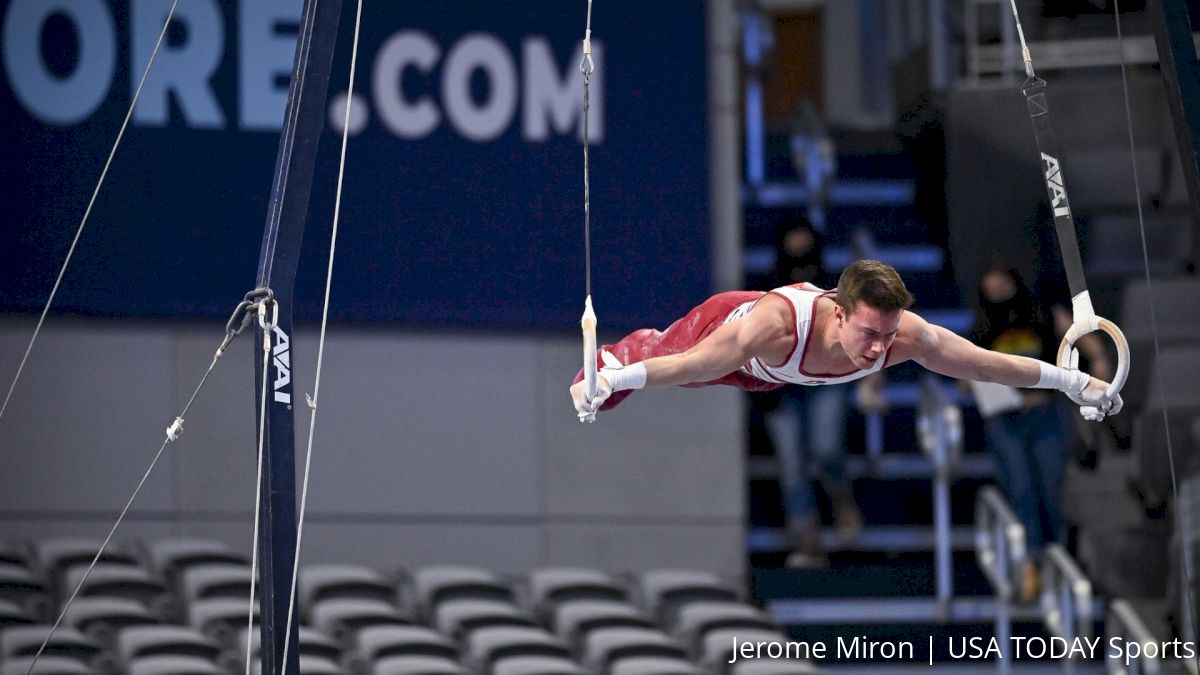 Racking Up More Wins
With a score of 85.25 points, Brody Malone declared his performance at Championships last month wasn't a fluke. Malone earned or tied top scores on two of the six apparatus on Thursday, leading the group after Day 1 on the men's competition at the U.S. Olympic gymnastics trials. From the last two NCAA seasons where he was the all-around winner, to the U.S. Championships where he also won the all-around, Malone has made the case that he's the real deal.
Brody Malone closes out night 1 on top of the leaderboard.#GymTrials21 | #TokyoOlympics pic.twitter.com/U47uvsVlrE

— #TokyoOlympics (@NBCOlympics) June 25, 2021


Like it Never Happened
If Shane Wiskus had issues on the high bar following an uncharacteristic performance at U.S. Championships, he eliminated any doubt on Day One. Wiskus had a solid and clean high bar, showing confidence and great execution. He not only had a great high bar performance on Day 1 of the Trials, but he also had a superb meet overall, finishing second behind Malone with a 84.300. He displayed his trademark extension and controlled handstands patiently moving through each parallel bar skill. Check out his routine where he won the top honors in the event.
.@shanewiskus1001 just did THAT. 👀#GymTrials21 pic.twitter.com/aDBb0AYeqM

— Team USA (@TeamUSA) June 24, 2021
A Third Olympics
While there were some small errors and pauses on some of his events, Sam Mikulak still competed with remarkable routines, showing why he's been chosen for two previous Olympic teams. He finished fourth behind Moldauer with a 83.200. Mikulak mentioned he felt his performance was better here at Trials than at Day One of Championships, but he didn't feel anything was really polished except for the floor. But what a floor. He tied with Malone for first on floor with a 14.60. See his floor performance at 5:15.
Leaving it All Out There
Yul Moldauer was not pleased with his performance earlier this month at the Championships. While he placed second overall in the Championship's all-around, he felt it wasn't his best meet. He was determined to take care of the finer points of his routines these past couple of weeks and it showed, placing third with an all-around score of 83.650. After he finished his pommel horse routine, which he scissors through without missing a beat, Moldauer received the loudest crowd roar of the night.
THAT REACTION. 😤@Yul_Shin0122 x #GymTrials21 pic.twitter.com/dm5ZYDNk97

— Team USA (@TeamUSA) June 25, 2021
Taking Nothing for Granted
While he was an alternate on the Pan Ams earlier this month, Donnell Whittenburg did get to try out some routines during podium training, keeping it safe. He liked not having to compete two days and keeping his body as healthy as possible for Trials. Whittenburg's rest from the Pan Am competition and the hard work from additional training was evident on Day One.
The 2016 Rio alternate was particularly great on the vault, where he showed enormous potential for the individual spot. Whittenburg received a 15.050 for his first vault where he tied for the highest score of the night. His second vault was 14.000 with an average of 14.525.
.@D_whittenburg... but how? #GymTrials21 pic.twitter.com/MYGdMERD32

— Team USA (@TeamUSA) June 25, 2021
Possible Plus One Spot
If we're talking about the individual spot, Gage Dyer should not be overlooked. He showed off a high-flying floor exercise with a 14.25 on the floor. The floor exercise was followed by two breathtaking vaults, with a score of 14.50 on the first vault, and on the second vault score was 14.65. Dyer's vault average vault was 14.575.
🎯 𝐁𝐎𝐎𝐌 @DyerGage 🎯

📺 NBCSN // https://t.co/yrcxXw7UDd pic.twitter.com/WCztaes1KP

— Oklahoma Men's Gym (@OU_MGymnastics) June 25, 2021
Take a Look at Yoder
Alec Yoder may have flown under the radar these past couple of years, but we are all noticing him now. Competing parallel bars and pommel horse, Yoder put it all out there for the selection committee, particularly on pommel horse, where he placed first with a 15.050, tying for the highest score of the night.
.@AlecYoder is NOT messing around tonight. #GymTrials21 pic.twitter.com/rOfuAjCWyx

— Team USA (@TeamUSA) June 25, 2021