2021 USA Gymnastics Championships
Lennox Hopkins-Wilkins: Ready To Rise
Lennox Hopkins-Wilkins: Ready To Rise
Lennox Hopkins-Wilkins' dedication to rhythmic gymnastics is paying off as she prepares to compete at the 2021 USA Gymnastics Championships.
Jun 21, 2021
by Amanda Wijangco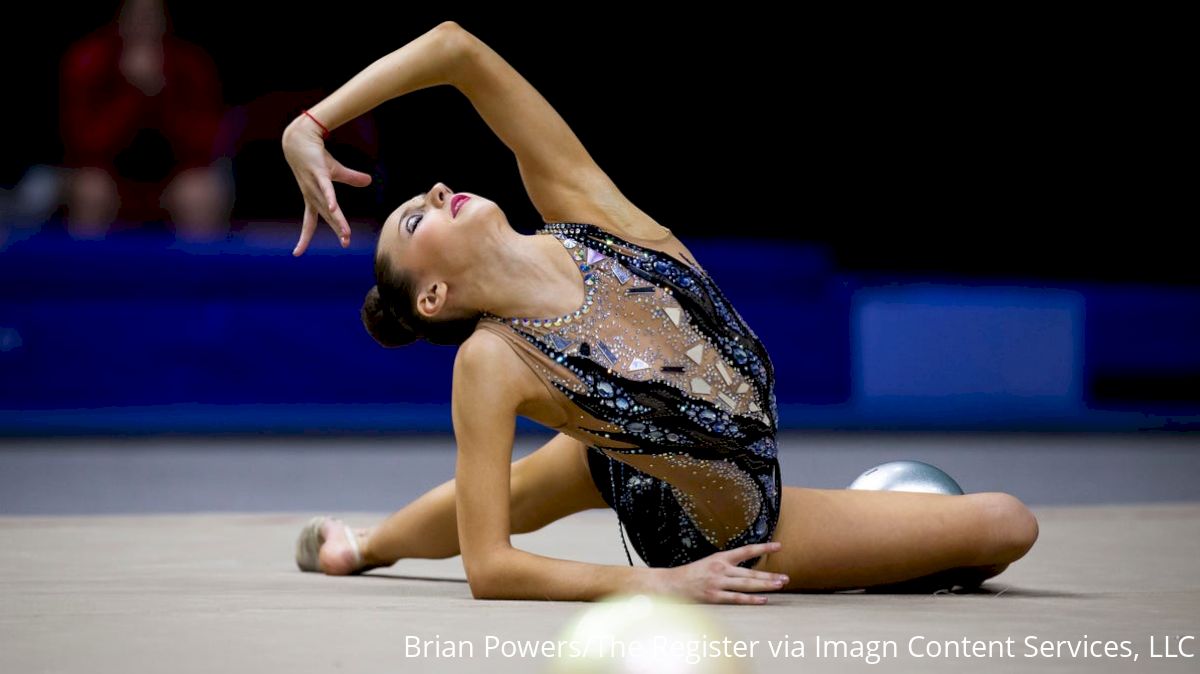 Lennox Hopkins-Wilkins spent years as a competitive dancer, but it was stage fright that sent her down a different path. So her mom set out to find her another artistic and performance-based sport. That led to rhythmic gymnastics.
About a decade into the sport, Hopkins-Wilkins now represents the United States in international competition and hopes to go to the 2024 Paris Olympics.
"I loved putting on a show even in dance, so I carried it over to rhythmic," she said. "While I still was competing in dance while doing rhythmic, it helped me show different and unique skills I learned through gymnastics that weren't common in dance. Dance and rhythmic are so different yet similar in a way, but it helped me advance myself in both sports."
For about five years, Hopkins-Wilkins competed in both sports until she decided rhythmic fit her best.
"I was drawn to the unique and challenging opportunities that came with the sport that differ from dance, yet still could perform and express through dance the way that I had always enjoyed."
Hopkins-Wilkins comes from a dance family as her older sister, Hayden, was a nationally-renowned competitive dancer and has been with Cirque du Soleil since 2017. Growing up, naturally their family spent a lot of time at the dance studio and traveling to competitions, limiting Lennox's gym time.
In 2015, Hayden went to college and Lennox started to spend more time at the gym. Two years later, her dedication to rhythmic really started to pay off in her first year of level 10 — and elite.
"I truly was just happy to make Top 25 Elite Level 10 to go to nationals, so to make the (national) team that same year was so surprising yet exciting for me," she said. "At the qualifying meet, I couldn't overcome my nerves on the first day, which is something I struggled with a lot prior to making the national team and working with team doctors, so I was in a bad place after the first day. On day two, I went in with no expectations and ended up performing well to make the Top 25, which qualified me to nationals. That's why making the team that year meant so much to me!"
From there, Lennox's career was a whirlwind. She earned her first international assignment and helped the junior team win gold at the 2017 Pan American Championships in Daytona Beach, Florida. There she also won silver for clubs and placed fourth in the all-around.
"Since making the team came as a surprise at the time, everything moved very quickly from there. I went to my first international assignment that same summer, and was just excited for the new experience and level of gymnastics."
Lennox has competed in several international meets every year since the 2018 Pacific Rim Championships as a junior where the team won gold and she was fourth in the all-around.
"Looking back, I don't think I realized what a big deal it was to represent the US as a junior, where everything was new to me," Hopkins-Wilkins said. "Now I cherish those opportunities I received as such a fresh member of the team that helped me improve as an elite gymnast."
In 2019 she made her senior elite debut, made her first senior national team and won her first international title. At the 2019 Luxembourg Trophy, Hopkins-Wilkins won the all-around, silver for ball and was fifth for ribbon.
That was her last international competition for over a year as the pandemic hit about a month after the 2020 Rhythmic Challenge. It was her only meet of the year, but it was a good one. She was third in the all-around, hoop and ribbon and fifth in ball and clubs.
Hopkins-Wilkins was scheduled to compete at multiple meets — including Grand Prixes, World Challenge Cups and Pan American meets. Those were all canceled due to the pandemic, and her gym temporarily closed as well. Luckily, she was able to continue training privately for three months at a gym in Las Vegas while staying with her sister.
"I learned to never take opportunities in the sport for granted, because you never know if you will receive them again."
Fortunately, she did receive the opportunity to compete again — including a few trips overseas.
This year, she won the all-around at the Elite Qualifier and was third in the all-around and second in ribbon at the Rhythmic Challenge. Lennox has already competed in four international meets so far, notching an all-around bronze at the Ritam Cup in Belgrade, Serbia. Her most recent competition was in Rio de Janeiro for her first senior continental championships and second Pan American Championships.
"To me, it feels the same as when I was a junior competing at these meets," Hopkins-Wilkins said." I still always want to do well and represent the U.S. the best I can, but now I just feel more confident as a senior with more experience."
Her confidence showed in Rio as she helped the U.S. win team gold and won her first major international individual medal with a bronze for hoop. The 2021 Pan American Championships were especially successful for the American rhythmic gymnasts; the rhythmic group also qualified to Tokyo, marking the second consecutive games USA will send a rhythmic group to the Olympics.
"It was so exciting to be (a part) of the success for the team, especially it being my first continental championship as a senior," she said. "I didn't go into the competition planning to medal individually. I just wanted to focus on myself and what I could control in my performance. So winning a medal was a very nice and exciting surprise and I'm happy that I achieved that!"
At the end of May, she was competing in Romania. About two weeks later, she was in Brazil for the Pan American Championships. One week upon returning home from Brazil, she'll be traveling again for the USA Gymnastics Championships.
Competing at three meets in nearly a month is a lot for a gymnast at any time, but it's especially taxing and difficult during a pandemic. So Hopkins-Wilkins does her best to take care of herself to even be capable of that.
"I sleep as much as I can, even on the road, to rest, and also healthy eating contributes to maintaining self care while being busy," she said. "Sometimes I need a mental health break, so I find activities that don't involve technology or gymnastics to regroup. I love to read and spend as much free time as I can doing it, so it's an activity I still like to do. I know I won't be this busy and hectic forever, so I (try) to enjoy this schedule while I can."
She hopes her schedule for the remainder of 2021 stays busy as her goals for this year are to retain her spot on the national team and compete at World Championships in October. And though she's competed all over the world already this year, Hopkins-Wilkins is looking forward to competing on home soil.
"I'm excited for nationals since I've been waiting for two years since 2019 for championships! It's tiring at this time, but I'm grateful for USA Gymnastics to provide this opportunity for us gymnasts."