USA Gymnastics
Joscelyn Roberson: A Pint Sized Gymnast With A Big Personality
Joscelyn Roberson: A Pint Sized Gymnast With A Big Personality
Junior elite Joscelyn Roberson shares about her elite career so far, gaining confidence coming into her 2021 season, new skills, and more!
Jun 17, 2021
by Miranda Martin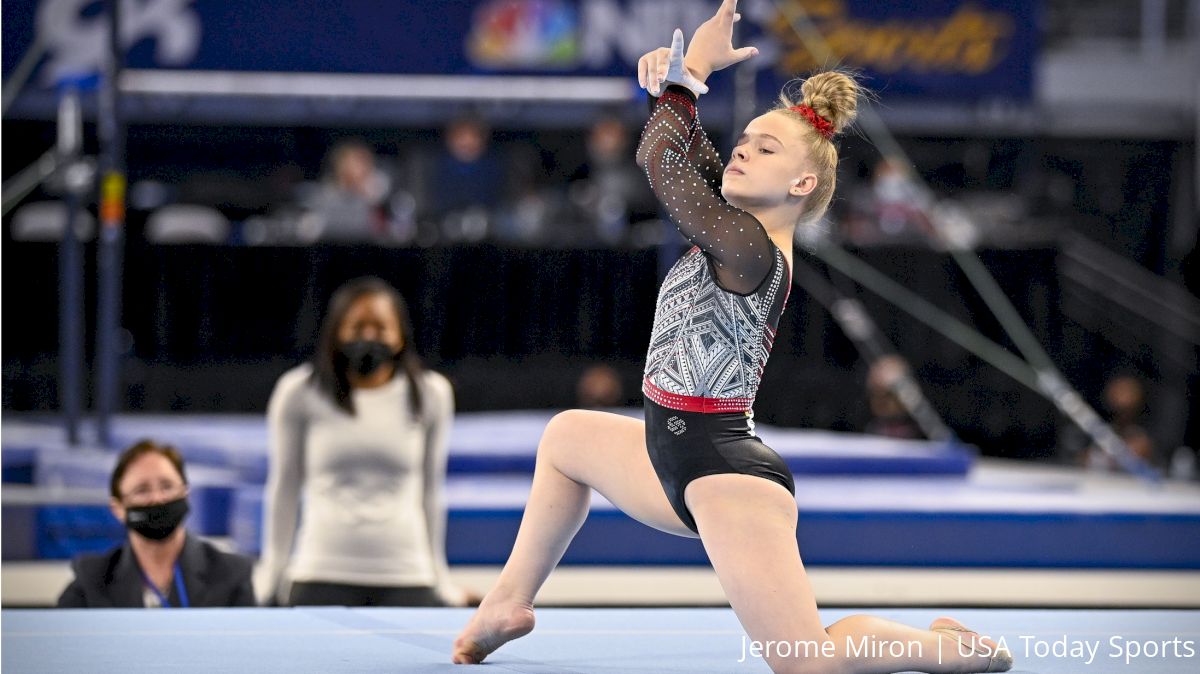 Standing at only four feet eight inches tall, fifteen-year-old Joscelyn Roberson is a small girl with big dreams and incredibly powerful gymnastics from Texarkana, Texas. She attends North East Texas Elite Gymnastics, where she's trained since she was five years old.
She remembers how she got started in the sport, which was initiated by a temper tantrum. Her older siblings, Jami and Jackson, played T-ball, and young Joscelyn wanted to play as well. Joscelyn is remarkably small for her age today, but in her younger years, she was even tinier, so her dad, Jeffrey, was afraid she was too small to play. When he told Joscelyn she couldn't join, she plopped down right there in the outfield and threw a fit. Trying to stop the tears, her mom Ashley promised she'd find her a sport she could play even at her small stature. Thanks to a temper tantrum, she began at Joni's Gymnastics and Dance at three years old.
For Joscelyn and gymnastics, it was not love at first sight. She hated her first class, clinging to her mom the entire time and crying. They had to drop down to Mom and Tot classes instead for the first six months until Joscelyn was ready to go into class on her own. "She always wanted to go, but I had to be out there with her," Ashley shared.
Even though she didn't enjoy everything about gymnastics at first, it was clear that she was always good at it, turning tiny cartwheels even through her tears. Her coaches recognized her talent and told them to switch to North East Texas Elite, since Joni's was more of a cheer gym. Before they switched, Joscelyn attended a few summer camps to try out taking gymnastics more seriously, including one at WOGA Plano. At that camp, one of the coaches came out into the viewing area to tell Ashley and Jeffrey how talented their daughter was, something that is highly unusual according to parents there.
Joining North East Texas Elite Gymnastics
Immediately once she got to North East Texas Elite, she was coached by Lloyd and Amy White and their daughter, Kory Pemberton. At larger gyms, gymnasts would start out with a new coach at every level, but Joscelyn has had Lloyd, Amy, and Kory since she arrived, making them a close-knit unit.
Jeffrey and Ashley describe Lloyd and Amy as "another set of parents" for their daughter, and Kory as "the cool aunt" who "knows what to say to motivate her and about the only one that can get her out of a mental head funk." Joscelyn describes her coaches as hardworking and sweet, adding, "I don't think any of them have a bad bone in their body."
When she arrived, Amy tested Joscelyn's skills. She asked her to pick a beam and show what she could do on it, expecting her to pick one of the low beams. "She went to the highest beam without any mat, put her hands on the very top of it, muscled herself up into the front support. And then from there stood up, and then held her arms out and said, "I'm going to walk now." She took off walking on the high beam. And of course, then I'm like, 'Okay, let me stand there!' She responded, 'I don't need help,'" Amy shared.
The same thing happened when they went to bars. Amy expected five year old Joscelyn to use the children's bar, and instead watched her hop up on the regular ones, doing 10 chin-ups in a row with no problem. "She is what you would call fearless. I mean, she thinks about what she's doing, she focuses on what she's doing, she thinks about her technique and she goes strong. If she says she's going for it, you know 110% that she's going to give it her best. That's just kind of how she's always been. You can trust, if she says she's going to do it, she's going to do it," Amy shared.
After joining the gym at five, Joscelyn cruised through the JO levels, winning a level four state championship on beam, making the TOPS diamond team at seven, the TOPS B team at eight, and moving straight from there to the developmental invite team.
She competed at the 2017 and 2018 HOPES Championships and the 2018 HOPES Classic. The 2018 Classic was the first time she ever competed her Yurchenko full-in competition.
"Because she was so tiny, vault was huge for her. She was 12 years old before she was taller than the vault table. She popped that full and she stood it up, and she saluted, and then her chest puffed out and she went walking back down the vault runway to the other end. The whole time I'm playing the Bee Gee's music, "you can tell by the way I use my walk." She was strutting down that vault runway because she was so proud," Lloyd shared.
She began her elite career in 2019, competing at the American Classic and the G.K. U.S. Classic, but was unable to qualify for nationals. "Not being able to make it to Championships was a little bit of a bummer, but I think that really helped me with 2020 and this year. It just made me want it even more...2019 I feel like really pushed me forward and made me work even harder to get through all of the accomplishments I made this year," Joscelyn shared.
Though Texas was only shut down briefly due to the pandemic, the break they did get gave Joscelyn a rest for her mind and body. "I feel like I came back even stronger than when I left because when I left, I felt like I was just so exhausted. But when I came back, I felt confident in myself again, and I felt like it was a really nice rest, and getting all those at-home workouts was also really nice," she shared.
New Season, New Joscelyn
When she came back for the 2021 season, viewers saw an entirely new gymnast.
"She's had a 100% mindset shift. And once you get the ball rolling, your confidence builds, and you keep going, and you keep wanting to get better, and you keep striving and you keep pushing," Kory shared. Once the pandemic hit and they realized the 2020 season was over, they hit the reset button and focused on training higher difficulty.
"Our decision to really beef up the difficulty went hand in hand with her mindset change and her confidence," Lloyd shared. "In 2019, we just barely had D-scores high enough that if she hit the routines, she was going to be right on the verge of making the 51 to qualify for national championships. And if she had any major mistakes at all, she wasn't going to make it...when you go into the competition knowing that your D-score is high enough that if you make one mistake, you can still hit your qualifying score, that makes a huge difference in that mindset because you don't have to be absolutely perfect to achieve your goal."
They upgraded her vault from an inconsistent full twisting Yurchenko to a strong double-twisting Yurchenko and added two new release moves on bars, a Maloney and an Ezhova.
Beam is her specialty, and they have more skills than they can fit into the minute and thirty second time limit. On floor they added new tumbling passes, currently competing a double layout, Arabian double front, double tuck, and a 1 ½ to double pike.
Gymnasts are amazing. 🥰 @Josc_Roberson pic.twitter.com/R9mZG4AOsX

— Jeffrey Roberson (@JeffRobGym) February 6, 2021
Joscelyn went into the 2021 season with newfound confidence and higher D scores, and it showed - she qualified for Winter Cup through a smaller meet in Arizona, and came into Winter Cup ready to win. At Winter Cup, Joscelyn placed first on beam, second on all-around, third on floor, and eighth on vault. She was named to her first junior national team and has loved every moment of camp so far, sharing that she enjoys being around the senior gymnasts. "It's really awesome. They're all so nice. When I first got there, I was really nervous because I didn't know if they went up to people or if they just stick to themselves, but they were actually really nice, and they all came up and greeted me and said hi. So it's been really awesome," Joscelyn shared.
#WinterCup pic.twitter.com/npt8FsfFH1

— Joscelyn (@Josc_Roberson) March 2, 2021
At the 2021 G.K. U.S. Classic, Joscelyn placed second on vault, tied for third on floor, and fifth all-around and on beam. She hurt her ankle before Classic and was not able to perform to the best of her ability, but healed before nationals.
"For both of those competitions, she had a very specific goal, she was very focused on the things that we wanted to accomplish, and just went out and did it," Lloyd shared.
Going into U.S. Championships this past weekend, the goal was of course to make the junior national team once again. Joscelyn accomplished that, but also hit some other milestones: becoming the junior national beam champion, vault silver medalist, taking fourth all-around and on floor, and getting her first international assignment as the alternate for the Pan American Championships team. Though some viewers felt jaded for Joscelyn as the four-person team was selected with the first, second, third, and fifth place finishers and Joscelyn as the alternate, Jeffrey feels it was most likely because of the FIG difficulty restrictions for junior international competitions that lower her scoring potential due to a few F skills she has.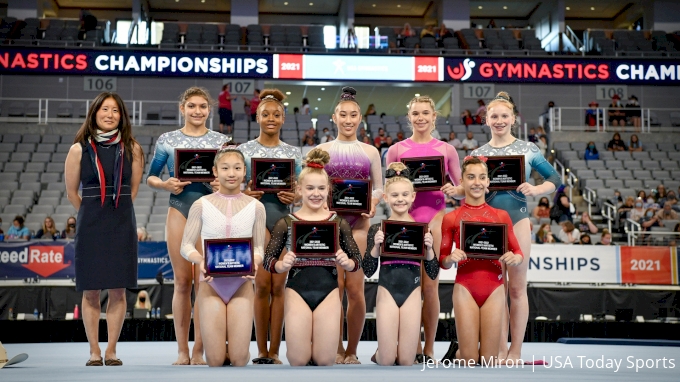 "We're just thankful that they believe in us enough to let us go as the replacement athlete. And if something happens and she needs to step in there and compete, we'll be ready to compete," Lloyd shared, with Amy adding, "We're grateful that they gave us this opportunity and I think it's going to be a great step for her and help her mature even more and grow her confidence for her competitions and for traveling."
Ashley and Jeffrey echoed the same sentiments, sharing that they don't question the selection committee's decision and reasoning. Joscelyn is most excited because she's never been out of the country, and the competition is in Guadalajara, Mexico. "I'm super excited and ready. I loved getting the opportunity, and I'm just super excited to go," she emphasized.
So honored to be part of #USAgymnastics 2021-2022 junior national team, with all these amazing athletes! Super grateful to be selected for #JrPanAm's as the traveling alternate. Had a great time at #USGymChamps too! #Texas 🤠 https://t.co/PBqiMTqFSi pic.twitter.com/oG0l5p9fq4

— Joscelyn (@Josc_Roberson) June 8, 2021
Once she gets back into the gym after Pan Ams, her coaches are focused on flexibility and of course, upgrading for next year - they're working on a Cheng vault, a double pike Arabian on floor, and perfecting her standing Arabian and standing full on beam, which she already has. On bars, they're working on a ray, catching in a mixed grip straight into an Ezhova, and Maloney halves. They're also working on a super-secret skill they won't share publicly just yet, but her speed and power are perfect for this skill. When they're ready to show it, it's sure to amaze everyone. For the rest of the year, they have their eye on making the Pan American Games team, scheduled for November 2021.
A Natural Leader
In a town where the biggest talk is who is going to state for football or basketball, Joscelyn is not well-known - people just don't know a lot about the sport. It's another situation entirely inside the gym, with Joscelyn as the pioneer for gymnastics in their area of northern Texas - everyone knows her name and looks up to her.
"She's a great team leader. We have 70 other girls on the gymnastics team at various levels and some of them are totally in awe of Joscelyn, and will hardly even talk to her, but all of them know that at any time they can walk up to her and talk to her. If she sees somebody having an issue with something, It doesn't make any difference if it's a brand new athlete that's just coming on to our pre-team or whatever, she has no problem at all going over and putting her arm around them and saying, 'Hey, look, I know what you're feeling. I know that you're frustrated or that you're mad, or that you're sad or whatever. And here's what I did when I was in that situation. Maybe it can help you too,'" Lloyd shared.
As a leader, she motivates and lifts others around her, even during competitions. Jeffrey shared a story Joscelyn told him about U.S. Championships, saying, "One of her friends Nola Matthews, who is a phenomenal gymnast, was nervous this weekend. Well, Joscelyn saw that Nola was nervous about beam. She went over there, put her hand on her, and told her 'It's okay, we're going to calm down and everything's going to be okay, you're going to go get it done.' And Nola went up and hit her beam routine. You can often find Nola cheering on Joscelyn at competitions as well."
Jeffery and Ashley often see moments like those, sharing that when other gymnasts are going they rarely watch, opting to watch Joscelyn at all times, even on the sidelines.
June 8, 2021
In addition to her leadership qualities, Joscelyn is a strategic competitor - she watches videos of her competition routines and writes down all the deductions she sees, so when she gets back in the gym she can correct those mistakes. "I found the piece of paper in the car on the way when we got to championships...from the classic that had the deductions from her routines and what she needed to correct on it," Ashley shared, and Kory confirmed that she's done that ever since she was in low-level compulsories.
As a hybrid version of her mom and dad - Jeffrey is the sports guy of the family, and gave Joscelyn her love for sports. But Ashley is a chemist, instilling a love of science and education into her children. Joscelyn is part of the gifted and talented program at school, and it shows in her gymnastics, such as taking responsibility for her deductions and will help later on when she may need to make game-time decisions during routines about construction.
Since she's such a natural competitor, it's no wonder that she's a crowd favorite, especially on floor, where the fans always get excited to see her. "I definitely feel it when I'm near the end of my floor routine and getting tired and I hear it...I just zone out and let all the people that are super excited for me just cheer me on, fuel me through the rest of the routine, and it's just really amazing. And then when I finally finish my final tumbling pass, it's just so awesome to hear the crowd cheer," Joscelyn shared.
She also loves competing beam and her favorite skill is her mount, which is a layout step out from a springboard. "I just like how it's such a mental skill. If you think you're not going to stay on the beam, then you're not going to stay on the beam, but if you tell yourself you're going to stay straight, then most of the time you'll stay on," Joscelyn shared.
Joscelyn At Home
At practice, she's all business, but at home, Joscelyn has a big personality and quite a few hobbies. She loves playing Phase 10 and other card games with her family, doing anything outdoors like riding her cousin's four-wheelers and dirt bikes, or playing sports with her siblings and cousins such as football.
She also loves to read, citing "The Land of Stories" as her favorite book series, and has a few new series ready to read this summer when she no longer has homework. She also plans on swimming and hanging out with friends this summer, and solving her Rubik's cubes. She loves to train her Pomeranian named Rocky, who knows how to sit, wait, lay down, rollover, paw, and close her bedroom door on command.
Joscelyn started high school this year, sharing "I loved high school. It was a lot more than eighth grade I will say, but I do love school - I think we have to do another credit each year. So it was like, I had a whole other subject, so it was just more work to do. Not necessarily harder. Just more work." She attends an online public school.
Like any gymnast, she also spends a lot of free time following gymnastics. She enjoys watching other gymnasts sharing that she loves to watch, "All the seniors. Definitely Simone. She's just insane. All the stuff that she can do and make it look so effortless. It's just crazy to watch. And then all the older girls that are going off to college. Seeing them get excited about college has really inspired me, as well as all the girls getting ready for the Olympics. They're also very inspiring. I love to watch them. So I just love watching all of them."
Looking Ahead
She also follows NCAA gymnastics, particularly Florida, Arkansas, Oklahoma, Georgia, and Utah. Joscelyn often watches with her mom, and will call out the deductions as they're going while Ashley writes them down, to see if they can figure out the score before they show it. She's interested in college gymnastics someday, but keeping her options open as she likes multiple teams.
Before she heads off to college, she has a few more goals for her time in elite gymnastics. She'd love to make the 2024 Olympic team, a World Championships team, and stay on the national team.
"She wants to go as far as she can, but I think, initially our goal was to make the national team and then to represent the USA in an international competition. So she just keeps setting those goals higher and higher for herself. She's very humble," Ashley shared. "She wants to go to the 2024 Olympics, but she tries to keep what's right in front of her right now in mind," Jeffrey said.
Kory added, "We've always talked about gaining more international experience, gaining those international assignments. And I think that's what's propelling us. After this time next year, remaking the national team, that's always the one step, the next step, the next step. So as long as she keeps saying, 'I want to achieve the next step,' we're going. We are 110% behind her."
None of this determination is surprising to Kory, who remembers Joscelyn when she was young, traveling to developmental camps and wanting to do everything herself. She shared a story of when Joscelyn was eight years old but the size of a four year old, and scaled a trash can while they were out at lunch that was over her head rather than letting someone help her throw her garbage away for her. "Anything she was going to do, she was going to do it herself...those little things made her how strong and how resilient she is today," Kory shared.
Amy even teared up as she shared, "Seeing her compete at this meet this past weekend, and her maturity level...going from that little girl who walked into our gym to seeing her up on that podium just as brave and just as strong. It's such a blessing just to be her coach and to see all of this."
We'll be watching her too.
Joscelyn's Fast Facts
Gymnast You Look Up To: Simone Biles, Shawn Johnson, and Jordyn Wieber
Favorite movie: Creed II
Favorite TV show: Grey's Anatomy
Favorite Book: The Land of Stories
Favorite Class in School: Definitely Algebra
Favorite Genre of Music: Pop
Someone You're Always Texting: My friends - All of them all the time! Or my dad
Favorite Event: Bars or Beam
Least Favorite Event: Depends on the day
Favorite Competition: 2021 U.S. Championships
Favorite Skill: Beam Mount
#Joscelyn #WinterCup pic.twitter.com/JwMFuJYFJV

— Jeffrey Roberson (@JeffRobGym) February 28, 2021