USA Gymnastics
Who To Watch For At The 2021 Olympic Trials
Who To Watch For At The 2021 Olympic Trials
Here's who to watch as we head into Olympic Trials to select the 2021 Tokyo Women's Gymnastics Olympic team.
Jun 14, 2021
by Miranda Martin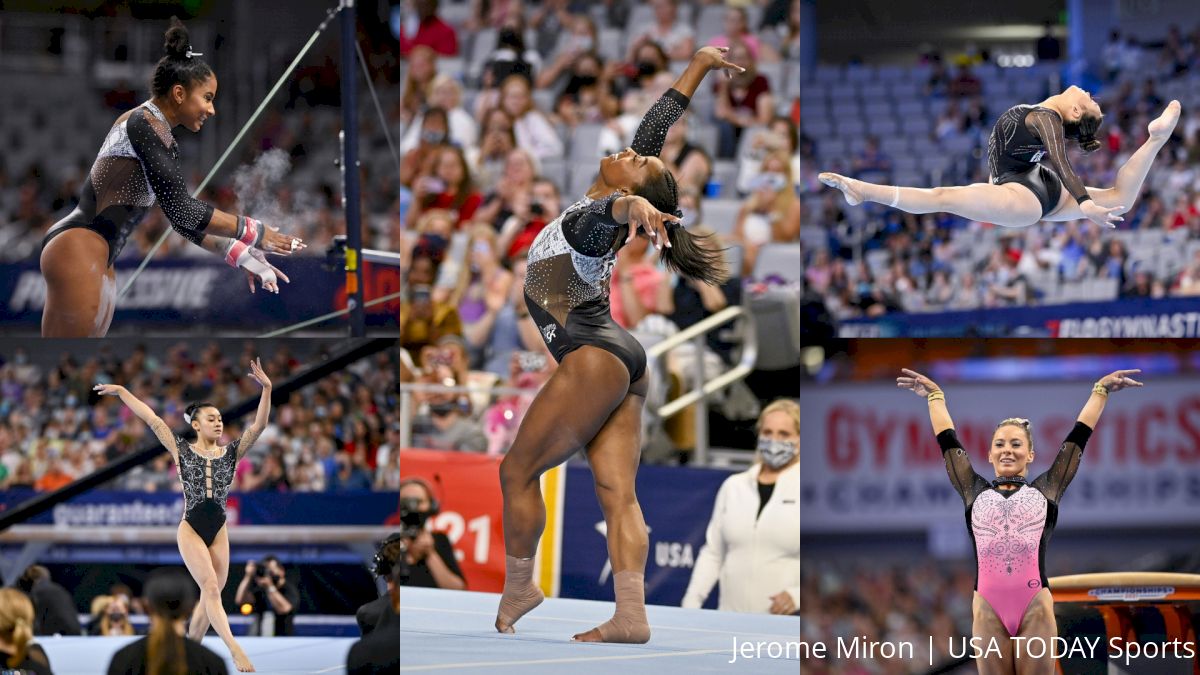 Rolling into the 2021 Olympic Trials, the only thing we know for sure is that Simone Biles, barring an alien invasion, is going to come in first place and lead the team. Besides that, anything could happen! What we do know is that the top two all-arounders at trials are automatically placed on the team, so everyone will be fighting for that second spot. Land below second place, and it's up to Tom Forster and the selection committee who they choose to put onto the coveted four-person Olympic team, who is going as alternates, and who misses the team completely.
Nationals gave us a much clearer picture of the current standings as we head into Olympic Trials, because until nationals this season, many of the top gymnasts were not doing all-around. Now that we've seen all-around programs from many of the top gymnasts, we have some sort of idea of how people will place at trials, presuming everyone hits their routines. This is gymnastics after all, so anything could happen - here's who to look for as we watch these gymnasts show their best routines to land a spot on the team and make a lifelong dream become a reality.
The Front Runners
It goes without saying that Simone will be in first place even if she falls multiple times, which takes up one of the top all-around positions. The main things to look out for from Simone is her vault to see if she pulls out her Yurchenko double pike again in competition, and to observe how well she does compared to past competitions - not falling, staying in bounds on floor, etc - because as we all know, it truly is Simone vs herself.
Sunisa Lee placed second all-around, first on bars, and second on beam at nationals. Although her combined all-around from the two days of competition was 4.7 points behind Simone, she was only half a point ahead of Jordan Chiles, making it a battle between them for second place. Chiles' third place score was four entire points ahead of fourth place, so it's unlikely anyone will challenge their second and third place positions if they hit their routines.
Lee has been a question mark for most of the season, with an Achilles injury holding her back from competing her full difficulty and all-around. When she showed up to nationals and had a strong competition, she reassured viewers that she still has what it takes. She still has the potential to add more difficulty on floor, but she might try to take it easy on her injury, to make it through the Olympic Games if need be.
Jordan Chiles is currently our consistency queen in the U.S., hitting all eight routines at nationals, and having a strong showing all season so far. If she hits again at trials and stays so many points ahead of her competition, it's hard to imagine the selection committee leaving her at home. As she showed a Tsuk full at nationals, fans will be watching her vault to see if she throws a 1 ½ or a double instead as an upgrade. Though anything can happen, these first three spots are likely to go to Biles, Chiles, and Lee, bringing all eyes to the fourth team spot.
Strong All-Arounders
One factor that complicates predicting the team is that we do not know what Tom and the selection committee will be looking for from the fourth team member. If Simone, Suni, and Jordan perform the way they did at nationals, it's likely those three will make up the first three spots on the team, but from there, there are different lines of thinking to use in selecting a fourth member. One option is to go with another talented all-arounder, so that the core four will have strong all-around programs to provide options. If that is the case, we have a few great options.
Leanne Wong is a strong all-arounder, coming in fifth all-around at nationals, and has a solid floor routine that would likely score well internationally with her artistry. She took third on the event at nationals, and if she has another good showing at trials, she is a likely contender for the team. Wong's year started out with some mistakes at the American Classic and G.K. Classic, but the selection committee's main focus is the two days of nationals and two days of trials, giving her a shot.
A very consistent gymnast normally, Kayla DiCello had some inconsistency problems at nationals, though she still took second on floor and eleventh all-around. Her consistency has been there for previous meets this season and in years past, so her trials performance will be an important one to prove that she can show up and hit all four events. She also took second on floor at trials, showing her strength on an event the committee might be looking for in this fourth spot.
Skye Blakely is another gymnast who just became eligible this year, but her inconsistency in competitions has been a theme throughout the season. She has a lot to prove at trials, but based on her potential to perform she is still in the mix, especially in consideration as an alternate.
Trials will also be important for Grace McCallum, who has been a strong competitor the entire quad and looked great at the G.K. Classic. She had some issues on bars at nationals and will be looking to hit her routine at trials to overcome that narrative. Even with her bar problems, she still tied for seventh all-around and took third on beam, showing she is very much still in the running for this team.
Floor & Vault Workers
Sunisa Lee's achilles has been injured the past few months, and although she is coming back strong, another line of thinking is to have the fourth member of the team be someone who can compete all around, but is especially strong on floor and vault in case they're needed on those events, rather than another good all-arounder who doesn't have any standout events, or stands out only on bars or beam.
MyKayla Skinner is one to look to for this kind of position, as she is stronger on vault and floor than bars and beam. On vault especially, it can be argued that she would potentially make a vault final alongside Simone, as she took second on the event at nationals. With not everyone throwing their hardest vaults at nationals, we'll have to wait until trials to see if Skinner would be a contender for this kind of spot, with Jade and Jordan being the biggest competitors for her for the second American in a vault final.
Jade Carey would also fit this description, but Tom Forster has shared that Jade will not be on the four person team unless she makes top two at trials. With the scores from nationals, it looks unlikely, and will probably cumulate in her taking her +1 position. However, it is still a possibility, and if she was on the four-person team, would qualify for this line of thinking of needing a strong vault and floor worker.
Underestimated Competitors
Since they are naming five alternates as well, it's important to look at the wide depth the U.S. has to offer.
Emma Malabuyo took fourth all-around at nationals, something no one saw coming after her rough Winter Cup showing this year, but she's been quietly improving since. As the selection will focus on nationals and trials, if she can pull off a finish like that again, she has huge potential. She has the capability to place high in the rankings again at trials, especially if some of the other top competitors continue to make mistakes.
A hugely underestimated gymnast, Shilese Jones has a huge vault and stuck her double-twisting Yurchenko at nationals. She took 12th all-around at nationals, which could be higher if she made less mistakes - she had to redo her series on beam and fell on floor on day one, and placed her hand on the beam and went out of bounds on floor on day two of competition. To place on vault at trials, she would need to compete a second vault.
Emily Lee took 13th all-around and 7th on beam at nationals, showing she is also still in the conversation, especially as an alternate.
+1 Spots
According to Tom Forster, unless Jade Carey earns one of the top two placements at trials, she will be going in her individual +1 spot that she earned, so besides Simone going to the Olympics, this is the other position that is nearly certain.
For the other +1 spot, the United States gets to decide who to send. If they decide to choose an all-arounder for the core four, it is likely that they will choose someone to get into an event final with this spot. That leaves two likely contenders, Kara Eaker and Riley McCusker.
McCusker made a strong argument for herself as a +1 gymnast at nationals, scoring the highest bars score on night two, a 15.1, and taking second on the event for the entire competition. Since bars is an event Simone might not make an event final for, it opens up the opportunity for another gymnast to qualify to event finals alongside Sunisa Lee, presuming Lee is there and qualifies for a bars final. This could be a great opportunity for Riley, whose bars are looking strong and scoring well.
We also do not know the extent of Riley's injury, so it's entirely possible she will be competing more than just bars at trials, and competing for a spot on the core team. However, even if she does compete all-around, there are concerns about putting McCusker and Lee on the same team, who are both struggling with lower body injuries. The U.S. would need at least one of them to compete vault and floor since the competition is three up, three count.
Simone will likely make the beam finals, but depending on who else is on the team, Kara Eaker could be a good option to represent the U.S. in beam finals as well as the second American. She had one of her best routines ever during night two of nationals, and with a good showing at trials, might be an option for the +1 spot.
The other line of thinking is that the +1 spot could serve as an alternate who is already in Tokyo if someone on the core team gets injured at the last minute, since the alternates don't travel. In that case, the committee may be looking for another person with a solid all-around program, which could be multiple of the gymnasts listed prior.
Morgan Hurd, Aleah Finnegan, Chellsie Memmel, and Laurie Hernandez all had their petitions denied, were not able to petition, or did not petition on to Olympic Trials, so their journeys this season ended at nationals. We hope to see them out on the competition floor again soon, whether it's for elite or NCAA.
Though it's uncertain what will happen at trials nd who will be selected for the team, one thing is for sure: our eyes will be glued to the screen to see every second of the action.