2021 US Championships
What To Watch For At The Women's 2021 U.S. Championships
What To Watch For At The Women's 2021 U.S. Championships
The U.S. Gymnastics Championships are the final leap before the Olympic Trials. Here's who to watch.
May 27, 2021
by Miranda Martin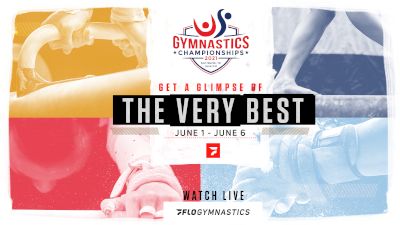 The U.S. Championships are almost here, the final stepping stone to the Olympic Trials. U.S. Championships, also referred to as nationals, showcases the best of the best in U.S. gymnastics, and will be an exciting weekend of today's biggest names throwing their best routines.
Unlike earlier competitions this year where we saw gymnasts compete after a long stretch without meets, this one comes two weeks after the U.S. Classic. Though classic gave us a good idea of where many gymnasts are at, anything could happen here - some gymnasts opted to compete only in some events rather than all-around at classics, and most will be pulling out more difficult routines to do before Trials. Rather than watered-down routines to get back in the competition groove, we expect to see Olympic-ready routines, with every second an exciting one.
Besides placing at a national competition, gymnasts have extra incentive to perform well here, because the top eight athletes in the all-around automatically qualify to compete at Olympic Trials. The Athlete Selection Committee can also choose additional athletes to compete at Olympic Trials, but they will be looking at nationals as a strong indicator of who to choose for those spots, so it is important to do well at this competition.
Who To Watch
With such an exciting lineup of talented gymnasts, everyone will be fun to watch, but to see who has a shot at the podium, fans will want to keep an eye on a few key names.
Biles shared that she is doing all-around at this competition, and as the G.O.A.T., it goes without saying that she is a lock for first place if she does. She's won six out of the last seven national competitions, only missing 2017 when she did not compete due to a hiatus after the Olympic Games, giving her a 100% winning streak when she did enter as a senior competitor. At the recent G.K. Classic competition, she fell on floor and bars, so she will likely be looking to improve there - though her difficulty puts her in first place with or without falls, it's always nice to hit all four routines. Fans will be on the lookout for what she will show on vault, as she could show her history-defining double piked Yurchenko that she showed at G.K. Classic, or could downgrade any of her other vaults, which are still difficult and impressive.
Given Biles' lock for first place, everyone will be competing for the second place podium spot, and it could go to a number of competitors. Biles' teammate at WCC, Jordan Chiles, is widely considered a strong contender for silver. Confidence in Chiles spiked after this year's Winter Cup, where she easily swept the competition and took home first place, winning by almost two full points and taking first on vault and floor and second on beam. After the Winter Cup, all eyes were on Chiles to see if she could keep up her performance at G.K. Classic, where she rose to the occasion and took second all-around to Biles. Gina Chiles, Jordan's mom, called second the "silver gold" after the G.K. Classic, sharing that "in the era of Simone Biles...the greatest athlete period...Silver is like Gold."
😭😭😭❤❤❤❤ My baby girl won the Silver Gold ya'll!!! So thankful!! I'm speechless and extremely grateful. Find your happy ...it changes everything!!
To God be the Glory!! @ChilesJordan

— Gina Chiles (@gina_chiles) May 23, 2021
Chiles also placed second on bars and floor at G.K. Classic, as well as fourth on beam. Notably, she was also one of the few gymnasts who did not fall at all during the G.K. Classic, along with Kayla DiCello, Aleah Finnegan, and Grace McCallum, in a competition where most gymnasts fell on at least one, if not multiple events, saying something about her consistency.
When asked how she's feeling about all eyes being on her going into nationals after her recent success, Chiles shared, "I try not to think about it too much. I have been working towards this for a long time and when I focus on everyone else things don't go well. So I am just staying focused on what I want to accomplish, but it feels pretty cool." Though she's staying focused on herself, she has noticed the attention from the gymnastics community, sharing, "I want to thank everyone who has been cheering for me on my crazy journey. You make everything I do worth it."
She has a few upgrades planned for nationals but is opting to wait and see which ones her coaches want her to debut. One that fans anticipate as a potential upgrade is her vault - Chiles has long trained an Amanar but did not show it at G.K. Classic, opting instead to compete a double twisting Yurchenko. Viewers will be watching her vault to see if she goes for the Amanar, something that could give her vault and all-around score another boost if she chose to compete it at nationals and lands it well, or sticks with the double, which she knows she can compete consistently. Chiles didn't share any details, saying we'd have to "wait and see" which vault she plans to show.
In the time before the competition, Chiles shares, "I really want to clean up the little details because they add up. I work hard on my execution so I want it to show." Once she gets to the competition, her goal is to "remain confident and trust my training," she shared. "8 for 8 is what I am hoping for and I want to keep having fun and enjoying every moment."
Already mathematically qualified to Tokyo, Jade Carey is one to watch at nationals to see her arc before the Olympic Games. She showed vault, bars, and beam at Winter Cup, taking second on vault. At the G.K. Classic, she only competed bars and beam, which were both solid routines. Her bars have improved greatly over the past year, adding difficulty, better execution, and just overall confidence. She likely only competed in the two events because she is being careful with so many competitions leading up to Tokyo, so it will be interesting to see what she competes at nationals. We have not seen her compete floor in a long time, so if she does, all eyes will be on her for that event. Carey is establishing herself as a dependable all-around gymnast, and nationals is a chance to compete all four and show that narrative is accurate.
Sunisa Lee has long been considered a strong competitor in this quad but comes into nationals after some setbacks. She is currently recovering from an achilles injury that kept her from competing all-around at American Classic, where she showed watered down routines on beam and floor and skipped vault altogether. Despite showing watered-down routines, she won both bars and beam there, with scores of 15.200 and 14.550 respectively, showing her power on those events even without using her full difficulty.
However, at the G.K. Classic she fell on both bars and beam, the only two events she competed on due to her injury. If she can hit at nationals, it would help her prove her consistency and that she can compete a strong all-around despite her setback, so it is an important competition for her.
Comeback Stories
Lee isn't the only gymnast coming back from an injury this season to try for an Olympic spot - a number of gymnasts have something to prove at U.S. Championships.
Hurd had elbow surgery on each arm in August of 2020, then two more surgeries on her right elbow in March of 2021. Though she only competed on beam and floor at Classics, she was solid on both events. She has many upgrades to include to improve her difficulty and up her chances of getting into the top few all-around spots at nationals. For Hurd who has always been a top competitor in this quad, it's not a matter of if she's capable of placing in the top all-around spots, but rather a race against time to get back to where she was before her injuries and add difficulty. Make sure to catch her new floor routine, which is elegant and showcases her artistry well, especially during the ending choreography.
McCallum had surgery at the end of January 2021 after getting a boxer's fracture in her pinky and has experienced many setbacks with her recovery that extended her recovery. Despite it all, she is determined to come back and fight for a spot on the team. She only competed beam at American Classic, taking fourth place, which had many fans counting her out, but she proved them wrong at the G.K. Classic. McCallum competed all-around and ended up in fourth place all-around, as one of the few gymnasts who had a solid competition and hit all four events besides an empty swing on bars. She still has upgrades to make and a few mistakes to clean up before nationals, but she came out at G.K. Classic looking strong off her recent injury, and with a potential for an upwards trajectory as she looks towards the rest of the year.
Our comeback queens Chellsie Memmel and Laurie Hernandez are also coming back into competition after injuries. Memmel made her comeback debut at G.K. Classics after a nine-year hiatus, showing a strong full twisting Yurchenko on vault and a beam set with one fall on her Arabian. She is coming back after an ankle injury, and will likely only look even stronger out on the competition floor at nationals. Memmel has shared that she likely won't compete floor there, but bars is a possibility. Regardless of what she shows, her smile after competing at Classic said it all - she's happy just being back out there, and excited to go to nationals.
Laurie Hernandez shared after G.K. Classic that she hit her ankle on a new bars skill she was working on a few weeks ago and that it was difficult to compete after that setback. She expects to be much more competition-ready by nationals, as she was only fully back for a week before Classic. Hernandez competed on vault and beam, showing a strong full twisting Yurchenko on vault and falling once on beam, on her pike front, and showing a watered down dismount.
Rising Stars
Though a lot of gymnasts are coming to nationals with something to prove, there are a few competitors that are flying under the radar could upset the realm of top elites and snag a podium spot.
DiCello snagged the bronze medal with a 56.100 after a solid performance on all four events. She also placed first on bars and third on floor. Like everyone else, there are mistakes she could improve on such as grabbing the beam on her wolf turn, but it's safe to say that she could be a dark horse who takes home one of the top spots at nationals.
Blakely has been impressive this season, despite not expecting to be eligible for the Olympics this year until they were postponed. The first-year senior made her senior debut at the 2021 Winter Cup, where she took first on beam. She really impressed gymnastics fans when she won all-around at the American Classic, beating out top elite Leanne Wong for the title with a 55.350. At U.S. Classic she had a strong showing in podium training, but fell on beam and competed a slightly watered down bars routine. Though she didn't show up to her full potential at that competition, she scored a 54.000, and if she hits at nationals could definitely take a podium spot.
More To Watch
An elegant, graceful gymnast, Wong is another strong contender for a podium spot at nationals if she can hit on all four events. We first saw her this year at the American Classic, where she came in second all-around due to grabbing the beam on a turn and falling out of bounds on floor, though she still took first place on vault. At the recent G.K. Classic, she finished sixth all-around after going out of bounds on floor and falling on bars. She still took second on beam and fifth on floor, and has the potential of placing higher in the all-around with a better day of competition, which she is definitely capable of.
"With the U.S. Championships coming up shortly, my goal is to improve my performance from the US Classic and hit eight strong routines at the Championships," Leanne shared. "As I work toward the competition, I am taking advantage of every day in reaching my goals." She is working on upgrades in practice but is not yet sure which ones she will show at nationals, besides her upgraded floor routine, which she has already shown.
"As we are in the Olympic year, every time I compete I want to make sure that I perform to the best of my ability and show my consistency. The next step is to hit 8/8 routines at Championships and make the National Team, in order to continue my journey to make the Olympic team."

- Leanne Wong
Known for her power and difficulty, MyKayla Skinner is also likely to place high on the all-around list at nationals. We did not see her compete this year until G.K. Classic due to getting COVID-19 and Pneumonia earlier in the year, but she looked to be back in the swing of competition at Classic. She comes into nationals with improvements to make on form and will need to have a more solid competition at nationals after falling on beam, going out of bounds on floor, and hitting her foot on the bar during her routine at Classic. If she cleans up her routines, nationals could be Skinner's break towards the top.
The only competitor at the G.K. Classic besides Jordan Chiles without any falls or major mistakes was Finnegan who comes into nationals looking to have a similar competition to Classic. She surprised many viewers by placing fifth all-around with a 54.150 and will look to have the same strong, steady all-around competition at nationals.
There are still so many gymnasts in competition for the Tokyo Olympic spots that it's anyone's chance to take a podium spot if they have a good day. We'll have to watch to find out who takes home the all-around medals at this year's U.S. Championships, the last step before Olympic Trials.