2021 US Championships Senior Competition International Broadcast
What To Watch For At The Men's 2021 U.S. Championships
What To Watch For At The Men's 2021 U.S. Championships
The final hurdle before U.S. Olympic Trials is here: the 2021 Men's U.S. Gymnastics Championships takes place in Fort Worth, Texas from June 3rd-6th.
May 25, 2021
by Miranda Martin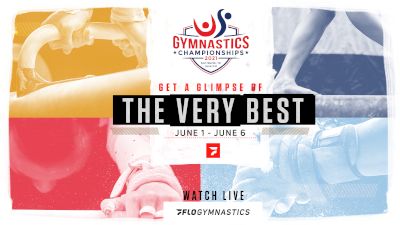 The final hurdle before U.S. Olympic Trials is here: the 2021 Men's U.S. Gymnastics Championships takes place in Fort Worth, Texas from June 3rd-6th with both a senior and junior competition, and it is going to be one to watch.
Besides being a national competition and the final hurdle before U.S. Olympic Trials, this meet is especially important because after the competition, a new Men's U.S. National Team will be named. At such an important competition we'll be watching the entire lineup, but here are a few names to keep a close eye on for podium spots.
It goes without saying that everyone will be looking for Sam Mikulak at nationals, who won six of the past seven U.S. Championship competitions, only missing the 2017 title because he competed in two events rather than all-around. After competing at the 2012 and 2016 Olympics, Mikulak is nearly considered a lock for this year's Olympic Games and has recently found more passion for the sport since lockdown, as he shared in an Instagram post. He hasn't competed since August of 2019, at the 2019 national competition, so he will be one to watch.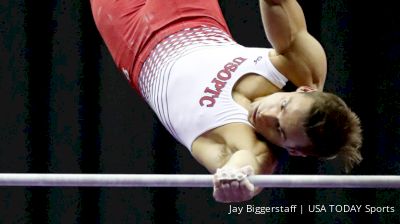 When Mikulak didn't win U.S. Championships in 2017, the title went to Yul Moldauer, who is a contender for this year's all-around podium as well. Moldauer is a strong competitor in the men's field who came in third all-around at Winter Cup and first on parallel bars with a 14.300. We also saw Moldauer compete earlier this season at the Friendship & Solidarity competition in Japan, which eased competitors back into the meet season after such a long break. Though it was a relaxed, friendly competition, he competed in three events, contributing to the team score with a 14.200 on pommel horse and a 14.000 on parallel bars. With the success he's had so far this season, nationals will be the first step on the way to making the Olympic Team, which he told FloGymnastics earlier this year that he's been shooting for his whole life. He shared that he is working on consistency, along with some upgrades on pommel horse, parallel bars, and adding an extra tenth on floor, though the routines he will compete at nationals will be the ones he showed on day one of Winter Cup.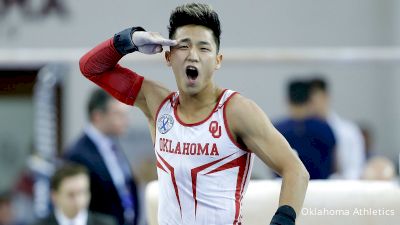 "My goal for U.S championships is to go out and show that I am prepared for USA trials and start making a statement to be put on the team," he shared, adding, "This is the beginning of the process for the selection for the Tokyo team, so I really want to show that I have the consistency and execution scores to compete at the world level."

- Yul Moldauer
He's also appreciative to be back out on the competition floor, sharing, "I want to wish all the competitors good luck and a safe, super fun competition. I also want to thank everyone who's been working hard this year for us to compete again!"


Shane Wiskus is always one to watch in the men's competition. He graduated from the University of Minnesota this spring and is focusing all his energy now on making the Olympic team. Wiskus moved to the Olympic Training Center at the end of 2020 and shared that he's learned a lot from training alongside more experienced elite competitors such as Sam Mikulak and Donothan Bailey. Though he didn't compete his best on day one at Winter Cup, he performed better in event finals, placing first on floor and second on parallel bars and high bar. Wiskus is going into nationals with the advantage of having more competition experience than most, competing at the Friendship & Solidarity competition late in 2020, then a couple meets during his NCAA season, and doing all-around at Winter Cup.
Alec Yoder comes into nationals with something to prove. The 2020 and 2021 Winter Cup pommel horse gold medalist was left off of the latest national team, in a controversial decision by the selection committee. With a chance to make the new national team after this competition and earn his automatic berth to Olympic Trials, Yoder will look to be at peak form at this competition. He also is the 2019 NCAA pommel horse champion and the 2018 U.S. pommel horse champion and has been posting videos lately of him and his teammates' training, getting fans excited for the rest of the season.
Pan American Championships Traveling Team
The last time we saw the men compete was at the Winter Cup in February, where Cameron Bock dominated the competition. The former University of Michigan gymnast took first all-around, nearly a point ahead of second place, scoring an 84.150 after staying consistent on all six events and placing second on pommel horse and parallel bars.
Bock will not be present at nationals, as he is part of the senior men's team going to compete at the Pan American Championships, which takes place on the same weekend as nationals.
The five men traveling to Pan Ams will be given automatic spots at Olympic Trials to compete for a spot on the team. Traveling to Pan Ams alongside Cameron Bock is Paul Juda, Riley Loos, and Vitaliy Guimaraes. Donnell Whittenburg is going as a traveling alternate, which Whittenburg shared with FloGymnastics earlier this year was one of the meets he'd like to compete in this season. The team going to the Pan American Championships has the possibility of bringing home the +1 spot for the Olympic Games, and are only competing in qualifications, and not staying for event finals.
The men's U.S. Championships competition kicks off with the juniors on Thursday, June 3rd at 1:00 CST and the senior men at 6:30 CST. The second day of competition is on Saturday, June 5th, with the juniors at 1:00 CST and the men at 6:30 CST. Check out all the action streaming live on FloGymnastics!