2021 GK US Classic Senior Women International Broadcast
GK U.S. Classic: The Yurchenko Double Pike, The Comebacks, & The Activist
GK U.S. Classic: The Yurchenko Double Pike, The Comebacks, & The Activist
Simone Biles, Chellsie Memmel, MyKayla Skinner, Morgan Hurd, and Grace McCallum check in with the media at the 2021 GK U.S. Classic.
May 22, 2021
by Kelly Feng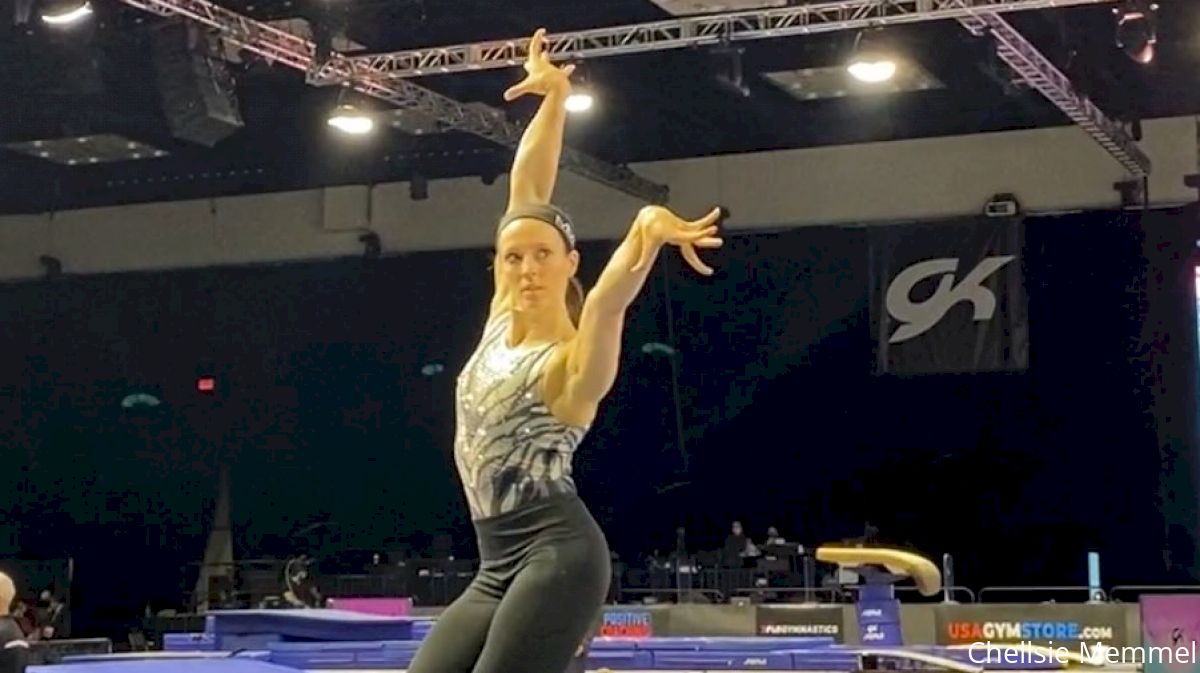 Simone Biles stood at the top of the vault runway. She leaned in and charged forward, just like she's done thousands of times before. She launched herself off the table and she nearly stuck — Yurchenko double pike. It helped so quickly and casually that it was almost easy to miss it.
SIMONE BILES🔥 pic.twitter.com/HV1NQazLhE

— FloGymnastics (@FloGymnastics) May 21, 2021
During Friday's U.S. Classics media day, Simone Biles admitted being a little nervous going for her Yurchenko double pike on the competition surface after landing it in her gym. She felt great about the vault once she did it, completing two vaults for the day.
Biles said that never in a million years did she think she'd perform the vault on the competition floor. "I didn't feel like I was mentally or physically strong enough to do it when I first tried it," she said.
Her past training and competing Amanars have helped Simone Biles get the block for the double pike. She initially felt nervous when she first tried landing it until she could do it and be safe.
"We trained the double pike into the pit to work on my block for Amanars, and then we went into quarantine. After that, we played around with it a little bit more, and I was like, 'I think I can do this.' I never tried the double tuck. We went straight to the pike."

- Simone Biles
Biles was asked if she considered a double tuck or a Yurchenko triple twist instead of the double pike.
"I feel like the tuck would be harder to grab and flip. The triple twist, the timing is really risky, and it's difficult to replicate the perfect block every time. The double pike seems more manageable for me."


An Anticipated Comeback
In returning to competition after nine years, Chellsie Memmel talked about nerves. "I was a big ball of nerves this morning. I was first in the arena this morning and took a moment to take it all in, but I got super nervous again. Everyone was very welcoming," she said.
Memmel received support from many avenues, including her social media following and the gymnastics community.
Another factor helping the 2008 Olympic silver medalist is her judging background.
"I know what judges are looking for [in a routine], and I know how I judge. We do video training, so it's nice to have that tool because I get to watch every turn right after I go. [To be able] to see the deductions right away and to be able to fix it is helpful," Memmel said.
With the support of her fans, her previous career as an elite, and her father coaching her, Memmel is philosophical about what she wants to accomplish.
"I want to be able to do well, but if not, that's okay too. That's the cool part this time around. Gymnastics is part of my life,—but it's not the only part of my life. If I don't do well, that's okay. Either way, it goes. I still win."
Few highlights from today....few solid turns without the beam pad today. Not the best pak but it made me laugh and a last part to solid landing! Really starting to feel the nerves but also excitement. Travel day tomorrow 😳 #chellsiesadultgymnasticsjourney pic.twitter.com/I3tPv6JSuA

— Chellsie Memmel (@CMemmel) May 19, 2021


Boosted Confidence
After being away from training for a month due to foot issues and recovering from pneumonia from COVID-19, MyKayla Skinner was happy to return to training. She appreciates being able to recover and return to her usual self.
Skinner credits the last two training camps with boosting her confidence. While all three competitions are coming up at once, she doesn't think U.S. Classics is as stressful as championships and trials.
"Going to camp boosted my confidence with everything that's happened, so coming into Classics, I'm feeling pretty good. Everything's coming up fast. It felt like it was taking forever, but now it's here, so I'm feeling pretty good. I feel like I'm peaking at the right time," Skinner said.
Skinner also emphasized that she wants to enjoy the process.
"This is my last jump at elite gymnastics, so I want it to be fun, be the best I can be. I'm excited to go out there and hope that I can go out there and hit my events and keep building my confidence going into championships."
MyKayla Skinner (USA) FX training

Video: @mykaylaskinner pic.twitter.com/NJzK7yabEV

— InternationalGymnast (@intlgymnast) May 19, 2021


An Activist
Morgan Hurd last competed in the 2020 American Cup, placing first. Hurd has had her share of challenges in the past year, especially in having elbow surgery last March, but now the elbow is not an issue. "My elbow feels great. It's almost like I never had surgery," she said.
Hurd's excited about competing in everything but bars this weekend. She will compete a watered-down floor and vault, hoping to bring back more of her skills at nationals in early June. She will also be debuting a new floor routine which she describes as having dark academia vibes, inspired by a book she recently read titled The Dark Tide.
"Going into this, I definitely had a lot of anxiety, but going out there, I've never felt better. My gymnastics may not be as up to par as I'd like, but this boosted my morale and gave me a lot of confidence," Hurd said.
Wearing a shirt with "Stop Asian Hate" and "Black Lives Matter" on the t-shirt sleeves, Hurd was asked about her activism and what sparked it.
"I was not as outspoken when I was younger, but I still have my opinions. Last year, it really flipped when the death of George Floyd was the final straw, and I slowly got more into it," she said.
Hurd said she became more comfortable being outspoken thanks to the survivors who paved the way.
"I have to give credit to the brave survivors who paved the way and opened the floor for me to use my voice. [Social issues] are much bigger than gymnastics. I'm a person first and a gymnast second."
Morgan Hurd (USA) BB training

Video: @morgihurd pic.twitter.com/g8cEvBXBJr

— InternationalGymnast (@intlgymnast) May 7, 2021


Looking for the Positives
Grace McCallum injured her hand in January and originally was to have eight weeks recovery time after surgery. However, a pinky finger brought the recovery up to 11 weeks. McCallum feels all-around this weekend was essential and believes she has the necessary strength back.
"I knew coming into this meet it would be really important for me to do all-around so I could show I'm back and ready to go," she said.
One wonders how McCallum kept an optimistic mindset after losing 11 weeks due to injury.
"I try to look for the positive in every situation. I have been doing routines from November until now, and it's a long time to keep up with routines and be at that high of a level. So it worked out where I can pace myself and be confident and ready going into the senior competition."