NCAA
Favorite Viral NCAA Gymnastics Routines Of 2021
Favorite Viral NCAA Gymnastics Routines Of 2021
From Nia Dennis to Haleigh Bryant, we look back at the viral routines of the 2021 NCAA gymnastics season.
May 3, 2021
by Sophia Scazzero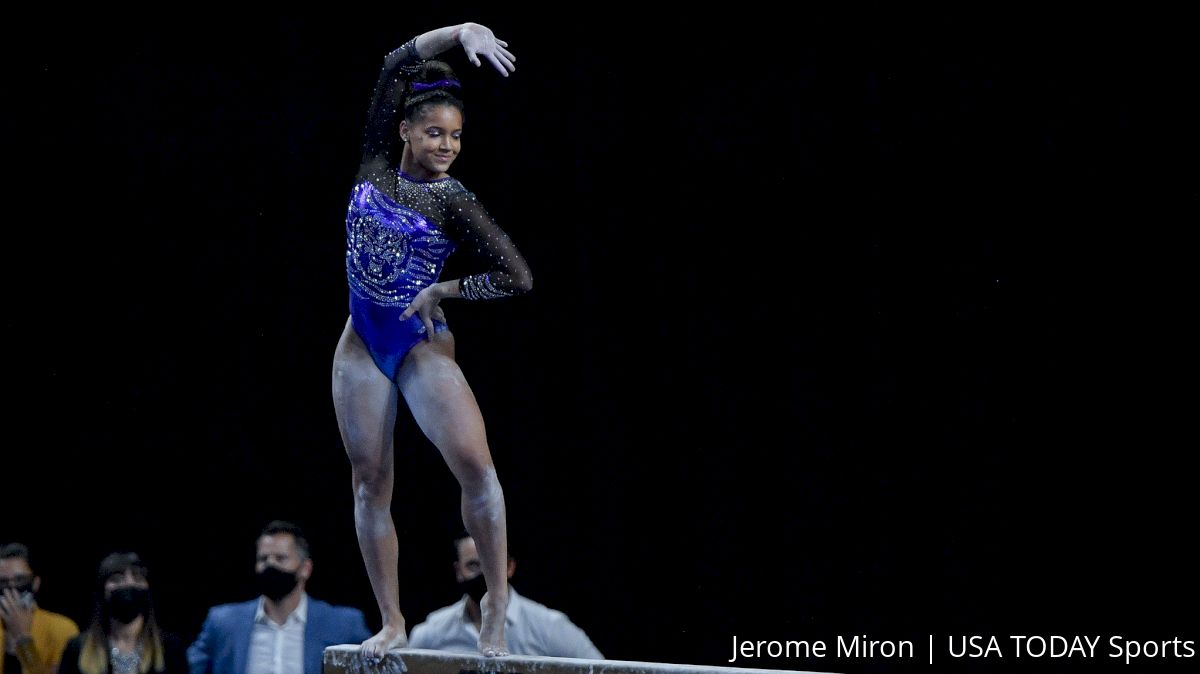 NCAA gymnastics gained more recognition in the past years in large part thanks to some memorable college routines going viral. The first routine to really go viral was LSU Gymnast Lloimincia Hall's floor routine in 2014, but arguably the queen of the viral routine is UCLA's Katelyn Ohashi, whose moonwalking helped make her floor routines from both 2018 and 2019 spread like wildfire- her 2019 routine currently has 161,708,668 views on the UCLA Athletics youtube page. Though the 2021 season was a unique one with less of an audience, it was no exception in producing viral routines.
Here is a list of some of the top routines that went viral this year:
Once again, UCLA has secured its top spot in dominating the viral floor routine space, producing the two most famous routines of the 2021 season performed by senior Nia Dennis and junior Marzetta Frazier. Dennis is no rookie to being an internet sensation- this is the second viral routine of her gymnastics career, her first being from the 2020 season where she gained mass recognition for her routine that was an homage to Beyonce's Homecoming album. That routine currently has 15.6 million views on the UCLA Gymnastics Twitter page and was even cheered and retweeted by actress Gabrielle Union.
Somehow, Dennis topped that level of success this year. She capped off her senior year with another fan-favorite routine, and one that continued her mission of using her floor routines as an opportunity to celebrate, in her words, "Black Excellence." She chose a medley of songs by various accomplished black artists for her music, including Kendrick Lamar, Missy Elliott, 2Pac, Megan Thee Stallion, and Beyoncé, and put the same energy and style of dance that we saw from her last year into the choreography.
She brought to life a routine that not only demonstrated her talent and acted as a fun extension of her personality but was a way for her to use her voice and add to the conversation of the social justice movement. Her routine was easily a crowd favorite at meets this year, grabbing the attention of even more famous fans, including shoutouts from Michelle Obama, Missy Elliot, 2016 Olympians Simone BIles and Laurie Hernandez, and Queer Eye's Karamo Brown. She made appearances on the Ellen Degeneres Show, the Today Show, NBC, and was featured in Vulture and the LA Times this February. It's safe to say her routine is the most talked-about of the 2021 season.
The other most talked about routine of the 2021 season was Margzetta Frazier's Janet Jackson-inspired floor routine. Frazier's routine, like Dennis', was a celebration of black culture and an homage to one of her heroes, Janet Jackson. She tumbled and danced to a mix of Janet Jackson's hits including "Nasty," "If" and "Throb'', and incorporated some choreography directly from Jackson's in the videos. With her strong tumbling, high scores, and infectious energy, her routine immediately became a pop culture success.
The junior's routine spread like wildfire this season- boasting over 993,000 views and counting on UCLA Athletics' channel, and 770,000 on Twitter where it was posted by SportsCenter's main account. Frazier's routine additionally attracted the attention of ABC News, GMA, The Huffington Post, and the LA Times. Most notably, it garnered so much attention that it grabbed the eye of Janet Jackson herself, who Facetimed Margzetta to personally congratulate her on the success of the routine and say how honored she was to be a source of inspiration for her, and Margzetta was thrilled to have a personal call from her hero.
The NCAA championships on April 15th and 16th also produced a number of the most-watched routines this season, as it was the most viewed in history, with 808,000 viewers- an increase of 510% from 2019, and produced a solid collection of high profile routines. While they have not racked up as many viewers as the above routines, they still had a significant amount and no doubt were some of the best performances of the season.
Michigan's Sierra Brooks' floor routine ranks in some of the highest views from NCAA weekend, currently standing at 19k views. Sierra's huge first pass (a full-twisting double back) and upbeat choreography makes for a fun and impressive watch.
Haleigh Bryant of LSU's Vault from last weekend's championships boasts over 25k views, and her vault sticks out as it is one of the more unique and aesthetically beautiful vaults seen in college competition- a front pike half that is basically laid out by the end. Her score for her vault that weekend was a whopping 9.975 and earned her the title of Co-Champion on the event. She previously scored a perfect 10 on the event earlier this season on March 5th against Missouri.
And lastly, in a routine that both is a sign of the times and also a great example of unexpected routines that make an impact, is Emi Watterson from UC Berkely's bar routine, where she not only scored a perfect ten but performed the whole routine while wearing a mask.
The perfect routine even caught the attention of Sports Illustrated and People Magazine, cementing her place in history as not only just the second gymnast from UC Berkely to score a 10 on the event, but as a representation of the impact of the coronavirus in the sports world, and the resilience of these athletes and the remarkable challenges they have faced in the past two years.
NCAA meets do not require gymnasts to wear masks in competition, but when asked, Watterson said that for her it simply felt more comfortable to compete with it on, due to all the hours she spent wearing it in practice.