US Championships | June 1-6, 2021
How Konnor McClain Carves Her Own Path To Success
How Konnor McClain Carves Her Own Path To Success
When it comes to gymnastics, Konnor McClain never takes the conventional route to success.
Apr 27, 2021
by Miranda Martin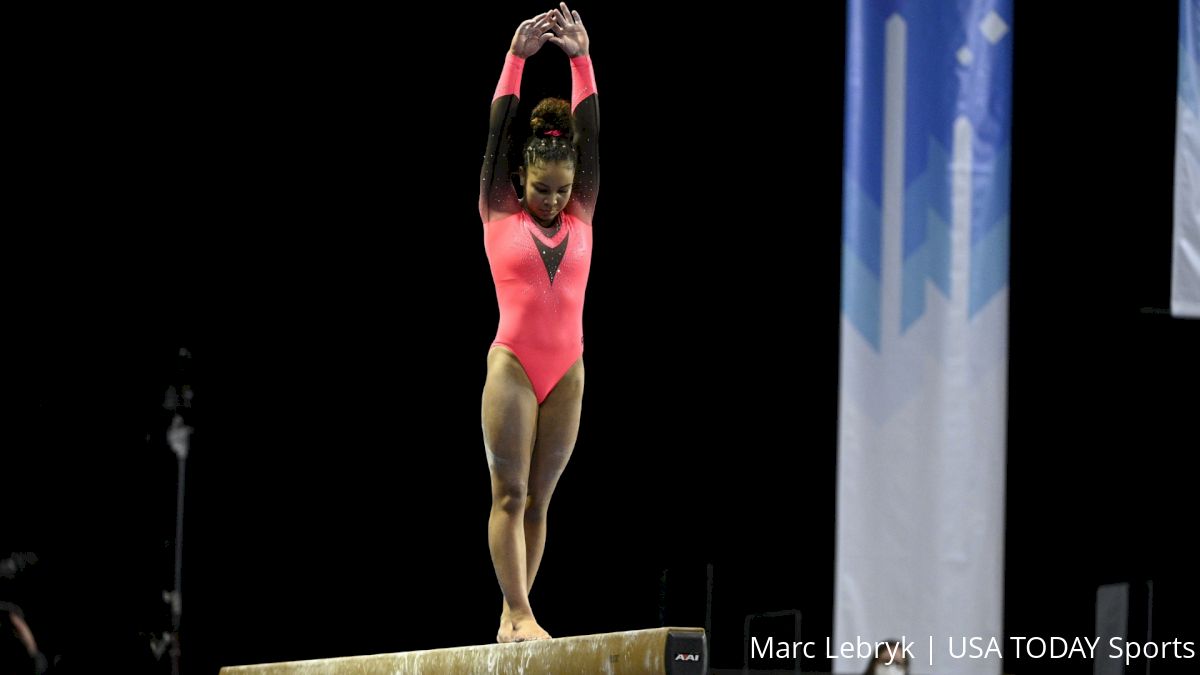 When it comes to gymnastics, Konnor McClain never takes the conventional route to success.
An organic, homegrown gymnast through and through, her success has come from her own methods, rather than from following the usual formula.
Her unconventional path started when an infamous video of Konnor became well-known in the gymnastics community completely by accident. The video was originally uploaded by Konnor's mom, Lorinda McClain, because Konnor liked watching herself after practice. Lorinda never imagined anyone else would be interested in watching her daughter do gymnastics, especially for ten minutes straight.
Many people were intrigued by the video because at four years old, Konnor was practicing incredibly advanced skills for her age. For her family, this was no surprise.
Growing up in a family of athletes, Lorinda played soccer and cheered in college, Konnor's dad played college football at Southern Utah, and her uncle was in the Olympic Trials for boxing. "Our kids had no choice. They weren't going to be bookworms, they were going to play sports," Lorinda shared, laughing.
Turns out she was right - Konnor's older brother Cole played college football, her older sister Liv plays college softball at Niagara University, and her younger brother plays for California Baseball Academy. Konnor also has cousins playing DI college baseball, college football, soccer, and basketball. "I feel like it encourages all of us to be honest, just all of us supporting each other from different DI colleges all around, and then me and my younger brother were doing our thing together...I feel like it encourages us and strives us to be better," Konnor shared.
Konnor is no outlier to the family trade - she's been athletically gifted since birth; sitting, crawling, and walking before her peers. When she walked between six and a half and seven months old, Lorinda was concerned it was too early and even called a physical therapist to make sure it was okay. Since she was moving so early, Lorinda enrolled her in a mommy and me class at 16 months.
"The teacher was always like, 'Oh my gosh, she's so strong,' and so we kept her in it," Lorinda shared. Her older sister Liv was on pre-team at the time, and everything Liv came home and did from class, Konnor mimicked. After a while, her parents noticed Konnor was easily doing skills that her older peers were still learning.
"Her sister was doing some backbend kick overs, and Konnor started doing backbend kick overs at 20 months old...that's a little freaky for 20 months old and we have videos of it because I was like, no one will ever believe us," Lorinda shared.
A Coach That's More Like Family
Most gymnasts change coaches frequently as they move through levels until they start working with their elite coach, but Susan Brown has coached Konnor since she was three years old. Konnor initially started at a gym where Susan coached, and when Susan opened her own gym in 2009 closer to home, Konnor followed.
This was an easy decision for the family. Susan and Lorinda have been friends since grade school, working at the local pool, doing gymnastics together, and going to college and cheerleading together. "Lorinda's really like my sister, now that I think about it. She's really like a sister to me," Susan shared, making Konnor's coaching experience more like a family one. "Susan's crazy, and she's been my friend for a long time. So sometimes we drive Konnor crazy," Lorinda shared, laughing.
To see Konnor McClain compete today, many people would happily pay a good amount of money. Back in 2007, she had to beg people to watch her. "I've always gone to their house, and Konnor was just two years old, and her mom would say, 'Don't put your leotard on when Susan comes over. She doesn't really want to watch gymnastics tonight.' Her sister was also on my team, and they'd both put on their leotards and come out and, and Konnor would just slide down in the most perfect split with pointed toes at two years old and do a backbend kickover."
It was a good thing Konnor found a coach she loved and didn't mind showing off in front of, since she was a shy kid. One of the national team coaches told Lorinda that Konnor didn't say a word to them until she was 12 years old, but she was always happy to talk to Susan. "I think she's missed one practice in 16 years besides an injury or something. But I think one time she had a headache and missed a practice, and that's really the only time I can think of her missing a practice. She's very dedicated," Lorinda shared, "always been super self-motivated, able to take corrections super easily, and make the corrections, always a super hard worker."
Susan saw the same spark in Konnor as her mom did. "I recognized Konnor's talent early on, and she's always been a super serious kid. When she was little, she was very, very driven, very detail oriented, and anything that she put her mind to, she was going to basically work until she met that goal. I always tell people if it wasn't gymnastics, Konnor would strive to go to the Olympics in another sport. She's just really driven to go to the Olympics...at a very, very young age she's always wanted this...a great combination of work ethic, strength, flexibility, drive. And on top of that, she's super smart, very intelligent, makes corrections quickly, just really has the whole package."
Many elite gymnasts move to well-established legacy gyms once their training picks up, but Konnor has always attended the small program at Revolution gymnastics right in her hometown of Cross Lanes, West Virginia. The reason Susan has been able to coach Konnor through her gymnastics career is that it's such a small program, unlike some larger more acclaimed gyms.
Knowing that Konnor was talented from the start, Susan made sure she educated herself about training an elite gymnast and what she had to learn - Konnor is Susan's first and so far, only elite gymnast. Along with learning logistics, Susan sought out a sports psychologist to gain confidence in coaching the mental aspects of gymnastics and wisdom to not get overwhelmed and give in to self-doubt.
"I just wanted to make sure I had everything it took to help Konnor reach her ultimate goal, just equipping myself with as many tools as I can," she shared, adding, "Konnor's always pulling me...I'm not necessarily in the lead here in the training. [Top athletes] are pulling their coaches to the next level too, in a lot of ways. She just is so self-driven that Konnor's going to make it work wherever she is."
Though her coaching situation may be an unusual one, it's certainly a perfect fit for her. "Her coach knows her so well...just from her emotions, from her facial expressions, from her body language," Lorinda shared. "I think that is so good because sometimes Konnor can be shy. She doesn't talk a lot still, but it's so good that Susan knows her. So she can figure out sometimes without Konnor having to talk just from her body language."
Olympic Eligibility and Senior Debut
Konnor McClain found out about her Olympic eligibility the same way everyone else did: on Twitter. Sitting on the couch next to her sister, Liv told Konnor to open the app. "At first it was very overwhelming, I would say, and I felt a lot of peer pressure on me just because it was everywhere," Konnor said.
In retrospect, this was probably the perfect way to find out about the news that was going to rule her entire life for the next year or so. Konnor is very close with her sister, and credits her as the main thing that's helped her mentally survive the difficulties of the pandemic, including that moment.
"I'd say this year, just with the age change, was definitely a hard year for me because just running it through my head, thinking about it and seeing it everywhere all over social media was definitely hard, but I've learned just to not think about it and to keep my mind away from it more, instead of just always putting that on myself and putting the pressure on myself," she shared.
At 15, @konnormcclain_ wasn't old enough to compete at #Tokyo2020 until the Games were postponed. Now she's eyeing a place in the US team alongside superstar Simone Biles.@simone_biles@usagym@gymnastics pic.twitter.com/BwLgNiOLXd

— Olympic Channel (@olympicchannel) July 5, 2020
"It's just something that we weren't expecting," Lorinda explained. "We thought we were on the slow and steady. For 2024, we had everything worked out, we were feeling good about it, we have plenty of time. And I think just to throw that into the mix, I think just put a little extra pressure with our upgrades because before she had three years to perfect the upgrades and now she's really having to work on them a little bit more than she probably would have."
Most gymnasts don't suddenly find out they're eligible for the Olympics a year before Trials, something else that keeps Konnor off the traditional gymnastics path. What Susan and Konnor decided to do about the news was also unexpected.
"It wasn't an 'aha' moment or anything like that. It was more, 'Wow. Well, huh.' We're trying to be on pace for 2024. So I had to take that all in and put her safety and health first. That's my number one priority," Susan shared.
They've decided to keep shooting for 2024 as their ultimate goal, especially as Konnor has already faced some serious setbacks this year, including foot surgery and a stomach infection that set her back about three months. The infection limited her to only two events at Winter Cup, which was supposed to be her senior debut. Though nerve-wracking to compete as a senior, the joy of competition remained the same.
Viewers especially enjoyed watching her compete at Winter Cup because of her floating beam series, where instead of merely completing a skill, she appears to be hovering over the apparatus with all the time in the world to float in the air and complete the flip. From Konnor's perspective, though it may look effortless, that's not quite how it feels.
"Honestly, I'm not going to lie, [competing beam is] terrifying. In the beginning, warmup is definitely always very nerve wracking for me. I feel like I'm really nervous at first when I salute and then I get up there and I'm like, "Oh, I'm good." And then, when it comes to my front aerial and my dismount, I'm like, "Whoa, I'm shaking again."
When asked how she mentally prepares before competing a beam routine, she admitted, "I feel like my brain is scattered before beam even though it shouldn't be, I feel like it is."
You certainly wouldn't know it from watching her compete. She ended up taking the bronze on vault and beam at Winter Cup, and plans to bring back all-around for the GK Classic.
Season Goals and Upgrades
Though everyone is excited about her Olympic eligibility, Konnor is focused on one thing at a time. When it comes to this season, Konnor says, "Olympic Trials is definitely my goal right now. And then just whatever comes after that, but definitely World Championships later in the year. And then the Olympics is definitely there in the back of my mind, but I don't want to think about it too much right now," calling the 2024 Olympics her "final goal," something she's been saying since she was at least 11.
As far as upgrades, Konnor and Susan have a lot planned. On bars, Susan shares, "the double front and then the double front half out is going to really work for her. Just to get it at the end of the routine's going to take some time, but just having that E dismount is going to really help, and she also has a laid out Jaeger...we're still working the laid out full on beam...and the Arabian on beam."
On floor they're working on a double layout full out, and she competed her two and a half twist through to a double pike at camp. On vault, she's focused on perfecting her double twist and working an Amanar.
She's working hard on upgrades despite a recent setback of not being named to the most recent National Team, which Konnor says "at first it was really hard, just dealing with that feeling and that disappointment in myself and humiliation. But now, I feel like it's pushed me to be better at gymnastics and a better person. So, I'm feeling really good about the next competitions and camps in the future."
The National Team Camp was a hurdle for Konnor, who was still recovering from her stomach infection but did not meet the petitioning requirements and had to compete for a spot. Luckily for her, this National Team is only for a few months, and will be renamed at U.S. Championships, where she will get another shot to make it back on.
The Journey Up Until Today
When asked separately what their favorite moment in Konnor's career has been, both Lorinda and Susan said it was when she won first all-around at Jesolo. "It was her first international with USA gymnastics and I'm just there having a good time...my cousin called or texted me and was like, 'I'm watching the meet and they said that McClain is going to stay on top.' And I'm like, 'On top of what?' I had no idea that she even had a chance to win and she was shocked too. So that was a shocker. So that was definitely fun for us," Lorinda said.
For Susan, the meet was memorable for an entirely different reason. Her dad passed away the day before they left for Italy.
"That was... I don't know. It was just meant to be that way. I just can't really explain it. Konnor knew my dad very, very well, but she knows my family. She loved my dad. I mean, she loves my family. So that was a real learning moment for both of us, because Konnor went all professional on me. You would have never known. She really held it together for me. I mean, she was in her meet mode, and I could just tell that's what she was doing. And that moment was special for me because it just was so surreal after everything that we'd been through," Susan shared.
There were other milestones too, such as her first National Team Camp. "The first time when we were invited to National Team Camp, they asked me if I thought she was ready. Well, I'm not going to say no to that," Susan shared, laughing.
At her first camp, Konnor was 12 years old, and placed in a rotation group with Ragan Smith, Emma Malabuyo, and Maile O'Keefe. "I showed her the rotation, and we just laughed, a fun laugh, like a good, 'Are you kidding me,' type of… 'How cool is this? Let's not take this camp for granted. This is a blessing," Susan shared.
Having grown since then, one thing that Lorinda and Susan can attest to is that her perfectionism and attention to detail has stayed consistent.
"She amazes me that everything she does is tight with pointed toes. If she bends her knees, I'm like, 'Oh my God, that's not Konnor.' Her fundamentals are just so sound...I think that's probably the most awesome thing about Konnor is her execution," Lorinda stated.
Susan agreed, sharing, "Her attention to detail, technique, just her fundamentals and basics are outstanding...I'm just looking at her every day, and then I see other gymnasts. I'm like, 'Wow. Konnor is really technically a beautiful gymnast on all the events.' She just really has that attention to detail, and she's had it since she was a kid from the toes all the way to the fingertips."
Outside of the Gym
Besides gymnastics, Konnor is just your average teenager, getting her driver's permit and attending public school...well, as of two weeks ago at least.
"I've actually recently started going back to school, which has been good, and finding new friends," Konnor shared.
She's been homeschooled since fourth grade to focus on gymnastics, and just started going to high school as a sophomore to take one class a day, art, and then goes to gymnastics in the afternoons.
"Now that I've gotten older, it's definitely different. I was like, I don't want to be in the house any longer. So now, it's definitely a better feel. The first day I was definitely nervous since it was like seven years since I've gone, but it's definitely been great my past two weeks," she shared.
"She's the one who wanted to do it. And then she said based on how this will go, maybe she can do two classes next year. So it was totally up to her. She wanted to go and see her friends that she hadn't seen since third grade. And just get out of the house - she has more energy now. She's a little older and can handle more," Lorinda shared. Going back to school at the peak of her gymnastics career is another choice Konnor and her family made that was right for her at the time, even though it wasn't the status quo.
As for her driver's license, she has her permit, but plans to wait a bit to get her license as she has quite a few things going on...like preparing for the Olympics. "At first [driving] was definitely scarier than gymnastics. Now, it's getting a little bit less scary. I'm getting better at driving," she shares.
Besides school and driving, Konnor loves to draw and paint, and is writing two books right now, one about foster kids and the other an autobiography. Outside of gymnastics, she's most excited about getting to watch her sister play college softball. Konnor just traveled to see Liv's first game in person, and hopes to go to more this season.
"Her and her sister are super close...other than a good gymnast, she's just a good person. She's a great sister, she's a great daughter, she's the easiest kid. Always has been, she just has a great personality and she's a good kid," Lorinda shared.
my #1 supporter, i love and miss you more than words can describe https://t.co/zC4owvGqzd

— Konnor McClain (@Konnormcclain_) September 15, 2020
What the Future Holds…
Following in the footsteps of two of her cousins, Konnor is considering becoming a firefighter in the future. "I've always just wanted to help people in a way, and I didn't want to go to school to be a surgeon for like eight years. So, a firefighter, I don't know, it just inspires me," she shared.
She's also talked about college gymnastics in the future, but hasn't decided on any schools. "We've talked about it...she communicates with all the girls at college, and you know how that goes with social media and everything," Susan shared.
We don't know where Konnor's journey will take her during the 2021 season, the 2024 season, and beyond, but we can be certain that wherever she goes, she will carve her own path and lead the way.
Konnor's Fun Facts:
Favorite Animal: Elephant
Favorite Movie: Honey
Favorite TV show: Grey's Anatomy and All-American
Favorite color: Purple
Favorite food: Fruit
Last person she texted: Her sister, Liv
Favorite Musical Artist: Masai
Gymnastics Idol: Shawn Johnson.
Favorite Class in School: Art
How Would Other Elite Gymnasts Describe Her: Competitive, Hardworking, Funny