2021 Winter Cup & Elite Team Cup
Cameron Bock Hits Six For Six At 2021 Men's Winter Cup Competition
Cameron Bock Hits Six For Six At 2021 Men's Winter Cup Competition
Cameron Bock dominated in the senior men's competition at the 2021 Winter Cup and 10 gymnasts are named to U.S. Men's National Team.
Mar 1, 2021
by Miranda Martin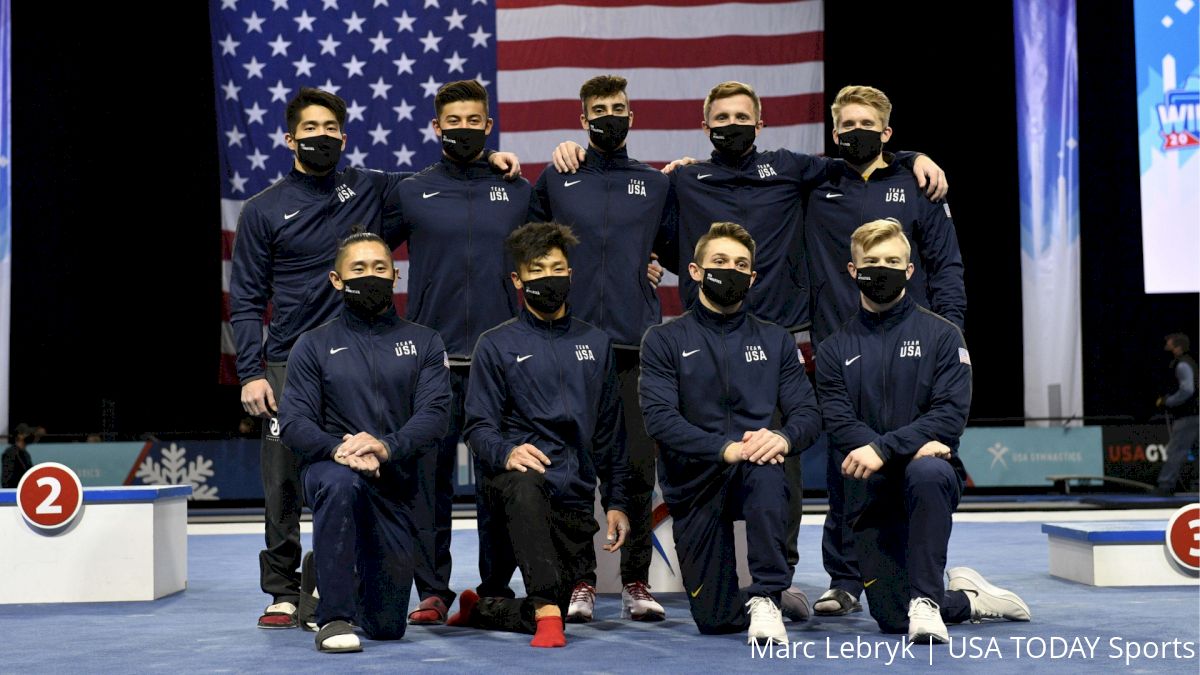 Winter Cup Senior Men Highlights
Cameron Bock, representing the University of Michigan, took first all-around in the senior men's division, scoring an 84.150. His win was impressive, nearly an entire point ahead of second place. He was consistent on all six events, taking second on pommel horse and parallel bars.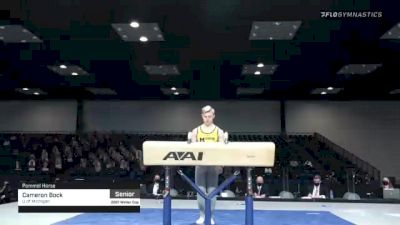 Unlock this video, live events, and more with a subscription!
Get Started
Already a subscriber? Log In
Second place went to Riley Loos from Standford, who scored an 83.250. His score was supported by his first-place finishes on floor and vault, where he scored a 14.250 and a 14.750 respectively.
In third place was Yul Moldauer, who recently returned to his home gym 5280 after graduating from college. He scored an 82.600 and placed first on parallel bars with a 14.300. Moldauer has been working on his mental preparation, sharing that without many meets leading up to this one, it's all up to a gymnast's mental game to feel prepared. "You can train routines all day long, but it's up to you to…make it feel like a meet...you really have to try and mentally tell yourself and imagine exactly what the arena would look like, the color of the mats, the lighting, the clothes that the judges are wearing."
Another exciting factor for Moldauer is healing from previous injuries - wrist, ankle, back, and elbow pain used to be an issue, but after taking some time off, he's feeling refreshed. "I feel really healthy, I feel like the healthiest I've ever been as a gymnast...I might be 24 but I honestly feel like I'm 18 or something. I'm excited, I feel like I have more energy, I'm more motivated, and so I'm actually very blessed to say that I'm feeling really healthy," he shared.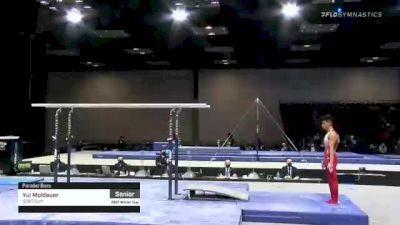 Unlock this video, live events, and more with a subscription!
Get Started
Already a subscriber? Log In
Paul Juda felt good going into the competition and ended up taking sixth all-around with a 79.850. "Pairing [The Friendship & Solidarity Competition] with the fact that I've been able to compete for Michigan for a few meets already, I just had one last week on Sunday and it went really well, I think that's going to prepare me pretty well for this meet, treat it like the meets I've already had and kind of just keep the ball rolling," he shared before the meet. He looks forward to the rest of the season, stating that the pushback of the games was good in his case. "I think the one extra year prepared me, and allowed me, to have a little more preparation going into the Olympic Games. I think having one more year for a young guy like myself is very critical in developing my gymnastics and strength," he said.
A lot of the men on the floor this weekend were just happy to get to compete, sharing that the uncertainty of the pandemic has made everything different. "No one even knows when it's going to be next. Last time I had to quarantine, it was because someone on the team tested positive, and then of course we all had to quarantine for two full weeks. There's so much uncertainty at this point...but you just can't really think about it too much," Shane Wiskus shared.
"I feel like it's been pushing me a lot more just knowing that any second everything could be shut down so I'm just going to give it my all," Moldauer reflected. Juda felt similarly, sharing, "over quarantine I took a look at really taking every turn into consideration because I'm not sure even now if tomorrow we won't have practice because of a shutdown. So the pandemic kind of taught me to take every turn…really meticulously, and really focus on my details, focus day to day on goals, and take it one step at a time."
Five of the top six men's all-around finishers at the 2021 Winter Cup were college gymnasts, showing the importance of keeping men's NCAA programs alive and well.
After the competition, Cameron Bock, Yul Moldauer, Shane Wiskus, Paul Juda, Allan Bower, Adrian De Los Angeles, Vitaliy Guimaraes, Isaiah Drake, Genki Suzuki, and Riley Loos were named to the 2021 U.S. Men's Senior National Team.
Event Finals
Though Shane Wiskus took fourth in the all-around on Friday, he picked up his performance on Sunday in the event finals. He placed first on floor (14.000/14.550) as well as second on parallel bars and high bar.
Wiskus was one to watch at this competition, especially after his recent move to the Olympic Training Center. "The transition has been good…the equipment is obviously incredible, there are guys who are all training for meets like this with me, so got a good group of guys training out there, getting to train alongside, Sam [Mikulak], and that's been awesome, learning from him trying to pick up bits and pieces here and there," he shared before competing. "Sam and Donothan Bailey are just geniuses in the gym, so just being able to get bits and pieces on different skills. Sam and I work together a lot on high bar just tweaking different things and playing with new techniques on certain stuff."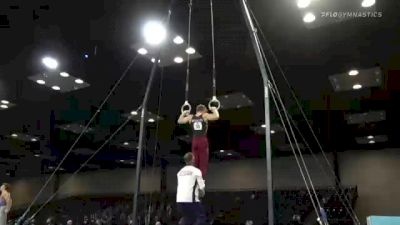 Unlock this video, live events, and more with a subscription!
Get Started
Already a subscriber? Log In
When asked what he's changed since observing the other guys, he shared that he's switched up what he does after training to take care of his body and maintain his health. "I feel like I'm in a better place now than I've ever been," he shared. Ultimately, he wanted to use this competition as "practice for bigger meets to come," and shared that at the end of the weekend, he feels more confident going into future competitions after doing the all-around here.
As for the other events during event finals, Alec Yoder took home gold on pommel horse (14.650/14.550), Alex Diab placed first on rings (14.850/14.950) to upset the historically dominant Donnell Whittenburg on that event who took second place. Eddie Penev took first on vault (14.550/14.600), Yul Moldauer took gold on parallel bars (14.300/13.850), and Genki Suzuki placed first on high bar (13.650/13.600).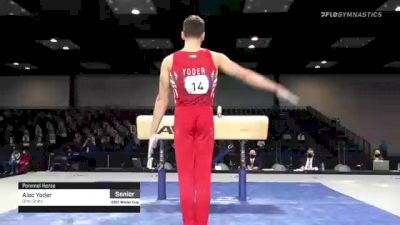 Unlock this video, live events, and more with a subscription!
Get Started
Already a subscriber? Log In
Winter Cup Junior Men Highlights
Asher Hong placed first all-around with an 80.700, over three points ahead of the rest of the juniors. He impressed on multiple events, taking first on rings, vault, and parallel bars. Brett McClure, the Men's Program Head, expressed his excitement at seeing Hong's performance this weekend, despite his fall on vault in event finals.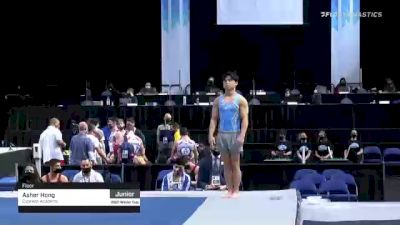 Unlock this video, live events, and more with a subscription!
Get Started
Already a subscriber? Log In
In second place was Kai Uemura, with a 77.450, and first place on floor with a 13.550. Vahe Petrosyan rounded out the podium, taking third with a 77.250, as well as first on pommel horse (13.500) and high bar (12.450).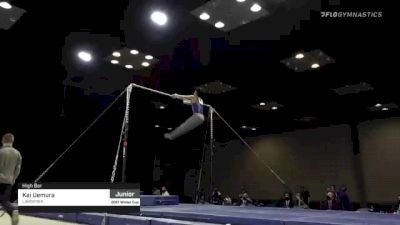 Unlock this video, live events, and more with a subscription!
Get Started
Already a subscriber? Log In