2021 American Classic and Hopes Classic
Leanne Wong Shoots For Big Goals In 2021 and Beyond
Leanne Wong Shoots For Big Goals In 2021 and Beyond
The 2021 season will be a big one for GAGE gymnast Leanne Wong, as she prepares for Olympic Trials alongside her coach, Al Fong.
Oct 20, 2020
by Miranda Martin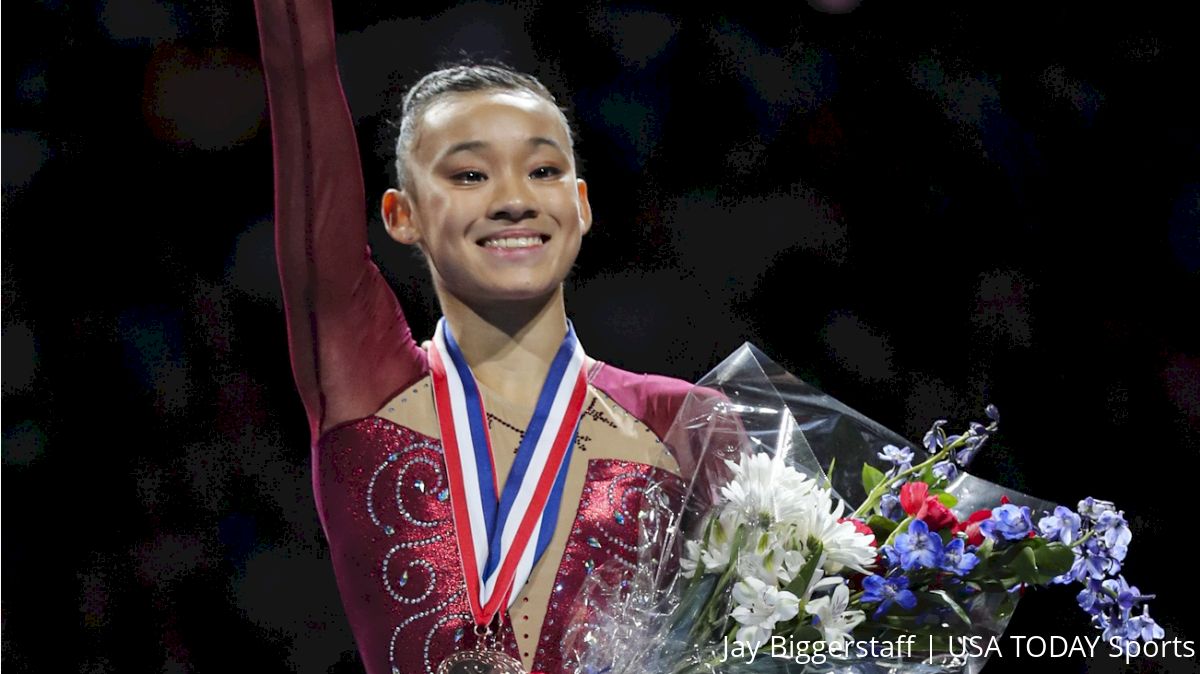 After a disappointing end to her most recent competition season, the 2020 Coronavirus meet cancellations were even more shocking for Leanne Wong, who was left with something to prove.
Wong took eighth place All-Around at World Selection Camp, and though she ended in second place on bars, it wasn't enough to make the team. Wong was named a non-traveling alternate.
"During that period of time she had a growth spurt, and I think she grew something like three inches, maybe more, and just that three inches makes a huge difference in the timing of what you do. She was off in her tumbling, off on how she swung bars, so she missed out on the World Championships, and that was one of our goals we had set," coach Al Fong shared. Fong and his wife, Armine Barutyan-Fong, share the coaching responsibilities for Wong and other elite gymnasts at Great American Gymnastics Express (GAGE).
"It was a little disappointing not to be on the actual team, but just being an alternate was an honor, it just kind of gets me to like work even harder and make it the next time," Wong shared. Unfortunately, her only chance so far to work harder is in the gym - she hasn't been able to compete at a meet since, due to COVID-19.
Wong was slated to compete at Jesolo in March 2020, but the team was pulled at the last minute.
"It was going to be an important growing process, to get out there internationally and duke it out with a number of the USA team, she needed that experience, and then the plug was pulled on everything," Al Fong shared. They aren't giving up because of these missed opportunities, instead training harder. "The goals have never changed, just the circumstances have," Fong stated.
Becoming the non-traveling alternate for 2019 Worlds was a surprise for this star, who was not used to falling short on goals her coaches set for her. Since stepping foot in a gym, Wong has impressed coaches and audiences alike with her talent.
Leanne started at GAGE in their preschool program, due to Leanne's father, Marco Wong. After tying ice skating and not finding a passion for it, Wong shared "I started at GAGE right away because my dad is always finding the best things. He found the best gym that was close nearby."
Marco Wong remembers why he selected GAGE, adding "I was thinking, if we're going to do gymnastics which is a highly skilled sport, I really wanted to find the best gym and the best coaches in the area. It's about a 45-minute drive or so but it was a really good decision."
Al and Armine began coaching Wong when she was about nine or ten, but they watched her as early as when she was in the preschool program.
"We have a system at GAGE where we try to hand-pick our kids from the preschool program. She stood out - she was a worker, and she was a very smart girl. Everything you asked her to do she would do it and not lose concentration," Fong shared.
Wong is a gymnast who is not only consistent on the competition floor, but also in her personality. Her father shared that Leanne has stayed the same competitive, driven person since she first stepped foot in a gym.
"She's always been a perfectionist, always trying to figure out how to do things better, and hard-working. She's quite serious because she wants to do well," he said.
Fong stated that her personality is actually an advantage when it comes to staying focused. "She didn't speak much, for a long long time. She was very quiet or shy, or something like that, but that's not a bad thing, especially when you're trying to keep a bunch of kids in order to start training. She was busy doing the work she was supposed to do."
Now she's opened up a bit, but is still that same girl. "She has a great sense of humor, and she's fun to talk to. It's good, she gets along with everybody," Fong shared.
Despite standing out as early as the preschool program, Wong never thought too much about if she was talented, instead taking her training day by day. "Some people believe when they're young, like, 'my goal is to go to the Olympics, that's all I want to do,' but we never really thought like that, we just took it one year at a time. Around like maybe level five and six, I won state meet and realized maybe I have some talent, but we never really thought about going elite until level nine or level ten, and just took it slowly from there," she shared.
When she started winning meets was when her parents realized she could go somewhere in the sport.
"She was doing quite well around 8 or 9 when she started going more hours in the gym and Al and Armine spent more time training her, and we thought 'wow, this is maybe something we can think about more seriously,'" Marco Wong shared.
Leanne Wong entered the gymnastics spotlight back in her junior days, consistently staying one of the top American juniors. As her junior career ended in 2019 and Wong made her senior debut at the American Cup, she ended up even stronger on everyone's radar after the competition. Wong refers to the American Cup as her favorite gymnastics competition memory so far, and it's easy to see why.
She took a bad fall on bars during the camp right before the American Cup, and many people were itching to replace her with the alternate, Kara Eaker. Leanne decided she wanted to compete and gave it her all, ending in first place All-Around.
After the American Cup, Wong's 2019 stayed strong, competing at the U.S. Classics, Pan American Games, and U.S. Championships within four weeks. She took fifth All-Around at the U.S. Classic and National Championships, as well as third on beam at Nationals. At the Pan American Games Wong only competed on bars and beam, but snagged second on bars behind Riley McCusker and contributed both scores to the team score, helping them win gold.
Even in the rush of competing in so many meets in a row, the magic of experiencing the Pan American games was not lost on Wong.
"That was a really amazing experience because it was kind of like a mini-Olympics. We stayed in these buildings where all the athletes from the United States stayed together, like all the sports, and it was just really cool to get to meet all different types of athletes from the U.S.," she shared.
Since then, Wong's focus has been on training and getting stronger, but that's not so easy with the amount of uncertainty in the world.
Fong shared the difficulty of training and coaching during a pandemic. "First of all, you're shooting for a goal, you've planned all year, and now you have nothing - and worse, you don't even know when things are going to get normal again, because everyone's out of the gym, all the qualifying meets, U.S. Classics, Championships, all of that was gone. It was really - you can only imagine how much that affected high-profile athletes. They're driven, they've been training for years hard to hit this magical point, this last quarter mile of the whole race, and then it's gone."
Now, the focus is on an upcoming training camp in December, any meets that may be allowed to happen in early 2021, and then Olympic trials, which will decide the fate of Wong and many other Olympic hopefuls. Fong shared that GAGE had a visit from Tom Forester last week, where he officially shared that the Olympics were still happening, and possibly international competitions for 2021.
"It just makes everybody's spirit a little different. If they were working before, they're really working even better today," Fong shared. This training camp, Fong elaborated, is critical. "When she gets into an environment with the other National Team people, you go to the camp and you work hard because they can feed off of each other. They're side by side, someone from another team, maybe that you've beat before, someone who beat you before, and now you're trying to do it again. That just puts a little oomph in your efforts."
"Now that we have a time and a goal to work towards, that's what keeps me going," Wong added.
With the extra time, Wong isn't trying any extreme upgrades, instead adding to the difficulty she already has. "For instance, the Ray that she has, I think now we're trying to get that Stalder-Ray. With the tumbling, we have a few little upgrades, but they're not going to be powerful, powerful things, they're going to be things she can do," Fong shared. On vault, they are working on a Cheng.
Past 2021, Wong shared that she is thinking about college gymnastics, but doesn't want to reveal which teams she is considering yet. "She's definitely thinking about college gymnastics, and we're trying to make some decisions," Marco Wong shared.
For now, they're working on convincing the gymnastics community that she is ready to fight for a spot in Tokyo. Since World Trials some fans are counting Wong out for a chance at the 2021 Olympics. Fong is certain they are underestimating her and knows that the best way to prove that is what they can do at Olympic Trials.
"I think she lost a little luster in the way people thought about her, but the people on the National Team, like the girls and the coaches, know better than to count her down and out. They know better, that's for sure, because she's a very good competitor."