Senior Spotlight: 2019 SEC Gymnast Of The Year Sarah Finnegan
Senior Spotlight: 2019 SEC Gymnast Of The Year Sarah Finnegan
LSU gymnast Sarah Finnegan has cemented her name in the program's record books after being named 2019 SEC Gymnast of the Year.
Apr 4, 2019
by Amanda Wijangco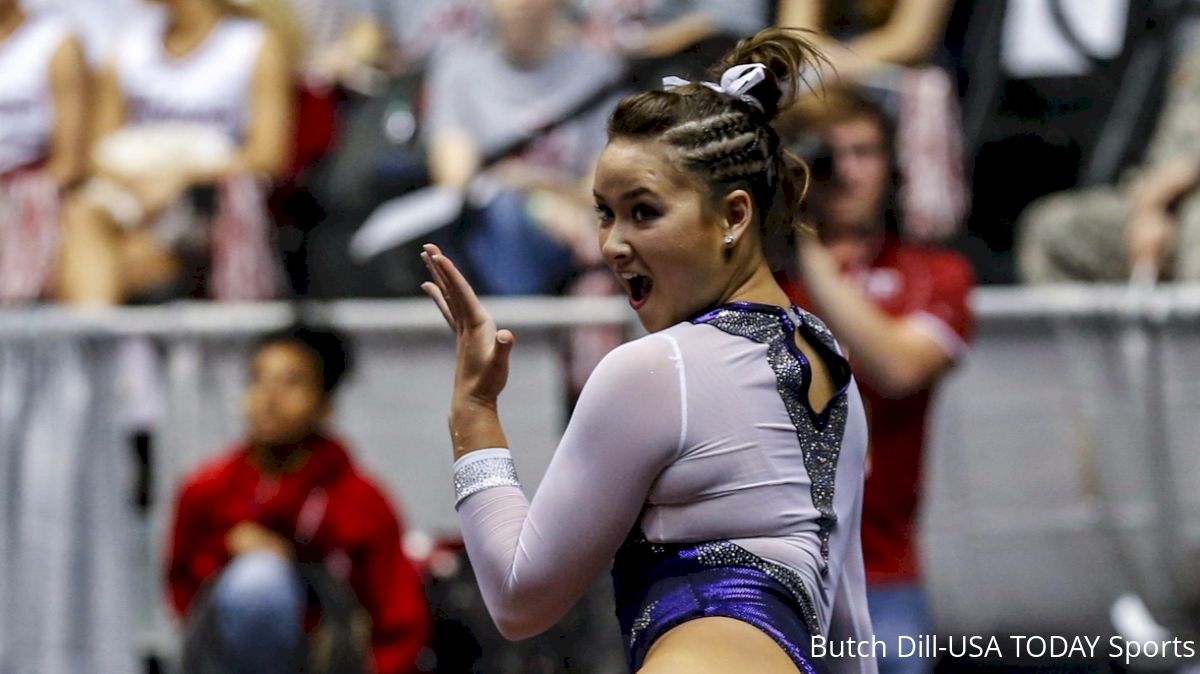 In the return of this ongoing series, FloGymnastics features gymnasts who are in their final collegiate season. The final gymnast to be featured this season is the 2019 SEC Gymnast of the Year, LSU's Sarah Finnegan.
Finnegan rose to gymnastics fame after making the 2012 U.S. Olympic team as an alternate and has since had a very successful collegiate career at LSU. In addition to helping the Tigers win three consecutive SEC championships, Finnegan has more than 10 All-American honors; is the two-time reigning SEC all-around champion; is a two-time SEC Gymnast of the Year; has multiple perfect 10s on bars, beam, and floor; and has the most beam titles in LSU program history.
Possibly the best gymnast to ever wear an LSU leotard, Finnegan is a finalist for the American Athletic, Inc. (AAI) Award, an honor for the top senior collegiate gymnast. This season, she's earned a perfect score on every event and has a season-high 39.800 in the all-around, which she's scored twice and isthe second highest all-around score in the nation this season. Entering regionals, she's ranked in the top five on bars, beam, and in the all-around and is ranked in the top 10 on floor.
---
FloGymnastics: What is your major, and what do you hope to do with a degree in that?
Sarah Finnegan: My major is kinesiology, and I have a minor in psychology. And I hope to go to graduate school for occupational therapy so I can become an occupational therapist.
What has been your favorite NCAA gym memory so far?
I don't like saying favorites, because I honestly do not have any favorites, but I just love spending time with my teammates, because they're all some of my best friends. We just always have so much fun together, whether it's goofing off outside the gym, working hard in the gym, just going to see movies, hanging out. Just spending time with this group of girls because they're honestly so amazing.
What has being an LSU gymnast taught you?
I think LSU has taught me just life experiences that I can use later on in life. Yes, they've helped me as a student and as an athlete, but also LSU has helped me grow as a person. And I think that's huge in any college experience because you want to know how to do life after college. They've just taught me so much, these life experiences that I can use later on.
What is your favorite LSU leotard you have gotten to wear?
What skill that you haven't yet competed (in elite or college) would you like to/would have liked to compete or learn?
Coming from GAGE and an elite background, we trained a lot of different skills. I love just playing with different things and seeing what works, so I've honestly done a lot of skills that I haven't competed. I think a pretty cool skill that no one has ever done, and I learned how to do, is a double Arabian pike half out.
What are you proudest of accomplishing at LSU?
I'm extremely proud that we've been able to be SEC Champions for the past three years. I think that's awesome. SEC is probably the hardest conference out there, so just having that accolade of being back-to-back-to-back champions speaks numbers to our team and our drive.
Gymnastics has taken you to many places all over the country and the world. What's your favorite place it's taken you?
Italy was my favorite. I think this was my second time to Italy, we actually were able to tour Rome and Venice for three days. So that was something different. Usually if you're away at a competition, it's very businesslike. You're in, you compete, and then you leave. But this trip, we were able to take three vacation days afterwards, so that was really cool being able to tour those cities.
Besides following the rest of your sister Aleah's career, how do you plan on staying involved with the sport after this season?
I plan on staying involved by coaching summer camps. I'll be coaching different ones around the country in the summer and probably the next few summers, actually.
You actually have a background in dance and did dance before fully committing to gymnastics. You're known for your beautiful execution, presentation, and dance, especially on beam and floor, both in your elite and college career. What would it take for you to get involved in doing gymnastics choreography?

I would say yes, I would be interested in doing [choreography]. I don't know if I'll have a whole lot of time to, but if someone were to ask me to, I'd definitely consider it.
Besides gymnastics, what are your interests/hobbies?
I love being outside, especially if there's nice weather, just walking around or going to the pool, the beach. I love movies. Growing up, we never really watched TV, our family just watched movies all the time, so I'm a huge movie person. I have a cat! I love my cat. She's a bengal tabby. Her name is Nala. She's very cute. Just hanging out with friends. I love doing things in group activities and hanging out.
---
Related:
Senior Spotlight: Illinois Sixth-Year Gymnast Mary Jane Otto
Senior Spotlight: Boise State Gymnastics' Shani Remme