Senior Spotlight: Illinois Sixth-Year Gymnast Mary Jane Otto
Senior Spotlight: Illinois Sixth-Year Gymnast Mary Jane Otto
After six years of representing the University of Illinois, Mary Jane Otto's gymnastics career will end after this season.
Mar 19, 2019
by Amanda Wijangco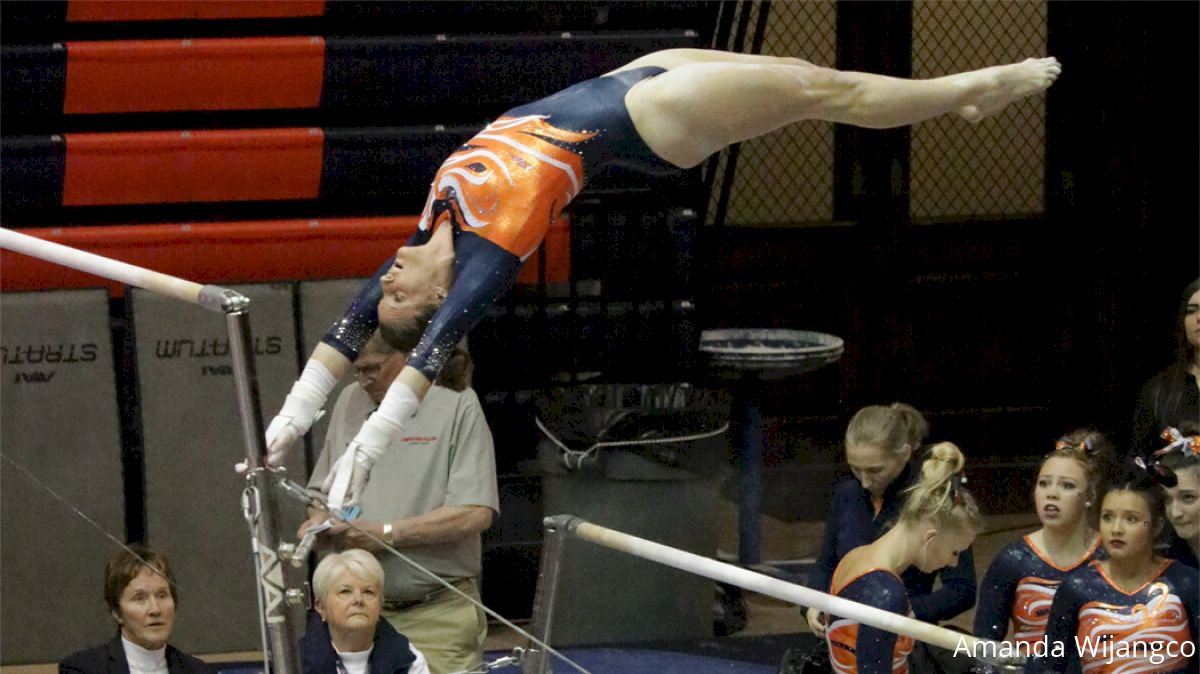 In the return of this ongoing series, FloGymnastics features a gymnast in her final collegiate season. The next Big Ten gymnast to be featured is Illinois' Mary Jane Otto.
Otto has been on the Illini squad for six seasons, making her NCAA debut on uneven bars at the 2014 State of Illinois Classic. Because she was returning from a torn achilles, Otto (née Horth) wasn't expected to compete her freshman season in 2014 but came back early to contribute three events for the second half of the season, including competing at the 2014 NCAA Championships. As a sophomore in 2015, she had arguably her best individual season and competed in the all-around for the first time as a collegiate gymnast. Otto qualified to the 2015 NCAA Championships as an all-arounder. She finished 12th at NCAAs in the all-around with a 39.200.
Her junior season in 2016 was cut short because of injury, and she competed in just four meets at the start of the season. However, Otto won five event titles in those first four meets. She came back strong in 2017 to become the Big Ten uneven bars champion and helped the Illini place second at Big Ten Championships. Another injury caused her to miss the entire 2018 season, but now the sixth-year student-athlete is back competing in the all-around for Illinois.
Otto has competed on vault, bars and beam in every meet so far this season and has competed in the all-around in every meet since February. She has a season-high 9.925 on bars and beam and a season-high 9.850 on vault and floor. At the start of March, she was just .075 away from meeting her all-around career high of 39.575.
In addition to her well-executed gymnastics, especially on her signature event of uneven bars, Otto has been nominated for the prestigious American Athletic, Inc. (AAI) Award and is set to depart the Illinois women's gymnastics program as one of its best.
---
FloGymnastics: What degrees have you gotten/are pursuing at Illinois, and what do you hope to do with those career-wise?
Mary Jane Otto: I have completed my B.S. in kinesiology and master of public health. I am currently pursuing a master of recreation, sport & tourism and will finish that degree in August. I've always wanted to go to PA school at some point to become a physician assistant, but I've also thought about dabbling in coaching gymnastics (which my current master's will help with). So really, who knows! I guess we'll see this summer.
Flo: What has been your favorite NCAA gym memory so far?
MO: It's hard to pick one. Qualifying to NCAA National Championships as a team in 2014 (my freshman year) is definitely near the top of the list. It was such a fulfilling experience to compete at nationals with my team! I also love Big Tens each year—it's such an electric atmosphere and something that brings all Illini families together. Winning bars at Big Tens in 2017 is also a great memory!
My other favorite memories include when teammates get to compete for the first time after overcoming several obstacles. For example, I still remember the first time Becca Cuppy competed a beautiful floor routine at regionals in Utah (2016) after coming back from several ankle surgeries. I remember absolutely bawling during her routine because it was a picture of such sweet victory that she was finally out there doing what she loves after much frustration and several setbacks. She ended up having to [medically retire] due to further injury, but I will never forget that one routine!
The same goes for Brittany Jones this year—she has endured so much adversity but has continued to get up and fight again and again. When she competed her amazing vault for the first time at Illinois Classic, it was a beautiful moment of overcoming.
Flo: What is your favorite Illini leotard you have gotten to wear?
MO: One of our new ones this year that is a navy to orange ombre with ribbons overlapping across the front and back. It is so comfy and also just beautiful in my opinion. The back is so unique! Usually leotards tend to be pretty tight on me since I am a taller gymnast, but this one is a perfect fit!
The heart and soul of #Illini women's gymnastics, redshirt senior @maryjaneotto15 is our routine of the week! ??

The sixth-year gymnast posted a season-high 9.900 on bars for her unique routine at @ElevateTheStage last Saturday in Toledo. ??? pic.twitter.com/cLcqGd1ASf

— Illinois W Gym (@IlliniWGym) February 26, 2019
Flo: What skill that you haven't yet competed would you like to/would have liked to compete or learn?
MO: Maloney full on bars! (Maloney with a full twist)
Flo: How do you plan on staying involved with the sport after this season?
MO: I will of course always follow Illinois women's gymnastics on their seasons for the rest of my life. But I also think there is a possibility that I will coach club, at least on the side to stay involved with the sport. I believe gymnastics is something that will always be a special part and passion of my life, and to help teach others the sport (even little girls!) would be an amazing way to give back to the gymnastics community that has given so much to me. Some of my teammates and I have also joked about becoming judges for NCAA gymnastics, and we've been practicing scoring each other in practice—so you might see us on that side too!
Flo: After six years at Illinois, you've worked with a lot of different coaches and have been teammates with many different gymnasts. What has it been like to work with and learn from so many different people during your NCAA career?
MO: I consider myself so truly blessed to have been here for six years and to learn from and be poured into from such a variety of people. While the several coaching changes and the revolving door of gymnasts coming in and leaving has required a lot of adaptability, I believe each teammate and each coach has taught me something valuable but different.
For example, the evolution of bar coaches during my time here at Illinois has been so significant in developing me as a competitor on bars. My freshman year bars coach, Jay Santos, helped build and instill in me the confidence to be a competitive NCAA bar worker. I was coming off an injury for the majority of that year, but he took baby steps with me to get back into routine readiness and especially handle the large mental aspect of NCAA competition. He would always tell me that he wouldn't put me in lineup if he didn't believe I could do it, and that really helped me develop confidence in myself.
My next bar coach, Jake Lee, really helped me refine my skills and helped increase my difficulty and consistency. In particular, he worked with me on my Maloney half (which was a little rugged and scrappy at the time) to clean up my form and technique.
And now, our current bar coach, Chris Bogantes, has taught me the importance of intentionality and also patience. He is one of the most patient and calm coaches I have ever had, and he has modeled for us how we can also be patient with ourselves when mistakes happen (it's not something to get all worked up about).
I'm also overwhelmed with gratitude when I think of all the teammates that I've been so thankful to know and spend hundreds of days with. It hits me often that I wasn't even supposed to know or be on a team with the current sophomores (Kylie Noonan, Kasey Meeks, Nicole Biondi, etc.), but now they have become such treasured people in my life.
Girls like Sunny Kato and Giana O'Connor taught me so much about leadership and the simple everyday grind/work ethic needed to succeed when I was younger. My teammates now remind me every day of the importance of having fun and being joyful in gymnastics, as well as doing it with one other.
I often rotate in practice with Karen Howell, and it makes all the assignments better that I just get to do each turn with her. One of my favorite parts of NCAA gym is that we are a team, and that is something I will truly miss!
Flo: As a sixth-year who's had quite a few injuries, how have you maintained and taken care of your body and yourself to be able to compete the all-around in your final year of gymnastics?
MO: I've learned that injuries are never a time to sit back and do nothing—there's always something you can be doing to either be maintaining and improving your fitness and strength during the time that you're "out." I would do lots of cardio and conditioning when I was hurt and was very diligent with my rehab process (shout out to all my trainers who stuck with me—Melissa Brungard, Rachel Rudy and Jackie Stucker).
This helped tremendously for when I was cleared to do gymnastics again after each injury I didn't have to start back at square 1. My body was already well-maintained to get back to it!
Additionally, after over 20 years of gymnastics and six of them in college, I've learned how my body works—what it can handle, what it can't and what it needs for optimal recovery.
I've had to "ban" some skills from my repertoire that are too risky for my body and achilles, such as any form of double backs or double pikes on floor. With that, I've gotten to learn new tumbling passes that don't necessarily come naturally to me, but are much safer.
And then there's the little things—before practice, my body takes a little longer to get warm and stretch out. I'm pretty much always the last one stretching and sometimes the other girls joke with me about it and call me "grandma," but I truly just need the extra time to let my body fully prepare.
Lastly, the coaches are so great with giving my body rest or modifying assignments when needed. They fully understand the demanding nature of doing four events regardless, and even more so for a 24-year-old.
Flo: What are you proudest of accomplishing at Illinois?
MO: I'm so thankful and proud that I was able to obtain three degrees from this high-level academic institution. Also, I'm simply grateful that I never gave up. After three pretty large injuries, I often thought it would just be easier to be done with gymnastics. It was a battle, but I'm proud of myself for continuing to fight after getting knocked down, stay the course and remain mentally equipped to make it to a sixth year.
Flo: You got married at the end of last summer and were able to celebrate that in Illinois with your family, friends and teammates. What was it like to start a new chapter of your life just as your time as a gymnast was beginning to end?
MO: It was so fun to be able to have so many teammates and friends from the gymnastics world at [our] wedding. Celebrating with them made it all the more special!
When Ryan proposed, we didn't yet know if I was going to be granted a sixth year or not, and we still wouldn't know for about 5-6 months at the time. Therefore, I didn't know if my gymnastics career was over or not when we were planning our wedding. However, I'm so thankful that these two seasons of my life (marriage and gymnastics) have overlapped because Ryan is one of the best supporters who really cares about my love for the sport and my team. He always asks how practice went each day, he makes me breakfast and prays for me before every meet and he loves getting to know my teammates.
Before every event, I find Ryan in the crowd and we have a little sign we do that essentially means that he believes in me, that God is with me and to compete from the heart and have fun. I'm so thankful to have him by my side this year!
Flo: Your hometown is Akron, Ohio, the same as NBA star LeBron James, so it's no surprise you're a basketball fan. What are your other interests/hobbies, and how do you feel about LeBron being on the Lakers?
MO: I'm not sure I'd consider myself as much of a basketball fan as much as I am a Cleveland fan—but yes, that does mean I LOVE cheering for the Cleveland Cavaliers and LeBron James was a monumental part of the Cavs. It's also just fun to claim that I'm from the same city as him and lived five minutes from his house! Even though it's sad he's not with us, I understand his decision and it was done much more respectfully than the last time he left Cleveland. He also has done so much for the city and community of Cleveland (such as funding school scholarship for inner-city kids) that I just appreciate how much he's given back to the place that raised him. I believe CLE will forever be his real home in his heart, but I hope he finds success with the Lakers!
Otherwise, my interests include just being active and going for a bike ride or walk with my husband when it's warm outside. Ryan and I also love watching our favorite TV shows, This Is Us and New Amsterdam, together. Ryan, who's also a huge Cleveland fan (he's from there too), has also got me more hooked on watching the Cleveland Browns, especially with the addition of Baker Mayfield and recent trade OBJ (Odell Beckham Jr.).
I also like doing escape rooms, playing board games, reading, making smoothies, helping out with my husband's ministry and serving in my local church.
Related:
Senior Spotlight: Boise State Gymnastics' Shani Remme
Senior Spotlight: Ohio State Gymnastics' Jamie Stone