Senior Spotlight: Boise State Gymnastics' Shani Remme
Senior Spotlight: Boise State Gymnastics' Shani Remme
Shani Remme talks beam, the start of the 2019 season and her accomplishments as a Boise State gymnast.
Mar 5, 2019
by Amanda Wijangco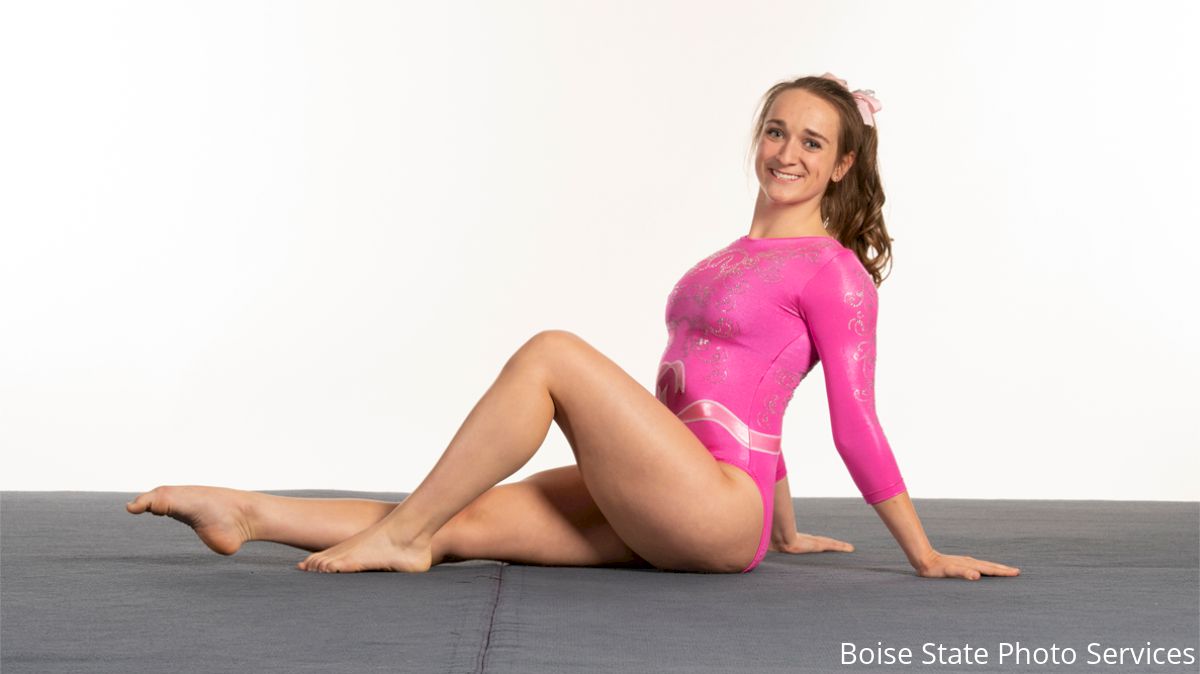 In the return of this ongoing series, FloGymnastics features a gymnast in her final collegiate season. Next up is Boise State's Shani Remme.
Remme is one of the best to ever compete in a Boise State leotard, holding the program record for the most all-around wins and the most beam event titles. She's a two-time Mountain Rim Gymnastics Conference Gymnast of the Year (2017 and 2018). After earning a 9.900 on beam at last year's NCAA Championships, she became an All-American on the event.
Remme had a fantastic final season, earning nine MRGC weekly awards and a new career high on vault and in the all-around. In addition, Remme has been named an American Athletic, Inc. Award nominee and has a No. 5 ranking on beam after eight weeks. Unfortunately, her senior season has been cut short after tearing her ACL during the Broncos' meet against Denver on Feb. 24.
---
FloGymnastics: What is your major, and what do you hope to do with a degree in that?
Shani Remme: I am graduating from Boise State in the spring of 2019 with a bachelor's degree in health studies and I have applied for the Boise State radiology program. I plan to continue my education and explore different fields of medicine including X-Ray and ultrasound. I would love to stay here at Boise State University where I can work with athletes and volunteer in the community.
Flo: What has been your favorite NCAA gym memory so far?
SR: My favorite NCAA gym memory would definitely be placing on beam last year. Becoming an All-American, getting to stand up on the podium and beating the school's the all-around record that I set the previous year was so exciting.
Flo: What has being a Boise State gymnast taught you?
SR: Being a Boise State gymnast has taught me so many life lessons. This environment fosters learning in the gym, in the classroom and in the community and encourages me to be the best version of myself I can be. This team has taught me that there is always room to grow, and it has taught me to chase my dreams. I am so proud to represent blue and orange.
Flo: Boise State had a great start to the 2019 season, ranking in the top 10 for the first five weeks. You individually have also had a fantastic start to the season, being one of the top 10 beam workers in the country. What was the key to beginning the 2019 season so well?
SR: The key to success on both individual and team levels has come as a result of hard work in the offseason. Our team is very dedicated and has been working very hard making corrections, putting in numbers and focusing on small details in order to make us better as a team. Maintaining my high RQS on beam has been an amazing feeling as it shows my consistency on the apparatus and my ability to remain calm under pressure.
Flo: What is your favorite Boise State leotard you have gotten to wear?
SR: My favorite Boise State leotard I have gotten to wear is our ombre leotard we got last year. It is long sleeved, blue and white, sparkly, and has beautiful orange swirls. My favorite part about it is that it says Broncos across the front in swirls and it looks so beautiful in photographs.
Flo: What skill that you haven't yet competed would you like to/would have liked to compete or learn?
SR: I have been so fortunate as a Boise State athlete. With incredible coaching, I have had the opportunity to grow each year as a gymnast, learning and competing new skills almost every season. This has challenged me to be the best athlete that I can become. I would have liked to compete a one and a half on vault or a double layout full out dismount off of bars. I came into Boise State competing a blind full double tuck and over the years I have been able to upgrade to a double layout dismount. I have trained a double layout full out over the past two summers and I truly think that would be an incredible upgrade from my freshman year!
Flo: How do you plan on staying involved with the sport after this season?
SR: I plan on being a very active alumni in the Boise State gymnastics community! This sport has given me so much and I cant wait to be able to give back. In the upcoming years I plan on braiding my teammates' hair for competition and attending all of our home meets and close away meets!
Flo: What is your favorite thing about Boise State?
SR: My favorite thing about Boise State is the environment. As it is such a small town, the main focus is the university. Everyone always gets so excited for sports and there is always a good turnout to all sporting events.
Flo: What are you proudest of accomplishing at Boise State?
SR: I am very excited to get my degree in May, but I would have to say that I am most proud of my recent accomplishment of beating the school record for most all-around wins. That is something that I never thought was possible and it is an amazing feeling to now hold this title in the Boise State record book.
Flo: Besides gymnastics, what are your interests/hobbies?
SR: Besides gymnastics, I love exploring new parts of Boise. I also enjoy being outdoors, shopping and crafting with my friends!
Related:
Senior Spotlight: Ohio State Gymnastics' Jamie Stone
Senior Spotlight: Nebraska Gymnastics' Megan Schweihofer