Senior Spotlight: Ohio State Gymnastics' Jamie Stone
Senior Spotlight: Ohio State Gymnastics' Jamie Stone
Ohio State gymnast Jamie Stone discusses the young 2019 team, being a team captain and her time as a Buckeye.
Feb 26, 2019
by Amanda Wijangco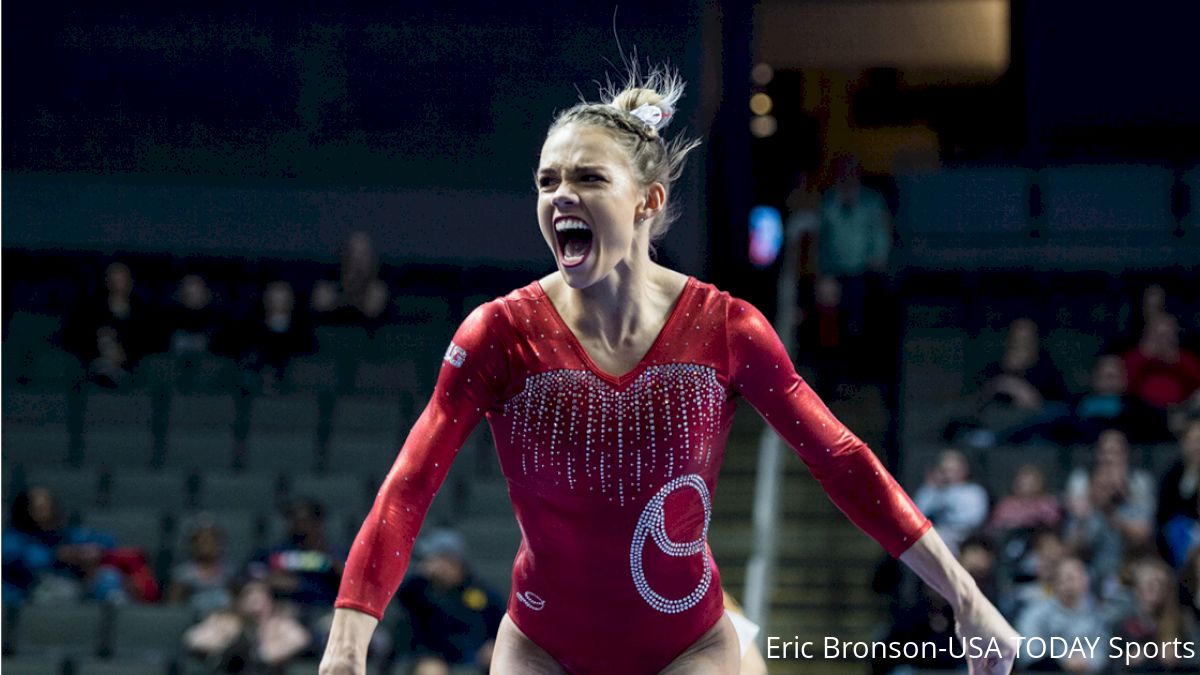 In the return of this ongoing series, FloGymnastics features gymnasts in their final collegiate season. Next up is Ohio State's Jamie Stone.
Stone is one of just three seniors and six upperclassmen on the Ohio State roster this year. She was chosen to be a team captain and leads the Buckeyes in more ways than one.
After winning vault last season at the Big Ten Championships and NCAA Regionals, Stone has been contributing great vault and floor scores for No. 23 Ohio State throughout the 2019 season. In addition, she's a good all-around gymnast, competing on every event in every meet so far this season, including two season-high scores of 39.200.
Stone and the Buckeyes welcome West Virginia and Texas Woman's University to Columbus, Ohio, for a tri-meet March 2, which will stream live here on FloGymnastics.
---
FloGymnastics: What is your major, and what do you hope to do with a degree in that?
Jamie Stone: Psychology; after graduating I plan to coach and then attend nursing school the following year.
Flo: What has been your favorite NCAA gym memory so far?
JS: My favorite NCAA memory was winning vault at Big Tens and Regionals [in 2018]. It was such an amazing experience and having my team there to celebrate with is something I will never forget!
Flo: What is your favorite Ohio State leotard you have gotten to wear?
JS: My favorite Ohio State leotard is called the "firecracker."
Flo: What skill that you haven't yet competed would you like to compete or learn?
JS: If there was a skill I could compete it would be a full in pike. Over the summer I trained a few into the pit, but never put it on the real floor. It is not seen that often, but I just think it is such a pretty skill!
Flo: You're one of two captains for the Buckeyes this year. What are your duties as captain, and what has it taught you?
JS: I feel so honored to be captain of such a young team. As a captain, we are the mediators between the team and coaches, plan team activities, help motivate the team and we are someone that anyone can come to, to talk about anything. My goal as a captain was to be a mother figure for these girls given that we have such a young team and be there for them in any situation and ensure a positive outcome. It has taught me how to build confidence in myself, what ways work to lead a team and what don't, how to be a better communicator, lead by example and learning from mistakes to help make the team better!
Flo: What has it been like to be one of just a few seniors on a team that is fairly young?
JS: Going into this season, knowing that I was one of three seniors and one of six upperclassmen, was of course a little questioning at first. It added more pressure to us upperclassmen, but it has only made our team stronger. These underclassmen have really picked up their game and boosted everyone's confidence as a whole. I am so proud of everyone on this team and the effort they are putting out there. The bond we have this year is something so special and everyone is on the same page which is going to help us reach our goals this year. I am excited to see what the rest of the year has in store for us!
Flo: How do you plan on staying involved with the sport after this season?
JS: I plan on staying involved with the sport of gymnastics by coaching at a local gym. I am staying in Columbus for a couple more years so these girls will not be getting rid of me just yet! I will definitely be stopping in the gym a lot to see them and help in any way possible. These girls know how much they mean to me so I will always be someone they can come to even when I am done with my gymnastics career. I will always be their No. 1 supporter!
Flo: What is your favorite thing about Ohio State?
JS: My favorite thing about Ohio State is the unconditional love and support from every single person at this university. I have made so many new friendships that I will hold close to my heart for a lifetime!
Flo: What are you proudest of accomplishing at Ohio State?
JS: The accomplishment I am most proud of is making it to NCAAs. It was not ideal to make it as an individual, but it has pushed me to help my team get there together, as one!
Flo: Besides gymnastics, what are your interests/hobbies?
JS: My interests and hobbies are hanging out with my teammates outside of the gym and cooking!
Related:
Senior Spotlight: Nebraska Gymnastics' Megan Schweihofer
Senior Spotlight: West Virginia Gymnastics' Kirah Koshinski