2019 City of Jesolo Trophy
USA Set To Dominate Team Competitions At Jesolo
USA Set To Dominate Team Competitions At Jesolo
Gymnastics teams from the U.S., Germany, Russia, Japan, Belgium, China, Italy and Romania will compete at the 2019 City of Jesolo Trophy.
Feb 25, 2019
by Amanda Wijangco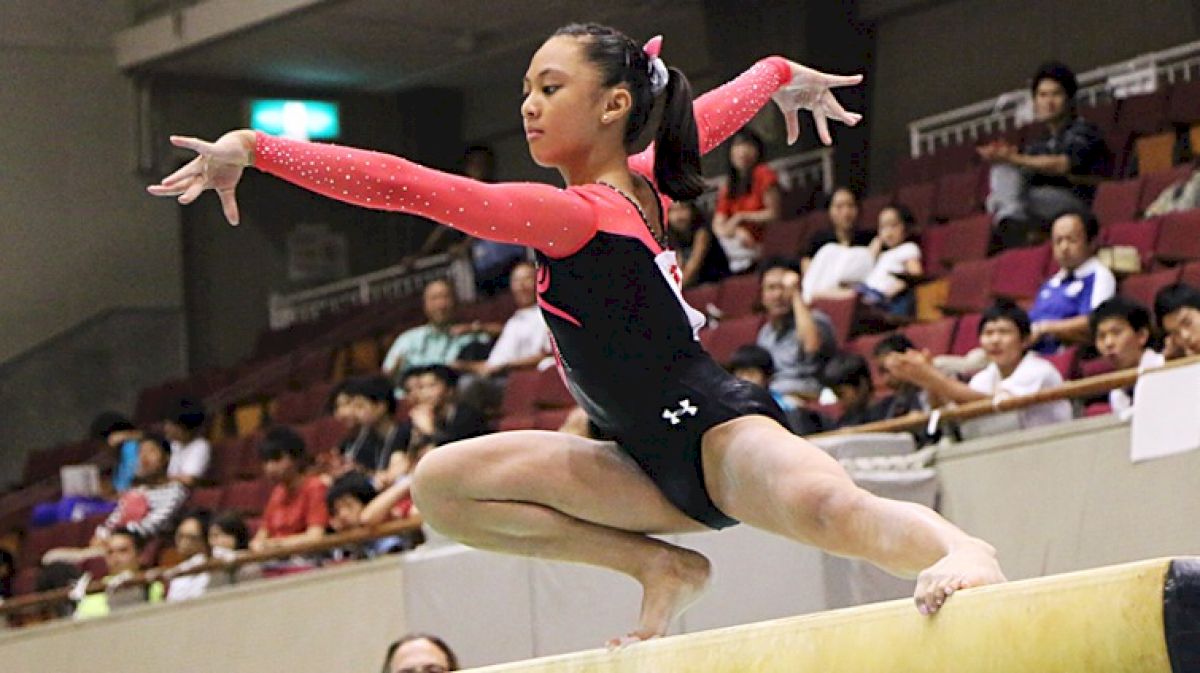 After missing out on team titles last year due to not sending any gymnasts to the competition, Team USA is set to dominate the senior and junior team competitions at the 2019 City of Jesolo Trophy. The U.S. has been a gymnastics powerhouse on the international stage for the past several years, and Jesolo is no exception. Team USA has won the senior team competition for eight straight years from 2010 to 2017. Also in the hunt for the team accolades are Germany, Russia, Japan, Belgium, China, Italy and Romania.
Not all countries are sending senior teams, however. USA, Japan, Belgium and China will compete for the senior team title. The rosters for Italy and Romania have yet to be announced.
The U.S. senior delegation includes 2018 Pan American champion Shilese Jones, 2018 Pacific Rim champion Sunisa Lee, the reigning senior Jesolo all-around champion Emma Malabuyo and 2017 Gymnix triple gold medalist Gabby Perea. Although this year's group of seniors from the U.S. doesn't have much senior international experience, they're still top contenders and are a strong, talented group.
Jones is the only one who's received an international assignment as a senior, helping Team USA win Senior Pan Ams last year and earning bronze on beam, but Lee, Malabuyo and Perea have all made names for themselves as juniors. Lee not only helped USA win team gold at last year's Pac Rims, but earned silver on vault, beam and floor—and those aren't even the events she's known for. Lee won the junior national title on uneven bars last year, thanks to her difficult skills and combos, on top of her nice execution.
Malabuyo and Perea became seniors last year but were out for most of the season with injuries. Before injuries prevented her from competing in the latter half of 2018, Malabuyo competed at Jesolo representing her club, Texas Dreams, and won the all-around, beam and floor titles. Prior to that, she represented the U.S. at one of the top junior meets in the world, the Japan Junior International, and came in second in the all-around and beam, was third on vault and bars and won floor.
Perea is known for her work on bars, where she's medaled nationally and internationally, including bronze at the 2017 P&G Gymnastics Championships, gold at Jesolo and Gymnix in 2017 and silver at Gymnix in 2016. In addition, she's good on bars. Every member of Team USA has international experience and accolades to back up her talent, but it's also key to note that they can all put up solid scores on each event, which is important for the team competition.
One of the biggest threats to the U.S. winning another senior team gold at Jesolo is China. China is sending several strong senior gymnasts who have a wealth of major international experience. Eight gymnasts are listed for China, so it's unclear which four will be competing in the team competition, but leading the way at the top of the roster is reigning beam World Champion Liu Tingting. The remaining seniors on the Chinese roster are Yin Sisi, Qi Qi, Zhang Jin, Liu Jingxing, Tang Jiaying, Tang Xijing, Zhao Shiting, Du Siyu, Luo Huan and Chen Yafei.
Tingting, Jin, and Huan were all part of the 2018 bronze medal-winning team at the 2018 World Championships and the gold medal-winning team at the 2018 Asian Games, so they know what it takes to win a team competition. Siyu was an alternate to last year's Worlds team, also giving her a bronze medal. Those four, in addition to most of the Chinese seniors, are all strong on beam and bars, so what China needs help with to contend for a team medal are vault and floor scores, which is what Sisi, Qi, Xijing and Shiting add.
Although the country and program as a whole aren't as big or successful as China, Belgium is still a team contender for the seniors. Belgium is sending four of its best gymnasts: reigning World and European uneven bars champion Nina Derwael, 2018 World Championship team members Axelle Klinckaert and Maellyse Brassart and Olympian Senna Deriks. Each member of the Belgian squad has major international experience, and that simply can't be replicated, making them a team to watch.
Derwael is obviously excellent on uneven bars but is a good all-around gymnast as well, finishing fourth in the 2018 World Championship all-around final, so Belgium can rely on her for a solid score on every event. While none of her teammates are at her level on bars, Klinckaert and Deriks can put together good routines. In addition, Deriks is Belgium's strongest vaulter, and Brassart is best on vault and floor. The Belgian team as a whole may not have the difficulty to match China or the U.S., but it shouldn't be counted out.
On the juniors side, the U.S. women are also the team favorite. Five of the last eight junior team titles have been U.S. victories, and two of those years, the U.S. couldn't have won. Last year USA Gymnastics did not send anyone to Jesolo, and the 2016 City of Jesolo Trophy didn't include a junior team competition.
The U.S. junior team is led by Kayla DiCello and also includes Ciena Alipio, Sophia Butler and Konnor McClain. DiCello has just one international meet under her belt, but at the 2018 Pacific Rim Championships, she helped Team USA win team gold, and in the junior division she won vault and bars, got all-around silver and was fourth on beam.
The 2019 Jesolo event will be Alipio, Butler and McClain's first international assignments. Alipio is great on beam and vault, earning silver on beam and finishing eighth on vault at the U.S. Gymnastics Championships last year. Butler is good on beam but also floor, placing sixth at last year's U.S. Gymnastics Championships and winning bronze at last year's GK U.S. Classic. McClain is best on bars and beam, earning medals on both events last year, including gold on beam at the U.S. Gymnastics Championships last year. Although the U.S. junior team is fairly young and inexperienced, they have the potential and talent to win the team title.
Also contending for the junior team title is Russia, who is sending four gymnasts with international experience: Olga Astafeva, Elena Gerasimova, Irina Komnova and Vladislava Urazova. Astafeva, Komnova and Gerasimova competed at Gymnix last year while Urazova competed at Jesolo. Gerasimova also competed at Jesolo last year. Urazova is the strongest of the four overall with the ability to score a 13.600+ on every event and is the only one on the team to score a 54.600 in the all-around last year. She can put up a score in the 14.000 range on vault and a score in the high 13.000 range on floor. Urazova is also the reigning junior all-around champion at Jesolo, so she can contribute great scores for Russia.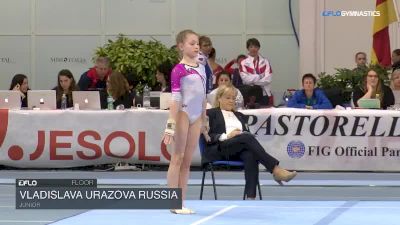 Unlock this video, live events, and more with a subscription!
Get Started
Already a subscriber? Log In
Astafeva can contribute a pretty balanced all-around score with the ability to score 13.300 on each event. Gerasimova can put up scores in the 13.000 range on vault, bars and floor, and can rock beam when she hits—she got a 14.625 at last year's Voronin Cup, a big score Russia would like to count towards the team total. Komnova is more of a specialist as she competed just bars and beam last year, but she can score in the low- to mid-14.000 range on bars. With international experience and the ability to score well, Russia can not be counted out of the junior team competition.
In the past 10 years of Jesolo, only three countries have won junior team titles: the U.S., Italy and Russia. The U.S. leads with five, Italy has three and Russia has one. So based on history, Italy is a junior team title contender, but until its roster is officially announced, it's hard to say. Either way, Team USA looks ready to capture more team titles on both the junior and senior sides.
Related:
City of Jesolo Trophy: Seniors To Watch & Juniors To Keep An Eye On