Between the return of Simone Biles — the greatest gymnast of all time — and the tumult within USA Gymnastics, the last nine months have been an absolute roller coaster. But that's not going to keep us from constantly recognizing the hard work and brilliant gymnastics of these athletes.
Less than two months away from the 2018 Artistic Gymnastics World Championships in Qatar, the U.S. senior national team is hoping to lock in a spot early for the 2020 Summer Olympics in Tokyo. Simone Biles, of course, has virtually punched her ticket for worlds this year, but the other Americans will go through a selection camp with Biles to vie for their spots on the roster.
One of those gymnasts will be Jade Carey, a stunning performer who has flown a little bit under the radar recently (haven't we all, though, since Biles returned . . . ). Needless to say, Carey — who earned two silver medals at the 2017 World Championships in floor and on vault — is still a powerful gymnast. Her floor routine, in particular, is jam-packed and exciting.
The video at the top of the article shows her podium training at the 2017 worlds, and here's her post-meet interview: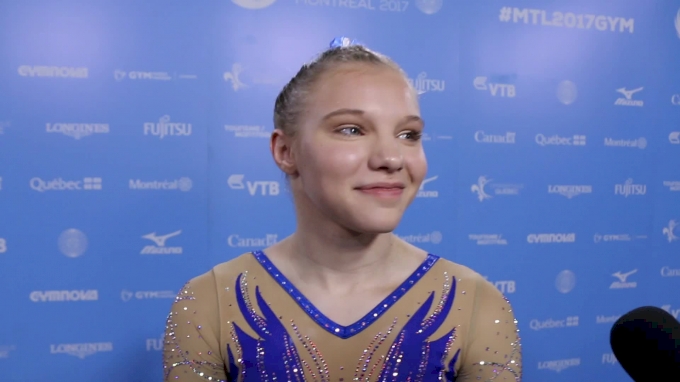 At the 2018 U.S. Championships in Boston, Carey placed sixth in the all-around and second on floor (0.85 behind Biles). She's certainly still in the mix for the 2018 World Championships team, led by Biles and composed of a strong core no matter who makes the final cut. Morgan Hurd and Riley McCusker are among the favorites, and other seniors like Kara Eaker, Shilese Jones, Grace McCallum, and Trinity Thomas will be in the hunt, too.
Other Articles In The Series